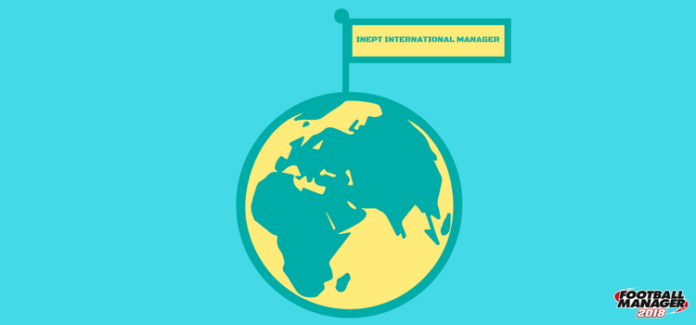 We begin Episode 10 of the Inept International Manager with breaking news (no, it isn't the new graphic but that does look spiffy), that being that Louis Henrik has FINALLY attended a Hyundai A-League game. The game chosen for this monumental occasion was the Sydney Derby between Sydney FC and Western Sydney Wanderers, which ended 4 – 2 in favour of the blue half of Sydney.
What's more, having developed something of a penchant for Derbies, he also witnessed a Big Blue between Melbourne Victory and Sydney FC when the Melbourne club claimed a 5 – 2 triumph with James Troisi sealing his spot on the World Cup plane with a hat-trick in front of the national team boss.
It's been 178 days between games, a great yawning chasm of a gap that has seen Louis Henrik actually forget that he is the Australia manager several times. Luckily those two games have really brought it back to home that he does have some work to do. First on the horizon is a friendly against Switzerland, who are somewhere between World Cup opponents Italy and Denmark, followed by a second friendly against Senegal, who were just above Ghana in the rankings.
It should be said, Henrik declined the opportunity to gain tournament experience by managing the Australia U23 side in the U23 Asian Nations Cup, he'd already promised to take the wife away for a week's holiday in the Algarve. It was there he got the phone call containing news of two major injuries. Timmy Cahill's dream of captaining the side at another World Cup is over, as is the ambition of Tomi Juric, both due to hip injuries. Two strikers, gone. Just like that. Imagine England without Harry Kane and Jamie Vardy, may as well just pack up and go home.
Football is a cruel mistress, never let anybody tell you otherwise.
First of all, we have the squad announcement, which started as a group of 30 and has now been culled to 23. Henrik has had to make some tough decisions here with his favourites Callum Elder and Luke Wilshire left out. Well, I say he had some tough decisions but his assistant Ante Milicic basically demanded that they were culled.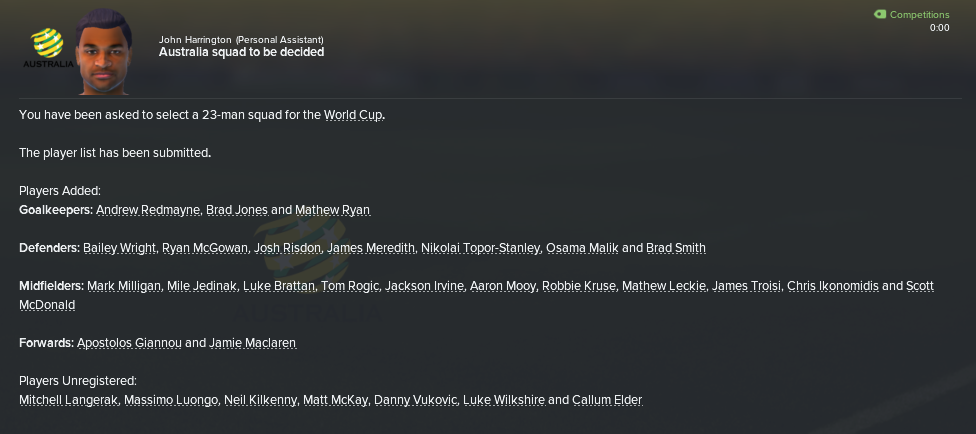 The first friendly against Switzerland was… not worth writing about, to be honest. It was a boring 0 – 0 draw with only the defenders, including debutant Osama Malik, holding firm against the likes of Granit Xhaka, Shaqiri and Ricardo Rodriguez.

Worrying though isn't it, that many shots and that amount of possession given up and on the same day Italy won their friendly 4 – 0. The press core are quick to declare Australia lucky for drawing and you can't deny, they might have a point.
The second friendly is Senegal, who are 19th in the world rankings and themselves headed to the World Cup. The team is mostly different as Henrik shuffles his deck.
I had a lot of hope for this friendly. I really did.
What I would like to highlight is that for the 10 minutes Louis Henrik looked like a shrewd appointment and a master motivator as Mathew Leckie won the ball back high up the pitch and crossed low for Apostolos Giannou (a hopeful for Tim Cahill's starting spot) to tap in.
Then things fell apart with goal after goal after goal for Senegal. M'Baye Niang from the edge of the box, Henri Saivet with a neat low finish and Niang was back for the third to crush Australian hopes. Even Cheik Kouyate's sending off couldn't help out the Socceroos as you can see.
It may be time to admit defeat before we even get to the World Cup given Henrik's contribution so far.