Many of you out there will be without your normal dosage of club football due to the Internationals taking centre stage. If you're like me and you're a club over country kinda guy, all you want is for this break to be over and all your players to make it back in one piece.
Anyway, I'm here to give you a bit of a fix if you will. In this instalment of 'Beating Nuno', I've got a free hit essentially as my Wolves side travels to the Emirates to face the 'might' of Arsenal. Emphasis on the inverted commas, everyone loves a bit of shit-talk about their opponents every now and then.
Look Elsewhere For Unadulterated Action
If you don't know what 'Beating Nuno' is all about, you can read the prologue here. If you do, carry on reading. In this chapter, we are going to previewing the Arsenal game, so if you're looking for some unadulterated action, I'm afraid you're in the wrong place.
My route to the sixth round has been one extreme or the other. In January, we faced Blackpool at home and saw them off with relative ease and later in the month we had to face the best team in the country bar none. Manchester City. We just about got over the line, if they had pulled it back I think they would've murdered us in the replay.
February just had the one cup game, Reading the opponents. They were brushed to one side as we were now dreaming of Wembley and all the glories that come with winning the FA Cup.
Altogether Now: "Que Sera, Sera"
Now, one of Nuno's biggest traits is that he always says one game at a time to the press and while that is not too dissimilar to the way I look at things if you can't dream, what can you do?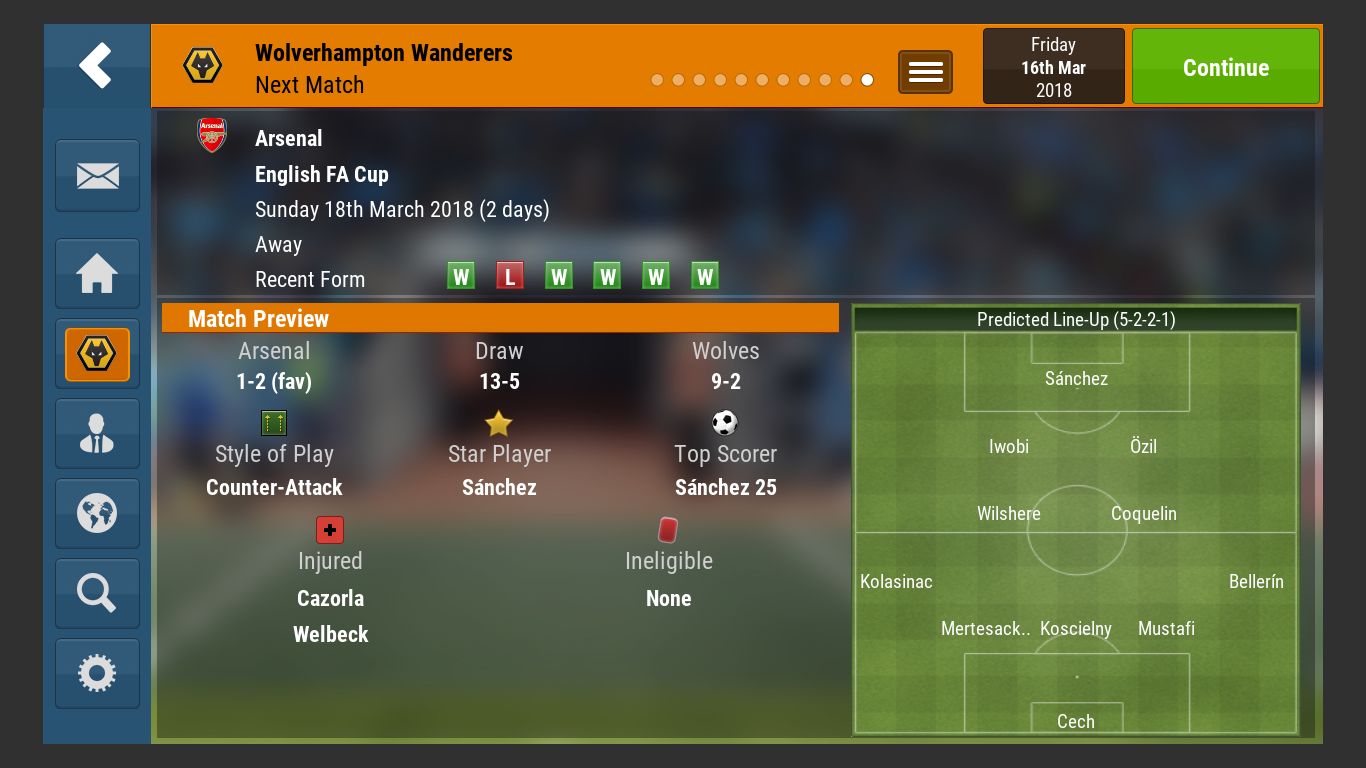 This is what we are up against. They've won five out of their last six and Sanchez is on fire. It'll be interesting to see what their actual line up is because I've noticed my scout get this wrong on quite a few occasions.
As you can also see, the bookies aren't giving me a prayer and that comes as no surprise considering the Premier League table looks like this…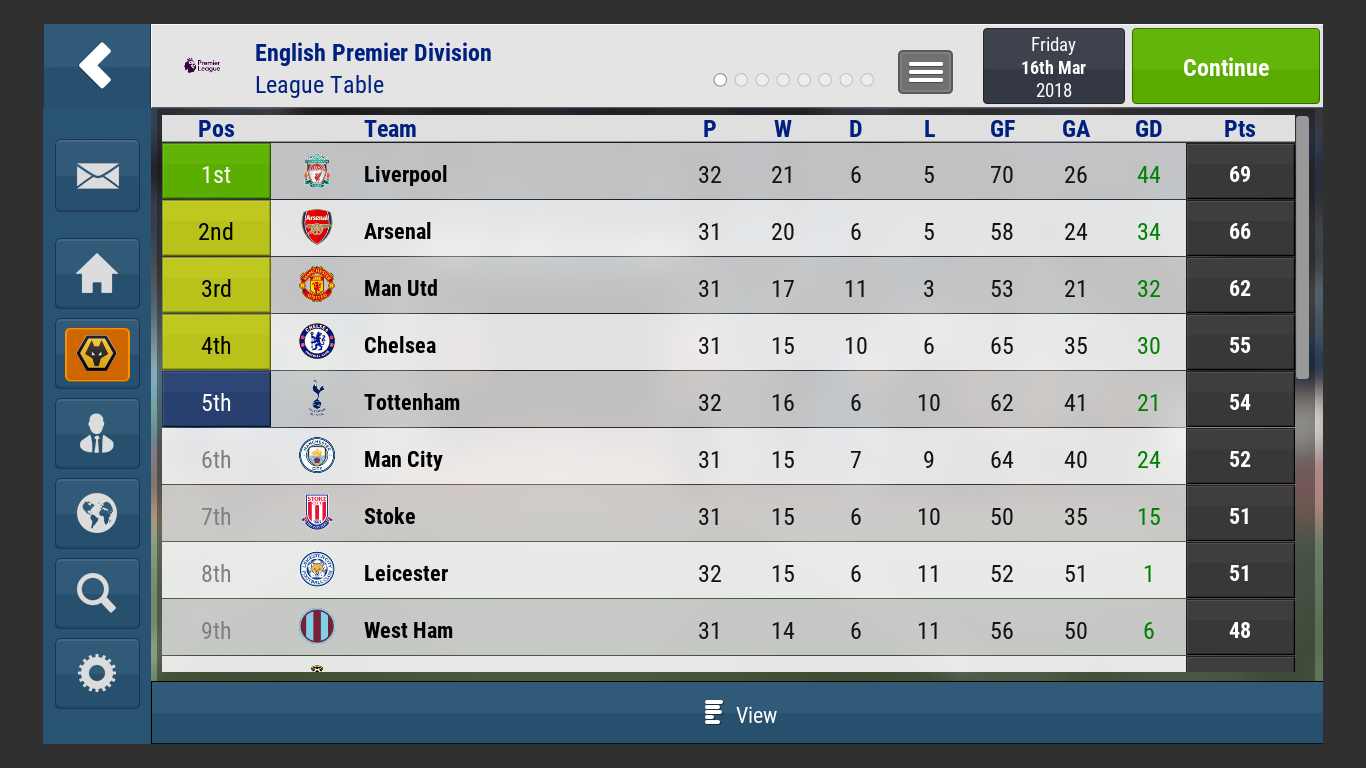 My mindset is one of "don't worry about the other team, let them worry about you", nevertheless, I'm not going to go as gung-ho as I would if this was a league game.
This is the starting XI I'm opting for which is set up with practically an identical system to that of Wenger's side, mine's got more zest, though and importantly, more width.
Hause is in due to Boly's injury and in case you're wondering Saiss and Neves' natural positions are slightly deeper than that, albeit because Coady is undertaking the libero role, they're playing further forward.
I find that if you play with CDMs and a libero, they all tend to stand on one another's toes and it's just an all-round shitstorm. Providing the scout has got the correct formation for Arsenal, this is how it will pan out on the pitch.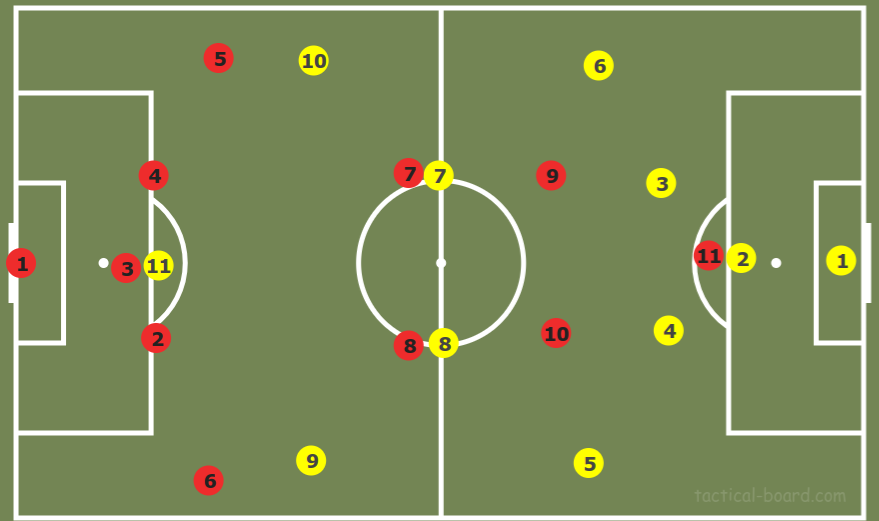 Yes, I know we are in yellow. They didn't have gold, pipe down. As you can see from this, there's one position on the pitch why I've got the upper hand, isn't there? The sheer amount of room down the channels for my wing-backs to exploit is staggering and will be something that I'm drilling into Douglas and Doherty before the game.
If Gomez Gets One On One, There's Only One Winner
Yes, you could argue that their wing-backs could defend against mine then the two spare centre-halves could come across and take Cavaleiro and Jota, but that then leaves Gomez one-on-one against Koscielny and I know who my money would be on to win that battle.
I'll be back next week to go through what actually happened in North London, on the other hand, if you haven't seen anything posted, the likelihood is they've demolished me and I'm throwing a big strop.
We'll also preview the Middlesbrough game which takes place on Good Friday and see how the six players that have been called to represent their respective countries have got on.
It promises to be a blinder, make sure you tune in.
Until the next time.