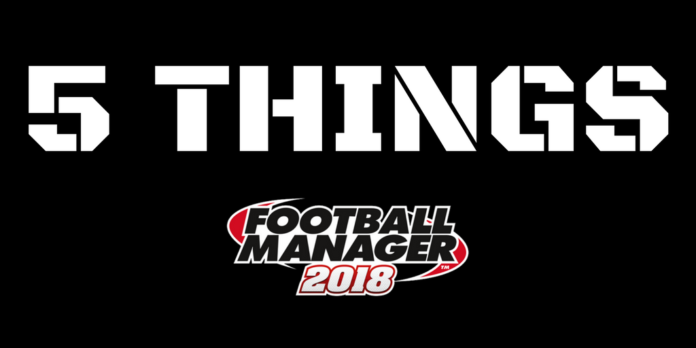 Throughout football's history there have been managerial greats whose creativity and ingenuity have taken the game to new levels of enjoyment and their teams to fantastic success that live long in the memories of those who witnessed them. As every action must have an equal but opposite reaction, ying must have yang, Cannon must have Ball, so too in football for every artist there are the pragmatists. Managers who strive for success in a fashion more grounded in reality than fantasy. I use the term pragmatist but generally these men become labelled as defensive managers. This article – following on from my previous blog about defensive play – will look at 5 of these managers and how we can apply it to FM18.
In particular we'll look at:
Otto Rehhagel, Greece – Pragmatism

Tony Pulis, WBA – 4 Centre Backs

Sam Allardyce, Bolton – The importance of Set Pieces

George Graham, Arsenal – Offside Trap

Osvaldo Zubeldia, Estudiantes de La Plata – Marginal Gains

1 Otto Rehhagel – A Greek (anti-)Tragedy
This first tip is not about a shape or tactic but instead it is about Otto Rehhagel's realism.
Under the German coach, Greece took a very pragmatic approach to the 2004 European Championship in Portugal. They are remembered – unkindly so – as being dull champions mainly because they won each knockout game by the same scoreline – 1-0 – with the same goal – cross/corner from right, header in. However it is also worth remembering Greece were 250/1 rank outsiders to win the tournament; they outplayed the hosts to win 2-1 in the opening game; put out Spain (pre-Aragones) and Russia in the groups; knocked out France (the holders), Czech Republic (considered the tournament's best team), and defeated Portugal again in a final in front of a partisan crowd.
He played to his team's strengths – solid defenders, hard-working midfield – and looked to nullify the opposition.
To nullify the opposition, his defence would be set up to man-mark the opposition strikers but always leave one spare man. The midfield would be matched up to the opposition numbers and threats.
For example, against France in the first knockout round in Euro 2004 one CB was man-marking Trezeguet in the central attacking zone, RB was man-marking Henry who took up positions more to his left flank which left the 2nd CB as the spare man on cover. The French midfield 3 were matched man-for-man which left LB free to join quick counter-attacks down the left.
However, against 4-2-3-1 of Portugal, the threats are different and Rehhagel set up his team differently. This time the lone striker is picked up by CB and the full backs engage the wingers higher up the pitch. Greece still have the spare man at the back. The threat of attacking right-back was tempered by placing a winger on the left. Greece's most talented attacker, Karagounis, was suspended for the final so it is little wonder the final didn't feature much attacking from open play.
To set up in FM, you need to follow Rehhagels' Rules:
Identify and nullify opponents' threats

Always have a spare man at the back

Play to your own strengths
So taking the France game as above, such a tactic set up in FM18 could look like this: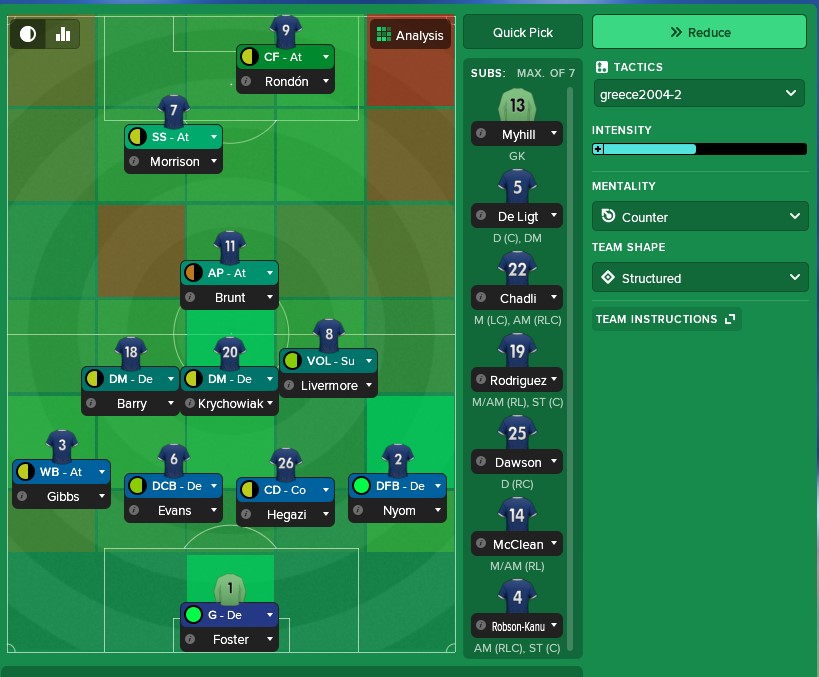 Mentality is Counter – we look to reduce risks; Shape is Structured – keep our attackers higher up the pitch to pose problems.

We have the DCB set to man-mark/tightly the central forward; DFB set to man-mark/tightly the left-sided CF.

The Spare man is CD on cover

Left defender free as WB to support attacks

Three midfielders in the DM strata to combat opp. Look for VOL to break forward and offer width on right flank

Overall attack with 5 players; defend with 7
2 Pulis' Stoke/WBA – the 4 Centre Backs of the Apocalypse
That Tony Pulis' teams comfortably avoided relegation is put into sharp focus with Stoke and WBA's plights in the Premier League this season. Often praised as a relegation firefighter, Pulis is famed for his ability to organise his teams to defend well. This particular tip comes from his time at West Brom where he eschewed conventional wisdom of playing your smallest, worst player at full backs by instead lining up with a back four of recognised and indeed towering centre-halves.
By prioritising the defensive role of the full back, Pulis was essentially putting all the attacking responsibilities on his midfield and forwards. However, it went hand-in-hand with his strategy of scoring from set pieces (more on this later) especially corner kicks or free kicks from wide areas. He now had 4 big men to come up from the back to offer excellent heading options.
Creating this in FM is straightforward enough: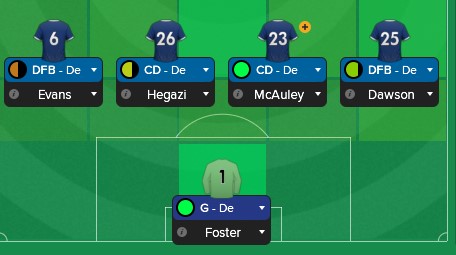 Step 1 – choose a 4-defender formation
Step 2 – change the FB to Defensive Full Back role
Step 3 – select big boys for each of the 4 defensive slots – 6ft minimum
Easy.
The DFB role will make them tuck in narrower – closer to their nearest CB and prevent them from galloping down the wings.  
3 Sam Allardyce – The importance of Set Pieces
You are a defensive manager so of course you want to keep clean sheets but hey you also want to win games. Here we take a lesson from Big Sam and in particular his work with Bolton. His overachievers were built on a solid, tough foundation but with some magic sprinkled on top ( Jay-Jay Okocha anyone?).
One facet of his team was the attention to detail on set pieces especially corner kicks. A keen and early adopter of statistical analysis, Allardyce knew the importance of maximising these situations in attack. After all, if you spend the majority of a football match defending against better footballers than you, it makes common sense that when you win that break – free kick, throw in, corner kick – you make sure you take that chance because the next one might be a long time coming.
In FM, I can't give you an exploit corner to download – ask Keysi Rensie instead. But I can offer advice to make sure you maximise these gifts:
Take some time at the start of the season to create set piece routines (don't forget throw-ins). Then run them in game, watch them and tweak until you are happy with them

Before each game – set you set-piece takers

Before each game – make sure the players with the right attributes are where they should be. Why waste the first three throw-ins because you forgot to place your best long-shot hotshot to lurk outside the box

After substitutes – do 2 and 3.

Encourage taker of Direct Free Kicks (shot) to pass short unless you have Messi or brought Juninho out of retirement. Let's face most us have rubbish free kick takers. Sure you remember the one your boy stuck in the postage stamp but you've forgotten the 999 he put over the bar. Sadly taker instructions are set to Mixed but stick as many players close to him as you can. Maybe he'll take the hint – Pass – don't waste.
4 George Graham's Arsenal – The Offside Trap
Oh how George Graham must have wept seeing Arsenal forget the offside rule in their FA Cup knockout against Nottingham Forest this year. His team and their success were built upon a solid back four – one that set the foundation for Arsene Wenger's initial success – and the offside trap.
Admittedly changes to the offside rule to favour the attacking side has meant that it would be unlikely to have the same success now but Graham's achievements with Arsenal were impressive – 2 league titles, 2 league cups, 1 FA cup, 1 UEFA Cup Winner's Cup and half a Charity Shield (shared following draw with Spurs in 1991 – 6 months each). These amendments to the Offside Rule has seen football change dramatically since the late 80s/early 90s and modern tactics now often focus on other areas of the game. However, the offside trap should still be a trick in your defensive locker,
Before we look at how to set it up, its best to consider when you should use the offside trap. Ideally you want to look at the opposition set up first. There's no point playing offside against a strikerless system. But if you are against an opposing striker who's slow or has poor off the ball/anticipation – then you might feel you can catch them out more often than not. On the flip side beware playing offside against nippy wee guys like Vardy – they'll just step back a few yards then blitz past your lumbering oaf of a centre back.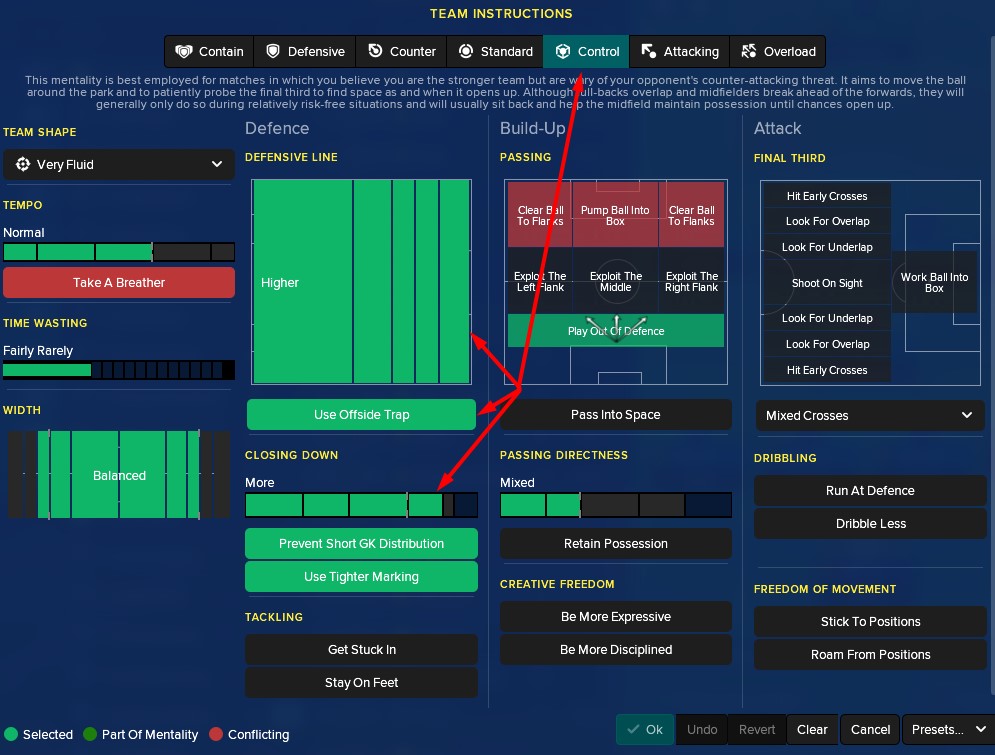 To set up in FM, its best to use Offside traps in conjunction with a higher/slightly higher defensive line. You can also use a high pressing style with Close Down More/Much More – really harass the opposition, don't give them the time and space on the ball to pick out a pass but instead pressure them to hoof the ball long.  Remember that increasing your mentality will also push up your d-line and pressing mentality too.
5 Zubeldia's Estudiantes dLP – The Dark Arts
Osvaldo Zubeldia led Estudiantes de La Plata to become the first team outside of Argentina's Cinco Grandes (Big Five) to win the professional league title in 1967 which was followed up with 3 Copa Libertadores wins in a row in 68,69, and 70. His team also beat Manchester United (Charlton, Best et al) to win the 1968 Intercontinental Cup. However, it is not his successes that remain his legacy. It is how he achieved them and his influence on successful coaches such as Carlos Bilardo, Diego Simeone, Angel Bastardo that will live on in history.
Zubeldia always looked for opportunities to gain a competitive advantage. He was one of the first managers to study his opponents looking for weaknesses or how to nullify strengths. His players were the first to use pre-planned set pieces. He is even credited with introducing the offside trap.
Zubeldia hired former referees to lecture his players on regulations – not to promote fair play but to be able to exploit loopholes and push the laws of the game to the very limit. Not that they often stopped at the limits and their reputation for anti-futbol is the defensive technique we will look at now.
Tactical fouls, dirty tricks, downright violence were all hallmarks of Zubeldia's Estudiantes side. After their defeat in the Intercontinental Cup against AC Milan, the entire team were arrested on presidential orders. It has been told that Bilardo, Estudiantes' defensive midfielder and also a practising gynaecologist, was encouraged to use intimate knowledge of an opponent's wife to rile his opposite man.
How do you recreate tactical fouling in FM? Unfortunately that button doesn't yet exist in the Team Instructions however you can look at ways of "encouraging" this sort of play.
Player Attributes – the key ones here are Aggression and Determination. If you can get these through your team – allied with tackling – you are onto a good start.

Team Instructions – time wasting – switch this up to max especially if you are in the lead and watch those precious seconds slip away

Opposition Instructions – select all; set Tackling to Hard; Save.
Want More? You Need More
For more about defensive systems in general, click More From Author under my bio name or search to see my previous blogs here on Tempo under the Tempo Tactics series. I look at some defensive systems and their effectiveness in FM18 whilst playing with Heart of Midlothian in FM Samo's vision for Scottish Football custom database.