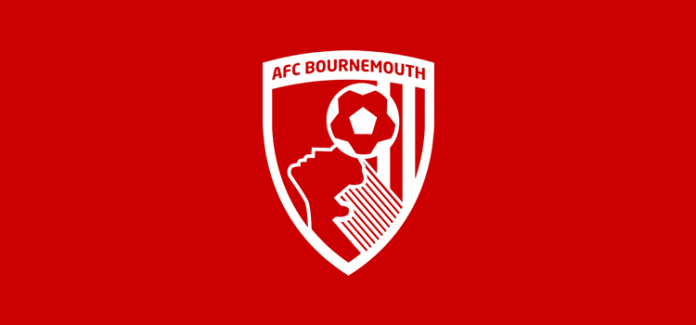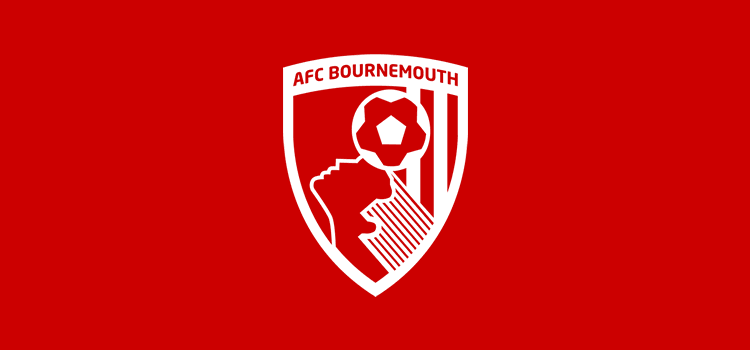 Welcome back to the south coast, the home of AFC Bournemouth – perhaps one of the Premier League's greatest success stories. The Cherries have risen dramatically through the English Football League pyramid under Eddie Howe, with successive seasons in the Premier League ending in relative comfort and escape from relegation.
But this season, things are very different. Howe has departed the Vitality Stadium, to take the reigns at struggling Everton, who currently sit rock bottom of the table. And his replacement, bizarrely, is myself – a manager with little experience and an extremely relaxed attitude.
With a few clicks of the mouse pad, I have somehow guided Bournemouth into a European qualifying place, and into the next round of the Carabao Cup where we will take on the mighty Arsenal.
This episode will cover the most ridiculous fixture list any Premier League minnow could ever face, the kind that would see Big Sam Allardyce crying into his morning gravy. Tests against Manchester City, their closest rivals United, Liverpool, Chelsea and Arsenal are all to come, but first we start a little closer to home.
In our last Premier League game, Asmir Begovic's heroics handed us an unlikely three points at Stoke City, after he stopped two penalties in a ridiculous performance. But Southampton were our next test, and in football it's important to win battles against local rivals.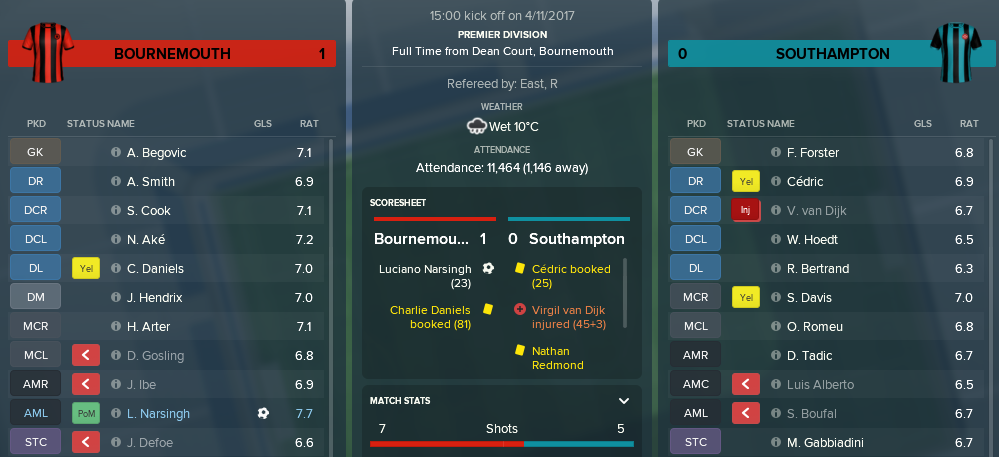 Another tight win at the Vitality, but of course I'll take it. Narsingh scored for the third game in a row, in a match we dominated for 80 minutes before Saints thankfully fired a few last minute chances wide of goal.
Onto our final game before the ridiculous run of big-name clashes, and we were paired against Everton. Unfortunately, a 0-0 draw wasn't quite the result I was looking for considering we were destined to drop even more points across the next month or so.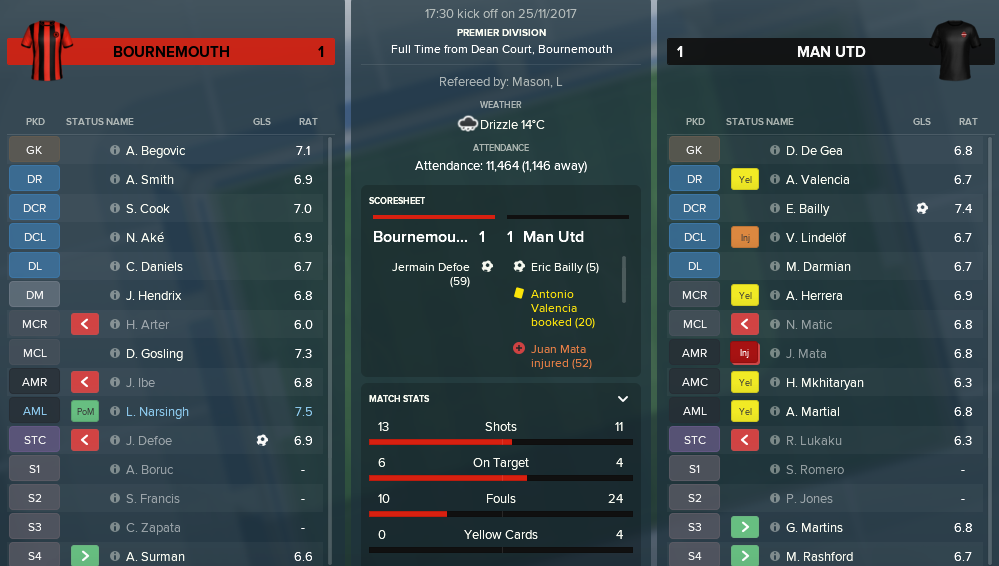 A 1-1 draw against Manchester United, after falling behind! A dismal first half saw United constantly flying forward, and the lads just about managed to hang on until the interval. After a good kick up the arse, Ibe, Narsingh and trusty ol' Jermain Defoe managed to pull us back into the game, where we would then hold onto a point with some heroic defensive work from my centre-halves. What a player Nathan Ake is!
Our next game in the tricky run was at Wembley Stadium, against Tottenham. Despite not having the best start to the season, Spurs possessed many talented attacking players so I countered with a slightly more defensive outlook, whilst looking to get the ball to t
he wingers on the break as much as possible.
Despite the positive result, I was actually left disappointed at full-time. It was a game that, despite the statistics, we dominated in every aspect – and even managed to carve out a multitude of openings for our forwards.
Defoe got us off the mark early, before Son found the inevitable leveller. But on the stroke of half-time, Harry Arter thundered home another long range rocket, his second superb strike this season. Son pegged us back again early in the second half, and that's the way the game stayed. A draw at a top 6 side is always a good result, but we definitely could have earned more with more clinical finishing.
The less said about this encounter, the better. City deservedly left the south coast with maximum points, and eased past us with a display of footballing finesse and style. The lads just couldn't cope with the likes of Raheem Sterling and Sergio Aguero, despite Callum Wilson's late consolation proving a slight positive at the final whistle. It's our first defeat of the season, and certainly tough to take.
But the games come thick and fast, and don't get any easier! A trip to Anfield awaited us next.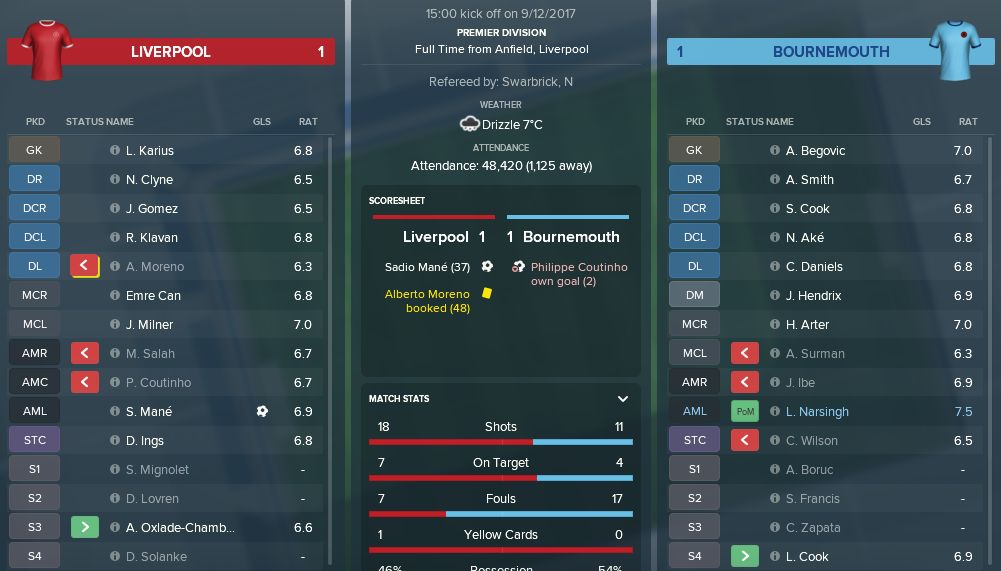 Another stalemate against tough opposition, but another welcome point. Coutinho's early own goal gave us confidence, but Sadio Mane's tap in at the back post levelled the game. Despite some pressure from the Cherries in the second half, we couldn't find another goal and left Liverpool with a comfortably hold on a top six place, somehow!
A win finally arrived in the form of an edgy contest at the Vitality, where we squeezed past Burnley 1-0. But these are the games I now expect to be winning, and despite the lack of goals, it was a confident and assured performance from the boys.
However, the next game at the Emirates brought us back down to Earth with a resounding crash.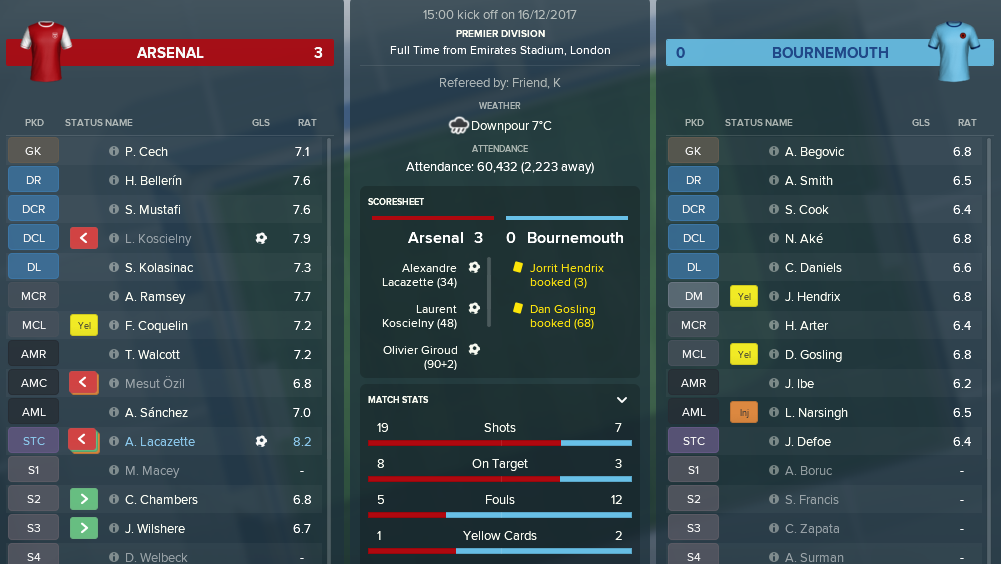 We were truly humbled by a superior Gunners side, in only our second defeat of the campaign.
But we would return a few days later, fighting for a spot in the Carabao Cup semi finals…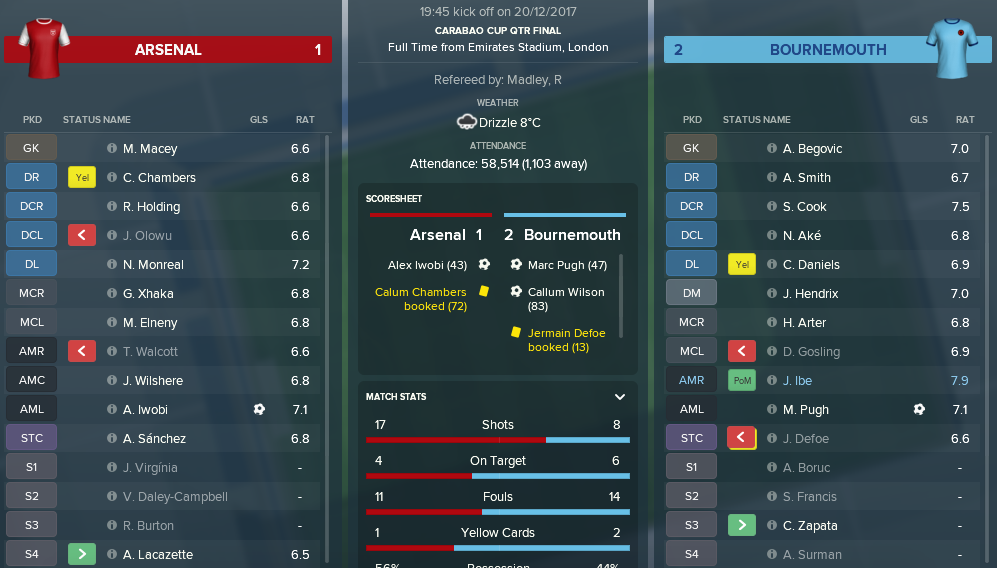 What a result! Arsenal rotated their side, but you can only beat who is against you on the pitch and Bournemouth certainly deserve their spot in the final four of the competition. Marc Pugh, who has found minutes hard to come by, impressed me and even grabbed himself a goal!
We will take on Oxford United in the next round, and I certainly expect the lads to reach the final now. A top six spot in the Premier League and the prospect of a major final on the horizon…not bad for a little team on the south coast!