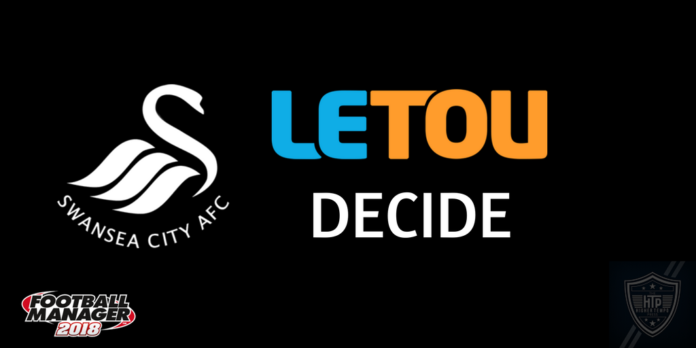 Today I wanted to talk tactics with you, but I wanted to do it on the back of a behind closed doors game with our Under 23 side. I know there are issues playing against your own youth team, it's never a satisfactory experience. If you win by a several, it proves nothing. If you don't win by a cricket score, you're terrified that you can't even thrash of team of children. There are no real benefits, save for a bit of familiarisation. But that's what I need. I need as much time in the new 4-4-2 as possible.
Only problem is that the U23 manager Cameron Toshack led his side in a game against Aston Villa U23's the day before (and won) so they're dead on their feet. As a result, I put some calls in and got Welsh Premier side Carmarthen Town from up the road to come over to the Liberty for a friendly. It was more for the wingers than anybody else and I'm pleased to say that both my first choice wingers – Nathan Dyer and Sam Clucas – showered themselves in glory with good crosses and hard work down the line. Dyer got two goals and Clucas got one himself before they both were replaced at half time along with a slew of others.
The replacements didn't make much of a case for inclusion from the off at Watford, it has to be said. Roque Mesa on the right as a substitute for Dyer only put in one good cross, admittedly leading to a goal for Jordan Ayew but otherwise was poor. Narsingh did little of note. The one major negative was an injury to Wilfried Bony, which forces my hand into an Ayew-Abraham forward line for the immediate future.
The new-fangled set pieces created problems for Carmarthen, even if there were no goals, I'm confident they'll come.
We put in plenty of crosses and that was the point. It's a win, goals scored, some smiles on face and Alfie Mawson was afforded a cameo appearance in his bid to return to full fitness. If you take out the injury for Bony, a good night's business transacted.
Where I need your help, dear reader, is in defence. Alfie Mawson will start but who alongside him? Kyle Bartley, Mike van der Hoorn or Federico Fernández?
Fernández represents the experienced option. Bartley is the Englishman so communication should be good between him and Mawson, which must stand for something. Van der Hoorn is the unknown. I haven't give him as much time on the pitch as the rivals for his position but perhaps he deserves a starting chance?
Have your say on the poll over at the Higher Tempo Press twitter account @thehighertempo or at the link below.
This Saturday, Charlie Tango's Swansea take on Watford in another relegation six-pointer as part of the #LetouDecide project. We will have live reporting from the Liberty. Who should partner Alfie Mawson in central defence?

— TheHigherTempoPress (@thehighertempo) January 11, 2018