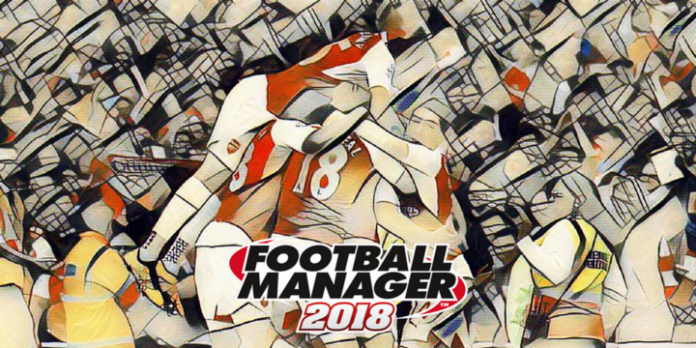 2004, the last time Arsenal won the Premier League. 2006, the closest Arsenal have come to winning the Champions League. 2002, the last time Arsenal won a double. Forget all those stats, the times have changed. 2019 is the year of the Gunners! Let's look back our a fabulous campaign.
It is the end of the road here. I do feel a bit worn out with it, mostly because I got into the start of season 3, had about £120m to spend and it no longer felt like a challenge. The copy below was written with the intention of continuing and, for readership sake, it will stay like that.
Please do keep your eyes peeled for my latest adventure though as I leave my comfort zone behind!
Expectations
Please ignore the moment to forget. Anyway, I think it's fair to say we absolutely blitzed our pre-season expectations and the board adore me. It should give me some room to breath but we shall wait and see what pressure it brings.
The Champions League was certainly our biggest triumph, as we saw off Inter Milan, Bayern Munich, Porto, PSG, Manchester City and Atletico Madrid en-route to glory. I don't expect us to defend our crown but I'd like to go up against the likes of Barcelona and Real Madrid.
Premier League wise, it all comes down to how our rivals do. Chelsea are without Conte and will likely spend big, Manchester City are already being touted with a £205m swoop for Saul and Manchester United continue to be (almost) unstoppable. Throw in the likes of Spurs and Liverpool and it's incredibly testing.
Having fallen short in the FA Cup, I'd like to get my hands on the trophy. For the first time in possibly ever, I'd also like to do well in the Carabao Cup and I will exclusively use the younger players in my squad.
Emerging Stars

The biggest breakthrough this season was Pedrag Rajkovic. We had a difficult period around November/December where our defence was woeful and I made two big decisions. Signing Aymeric Laporte in January was one of them but the boldest was handing the chance to this young goalkeeper.
In the end, I sold Petr Cech in January and I haven't looked back. Timo Horn is certainly adequate enough to be a back-up, as long as he keeps his mouth shut, and we have young Joao Virginia working hard behind the scenes. He's in my senior squad now and is one of those who will play in the League Cup.
Xhaka and Coquelin continue to be crucial to our game but I anticipate losing at least one this summer, most likely Xhaka. Arthur, another January signing, is capable of leading the way and stands as one to watch next year.
The Next Generation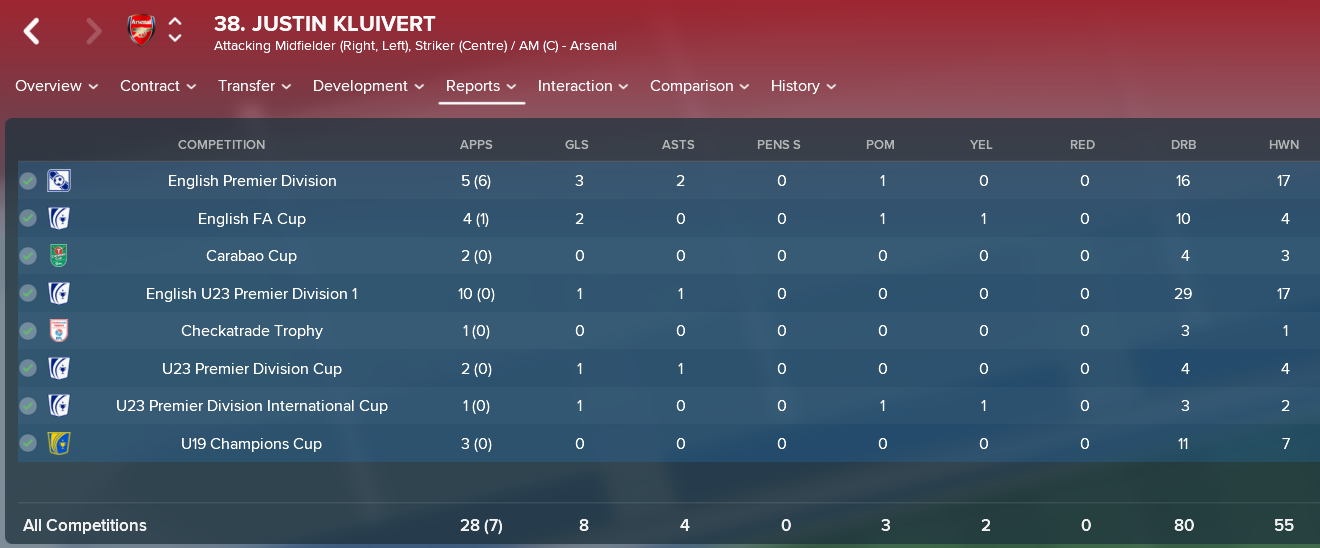 Justin Kluivert developed fantastically this season and impressed me when called upon, netting five senior goals across the course of the season. Next year, he'll stand as an important player within the squad and it will be interesting to see how he does alongside Reiss Nelson.
Nelson spent this year on-loan with Sunderland and was exceptional, so deserves his chance. Andrea Petagna also did well with Southampton, then returning to use for the second-half of the campaign, and I was impressed with his professionalism when I left him out of the Champions League squad.
Nikolas Nartey endured a tough time on-loan with Lyon, as did Francisco Trincao at Schalke and Hull, so both will stay put this year and be nurtured in our team. They will probably get opportunities too, as well a couple of others.
Transfer Plans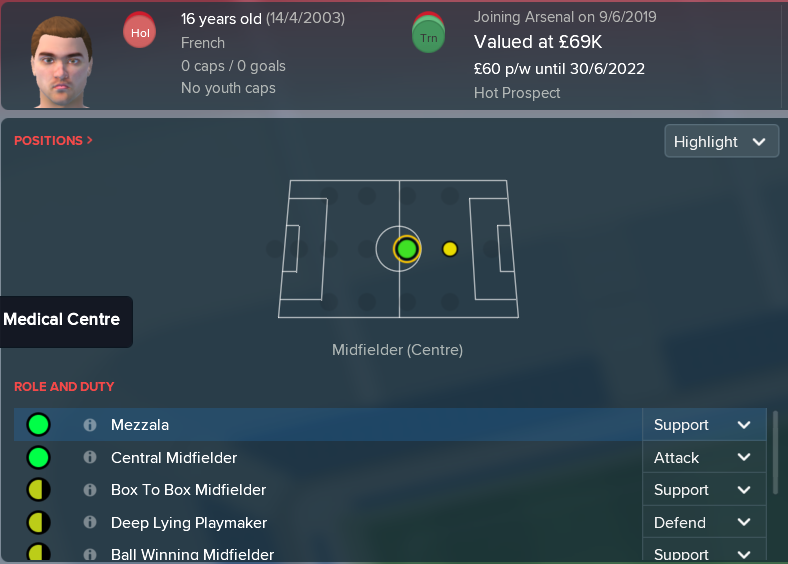 My transfer plans this summer aren't set in stone and the only area I really need to improve is at right-back, where we lack significant cover for Hector Bellerin. Jonny, who signed from Celta Vigo last year, is a jack of all trades defensively but a master at none.
He's a brilliant squad player but I do need clear cover for Bellerin, particularly as we were left with problems when he was injured. I'll probably look to sign a talented youngster who can come in-and-out of the side but we shall see.
Elsewhere, a lot of it will come down to how I manage in the battle to keep hold of my stars. Alexandre Lacazette has been handed a £250k-a-week contract to rebuff the advances of PSG, which he certainly deserves, and Kolasinac has also got a new deal- but it may be Jose Gaya's year to shine.
Xhaka, as mentioned, also has plenty of suitors and could be lured away but I will fight tooth and nail to keep Andrija Zivkovic at the club. He's my shining light and could become the best in the world, although both Nelson and Kluivert could become adequate replacements further down the line.