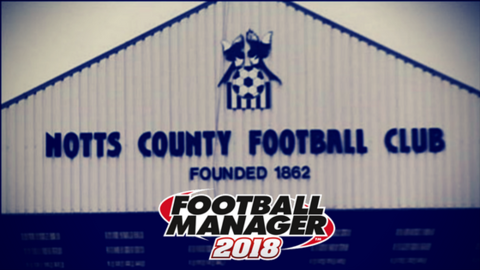 Welcome back to Meadow Lane, as we once again we try to find out if a man who has spent most of the last 10 years playing exclusively retro Championship Manager can be a success on FM18. League Two will not know what has hit it. In Part 1, I set up a coaching structure so that Darren Huckerby is my right hand man and a 60 year old man coaches the defence. Meanwhile, a 71 year old scouts for new recruits all the while reminding me that back in his day, he wore an onion on his belt – which was the style at the time.
I should stop being incredibly ageist, mainly because I am floundering on the tactics page. What does it all mean? There isn't a 'give to Shola' option so I'm going to have to think about this. I'd love to do something elaborate in line with modern football, I have two quality attacking midfielders in Grant and Liam Walker, could I play the pair of them off Shola? The problem is, that formation involves playing out from your centre halves, which I'm not overly confident we can do – and we also don't have three good centre halves. Maybe one to think about. I think my base formations should have 4 defenders, given that all my starting back four function best as "defensive full-backs/centre backs." The good thing is, that means If I play them as such I can probably get away without a holding midfielder.
That would point us in the direction of 4-2-3-1, mainly because I want to get the most out of Grant in the AMC role. I can use 4-4-1-1 away if I'm feeling leaky, which leaves me one slot for something ridiculous in case I'm chasing the game. Maybe something with two attacking midfielders. We'll think about it.
The 4-4-1-1 is simple enough in creation, I guess the only question mark is over the wide players. I can let them off the leash with the attack function if the full backs aren't going to be overly adventurous, and that seems like a decent plan. Shola isn't going to run in behind so we need him to hold the ball up for those around him, and getting Grant as involved as possible in the final third seems like a good idea.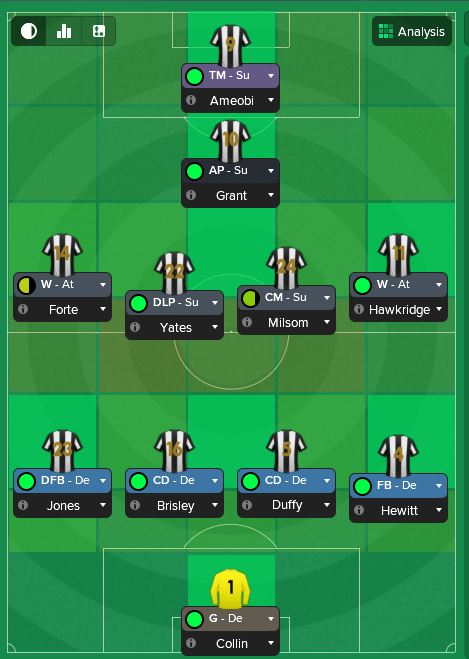 So visually, I'm ok with that. But how to set the instructions? I think for this I will keep it very simple, retain the ball and use the passing skills of my midfield to control the game. When it goes wrong, I'll try and analyse how to fix it from the friendlies. Send help.
For the 4-2-3-1, we can be a bit more expressive. I'll use this in home game where we are expected to win, if there is such an occasion. I have friendlies away at Woking, Didcot, Farnborough and King's Lynn, which is one of the many reasons Richard Thomas was fired. Nevertheless, they are games we should control, especially the final three, so we'll see how the 4-2-3-1 develops.
We'll work on a final formation. It will probably involve no wingers though and I'm not sure that's a good thing. Hopefully it never gets used.
I need to set up some set pieces but we'll get to that. One of my right backs has pointed out none of the coaches are specialising in ball control. A minor oversight, yes, but what do you expect when two of them are playing and training? I've re-jigged things a bit so Sarge is taking tactics and defending, Hucks is shooting and, Lord help us, Alan Smith is training the attacking. I've taken ball control, which probably won't improve anybody.
Since old man Miller arrived the recruitment rating has shot up. Hopefully they can actually come back with some relevant information now, but the old Judgey P stat looks great.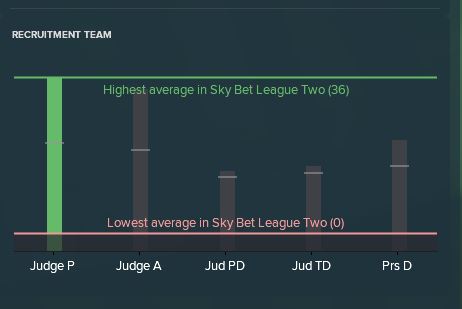 I've renewed 4 of the key players who were out of contract at the end of the forthcoming season. One of them is Shola, who I can't help but feel will be well below my expectations of him.
The Rangers game has been cancelled. I can only assume their Europa League commitments are more important than a friendly with us – the gate receipts would have been useful. At short notice, I've got Aylesbury Utd in as replacements. You may recall, prior to Euro 88, Bobby Robson's England played Aylesbury in a friendly to get some confidence in the team. England won 9-0. I'm not saying we'll win 9-0 but it's a chance for Shola to find his Nou Camp form and I'm all about that.
We're going on a training camp – in England – ahead of the Didcot game. That Thomas character has a lot to answer for. I reckon Huckerby will take us somewhere far more exotic next year.
First though, it's Aylesbury. There's something about a pre-match plan but there are many boxes and it scares me. We've trained in the 4-4-1-1 expecting Rangers but we'll stick with it. We can do this.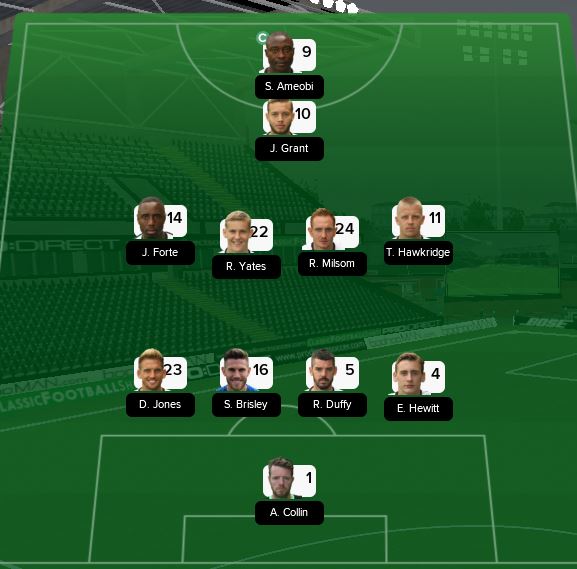 It takes Captain Shola 17 seconds to slap home the opener after Grant finds him in the area. Both wingers also scores before half time, before Aylesbury pull one back by playing a corner to the edge of the box and some dude smashes it in. It's a good goal, it's hard to be vexed by it.
I change 10 of the 11 players – mainly because I only have one left winger – and tell the lads to keep it up. Which is stupid really as it's a different set of lads but we're one team one dream here. The wonderfully named Gareth Mountain smashes in a free kick to make it 3-2 before Stead restores our 2 goal cushion. Another great name, Isaac Sheriff, reduces the arrears to 4-3 but Stead adds a second and third to make it 6-3. You won't become my favourite by scoring a hat-trick against Aylesbury Jon Stead. Ride a bike whilst eating an apple, then we'll talk. We won 6-3, we conceded to every shot we faced but they were 3 great goals. Should I be worried? None of the players look interested, it feels like a waste of an afternoon.
Woking away is actually our toughest pre-season game now. They're in the National League so only one rung below us on the ladder. I send out the same first 11 – I consider it our strongest hand so they may as well get used to each other – and Shola nods us in front on 18 minutes. The two wide men combine to make it 2-0, Forte looks really useful down the left but he's playing against electricians and the like at the minute, so I won't get too excited. Grant is felled and Shola converts the pen. The great man completes his hat-trick before half time. I wonder if my statue will be in gold or bronze?
Out of curiosity, I change to 4-2-3-1 at half time and make a handful of subs. We immediately concede. It's soon 6-1 as Hawkridge and Stead net before they pull another back, from a corner to the near post. I should really work on set pieces. A man called Bobson makes it 6-3 – former Stoke man Carl Dickinson is absolutely rubbish at left back. As if to prove that point, this Bobson character scores again in injury time. It's a 6-4 win. There's work to be done.
The post-match analysis from both games basically tells me that the defenders who came on were rubbish. One being the 37 year old fitness coach, so that's probably a fair point. Boy, could he run though. On the plus side, we've scored plenty of goals against terrible opposition. A rather large negative is that we have conceded 7. That's awful – though it has mainly been the back ups on the field when the goals have gone in, it's a concern.
Before we head off on this dreaded training camp, I'll leave you with the good news that we've signed Connor Masterson on loan from Liverpool. He'll provide defensive cover and I think he'll be useful.

Back soon with more…