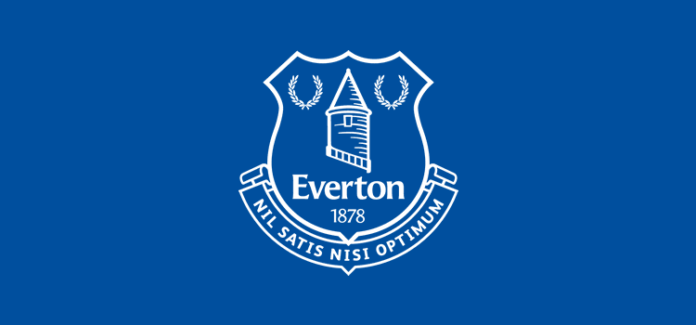 We are back!
Back in rather unpleasant circumstances. As you may remember, Farhad Moshiri handed me an ultimatum. Eight points from five matches. Five matches that were: West Brom (A), Huddersfield (H), Arsenal (A), Southampton (A) and Leicester (A).
The Baggies were rock bottom with one win to date. They were a complete mess. Tony Pulis had been sacked, and there was a Jake Livermore-Ganso midfield combination. Still, somehow, we fell to the most pathetic of defeats.
Eight points required from four matches now.

Huddersfield travelled to Goodison. My solitary home match of these decisive few weeks, it really was a must-win. Steven Mounie put the Terriers ahead early on, and I was wondering how I could revamp my CV already.
A rare moment followed. A Davy Klaassen goal. It was no ordinary finish, either, it was a right-footed scorcher to the near post from range. A goal worth every penny of his transfer fee, and a goal that gave the kiss of life to my season.
My own acquisition was later our hero. Florin Andone popped up to hand us a crucial three points. The table now looked a fair bit friendlier.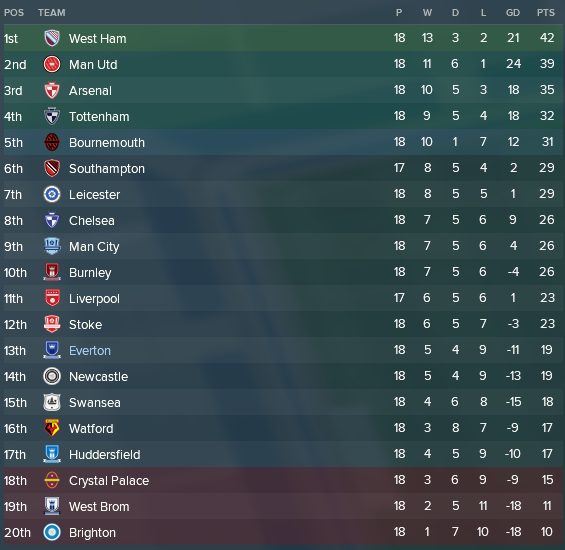 Five points from three required as we head to the Emirates.
Before we jump on the coach to north London, though, Wayne Rooney made time to whinge a bit more. First it was the team talks, then it was that I'd lost the dressing room. Well, I had lost the dressing room, but that was largely down to you, Wayne. Anyway, I got him to pipe down.
Let's get it out there quickly. It's now five points from two matches. Arsenal raced to a 3-0 lead, and eventually finished it off as a humiliating 4-0.
The south coast beckoned. The best performance of my reign kept me alive for another week. Andone started it just before the interval, Sigurdsson converted a questionable penalty, and Sandro closed it after 78 minutes. The hosts nicked a late goal, but we had done it.
So, here we are. Two points needed from one match. And, though I may be no mathematician, I think that means I need a win.
The King Power Stadium was the venue, 30th December the date, three points the aim.
Leicester – and more importantly Jamie Vardy – were far too good. Demarai Gray made Seamus Coleman look absolutely silly throughout, and notched two assists for Vardy in the first 20 minutes. A 3-0 defeat was on the harsh side. Moshiri was not all that sympathetic, though, and my P45 was handed to me right away.
I lasted longer than Ronald Koeman. I guess I can take some sort of solace in that.
Rooney's tantrums, Sandro's inability to finish the easiest of chances, and defensive errors were the main factors in my disappointingly rapid downfall. The budget was far from sufficient to add the spark that they really needed in attack, and keeping that dressing room on side was almost impossible. I blame Rooney for that.
Could have been worse, could – and should – have been a lot better. The torturous autumnal run cost me my job in reality, but the consecutive 1-0 defeats to then bottom West Brom and 18th placed Crystal Palace backed me into a corner.