Greetings! When you were with me last, Norwich were becoming the new entertainers. Goals fly in at both ends and the results are all over the place. It must be great for the neutral but I can't tell you how annoying it is to routinely score twice and not win. As if to prove my opening paragraph redundant, here we are conceding twice but coming from behind on two separate occasions to win.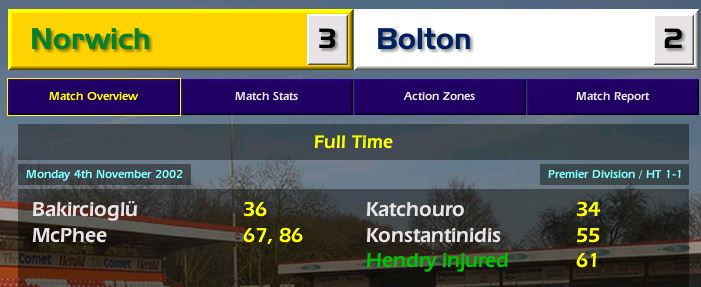 By the time Sheffield Wednesday leave Carrow Road with no points, I'm starting to dream of a European spot for the first time. We just need more clean sheets.

A trip to Anfield is never nice but Liverpool are without Owen and Gerrard, and we manage to take full advantage to pull off a famous win.

A crazy old finale but my Swede is on fire and it's a jubilant away dressing room. It is however followed up by a home derby loss – I think the fans would swap in an instant.
That is Benni McCarthy scoring for Ipswich before a last-minute defeat is the real kick in the Canaries.
We fall 2-0 down at Southampton, the last thing I need after losing the Old Farm derby, but we're made of stern stuff sometimes and a wonderful comeback is completed by Joao Paiva.
A 4-1 home loss to high flying Leeds is perhaps not unexpected, so a 3-1 win over Charlton back at Carrow Road means we can enjoy our Christmas Day. And yes, we do lose at Ewood on Boxing Day but I'm happy, and isn't that the main thing at this time of year? A point away at Wolves a few days later is satisfactory, before we get the bigger share of six goals at Craven Cottage on New Year's Day. It's a festival of football.
That's where the good news ends. Remember, that is January 1st. A 2-0 away win at First Division Forest 3 days later puts us through to the Fourth Round of the FA Cup and that is our last win. Possibly ever. We lose 2-0 at home to Arsenal – no shame there I might add before we ship SIX to Man Utd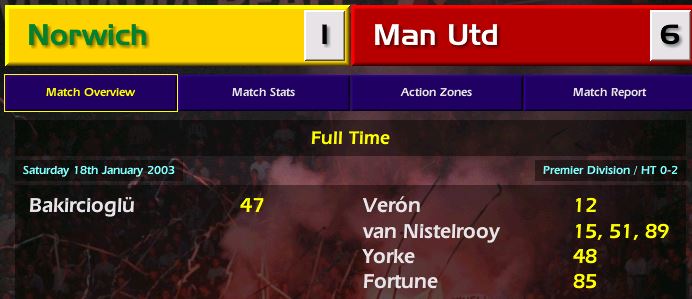 Brad Friedel played a four there. We draw 2-2 home and away with relegated Sunderland, only to manage to lose on penalties.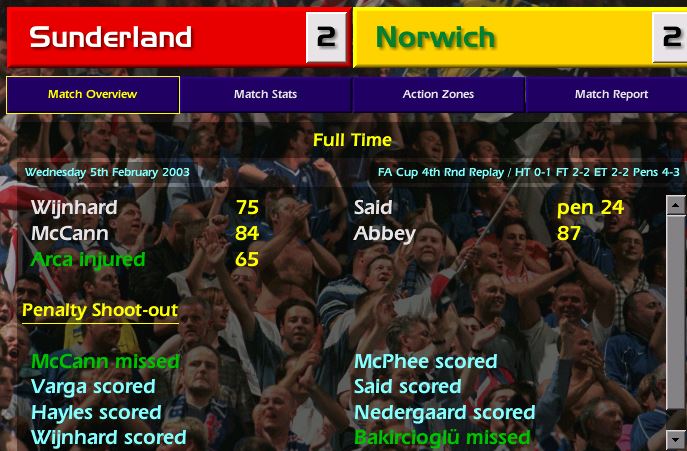 Draws with Newcastle and Villa are welcome, but three successive losses to Everton, Middlesbrough and Bolton are not. It means we've gone nine matches without a win, which is a bad run of form by anybody's standards.
Amidst all this, I wanted to buy a centre-half. Or a midfielder. Hell, anybody who is not Gazza is pretty much my requirement at this time. I feel like I've done wonders for this club. I took over £5m in debt and held off the Bailiffs with one hand and gained promotion with the other. I'm not asking for a statue Delia, I'm asking for a couple of million quid.

Willing to overlook my outburst? How very bloody generous. I've got37-year-old player-coach Aldair at centre-half alongside "are we in yellow?" Lee Wilkie and these morons won't loosen the purse strings a touch.
The fans have got my back.

I'm tempted to push it some more but truth be told I'd miss the cooking Delia leaves around the place so I'm willing to let it slide. We might not have won in 9, but we're still 12th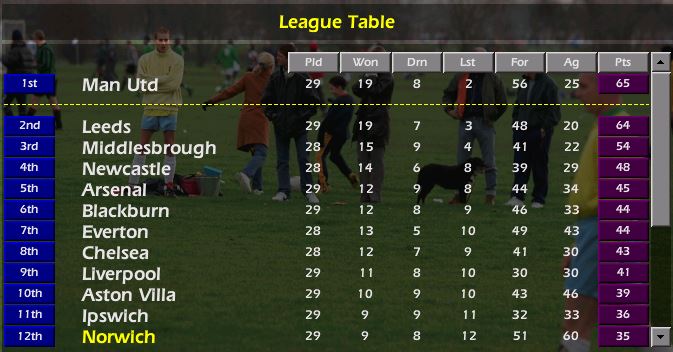 We are pretty much as midtable as you can get
A couple of wins and the job is done. Said and Bakircioglu had pesky release clauses so I've had to offer them bumper new contracts with an increased clause just so I don't end up losing them for £1m each on deadline day. Thankfully for me, they've accepted and can leave for a combined £30m. It won't come to that. I have £110k to spend.

So, as I continue on this collision course with the board, here's a look at who my key performers are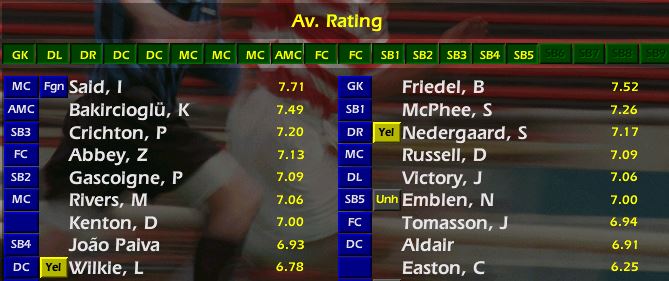 Those new contracts speak for themselves. Friedel is a strange fellow, he makes many saves but concedes probably just as many. I choose to blame Lee Wilkie.
Kennedy B is the man though, playing in the free role behind the strikers. Jon Dahl Tomasson, however, has been as disastrous as his Newcastle career was.
Join me next time where I try to keep these jokers afloat before I head back into the boardroom. Let's be having you!