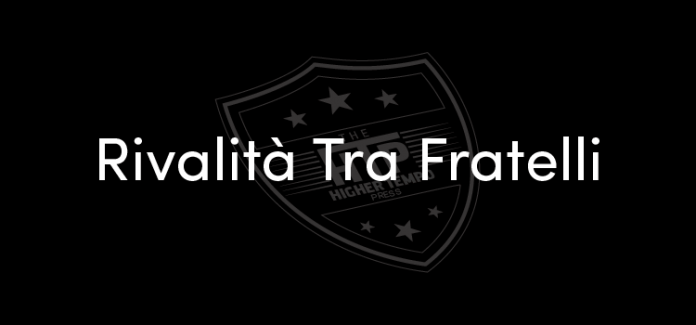 This is the story of two brothers, a modern-day Cain versus Abel if you will, based now in the Allianz Stadium. If you'd like to replicate this challenge, we're using the updated medium database with the following leagues: England (Premier League, Championship, League One & League Two), Italy (Serie A & Serie B), Spain (La Liga & Segunda División), France (Ligue 1 & Ligue 2) and Germany (Bundesliga & 2. Bundesliga).
Rivalità Tra Fratelli, Episode 31 – An Open Letter
Dear Reader,
I don't know what to say. I really don't. I feel numb. I have been walking around for the past ten days crushed, broken and any other adjectives you'd like to include in their place. This has never happened to me before. I've long been accused by members of my own family of playing the game 'wrong', that somehow taking over at Real Madrid or Bayern Munich is cheating. Yes, there are different pressures than taking over at Stockport County or Wrexham but the pressures do exist all the same.
This season was supposed to be have been one of redemption. After losing two consecutive Champion's League finals to Dortmund, then to Manchester United, I turned to Charlie to help me in a moment of weakness. Initially, things looked promising. We signed The Isco Kid, Shaqiri, Bakayoko, Cillessen and Juan Cuadrado. Charlie callously abandoned me to save Preston North End for no other reason than geography. He is not welcome back.
I hate him. I hate Bonucci for giving away the penalty to Chelsea. I hate Vidal for scoring the penalty. I have Leonardo Jardim for seeing his team progress to the quarter-final and not winning The Champions League. I hate Salah for being injured. I have Dybala wanting to leave for Real Madrid. I hate Bayern for defeating Manchester United in the Champions League Final. I hate that United didn't retain their crown. They all let me down.
The comparisons to Arsenal in the modern age have stung. We've fallen at the first hurdle, which is classic Wenger and peak Arsenal. We've won the league but really if I look back in the cold light of day I can admit that it's been practically donated by the ineptitude of the competition. If any of Napoli, Lazio, Roma, AC or Inter Milan could get their shit together then we'd have been knocked off the top spot. It's been a case of not so much polishing a turd as steaming it, having it framed and taking it down to the Antiques Roadshow to have it valued.
After the Chelsea debacle, which just demonstrates that you can spend hours and hours drawing your intricately laid plans together, but if one defender switches off in the box for one moment, if one early goal unsettles your players, it's so hard to come back from. I'll never forget that game. We couldn't kill off Chelsea and it was entirely their fault. I have never seen such a catalogue of unforced errors in all my days and I must stress I was forced to watch Bolton Wanderers regularly during 2015/16. After Chelsea we hit a sticky patch of two draws and a loss, the negative feeling had well and truly set in before two wins secured the title.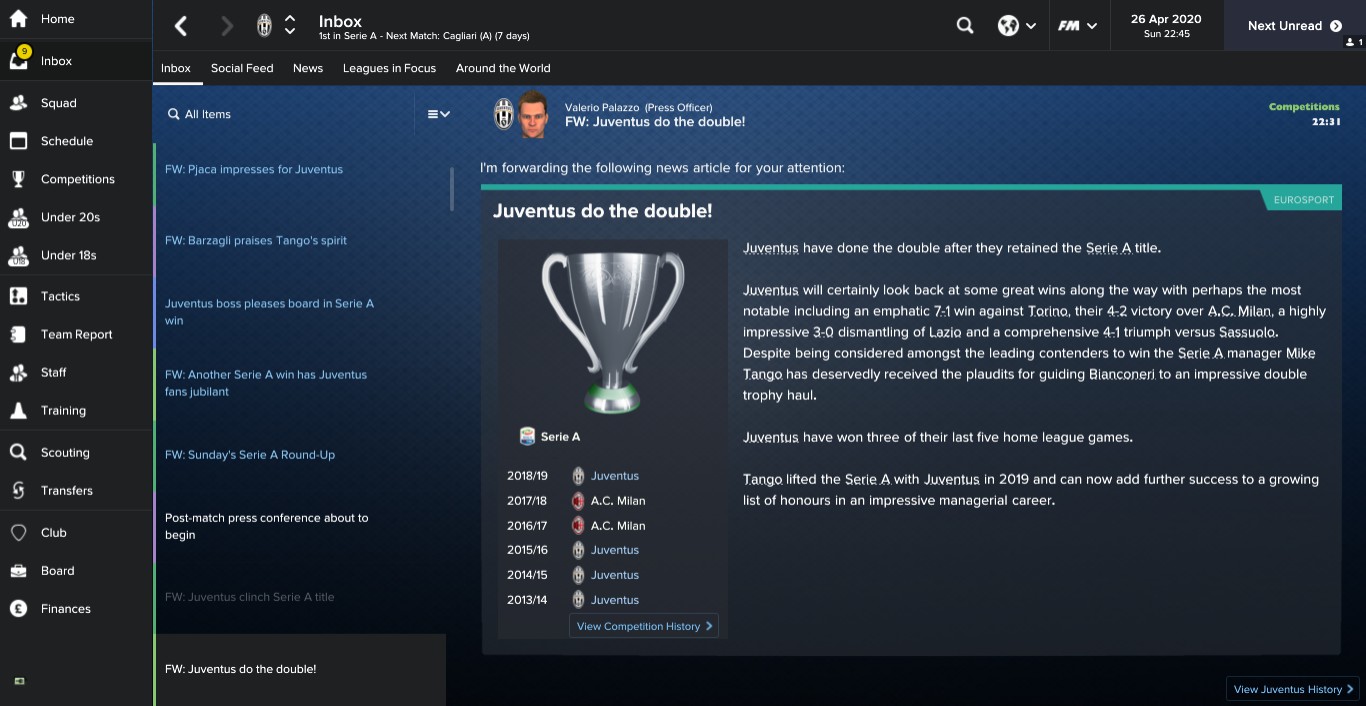 Meanwhile, I've had to put up with shouts of delight and moans of disappointment as Charlie did indeed save Preston from relegation, ending the season safe by four points on the final day of a gruelling Championship season. What's worse and damn right unbearable is that he actually got PNE to The FA Cup Final, beating Leicester, Stoke City, Burnley and Sunderland before succumbing to moneybags Manchester City in the Wembley showcase. What's absolutely staggering and even brought a tear to my own eye, is that after 90 minutes it was 1 – 1. After extra-time it was 3 – 1 to City as the quality finally came to the fore but still, an incredible achievement.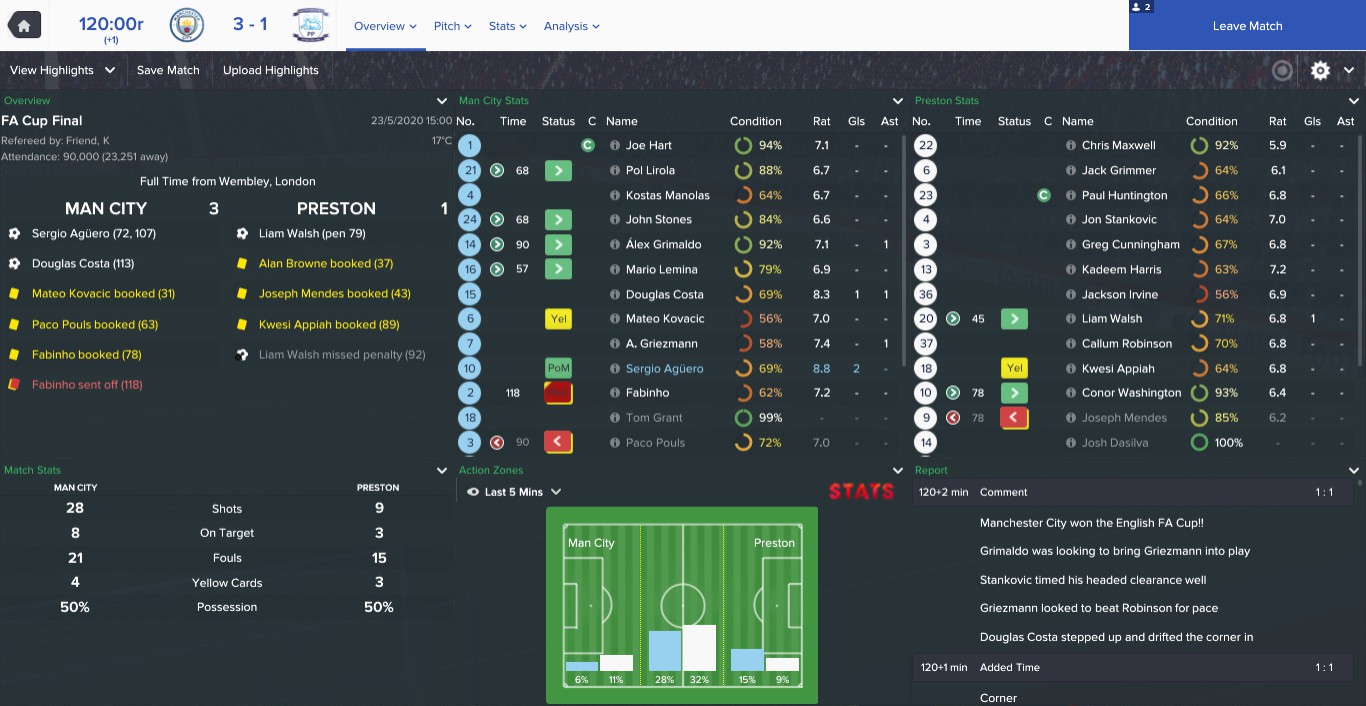 In what can only be described as a minor miracle, a comeback worthy of Lazarus, Robbie Williams and John Travolta, Deepdale will host European football next season despite PNE barely surviving the drop to League One.
So, what do I do next? Do I quit and walk away like I did at AC Milan? I'll bide my time but make no mistake, I'm through with Juventus. Without me, they'd be struggling for Europa League football. There would have been no league titles, no European final, no success, not without Mike Tango.
During the summer there will be the inevitable manager-merry-go-round especially as there's a European Championship. One of the following eight jobs will become available, they are the eight teams who made it into the Champions League quarter-finals, and I will take it:
• Arsenal
• Barcelona
• Bayern Munich
• Chelsea
• Liverpool
• Manchester United
• PSG
• Real Madrid
Tune in next week for my Champions League winning destiny to be fulfilled because if it's not, then there's no Football Manager 2018, no FM18 version of Rivalità Tra Fratelli and no redemption.
Thank you for reading, join us on twitter at @FM17Challenge, @CharlieTangoFM & @MikeTangoFM for exclusive comments, developments prior to episodes and reaction afterward. Continued thanks to Chris, Mike and everyone at Tempo for the opportunity to share this with the readers.