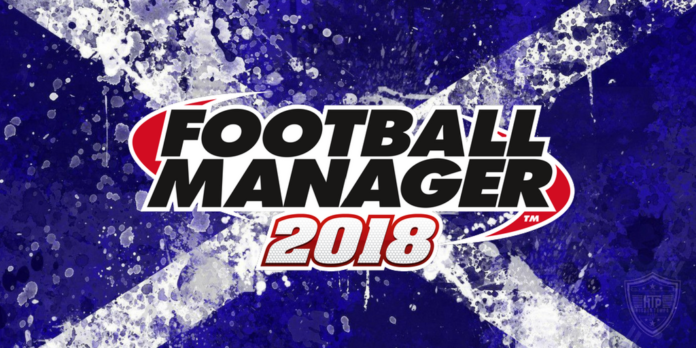 Awrite
As one of few Scots to have learned how to write in English, I've been tasked with providing you, our fine reader, with some form of guide about the Scottish leagues available to you on Football Manager 2018.
"Scotland? That's boring. It's just Celtic and Rangers."
Au contraire my amigo, that's the fun of it. You see, in FM terms, Scotland is a sleeper country. There is countless hours of fun and through this guide, I'll hope to show you that in some form or fashion. So, without any further ado…
Structure
There are four playable leagues for Scotland on the default database: Premiership, Championship, League One and League Two. No fancy dan split seasons or average points like in South America, we keep it simple here.
Promotion and relegation between the leagues is a reasonably easy process to follow with the best and the worst rewarded accordingly and play-offs to determine the rest. We'll touch on those in greater detail though.
Let's touch on this in detail then…
Premiership
Structure
It's your fairly standard top division to a point. The winners become champions of the country and the bottom side get relegated. However, that's where the fun stops as because there are only 12 teams in the top tier, everyone plays each other three times a season. Minimum.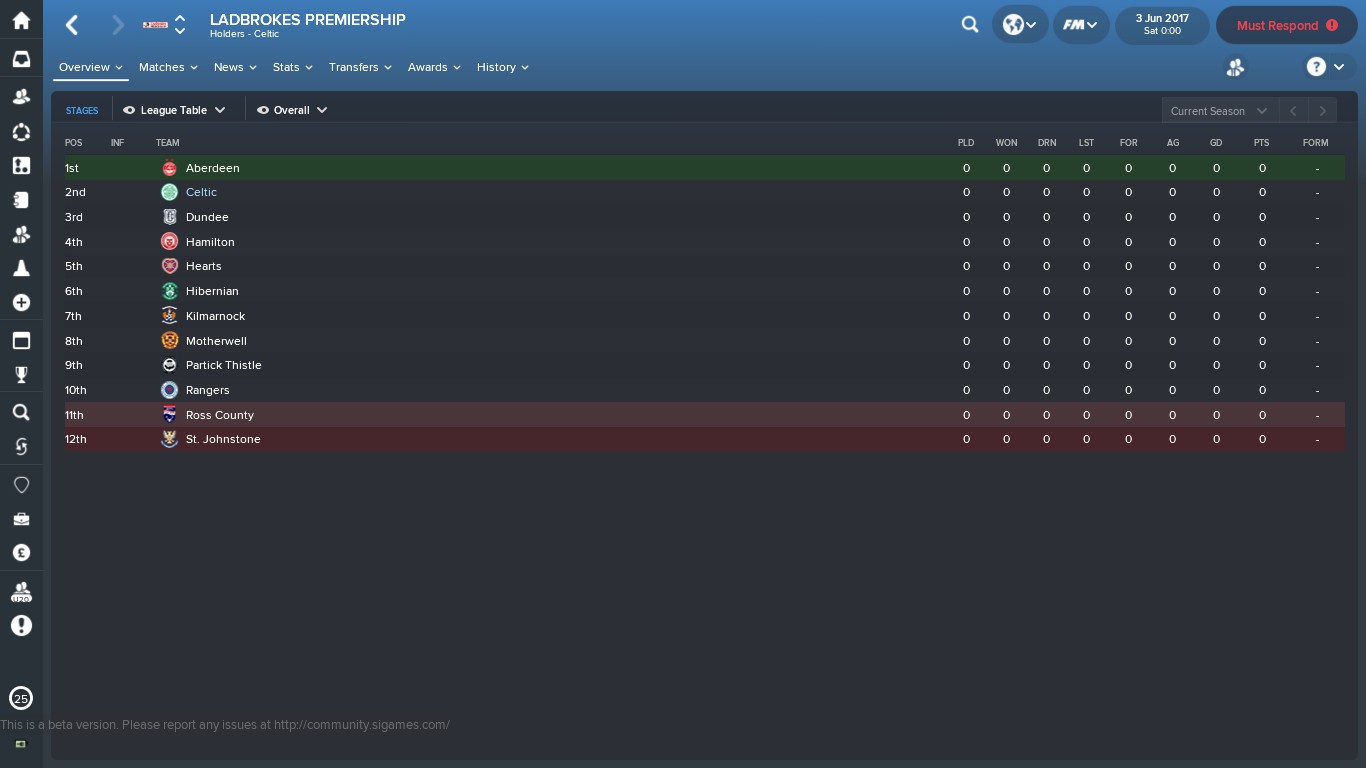 Once those 33 league games occur (typically around mid-late April), the league splits itself in half with each half playing the other sides in their half to bring the total number of games in a season to 38. In theory, this means that sides battling for the league don't have an easy run-in and relegated sides don't get shafted by the fixtures. It does mean though that, occasionally, a plucky side will finish sixth with fewer points than the side in seventh based entirely on fixtures.
If you're battling it out at the bottom then automatic relegation is only reserved for the bottom side. Second-bottom gets the joy of a two-legged play-off against the Championship play-off winners.
Potential Saves
If you're starting a new save in the Premiership then you go one of two ways: maintain or break. There is status quo in Scotland that has been the norm for around 30 years that either Celtic or Rangers win the title. The last side other than them to do so was Aberdeen under Sir Alex in the mid-80s.
Celtic or Rangers? It's a question that can have bad consequences if answered incorrectly in parts of Glasgow. Here, it depends. If you want a challenge then Rangers are the side to go with. A huge rebuild in the summer has flopped so far and their dream of making a glorious immediate return to the top tier is far away. They have talent but are managerless to start the game and are behind after years of financial woe.
Celtic are the dominant force so maintaining domestic dominance while improving the coefficient in Europe is the challenge there. You'll start (as champions) in the second qualifying round and the only Champions League participants. You'll have some cash and reputation though and a wildly talented squad.
Looking to break the status quo? Aberdeen are your best bet as arguably Scotland's second best side since Rangers' demise. Hearts and Hibs have talented sides as well with great youth programmes that can be utilised to raise funds and improve your squad on a budget.
Want to test yourself fully? Try Hamilton. They've been consistently down the lower reaches of the table and survived via the play-offs last season. They have a limited squad and little in the way of funds.
Players To Watch
This could really turn into a Celtic/Rangers XI here. Obviously, both sides have top-notch players in the likes of Moussa Dembele and Bruno Alves. However, I'm going to take this space to look at three perhaps lesser known players from the Premiership.
Motherwell's Chris Cadden is a name unfamiliar to most but he certainly should be one to watch in FM18 in Scotland. He's on the cusp of 21 at the start of the game and has almost everything you'd want from a good right winger – good crossing, dribbling, and technique as well as good mentals. He's not particularly flashy or rapid but he's a good right-sided option that can be retrained further forward or further back depending on your need.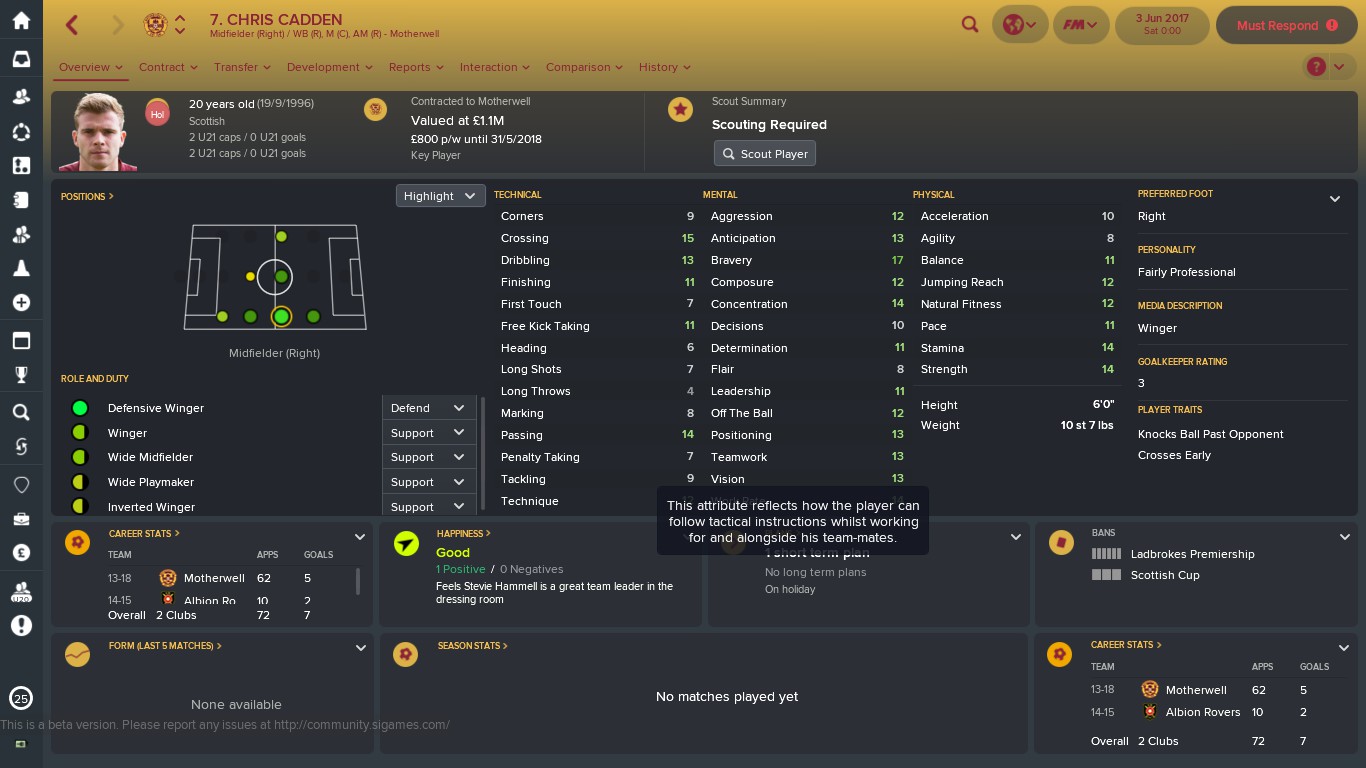 Aberdeen have a really good squad but in Graeme Shinnie they have one of the most consistent left-backs in Scotland. That he has only recently just been called up to the national team says a lot about Gordon Strachan and the form of Andy Robertson and Kieran Tierney. A really good all-around full-back that offers as much further forward as he does defensively.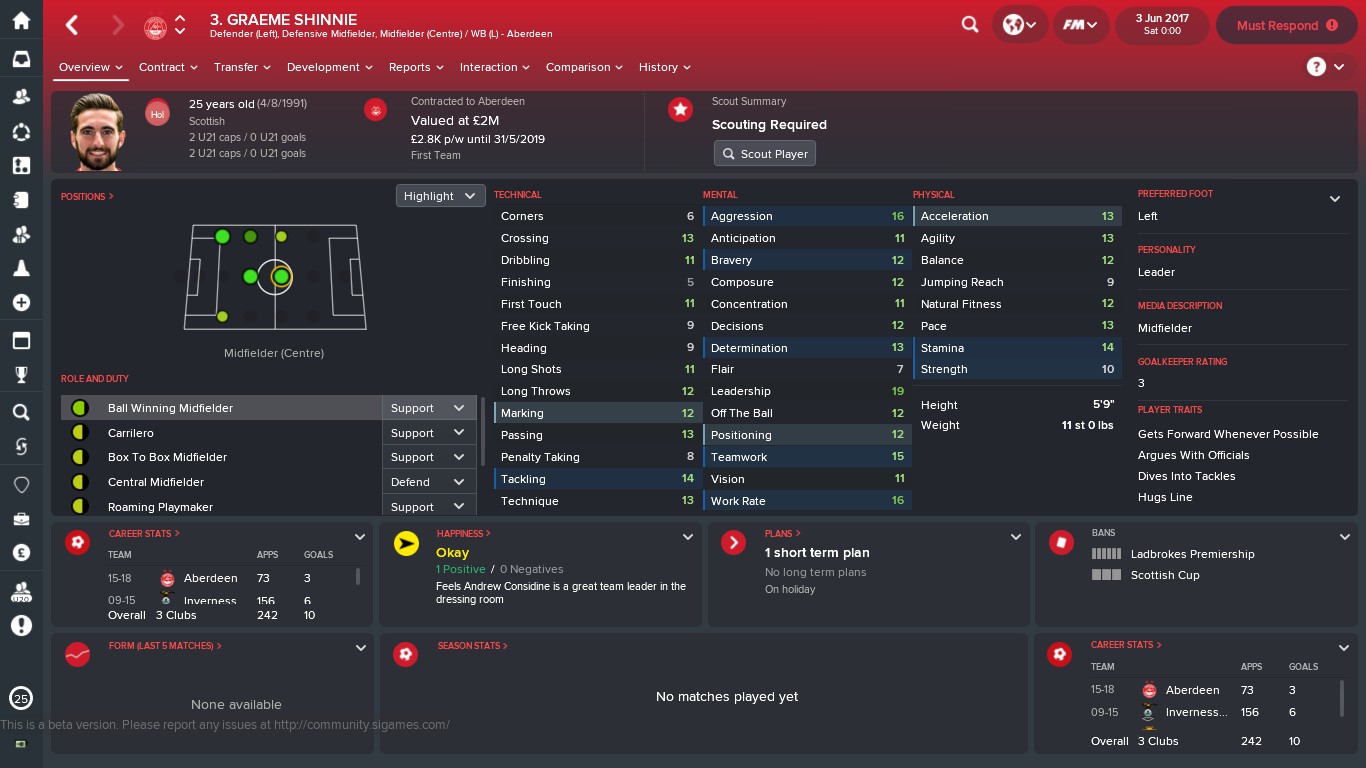 It's not always the case but newly promoted sides in Scotland have generally been quite strong in recent years. None more so than Hibs who have a fine young midfielder in Scotland international John McGinn. He's one of those players that offers you a little bit of everything and, at just 22, he has some room to grow as well.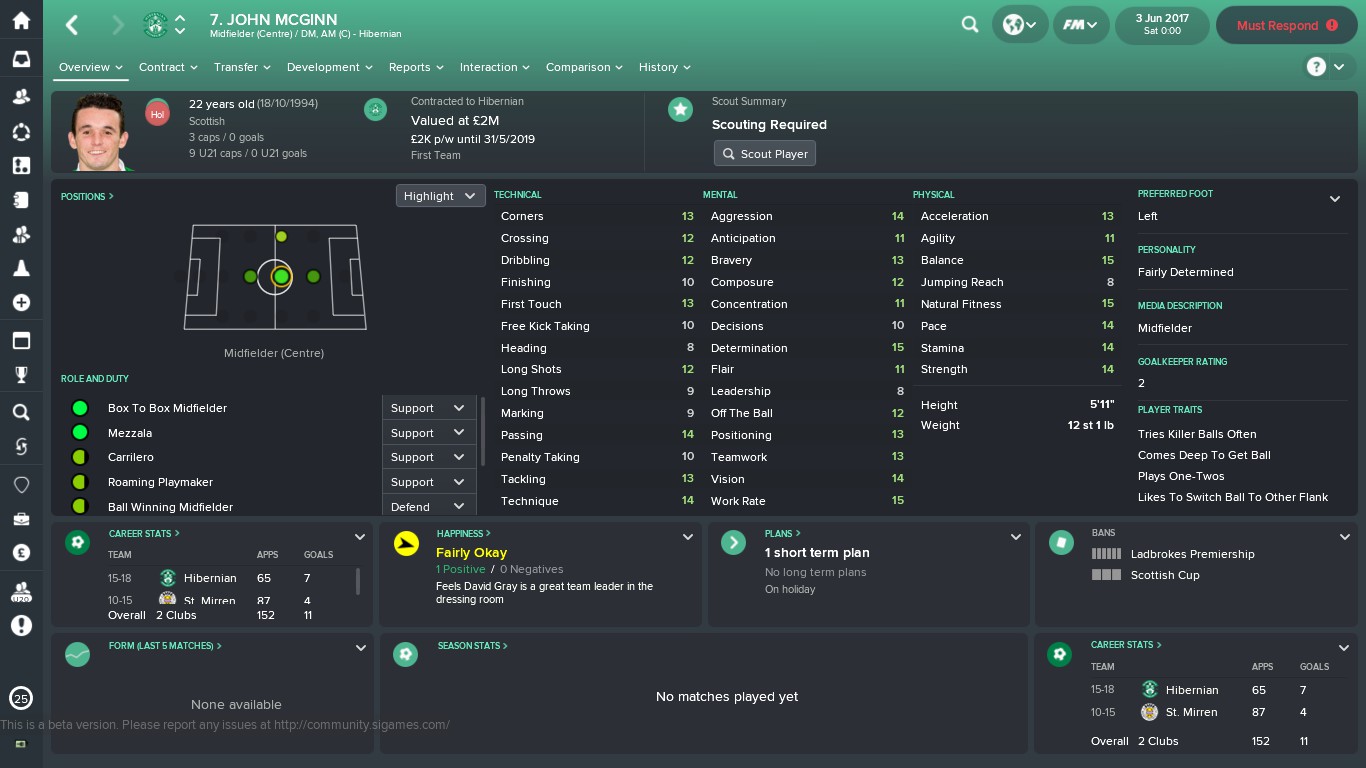 Recommended Team To Use
My personal recommendation would be Partick Thistle. They managed to finish in the top half last season which was a huge achievement for the club so the challenge is to try and better that on a limited budget. Tough especially given the financial clout of the two other Glasgow sides, the two Edinburgh sides, and Aberdeen.
Championship
Structure
Unlike the Premiership, the Championship is a ten team league with each side playing the others four times over the course of the season for a total of 36 games. It's become the most competitive league in Scotland as well as only one team is guaranteed promotion with the last promotion play-off winners being Hamilton back in 2013/14.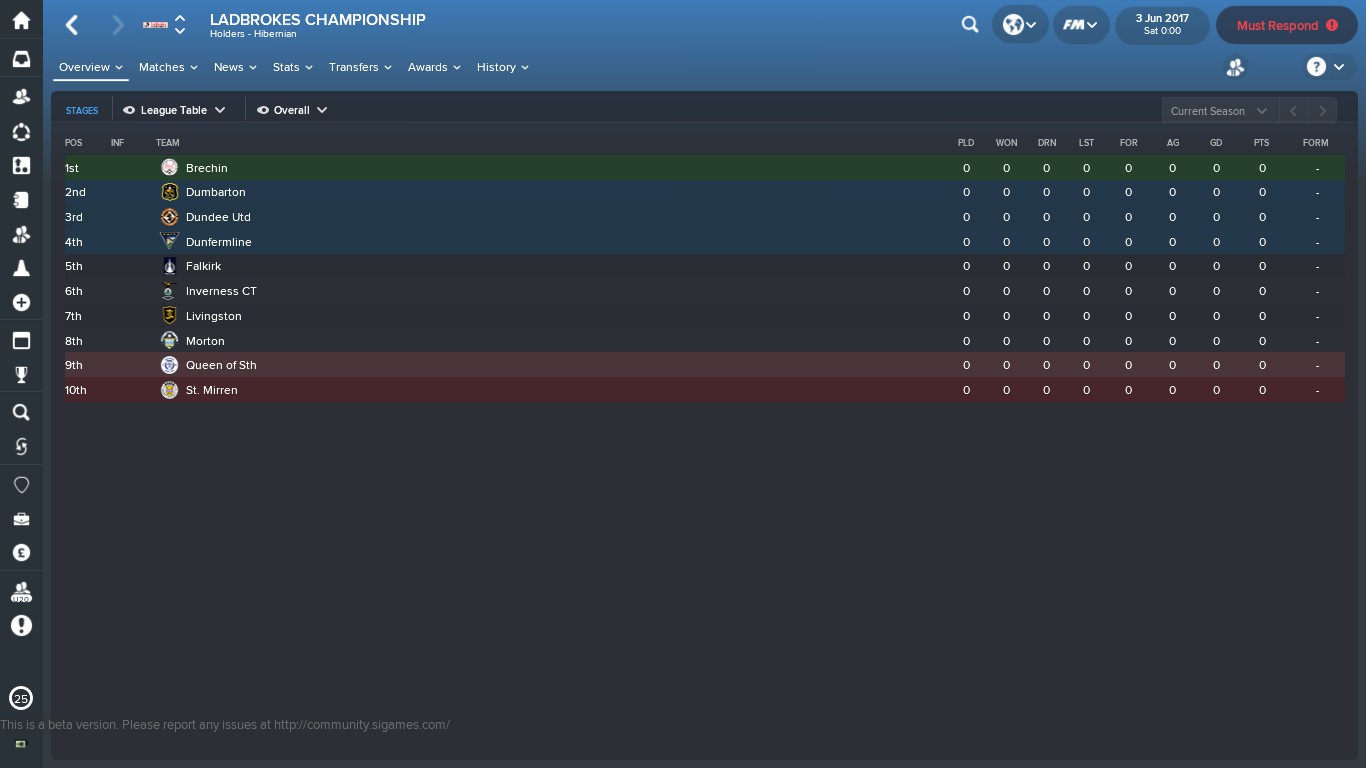 The play-off system works in much the same way from here on down so I'll explain it here. Promotion/relegation playoffs in Scotland are four-team knockout tournaments featuring second to fourth in the tier below and the second bottom side from the tier they're fighting for. In this case, third and fourth from the Championship would play each other; the winner would then play the second-placed Championship side before the winner of that would face the second bottom Premiership side to decide their fate. Simple, right?
Potential Saves
This is a tough one because no matter who you choose, it's going to be a massive test to even get in the play-offs.
Two of the more impressive sides that have missed out on promotion through the play-offs in recent seasons have been Morton and Falkirk. Ton have an excellent squad for the level and some really exciting players that just need a little something extra to get them over the edge while Falkirk have become notable for having an exciting young squad that has to be recycled every so often.
Want a fallen giant? Dundee United are former champions of Scotland and recent Scottish Cup winners but have had a huge slump in the last two seasons. They recently sacked manager Ray McKinnon after a disappointing start so the pressure would really be on from the get-go.
A test? Brechin. They're without doubt the worst side in the division so anything other than a last-place finish would be an achievement.
Players To Watch
St. Mirren are renowned for their youth system and their great escape was aided by a core of young talent. Lewis Morgan is the main man now after Stevie Mallan's departure in the summer and the left winger has plenty to offer the Saints. Just don't expect him to stay beyond one season.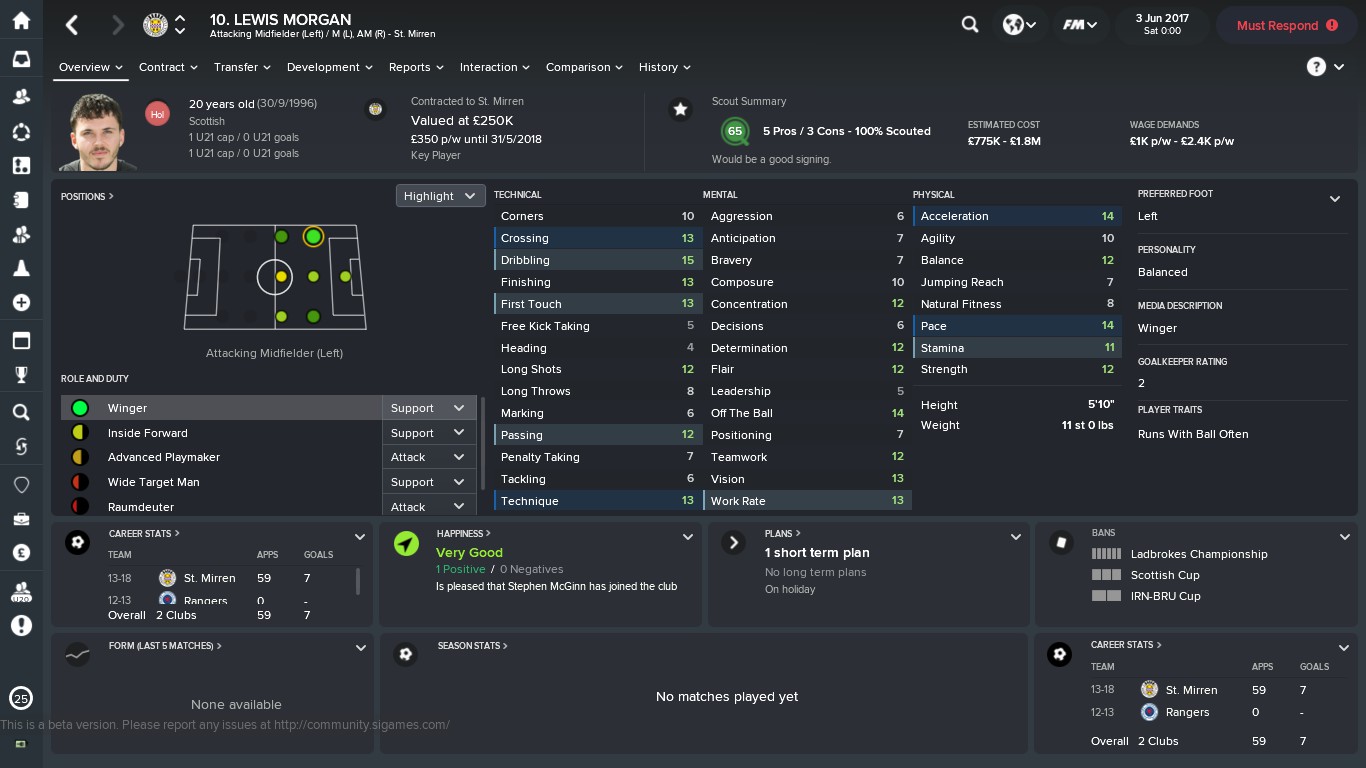 Jai Quitongo had a real breakout year for Morton in the Championship last season and has stuck around for another year. He too is one that you shouldn't expect to stay beyond one season but, at only 19, he's got plenty of potential and could be a money spinner if you play your cards right.
Craig Sibbald is a Falkirk player born and bred but is definitely one to check out. Like McGinn earlier, he ticks most of the boxes you'd want in a central midfielder and he's still only 22.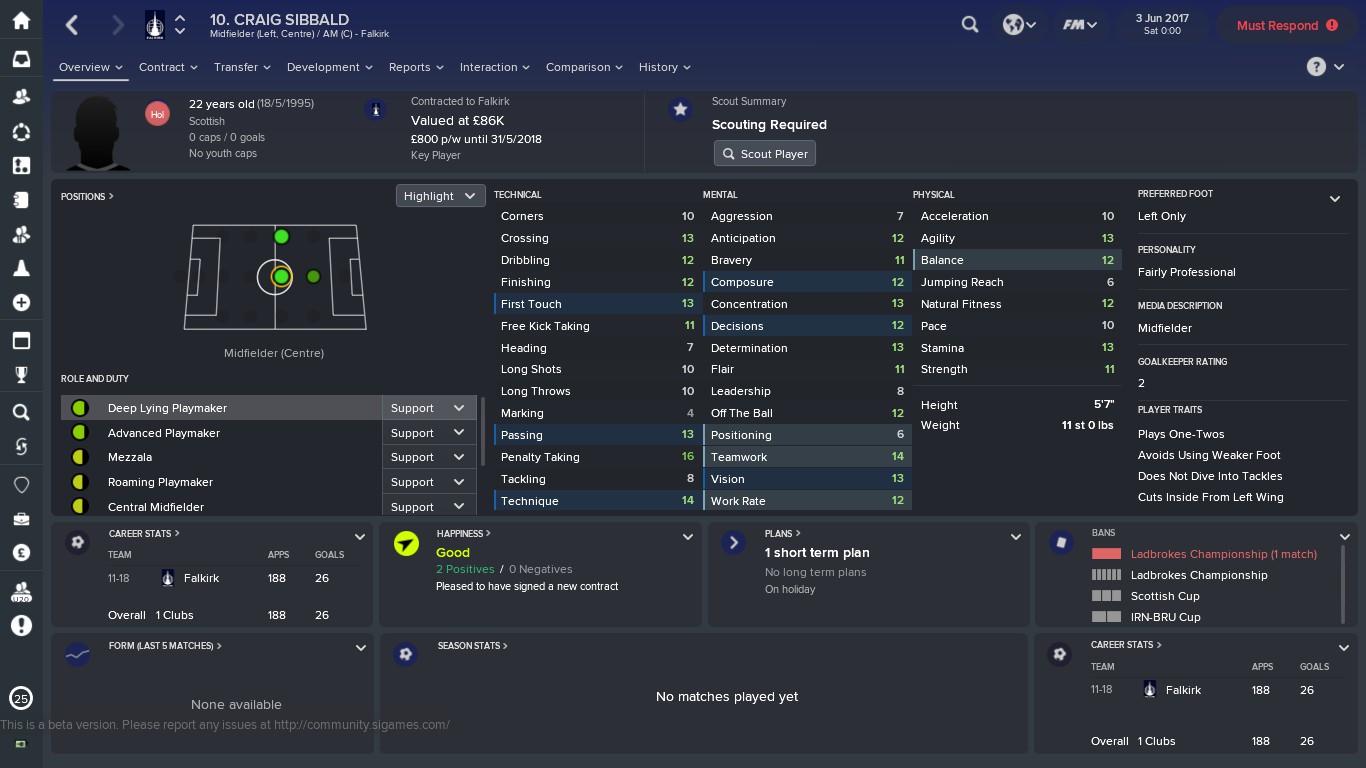 Recommended Team To Use
Inverness Caledonian Thistle went down last season but you'd never know it. With no youth or reserve side AT ALL and a threadbare squad of limited quality, the challenge is to get back up without bankrupting yourself.
League One
Structure
Entirely the same as the Championship – ten sides, 36 games, top goes up automatically, bottom goes down automatically, second to fourth go into the play-offs for promotion. Easy as you like.
The relegation play-offs from here on down are straight four-team knockouts so that's fairly easy to remember.
Potential Saves
The real big hitters in this league will be the sides that have just come down from the Championship. Ayr United finished bottom last season and have yo-yoed between the second and third tier for the last few seasons with some regularity. Joining them were Gordon Brown's team Raith Rovers who were shocked in the play-offs by Brechin. They'll want to be back in the second tier immediately.
The other end of the table will likely see the likes of Forfar and Albion Rovers, both of whom operate on far more modest budgets than the ones near the top of the table.
A challenge? It's obviously got to be Queen's Park. Famous across the FM community for being an entirely amateur side, they managed to finish sixth in the third tier last season. Can you better that?
Players To Watch
Raith are the obvious big side in League One this year and, as such, you'd expect them to have some of the best players in the league. And they do. They have maybe the best keeper in the league in Aussie Aaron Lennox. The former Aberdeen man is a talented keeper and one you should try to hold on to.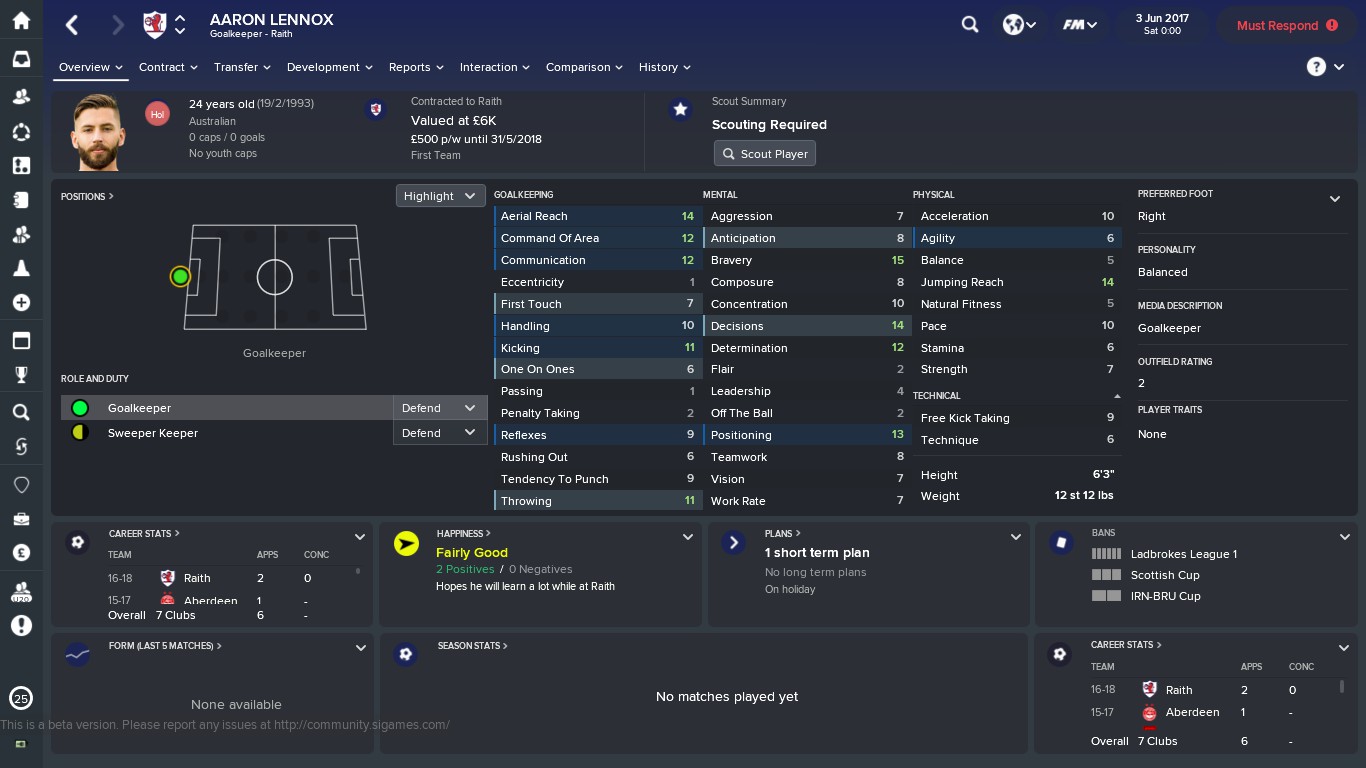 In front of him is a talented defence including the very good left back Kevin McHattie. At 23, he's already amassed over 60 Premiership appearances with Hearts and Kilmarnock and his quality and experience will prove useful to getting out of League One.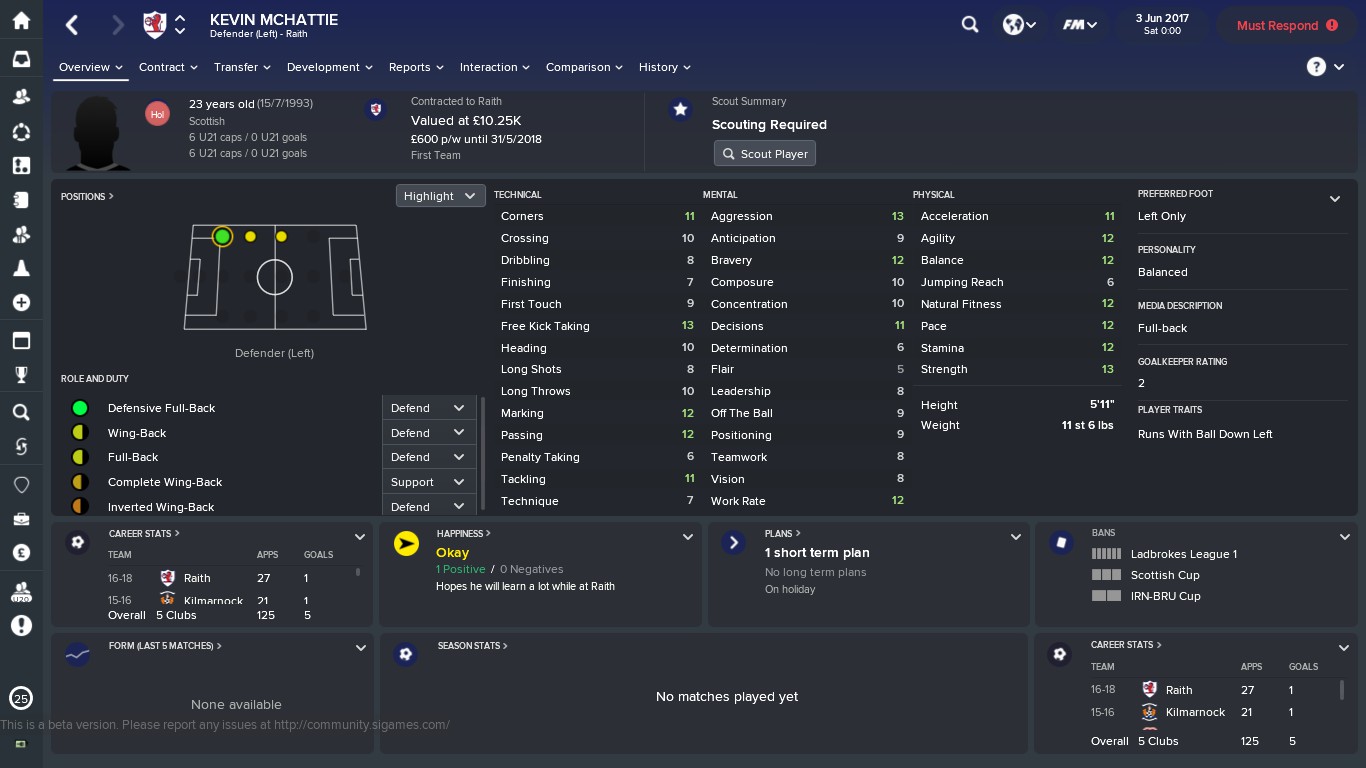 Ayr are the other relegated side and, in captain Ross Docherty, they have someone that can lead from the middle of the park. Docherty is a quality midfielder for this level and, if you use Ayr, someone to build your team around.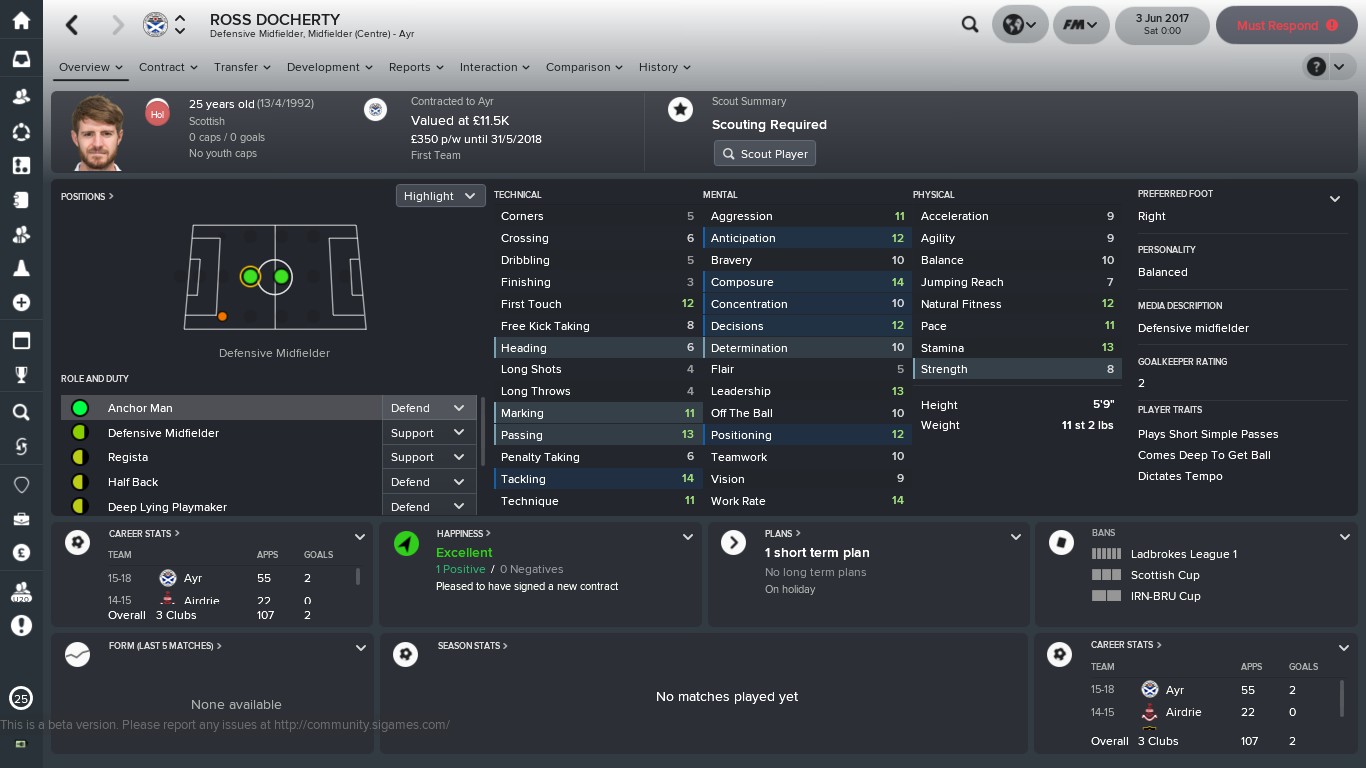 Recommended Team To Use
Arbroath. Newly promoted side with a number of talented players who have an outside shot at a play-off place if you play your cards right.
League Two
Structure
Is it acceptable to copy and paste the League One part? No? Well, it's the same set-up anyway apart from one small change. The bottom side does not get automatically relegated but instead has a play-off with the winner of a separate play-off between the winners of the Highland and Lowland Leagues. In the three seasons, it has run, only Edinburgh City have ever been promoted (replacing East Stirlingshire).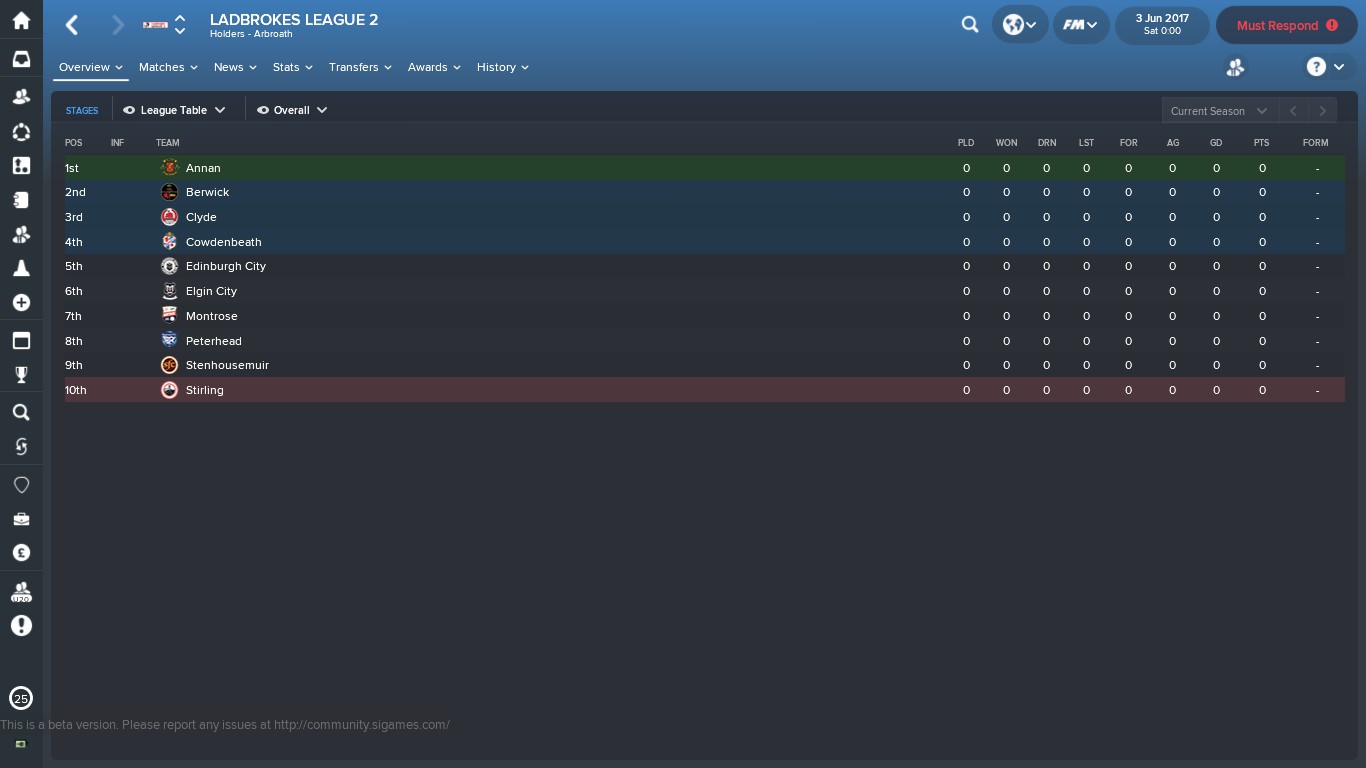 Potential Saves
Two of the potential top sides this year are Peterhead (recently relegated from League One) and Stirling Albion. Both have quality in their sides and both are gunning for promotion instantly.
Outside of that, Berwick Rangers have been mired in mid-table mediocrity in a ten team league for about five or so seasons (it still makes me sad) while new boys Edinburgh City will be looking to build off avoiding the relegation play-off last season.
Players To Watch
Peterhead have a bit of a head start on everyone else with their main man up top, Rory McAllister. He's an absolute goal machine at League One/Two level and will be the man to get firing to have success at Peterhead.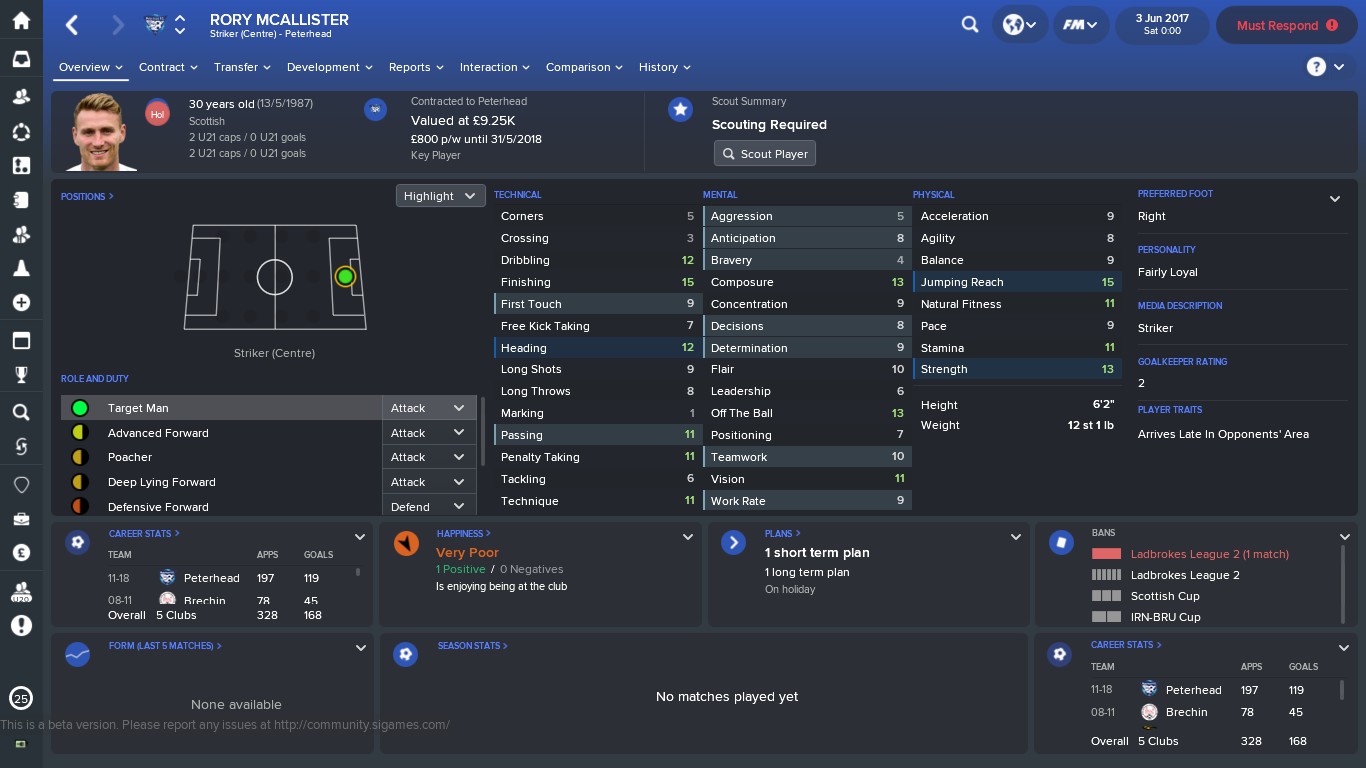 Clyde's recent years have been tough but they have a Scottish international on their books in David Goodwillie. Questionable past behaviour aside, he was scoring against Spain six years ago and, despite the negative connotations surrounding his name, he still has quality at 28.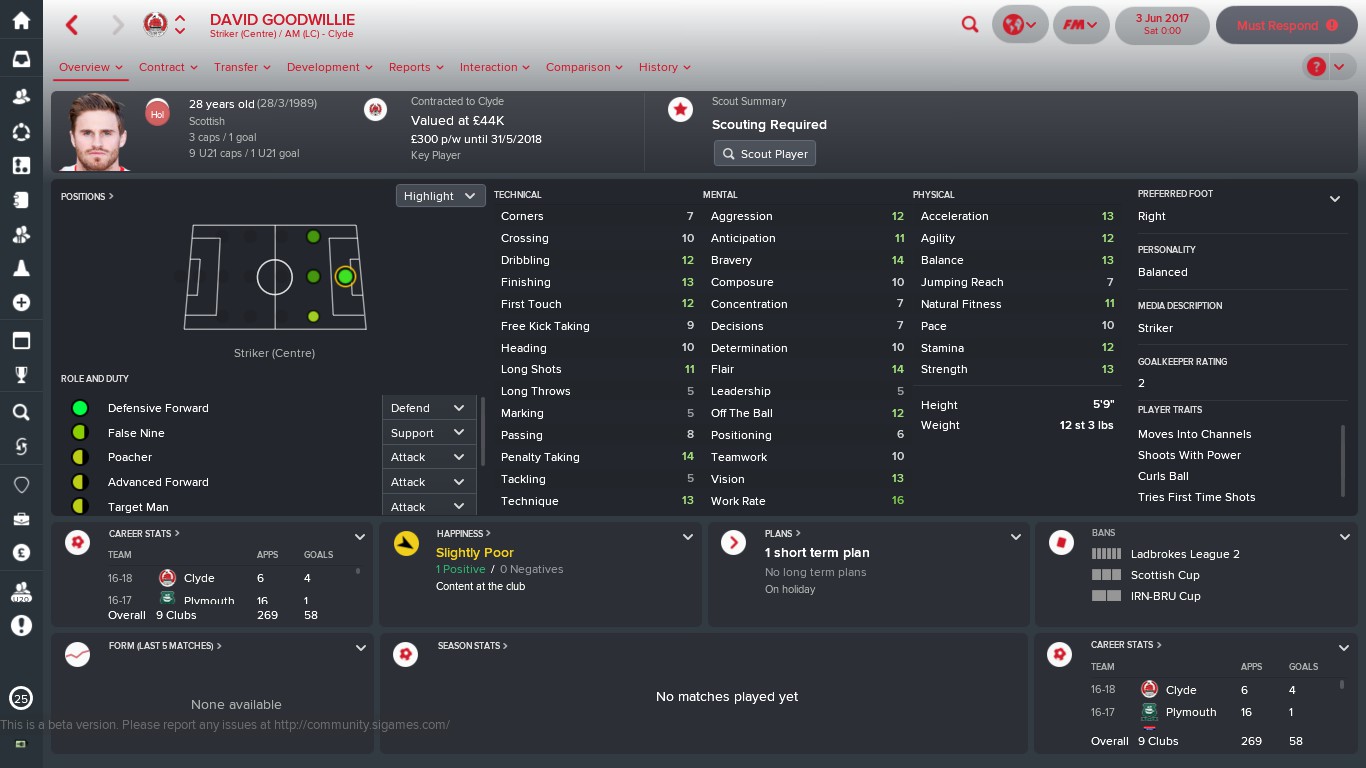 Edinburgh City's hopes on FM this year will initially ride on centre-back Jesus Garcia Tena. Experienced at Premiership and Championship level, he was let go by Hamilton in the summer after a lengthy period out with a knee injury. There's still more to come from the Spaniard.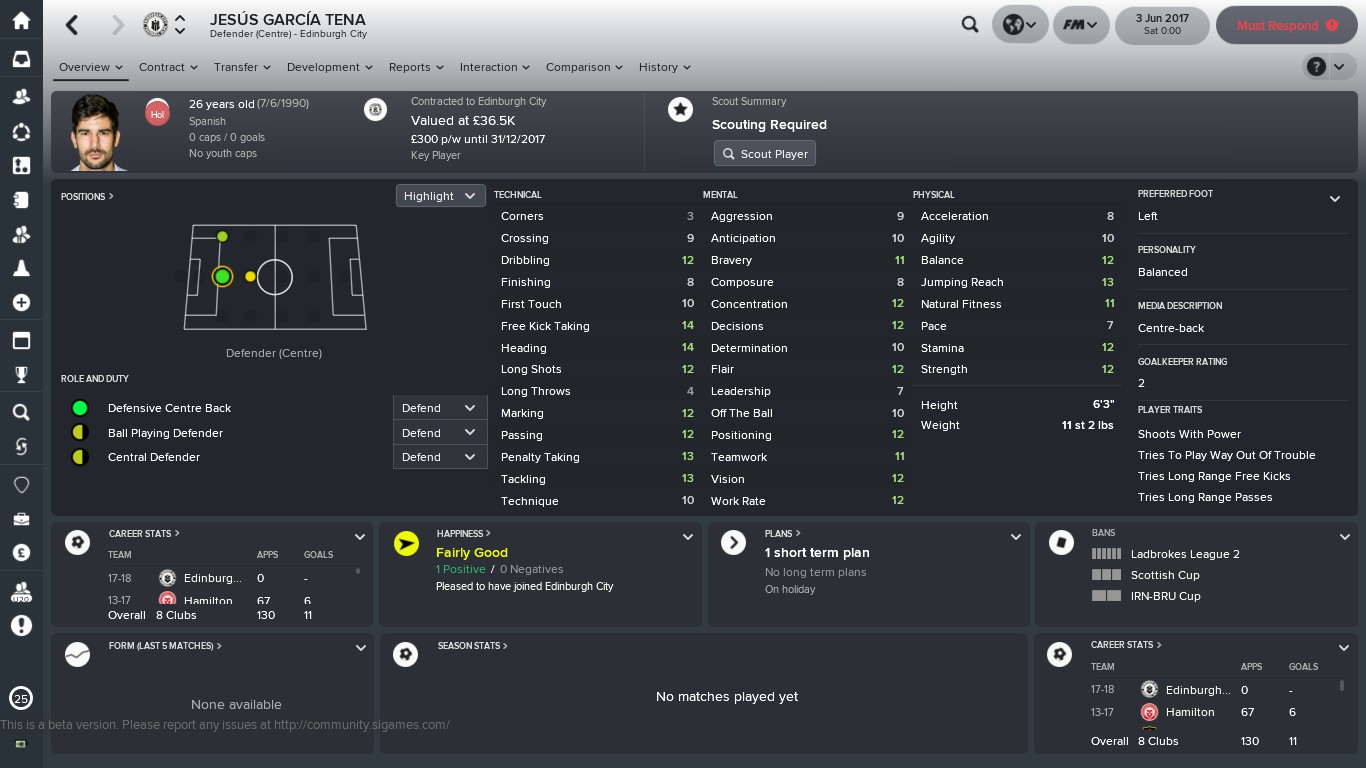 Recommended Team To Use
Cowdenbeath. Their drop has been dramatic and has flown under the radar in the Scottish press. Only a win in the relegation play-off on penalties stopped them suffering three successive relegations. You read correctly; they went from the Championship in 2014/15 to barely scraping past East Kilbride in 2016/17.
The Cups
Betfred Cup
Barring the sides in Europe, every team has to take part in the group stages of the Betfred Cup in July. Groups of five see each side play four games with a differing points system to a standard tournament. Games that finish as a draw in 90 minutes head to penalties instantly. That means that the points system goes: three for a win in 90 minutes, two points for a penalties win, one point for a penalties loss and none for losing normally.
Qualify out of the group and then it's a straight knockout to the final in October.
Scottish Cup
Standard knockout cup. It quite literally is Scotland's FA Cup.
Challenge Cup
The Checkatrade Trophy of Scotland. Used to be contested by all sides outside the top flight. Now includes youth teams from the top flight and sides from Wales,  Northern Ireland and the Republic of Ireland. Wait, what? Let me explain…
Scottish football authorities are a bit dim and add silly gimmicks to make everything more complicated. Basically, two invited sides from Wales (TNS and Bala Town) and Northern Ireland (Crusaders and Linfield) were invited last season to join in the last 16. This year you can add in Sligo Rovers and Bray Wanderers to that mix as well.
This year's invited sides are TNS and Connah's Quay from Wales; Linfield and Crusaders from NI and the aforementioned Sligo and Bray from ROI. At least it's your standard knockout cup though.
That's just about everything. Anything else you want to know just ask me (@LongBallFoot) or The Higher Tempo (@thehighertempo).
Now go enjoy Scotland…