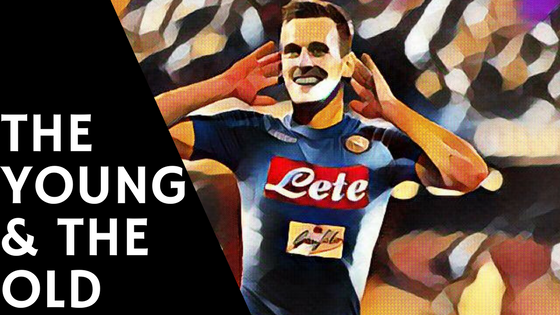 Back in Action
Thus far, things have been plodding along nicely for this Napoli side. Despite not being in the desired top 4 spot, we're not a million miles away. The first game of Part 4 was at home to Verona, and I chose the players for this game based purely on coach recommendations for the best players in each position.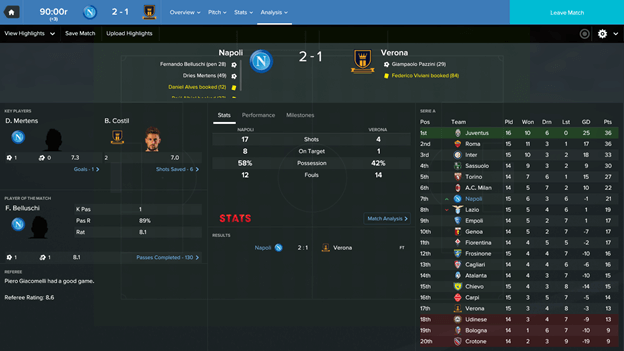 It worked too. Fernando Belluschi was inspired, at the age of 34, to score a penalty and turn in a MOTM performance. Mertens scored once again, to round off a simple enough victory for the Young and Old side.
But, this is where things started to get tricky. The next game was away at under-performing Udinese. But, despite their lack of defensive quality this season, Udinese are still a good side, and the trip was always going to cause problems.
I stuck with the same first team due to their good performance the previous week. But things started poorly.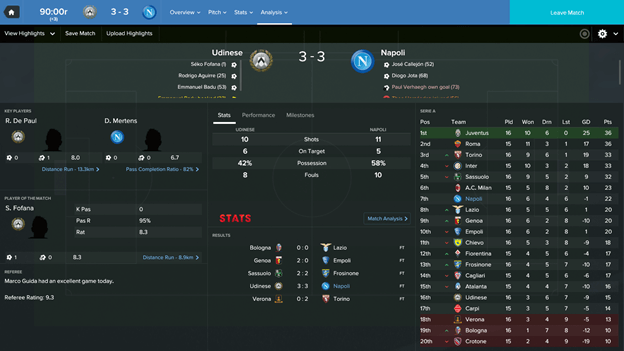 Within 25 minutes the home side were two up, and managed to maintain that two-goal cushion up until way past the hour mark, despite a goal from Jose Callejon.
If it wasn't for the introduction of Diego Jota, who scored one and assisted the opposition own-goal, we would have lost that game badly. As it is, we commendably equalised and held our position well, and even had chances to win the game. But after that rollercoaster, a draw was enough.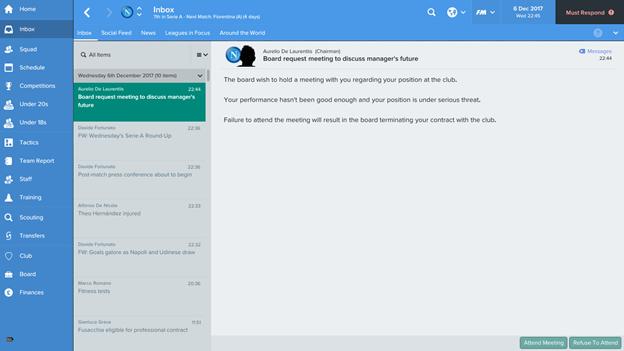 The Board disagreed.
A New Challenge
10 points from our next 5 league games. That was the task. Frankly, I feel it's a little harsh that they imposed such a requirement. We were sitting 7th, only a place below where they finished last season, and this was with a totally different squad (which made the club an extra £100m might I add).
To make matters worse, the quality of team we had to face was daunting. Fiorentina, Atalanta and Torino away, and Cagliari and Milan at home. We had to beat at least three of those teams, and get at least a draw elsewhere.
First up, 12th placed Fiorentina. It should be noted that in the 3-3 epic, we lost Theo Hernandez to serious injury. Dani Alves was a capable left-back, and Lorenzo Dickmann was still playing well, but Hernandez was a piece of genuine quality for such a young age.
Still, we went to Fiorentina with a game plan. We restricted the opposition through the middle and exploited the wings of their three at the back system.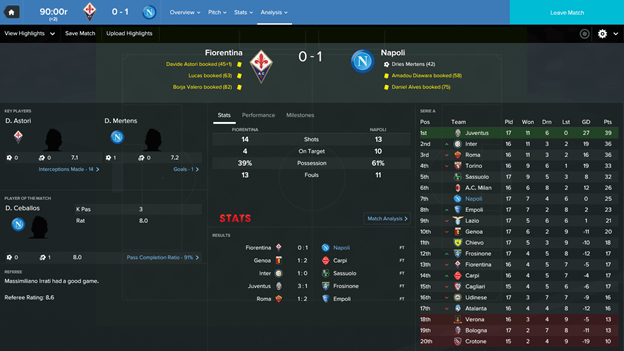 Mertens was the hero again, meaning we now needed 7 points from four games. The next opponents were Cagliari at home, after we destroyed Serie B team, and Avellino in the Italian Cup.
We went for a similar side to the one that dispatched Fiorentina, as we expected, and needed, a similar result here.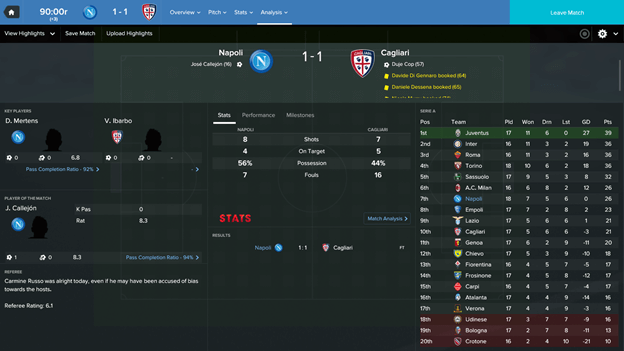 It is at this point that I will outline my biggest disappointment so far for Napoli. Breel Embolo has always been an exceptionally good attacker for me in previous FM editions. I felt that he would be the player to lead the line with physicality and finishing to lead us to success, but every game seemed to end with him being substituted on a 6.4 rating.
6 points from three games required. Atalanta away. I couldn't settle for a draw. If I did that then I would need 5 points from Torino and Milan, which would be an impossible task for my side. I went for the win.
Setback
I forgot to take a screenshot of the result because I was so angry. We lost 3-0. Roncaglia, filling in at LB after Dickmann got injured meaning Alves was needed on the right, got torn apart by the Atalanta wingers. We couldn't cope, and now needed 6 points from Torino and Milan.
Whether we had lost or drawn to Atalanta it didn't matter, the task was still the same.
Torino were sitting comfortably in 5th, in the spot we wanted to claim. They were performing well at home, and we needed a huge defensive performance to outlast them.
We did it! Jose Callejon and Dries Mertens are the only two players who I can absolutely recommend at this point in the save. Dani Alves has been great too, but these two attackers are the only ones who consistently score in the biggest games. Callejon's thunderbolt did it for us this time.
What this meant is that we needed 3 points as hosts to AC Milan. Our rivals, only 3 points separated us in the league, and we needed to beat them for me to keep my job.
We went behind early, putting my heart in my mouth. I switched to a more direct style, and Callejon snatched an equaliser on the stroke of half time.
45 minutes to go, no goals. 30 minutes to go, no goals. 20 minutes to go, nothing. I switched to two at the back with wingbacks, Diawara sitting in front, and five attackers. Two up front with two wingers, and a CAM to link it.
Time passed too quickly, and before we knew it Diawara was sent off for a second yellow. A man down and no one with enough ability to convert a cross, the game ended 1-1.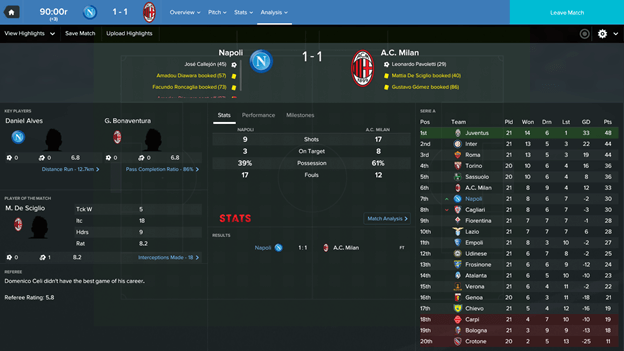 I had not reached the points target, but maybe the board would see the effort and good wins against top opp-
Sacked
They didn't, of course, and despite only being 7th, and still on the chase for the European spot, another experiment lay in tatters.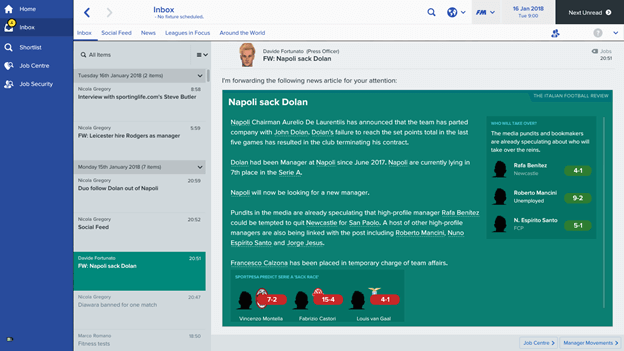 I had made signings in January, Giovinco, Fellaini and Abraham to be precise, but none of them changed the fortune. After my dismissal, a raft of 21-29-year-olds were signed, as Napoli fought on to claim 5th spot.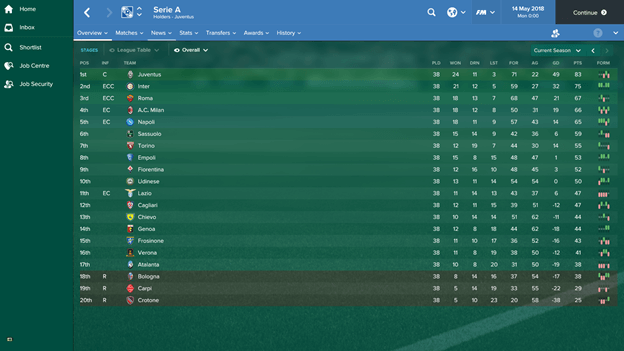 What have we learned?
Yes, you can replace your team with young and old players and doing so will make an awful lot of money for the club.
30+ players are much better suited to top-level football than 20- players, despite what the price tags tell you.
It is a method that, although valuable, should be implemented over the course of multiple seasons, to avoid squad disharmony.
In a backwards way, I enjoyed this experiment. I would be willing to implement aspects of it into my own game, although perhaps not to this extent. The money that can be made for the club, as well as the raft of talent that is out there at non-peak prices, is exceptional.
So despite another sacking, I enjoyed this series immensely, and look forward to more in FM18.