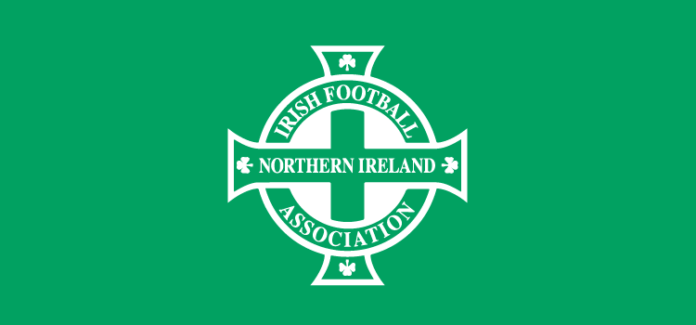 We come into this fixture on the back of a 4-0 home defeat to France – if you haven't already, you can catch up here.
Republic of Ireland v Northern Ireland
We head into the return fixtures in this campaign and it's yet another tactical change. A hint toward something more conservative and defensive.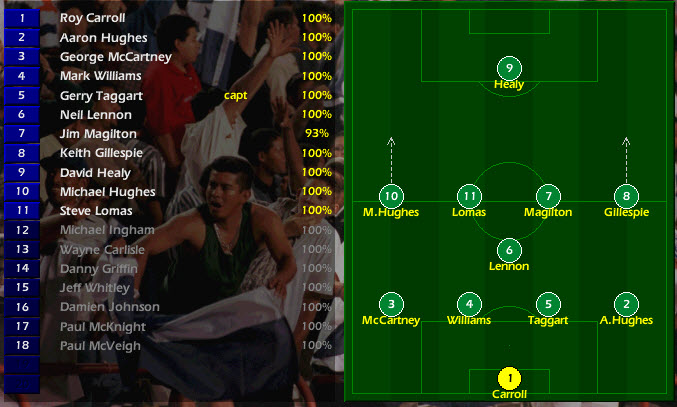 Ireland set up with their 4-4-1-1 again, Gary Doherty leading the line with Robbie Keane in behind him.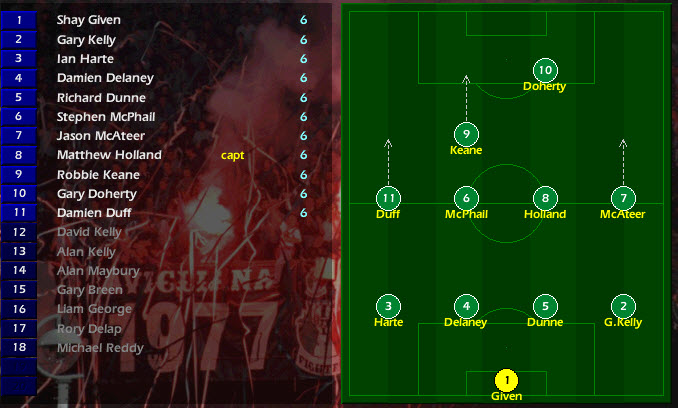 It is Robbie Keane who gives the home side the lead after only 15 minutes of the first half, 1-0 Ireland. The lead is doubled on 29 minutes by Jason McAteer and Matthew Holland makes it 3 on 35 minutes. The second half starts terribly for Northern Ireland as Ian Harte makes it 4-0 after only 5 minutes of the half. Damien Duff scores to make it 5-0 after 72 minutes and Ian Harte converts a penalty on 85 minutes as Roy Carroll is sent off. Wow. A 6-0 loss to our biggest rivals, I have no words…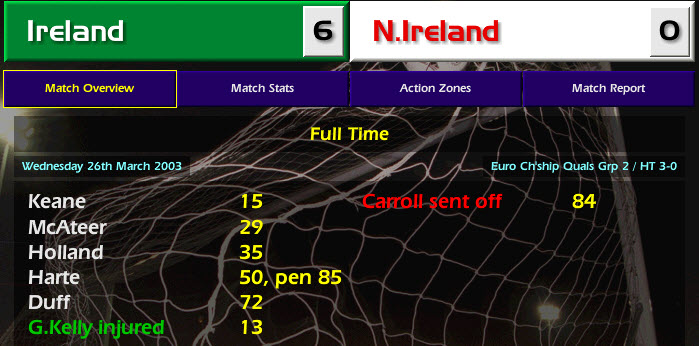 Northern Ireland v Lithuania
For some reason the IFA always schedule a fixture against Lithuania – the third in three years now. We need something to stop this dreadful run we're in. Somewhat of a last throw of the dice here today!
Windsor Park goes into a state of shock as Northern Ireland score and take a 27th-minute lead through Philip Mulryne, 1-0 Northern Ireland! Northern Ireland actually dominate a game for the first time in er… a really long time! It is, however, a one-goal game and one that goes in our favour. Praise be.

Northern Ireland v Bulgaria
It's back to porridge but spirits are high after our friendly victory over Lithuania, hopefully the positivity will carry into this game. The downside is that both David Healy (2 yellow cards) and Roy Carroll (red card) are missing for this fixture.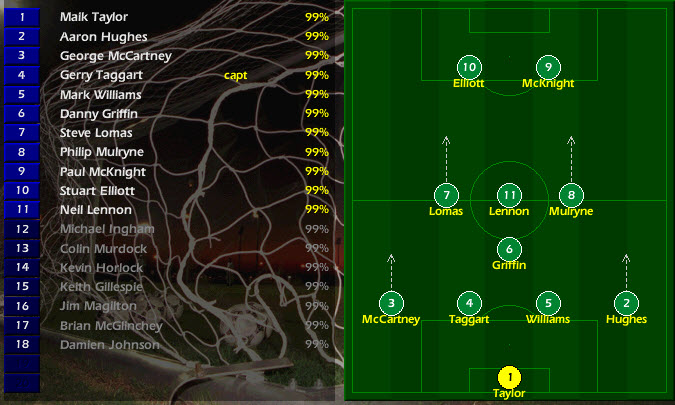 Bulgaria continue with that formidable front line in a 4-4-2 formation.
Northern Ireland start the game strongly and are rewarded when they win a penalty in the 8th minute, goalkeeper Zdravko Zdravkov is sent off for the challenge. Paul McKnight steps up and converts, 1-0 Northern Ireland! Five minutes later they're celebrating again as Philip Mulryne makes it 2-0. Daniel Borimirov pulls one back on 37 minutes to keep things interesting, 2-1 Northern Ireland at half time. 5 minutes into the second half Steve Lomas makes it 3-1! A superb result for the GAWA, a turning point or a false dawn?!

Luxembourg v Northern Ireland
We go out here on the back of two wins. Hopefully we can keep the run going in what may be a tough fixture away from home. David Healy returns to the squad.
We're up against a Luxembourg team who appear to be sitting very deep, they will more than likely try to catch us quickly on the counter.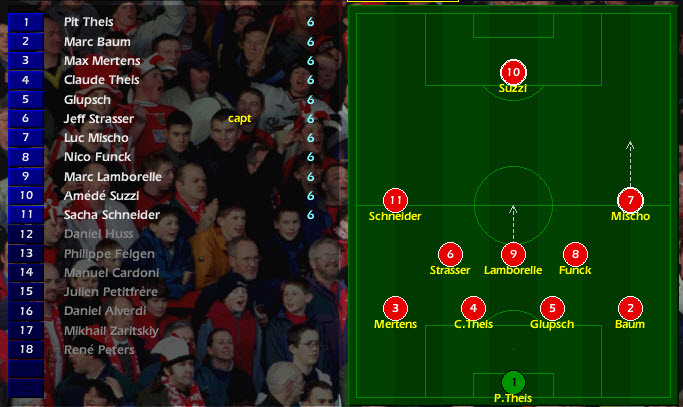 It's a fairly even first half with NI possibly shading it in terms of chances created, the score is goalless at half time though. The breakthrough comes on 73 minutes and it's David Healy who puts the away side 1-0 up! Northern Ireland switch to defensive and see out a fantastic result away from home.

Northern Ireland v Faroe Islands
A chance for us to put the embarrassing draw with them earlier in the campaign behind us. No Neil Lennon today due to suspension so in steps Michael Hughes.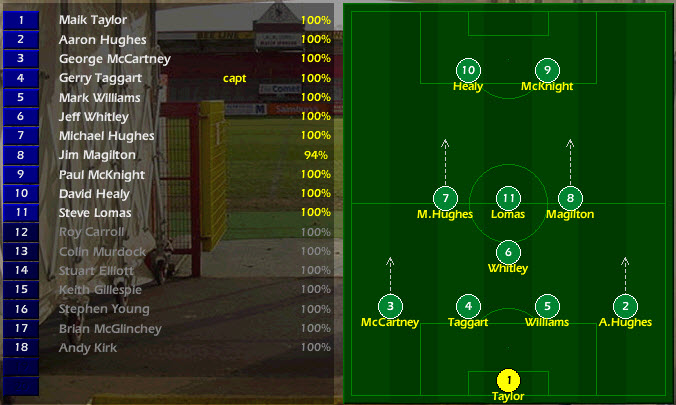 A somewhat unusual approach from the Faroes should leave a bit of space down that left-hand side.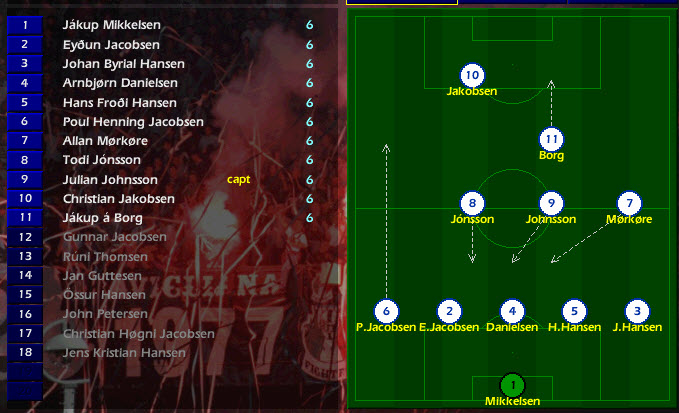 Another scoreless first half but this game is up for the taking if Northern Ireland make good on their chances. Northern Ireland throw everything at them but the Faroes remain camped out in their own half and manage to grind out a draw. It does confirm our place as 4th in the group ahead of them though.

France v Northern Ireland
A trip to France, hoping for a better result than they gained against us in Belfast. Neil Lennon is back and Andy Kirk starts up top with Healy.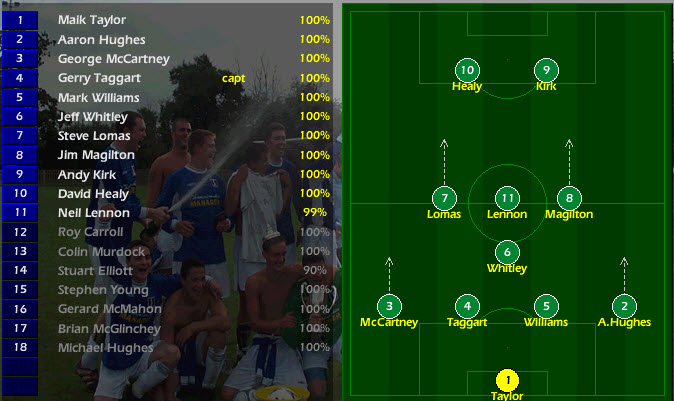 This French team is top quality, there's not much more to say about them!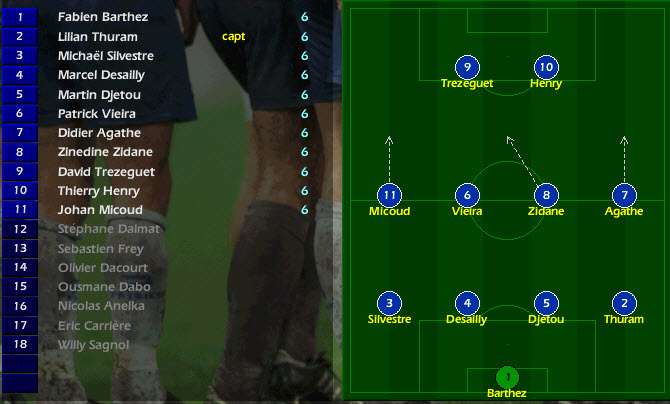 The quality shows as David Trezeguet fires France into the lead on 10 minutes. We haven't quite been outclassed this time! Northern Ireland have had plenty of chances and trail by just one goal at the half. France come out firing in the second half and Trezeguet doubles his tally 7 minutes in before Lilian Thuram makes it 3-0 on 59 minutes. With 5 minutes to go Andy Kirk strikes to score his first goal on his 10th international cap but the match finishes 3-1 which, in reality, actually flattered France somewhat!
Wales v Northern Ireland
We round off 2003 with a friendly away to Wales – another repeat fixture after we lost 1-0 to them in March 2002. We use this as an opportunity to test out some fringe players, Wales play a full strength team and annihilate us. We'll not take much from this fixture.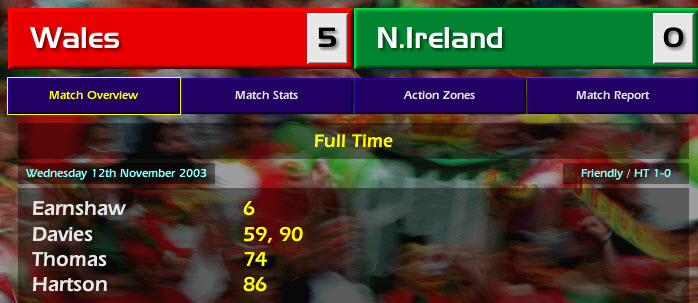 European Championship Qualifying Group 2 Review
It was a campaign that started abysmally! Gradually we grew into it and finished quite strongly with 7 points from our last 4 games, although it really should have been 9! On reflection 4th place is probably something we should be content with and we were only 4 points off Bulgaria in 3rd place.
I think we've now settled on a formation and tactic that suits us going forward.

2004 European Championship: Portugal
Italy go on to complete a World Cup/European Championship double by beating Holland in the final in Lisbon. France were eliminated in the group stages while Ireland fell victim to a penalty loss to Holland.
World Cup 2006 qualifying is up next but don't forget to check out Henry's real-life review of Northern Ireland's 2004 Qualifying Campaign on That Football Daily.