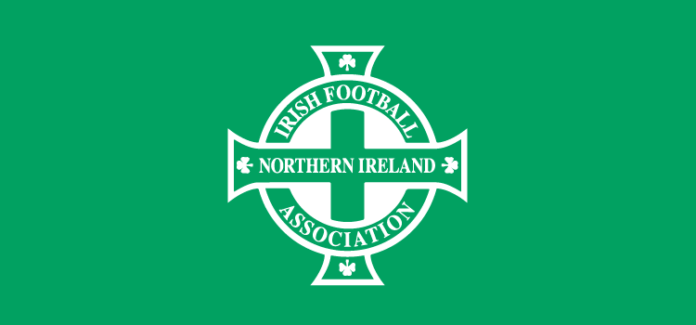 So, after a less than stellar start to my Northern Ireland career, we now prepare for the first full campaign under my control. It is at this point that virtual life truly splits from reality as our fixtures now follow a different path from the historical.
Euro 2004 preparations see us paired against our nearest rivals, Republic of Ireland. It's a tough group for us as we'll also face Euro 2000 Winners France and Bulgaria alongside fellow minnows Luxembourg and Faroe Islands. My target for the campaign is to challenge Ireland for 3rd place… lofty ambitions.
As before, Henry Muldrew has kindly summed up Northern Ireland's real-life fortunes in the 2004 Qualifying Campaign from his own perspective on That Football Daily. [link]
Northern Ireland v Republic of Ireland
What a fixture to kick this group off! North v South: we're missing Maik Taylor, Grant McCann, and Paul McVeigh through injury. There's a tactical switch up on the cards to try and dominate the middle of the pitch.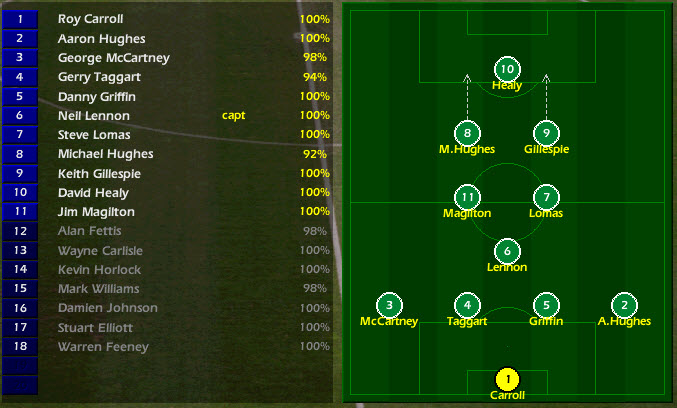 That's strong Irish line up, Damien Duff on the wing and Robbie Keane's runs from deep will require particular attention.
The first half is an even affair up until the cusp of half-time when Damien Duff strikes low into the back of the net, 1-0 Ireland. 11 minutes into the second half and Ireland double their lead through a towering Niall Quinn header, 2-0 Ireland. A late rally by the home side fires the crowd up but they can't breach Shay Given's goal. An awful result to start the Euros campaign.

Bulgaria v Northern Ireland
A big challenge for us away to Bulgaria. We keep the faith with the same squad as our last match, hoping for a quick turnaround in fortunes.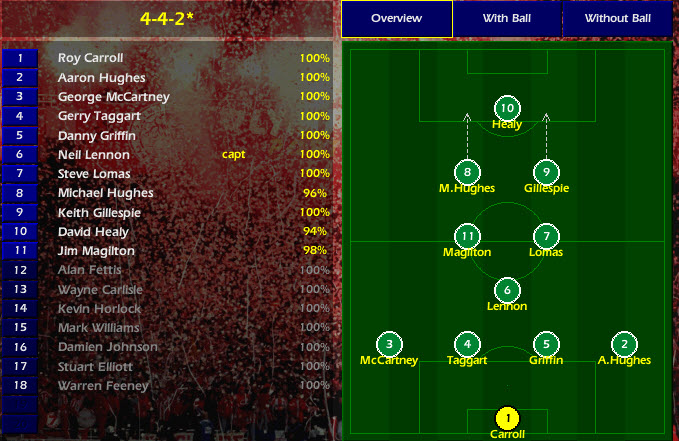 A 4-4-2 from Bulgaria who feature an up and coming Dimitar Berbatov and Martin Petrov leading the line.
There's no escaping the fact Bulgaria dominated the first half, justly getting their opener thanks to Martin Petrov, 1-0 Bulgaria. Bulgaria make sure the 3 points stay in Sofia as Daniel Borimirov finishes off the scoring on 85 minutes. Northern Ireland manage only two shots all game but neither are on target.
Northern Ireland v Luxembourg
I don't want to say that I'm starting to panic but I'm making tactical changes… Neil Lennon is out through injury.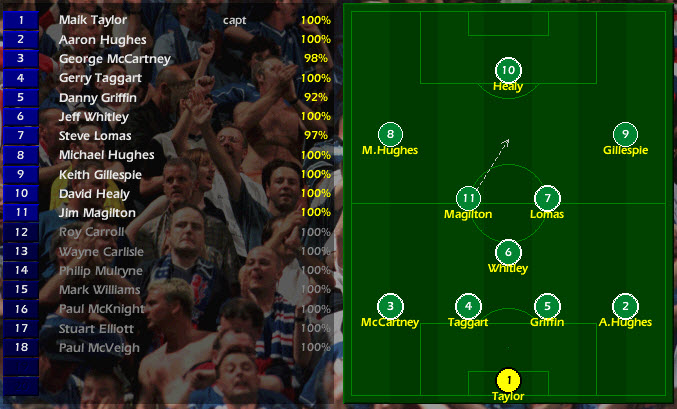 Luxembourg have packed the defence out here, someone should have told them not to bother… I'm kidding, I'm not having a meltdown…yet!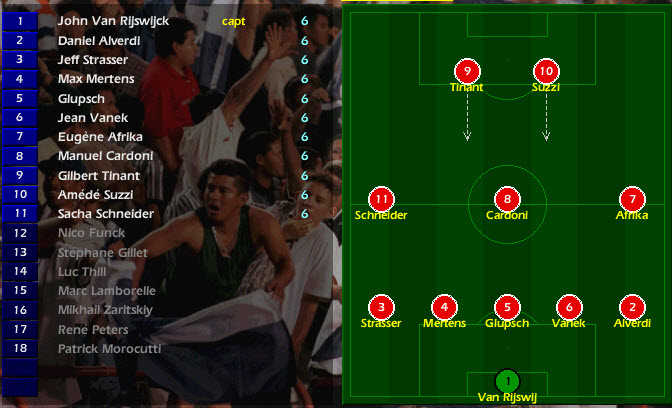 It's 0-0 at half-time. Really. At home to Luxembourg. A half-time switch to 0-0 doesn't bear much fruit until a 90th-minute winner from substitute Paul McVeigh spares our blushes, 1-0 Northern Ireland.

Faroe Islands v Northern Ireland
This is the one we looked at as a guaranteed 6 points over 2 games. Damien Johnson (who is now at Tottenham Hotspur) comes in for Jim Magilton.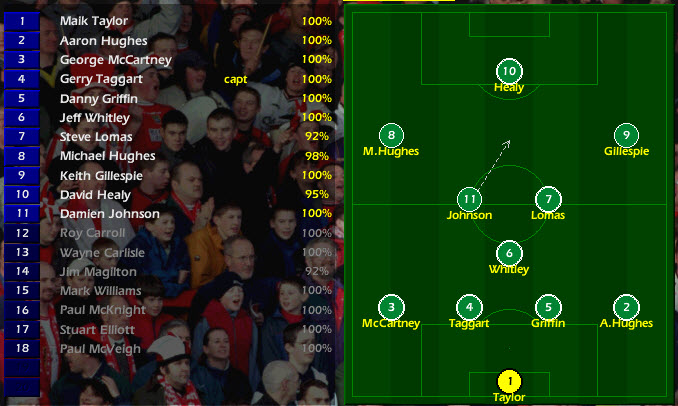 We're up against another defensive formation although there should be ample opportunity to get in behind those marauding wing backs!
We start the game terribly and it continues throughout the half, the stadium falls to a stunned silence when Oli Johannesen fires Faro Islands into a shock first-half lead, 1-0 Faroe Islands. An attacking switch at half-time sees Paul McKnight come on from the bench and the sub grabs his first international goal 6 minutes into the second half, 1-1. It's a much better performance after the break but it doesn't stop the Faroes from picking up their second point of the campaign. Oh dear.

Northern Ireland v Lithuania
A friendly in Belfast to see out the year of 2002, it hasn't been great for us with only one win from six games in the calendar year, we did beat 3-1 Lithuania this time last year in a friendly so maybe that's an omen…
Maybe not. Donatas Vencevicius gives Lithuania the lead on 21 minutes and that lead is doubled 11 minutes later as Auri tucks away a dubious penalty, 2-0 Lithuania at the break. Tomas Danilevicius extends Lithuania's lead to 3 by the 70th minute before David Healy fires in a consolation on 74 minutes. It's a lonely walk down the sideline to the changing rooms at full-time.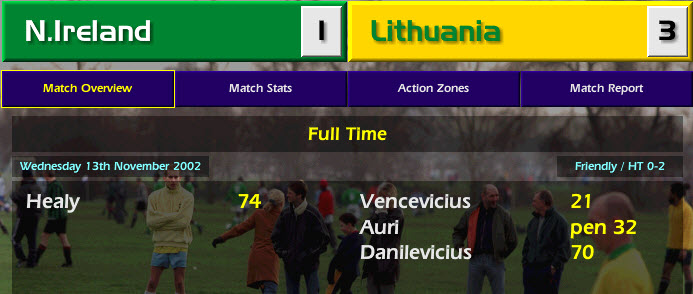 Northern Ireland v France
Of course, the thing you want most when you're struggling is for France to come visiting! We've managed to avoid the usual injury drop outs though, which is something! Neil Lennon is back in, to my delight at having someone competent in that DMC role.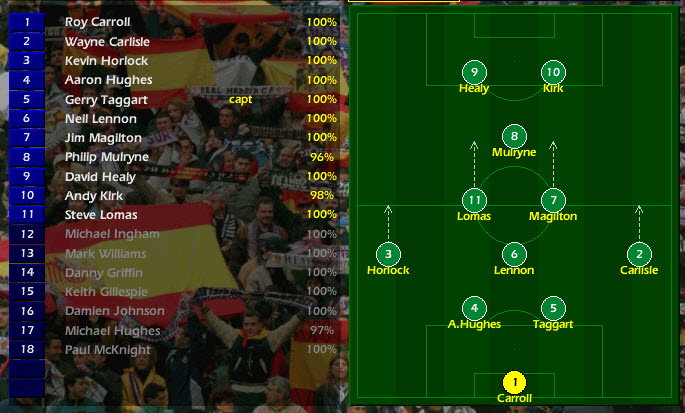 Wow… what a team.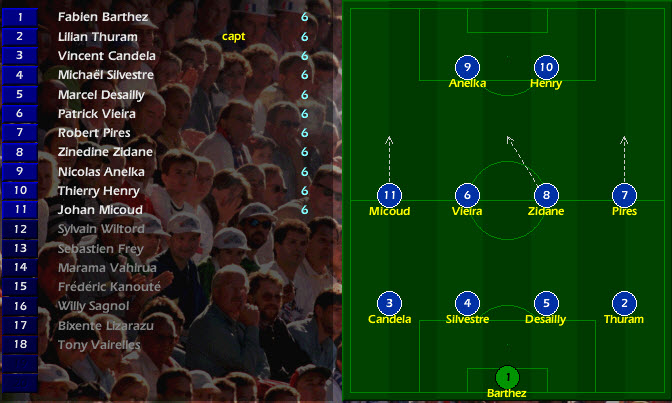 Nicolas Anelka kicks off the scoring in the eighth minute and doubles his tally three minutes later. Johan Micoud makes it three on 18 minutes and Thierry Henry adds a fourth on 26 minutes. 4-0 to France at half-time… A switch to a more conservative style for the second half ensures a quieter outing after the break but NI fail to trouble France and they romp home victorious.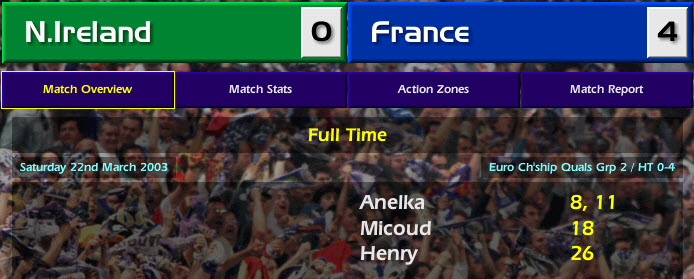 What an awful start to the campaign with just four points from a possible 15! Hopefully, the final run in will prove more successful.