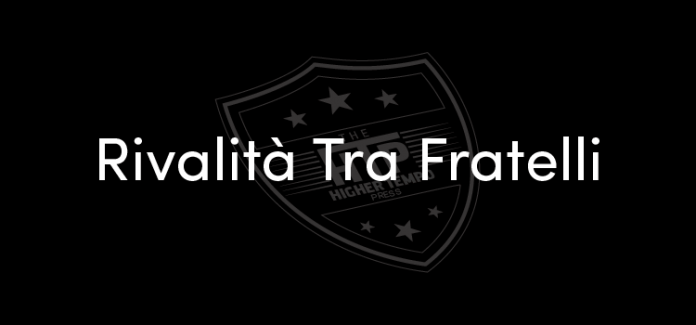 This is the story of two brothers, a modern-day Cain versus Abel if you will, based now in the Allianz Stadium. If you'd like to replicate this challenge, we're using the updated medium database with the following leagues: England (Premier League, Championship, League One & League Two), Italy (Serie A & Serie B), Spain (La Liga & Segunda División), France (Ligue 1 & Ligue 2) and Germany (Bundesliga & 2. Bundesliga).
Rivalità Tra Fratelli, Episode 27 – December '19
CHARLIE: I've been asked/forced as nothing more than a cruel trick to begin this week's episode because Juventus, managed by Mike Tango assisted by Charlie Tango are headed to the San Siro to visit Inter Milan. Long-serving readers will remember at the very start of this whole project in what feels like some time ago, I was the original Inter Milan manager. I didn't do badly either, winning the Italian Cup and Europa League, I was even voted Manager of the Year.
There were so many successes, the performances and free-kicks of Antonio Candreva, Kortney Hause's arrival on the main stage, the recruitment of Yaya Touré to anchor our European side and Charlie Taylor's consistency at left-back following a move from Leeds United.
But for all the successes, there were negatives. Mauro Icardi spent the entire season batting his eyelids at other clubs and went through a brutal loss of form, I had to wait to bring in the right winger we needed – which was eventually Marcel Sabitzer.
So as we metaphorically pull into the car park at the San Siro, a place we both know very well, I can't help but feel a pang of regret. I stayed on for a second season alone and won Serie A (honestly it would have been harder not to) then left to bring Palermo back from the wilderness of Serie B. Had I stayed, it would be me in the manager's chair, donning the suit instead of a tracksuit. It's time to put our best foot forward. Giovinco has convinced so much that he starts up top with Shaqiri and Isco providing creativity behind him.
MIKE: I left out Grzegorz Krychowiak because I'm increasingly concerned with his tendency to collect yellow cards and I can't help feeling like that has cost us as his replacement Marchisio had a fairly poor game. I can blame me, but I can blame somebody else.
CHARLIE: It's Candreva with the cross, Sabitzer ghosts in at the back post and he heads in from a tight angle to open the scoring. Shaqiri equalises, Cuadrado's cross is nudged back by Giovinco into Rincon's path. His shot is blocked but Shaqiri is there to divert the ball home. Into the second half, despite having to bring on Higuain and Salah, Ever Banega finds Sabitzer unmarked and he hits a sweet left-footed volley to put Inter back into the lead. As we throw everything forward, we're hit on the counter by Candreva feeding Franco Vázquez. 3 – 1 is harsh and yes, I may have brought it on myself by signing Sabitzer for Inter.
MIKE: The less said about that one, the better. Let's move on to Sassuolo, at home. Two strikers yet again.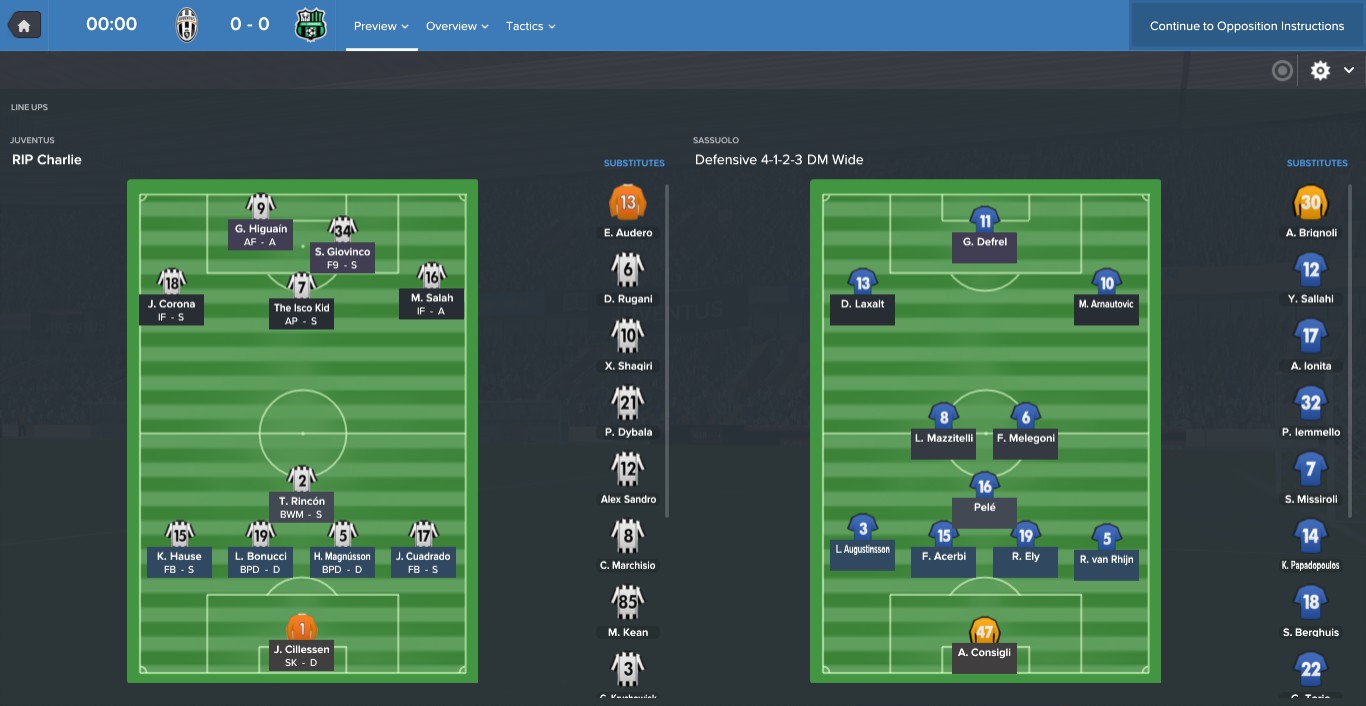 MIKE: Bonucci opens the scoring from a corner, goals from him are as rare as hen's teeth but very welcome. Two in the space of five minutes after the break for Higuain demonstrates his class. He then adds a third for a hat-trick and good for him but Sassuolo ruin our clean sheet as Defrel scores. I'm more angry about the loss of our clean sheet than Higuain's hat-trick, that's a sad state of affairs.
The computer is telling me that I need to replace 'more angry' in that last sentence with angrier. If I talked like that, I would have written that. It's even doing that in this part. Do one. See how angry I am? Are you not entertained?
CHARLIE: And now the great intangible. It's Sophie's Choice, only more interesting, better acted and relevant to us FMers. Liverpool away at Anfield are coming, but before that, we play Roma also away. Do we rest players against Roma, maybe squeak a draw and then battle Liverpool full strength? Or go balls out against Roma? Bit of both?
MIKE: I don't like this 'drop players' before a big tie nonsense. It feels like weakness. I am not weak. Nor is Shaqiri. Isco however, can take a break. He's not exactly pulled up any trees lately.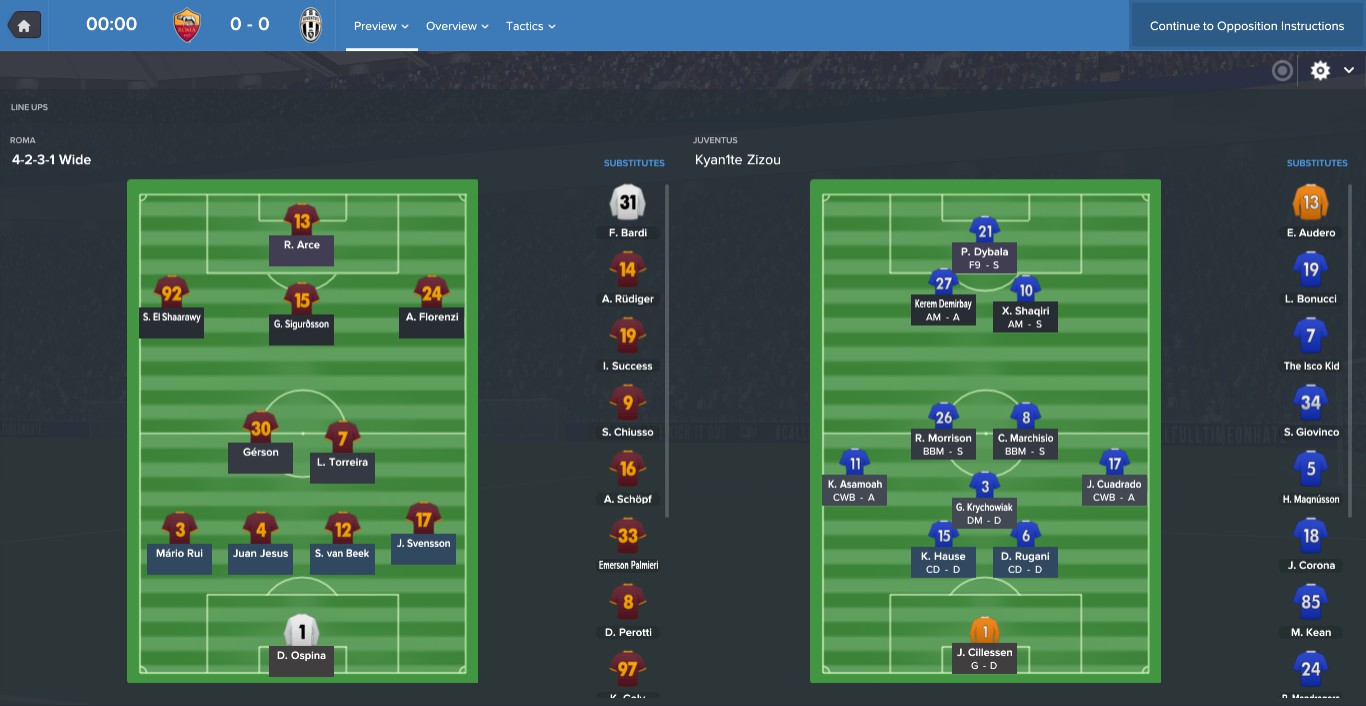 CHARLIE: I'm not entirely convinced by the bravado, yes Shaqiri does start but so does Demirbay, Ravel Morrison and Hause so it can't be a full strength lineup. Rugani's header is disallowed early doors, then the Roma danger man Argentinian Ramón Arce (a newgen) pops up to crash in the opener. Seriously, he nearly took the roof off the net.
As Mike quietly stews and despite bringing on Pjaca and Corona to freshen up attacking midfield, Roma pick us off with a counter-attack as Ramón Arce does the business again. He's got 9 goals for the season and is just 20, he's an incredible prospect.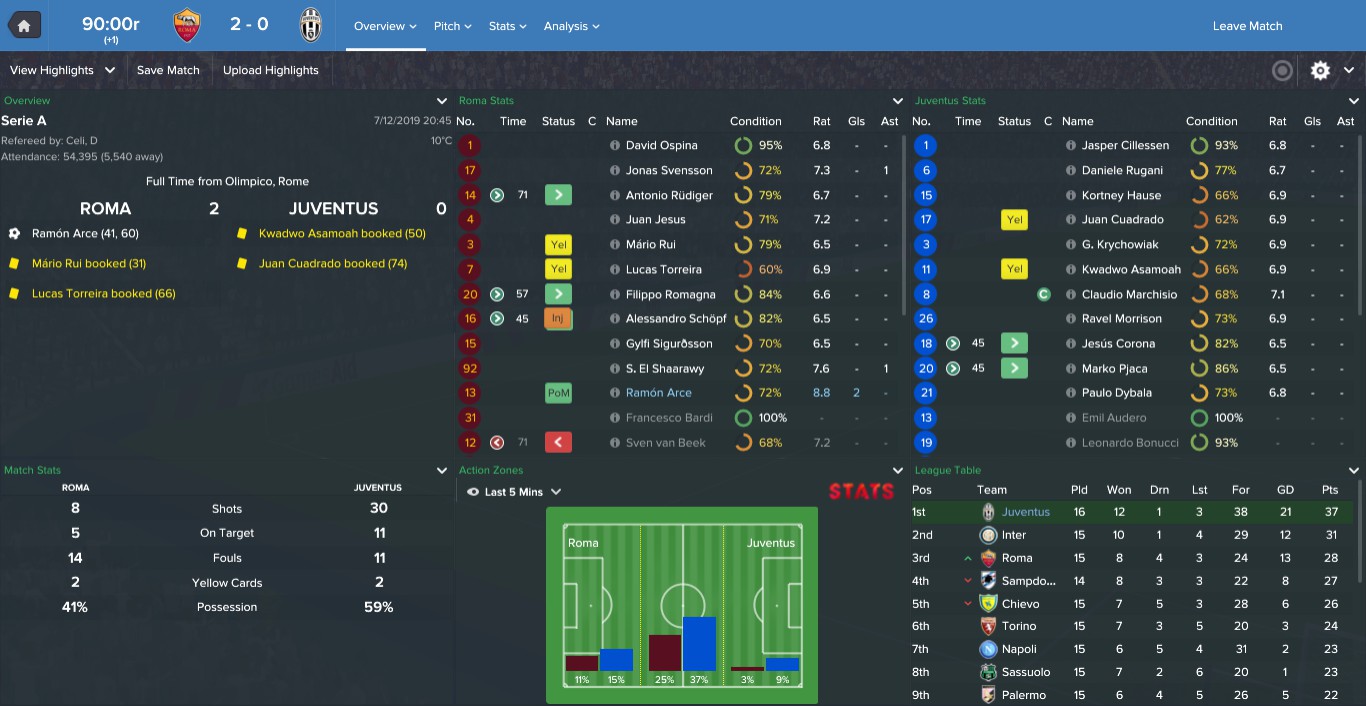 MIKE: Two losses in one episode, I am not impressed. We really do need to win this one against Liverpool now and for it, let's crank up the music.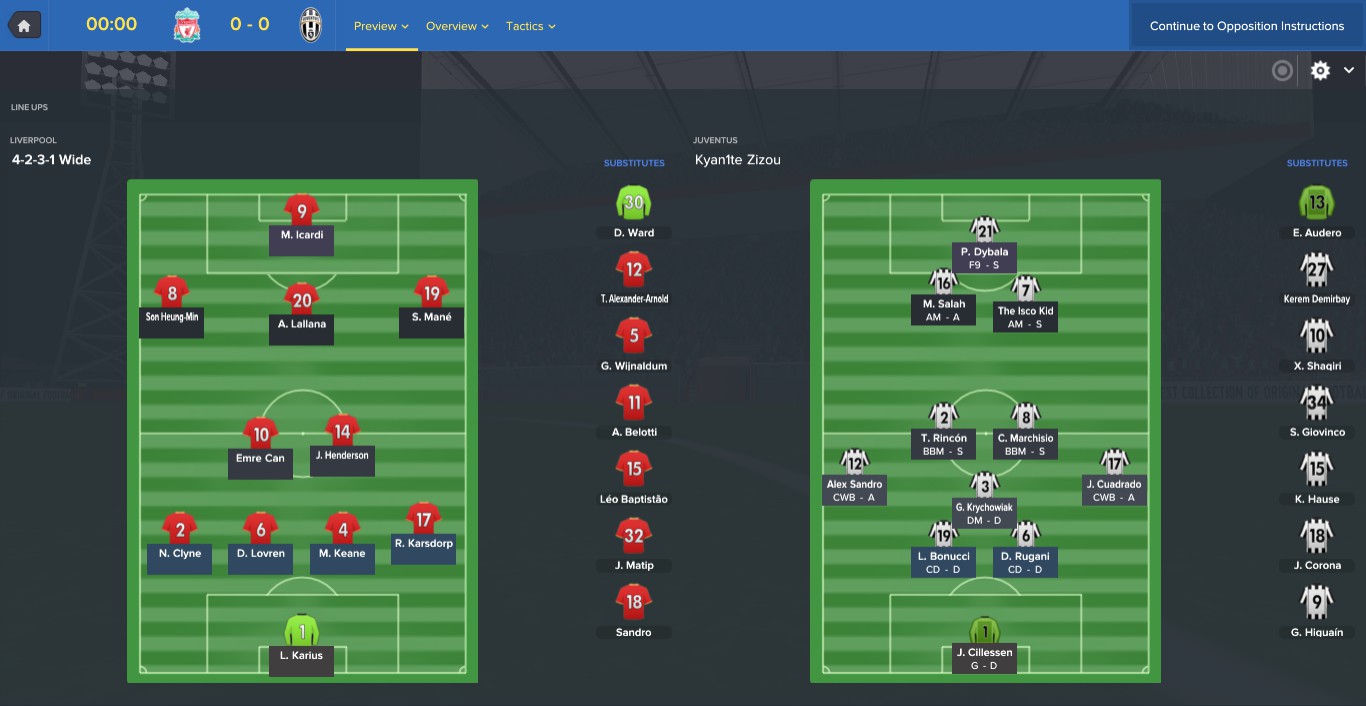 When you walk through a storm
Hold your head up high
And don't be afraid of the dark
MIKE: Even though he had been in the office demanding a move to PSG for the wages on offer, Paulo Dybala scores the first goal on 5 minutes with a neat finish after Mo Salah sent the entire Liverpool defence for a KFC and when Karius' attempt to save rebounded into the path of Dybala there was only one outcome.
At the end of a storm
There's a golden sky
And the sweet silver song of a lark
CHARLIE: Midway through the first half Salah jinks through the centre-halves and shoots, only to sting the palms of Karius as he tips it over. We really are on top here but I feel like we need a second goal because Liverpool will score.
Walk on through the wind
Walk on through the rain
Though your dreams be tossed and blown
MIKE: Not yet they won't because it's Dybala's cross, Henderson makes a half-hearted attempt to clear and Rincon recycles possession to our left. He keeps the attack going with a good ball for Alex Sandro to shoot low and it comes back off the woodwork. Karius charges down Salah's shot but again Dybala is in the right place at the right time to convert. I have just one question, where was he when we needed him in Rome?
Walk on, walk on
With hope in your heart
And you'll never walk alone
MIKE: Charlie's negative ways hit home and hard as Mauro Icardi pops up from nowhere to bring Liverpool back into it, he scores after Son Heung-Min did all the hard work carrying the ball up the pitch.
You'll never walk alone
Walk on, walk on
With hope in your heart
And you'll never walk alone
CHARLIE: Both Cuadrado and Krychowiak pick up bookings within a couple of minutes of each other. Knowing the Polish midfielder's appetite for fouls, I recommend bringing him off and Mike agrees. Then a couple more minutes later and the man we left on, Juan Cuadrado, gets himself sent off for a second bookable tackle on Son. It's time to pray we hang on.
You'll n-ever walk alone
CHARLIE: We hang on but only just. We're group winners but believe me, was it hard graft. Liverpool away in the last group game was far from ideal.
CHARLIE: Having been given training for the week, I've been working on set pieces and it immediately pays dividends as Daniele Rugani rises highest at the far post to nod in from an Isco free-kick. Rugani had one disallowed against Roma so I'm especially pleased to see him set the record straight here.
MIKE: Rincon, not yet cautioned, puts his foot on the ball after some back-and-forth to feed Pjaca and he crashes home our second with 15 minutes not yet on the clock. I stand by my assessment of him, a good player unlucky to be surrounded by great players.
CHARLIE: Our third is a Giovinco free-kick, much like the Candreva days of old. How I miss those days. The second half is seen out without further score but it's not all plain sailing, we are counting the cost of a torn hamstring for Higuain forcing him out for two to three months and Shaqiri came off with a calf strain. It was only an orange injury but worth bringing him off.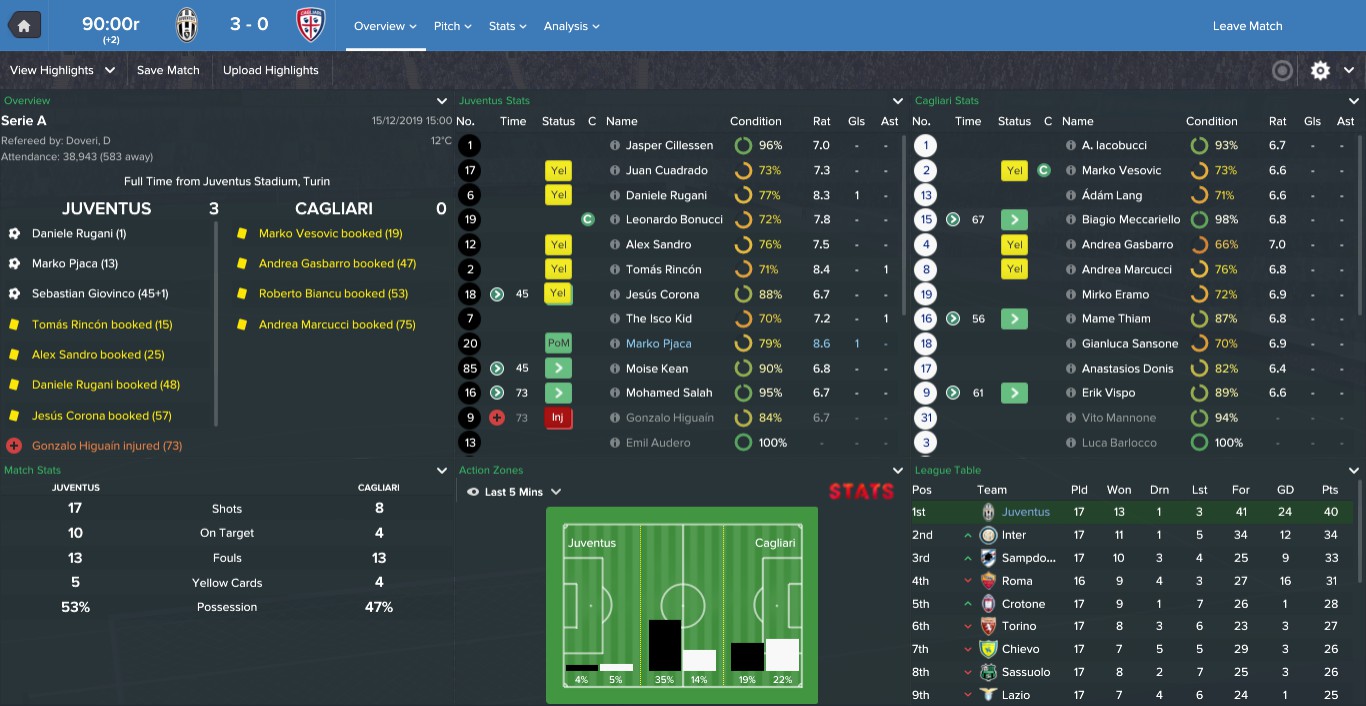 MIKE: Prior to our first cup game against Sampdoria, there's the Champion's League first knockout round draw. My ears prick up, my eyes are wide. We're seeded but Chelsea and Monaco are not. I'll take RB Leipzig or Torino for an easy round. We get Chelsea, the toughest of the unseeded group as far as I'm concerned. Nothing is ever easy, is it?
CHARLIE: I've mentioned it before, Sampdoria were our favourite Italian team as children as we watched Channel 4 religiously for our Serie A fix so there is a pang of sympathy as we agree to play the second string against Vincenzo Montella's boys.
MIKE: Yeah, I don't care about the Italian Cup. Sampdoria are welcome to it with my compliments.
CHARLIE: Things don't exactly go to plan, or Mike's plan at least, as we take the lead through Giovinco after Kean and Pjaca combined to send him through. The finish reminded me of that Thierry Henry goal against Leeds. Do yourself a favour and check out the 'Return of the King' YouTube video about Henry, it brings a tear to my eye every time I watch it. At least Mike can rely on Ravel Morrison, he gives the ball away in the second half and Sampdoria get the equaliser. The one thing neither of us want is extra time and that's exactly what we get, this despite Mike attempting to torpedo his own team by bringing on youngsters Orsolini and Mandragora.
MIKE: ****ing extra time?! There should just be an option where I concede defeat. Of course, there are no more goals, meaning penalties. And we lose anyway 4 – 3. What was the point exactly?
CHARLIE: I should say at this point, there are a slew of good jobs available including Lazio, Napoli, Burnley, Everton and Sevilla. I'm being encouraged to take one to keep me out of the way but so far I'm resisting. If a team comes up in the Champion's League though, I'll hop, skip and jump to it!
We head to Frosinone, bottom in Serie A, for our last fixture of the calendar year. Because Cuadrado is suspended, we're switching to a back three and the central midfield looks like a very youthful affair. After much debate and argument, Giovinco is selected over Dybala on recent form.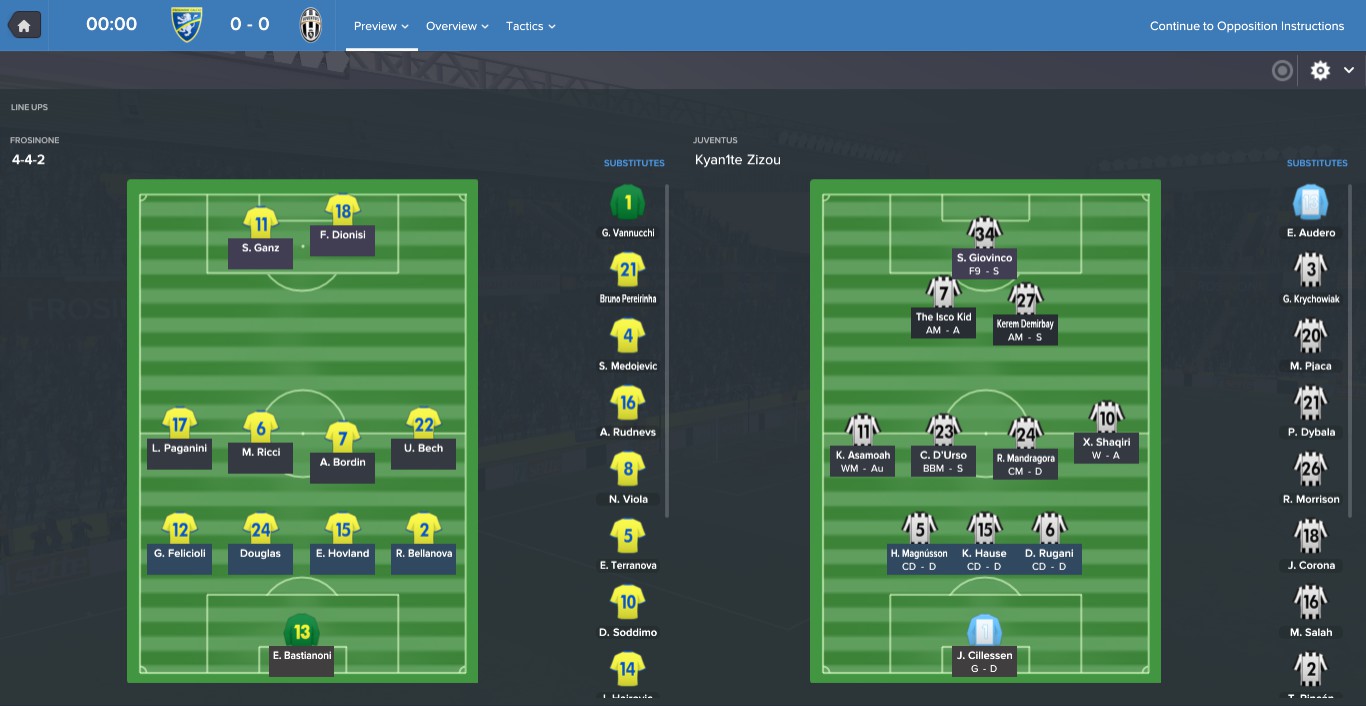 CHARLIE: That faith is vindicated in just the fourth minute as Giovinco tucks home from just outside the edge of the box. He adds a second to his tally with another free-kick before the half hour but not to be outdone, Kerem Demirbay scores his own free-kick. Frosinone pulls one back just prior to the breakthrough Dionisi but other than that, it's plain sailing.
MIKE: Yet another free-kick completes Giovinco's hat-trick. When I signed him he was little more than a name in the squad, now through injury, form and mostly goals he's undisputed number one. First name on the teamsheet.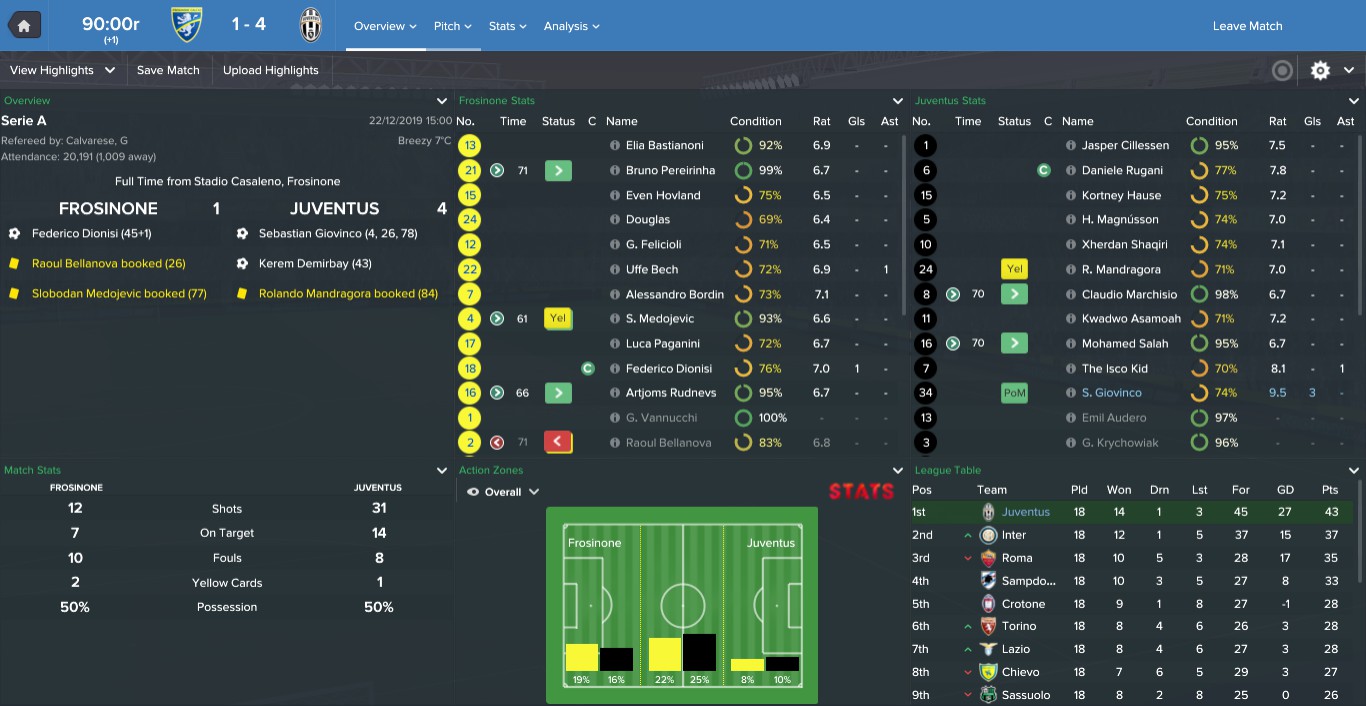 MIKE: Inter Milan are just six points behind us. It's been banded about Tango Towers that we are Arsenal, able to beat the weaker teams handily but up against it when we play the better sides. It's the end of December in Italy, which means I'm contractually obligated to wish you a Buon Natale. But you know, I couldn't care less. Just so you're forearmed and forewarned, January looks pretty boring. Five league games but it ends with AC Milan at the San Siro. I think we can all get on board with condemning them to the Badlands.
Thank you for reading, join us on twitter at @FM17Challenge, @CharlieTangoFM & @MikeTangoFM for exclusive comments, developments prior to episodes and reaction afterwards. Continued thanks to Chris, Mike and everyone at Tempo for the opportunity to share this with the readers.