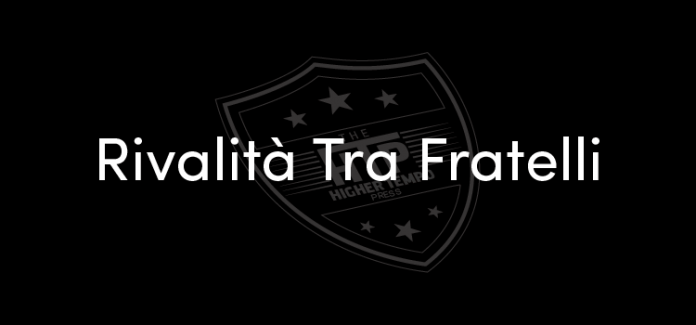 This is the story of two brothers, a modern-day Cain versus Abel if you will, now based in the Allianz Stadium. If you'd like to replicate this challenge, we're using the updated medium database with the following leagues: England (Premier League, Championship, League One & League Two), Italy (Serie A & Serie B), Spain (La Liga & Segunda División), France (Ligue 1 & Ligue 2) and Germany (Bundesliga & 2. Bundesliga).
Rivalità Tra Fratelli, Episode 23 – August '19
MIKE: Well this is a little embarrassing. After we sat down and agreed a schedule for Charlie to inform the people at The Higher Tempo Press, we (I) realised that there are only two games planned for August so this particular update should be fairly short. I'll spin it out slightly by hosting a small review of last season.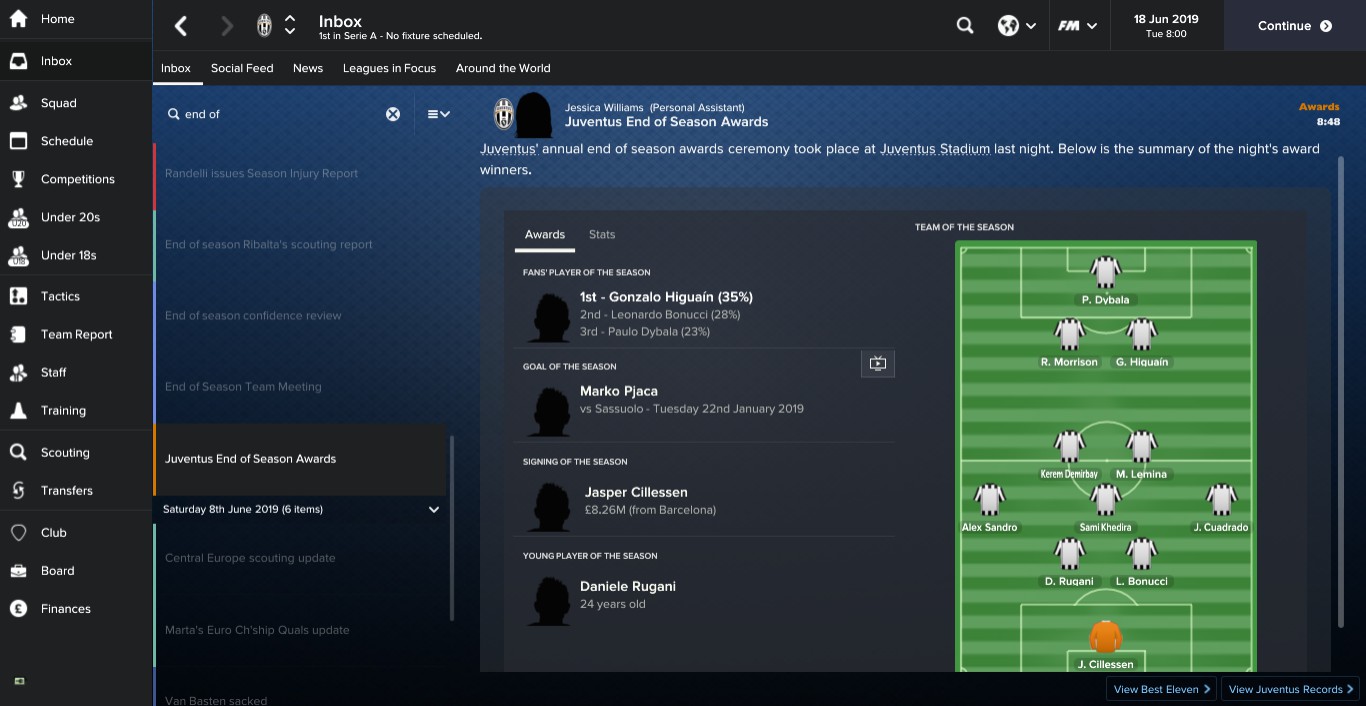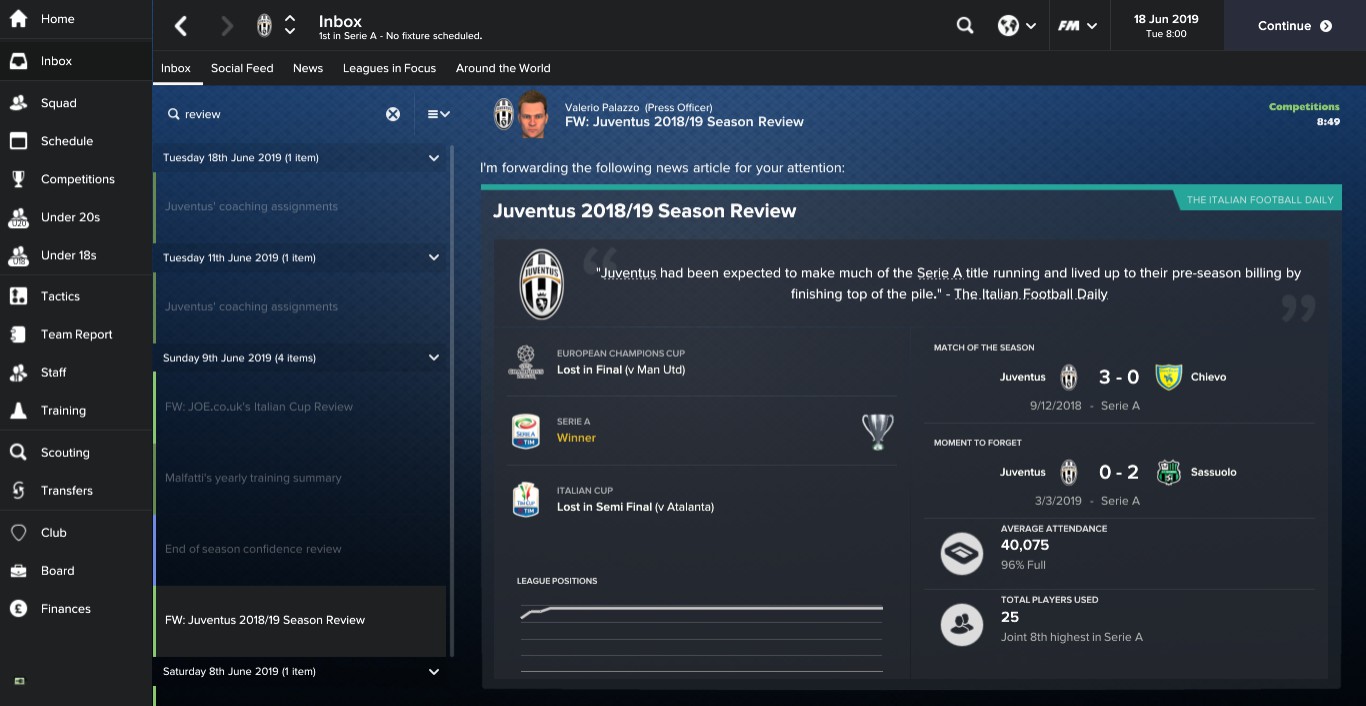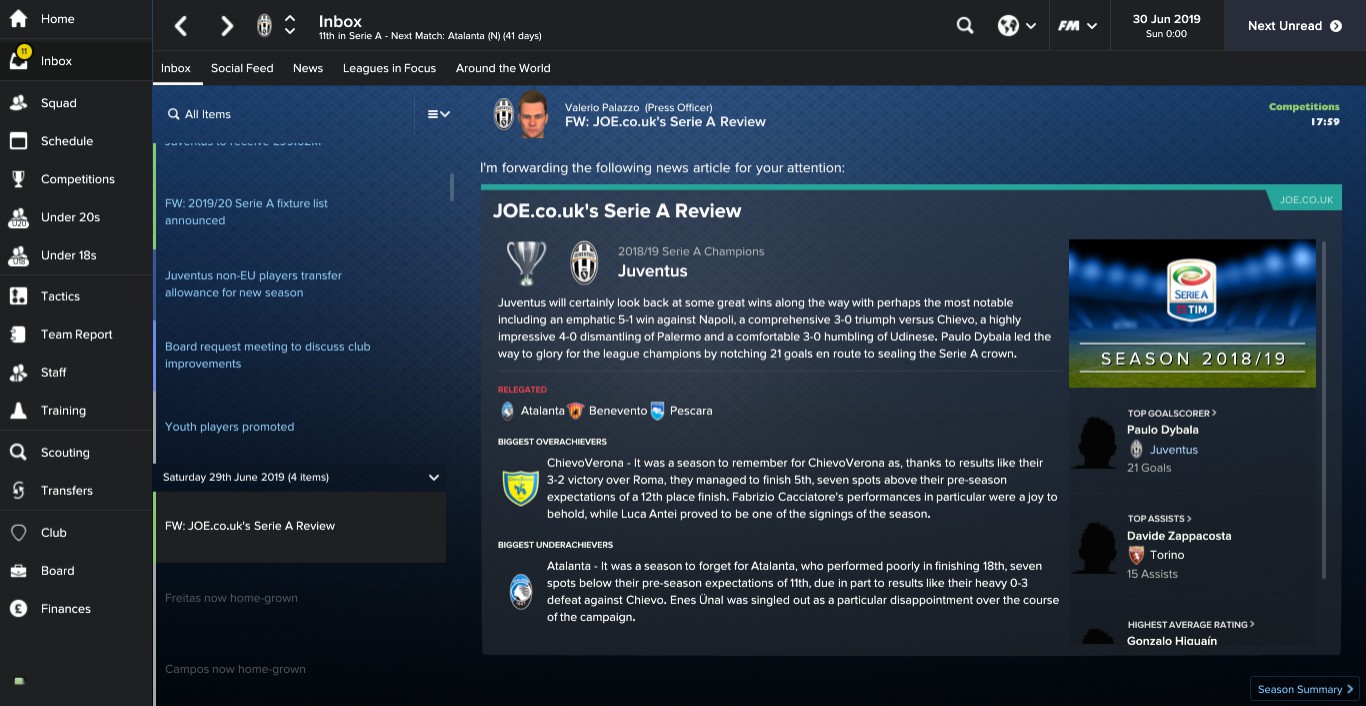 I hope you enjoyed that. It's all well and good winning Serie A, although I see the bookmakers have made AC and Inter Milan second and third favourites again, but it's the Champion's League I want… I need. Two years in a row now I have lost in the final, first against Dortmund when they just outclassed my AC Milan side and then Juventus narrowly lost to Manchester United last season. It doesn't help that Charlie won the Europa League with Inter so he proudly has a European winners medal to look back on.
CHARLIE: Atalanta won the Italian Cup last season, after eliminating Mike's Juventus at the semi-final stage but their league form was abysmal as they start the 2019/20 season in Serie B. Over the summer they've sold £31 million worth of talent including Tomas Kalas (Valencia), Joaquín Correa (Newcastle), Ezequiel Muñoz (Leicester), Filippo Melegoni (Sassuolo) and Alejandro Gómez (A. Madrid). I usually feel quite nervous at the start of the season, reluctant to play the first game in case it all goes wrong. I'm especially nervous with silverware at stake.
I'd rather not admit this but ever since that night when Juventus lost to Manchester United, I've been wading through Mike's save. I must have put a good six or seven hours into pre-season preparations. The transfers have taken enough time, along with the new tactics and generally getting up to speed with how his save differed from my own after we split the Rivalità Tra Fratelli file. This is the acid test.
MIKE: Since Atalanta are in Serie B and not a threat, I've passed over responsibility for team tactics and selection to Charlie to help bed in his new swashbuckling formation that I proudly renamed. Charlie has Shaqiri, Krychowiak and The Isco Kid making their debuts alongside youngster Christian D'Urso in a box-to-box role.
CHARLIE: We've agreed to watch this Super Cup extravaganza in its entirety to figure out if the formation is working and how the new players are settling in. In truth, I expect to learn very little. Dybala opens his account for the season after only 5 minutes, scoring as he did with such regularity for Juventus under Mike last campaign. Watching the whole game you pick up on little things. Cuadrado actually had a better game in defence with a man-marking assignment on opposing left wing-back Zeca and Shaqiri is incredibly confident on the ball.
MIKE: At the break we bring on Marchisio to replace a cautioned Krychowiak (Ed – we'll say that a lot this season) and Hause replaces Rugani for his debut. Charlie's faith in Hause almost pays off immediately with a header from a free-kick which nestles in the back of the net but he was offside. Mark me down as 'not convinced'. Our second is courtesy of Shaqiri, the Swiss Superman getting his head down and beating two men before crossing for a hapless Atalanta defender to divert the ball past his own goalie with Dybala primed to finish.
CHARLIE: We win the game at a canter, 2 – 0. I think we looked lightweight in the middle of midfield, a better team would have punished us so perhaps we'll need to look at moving the attacking midfielder back into a central midfield role. Be that as it may, it's our first trophy as a managerial duo.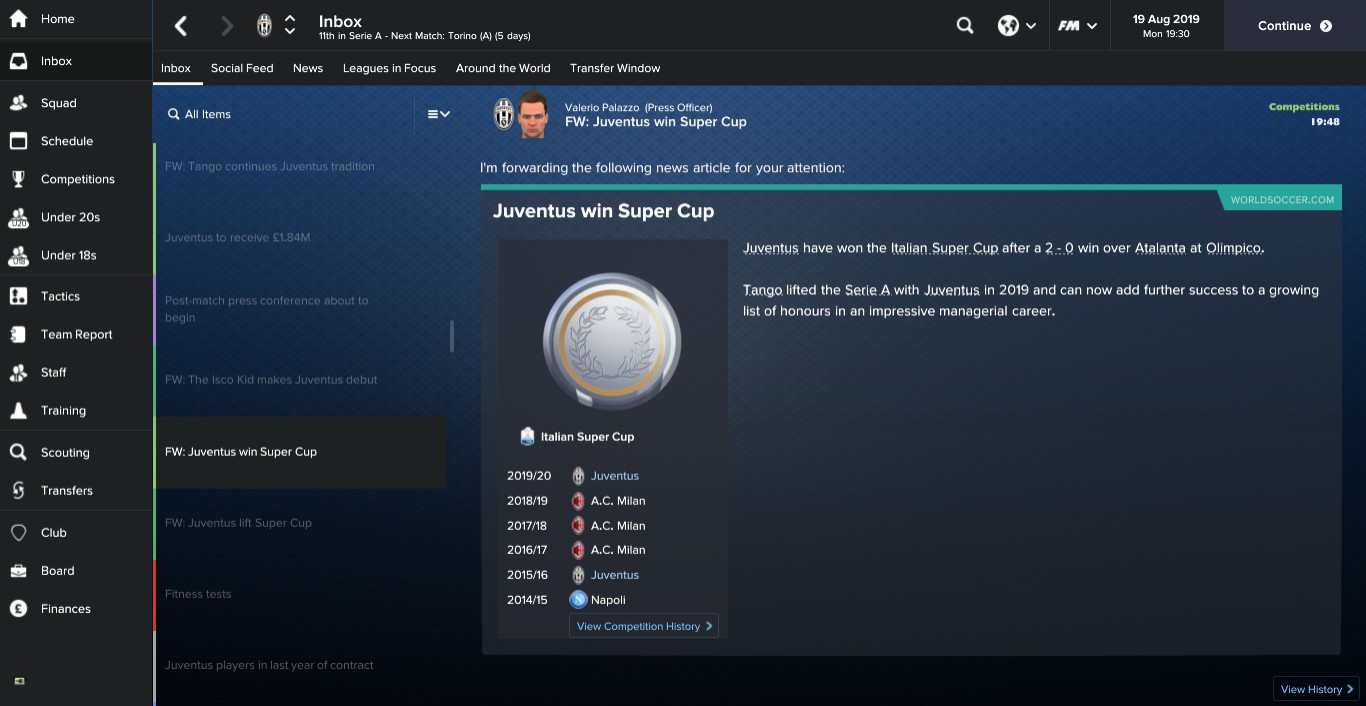 MIKE: Between the Super Cup and our first league game, AC Milan come in with an offer for third choice central defender Medhi Benatia, starting at £5 million and eventually worth £8 million. It's decent money for a 32 year old reserve and Charlie is still putting Hause over as the second coming of Beckenbauer so I'll take the cash. His replacement was down to Mangala at Manchester City but he wanted over £100,000 a week, Martins-Indi from Porto or Hörður Magnússon from Bristol City. Both Indi and Magnússon have international experience but I like the idea of another incoming transfer being trained by Juve, meaning he ticks another registration box. That means freedom in the market come January. Up there for thinking…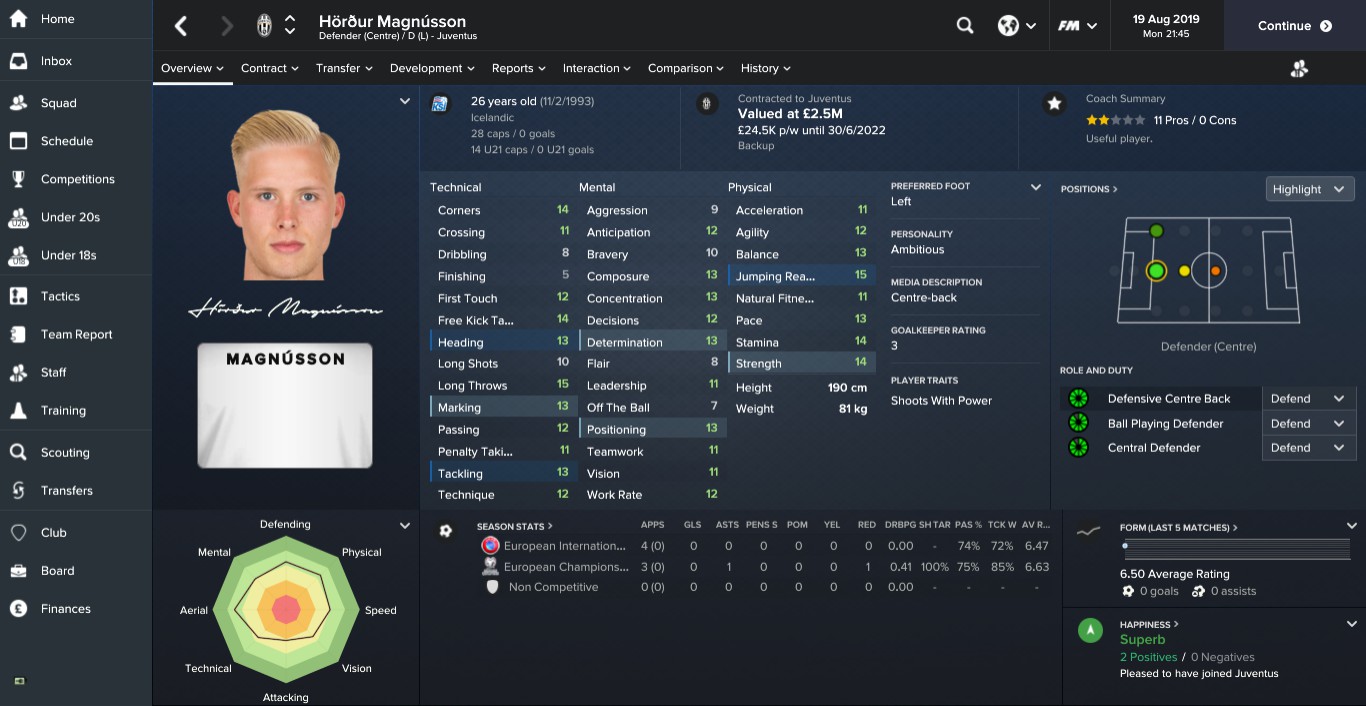 CHARLIE: For those of you had 'the second game' in your office pool as the moment the Tango boys fell out during this Juventus experiment, you may collect your winnings. For some reason Mike insists on playing all the players that were here a season ago, none of the new boys. He won't see reason, he won't even discuss it.
MIKE: I don't need to justify my decisions, be it to the Juventus fans, the media or my assistant manager. The only player I cast my cursor over for an extended length of time before relegating him to the bench was The Isco Kid, on a week when he received so many plaudits for his performance for the Spanish against Italy.
The sound you can hear is the sound of vindication. A 1 – 0 win sounds narrow but watching the game you can see the dominance. Three points is, after all, three points. That haul comes on a day when new AC Milan signing Andriy Yarmolenko scored a hat-trick.
CHARLIE: Don't let the bravado fool you, if it hadn't been for the awesome performance of the marauding Juan Cuadrado, it would have ended completely scoreless. Cuadrado was a man on a mission, deservedly man of the match and scored with a good finish from the edge of the box. It should be said, be also hit the bar and narrowly missed from a second shot that whistled past the post with the goalkeeper nowhere near it. Juventus have won this game not because of Mike's input, but in spite of it.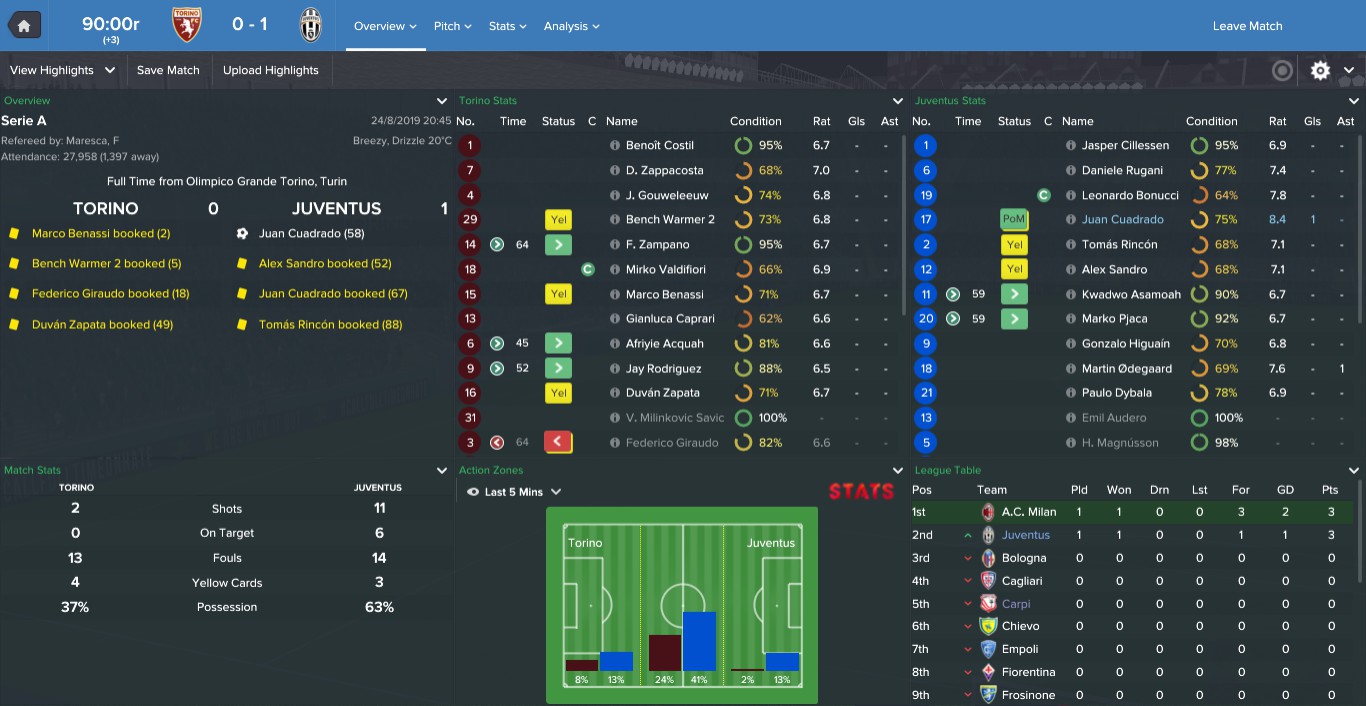 MIKE: While the team's performance has been criticised by our own staff, at least the Juventus fans know they're onto a good thing. I'll just leave this here.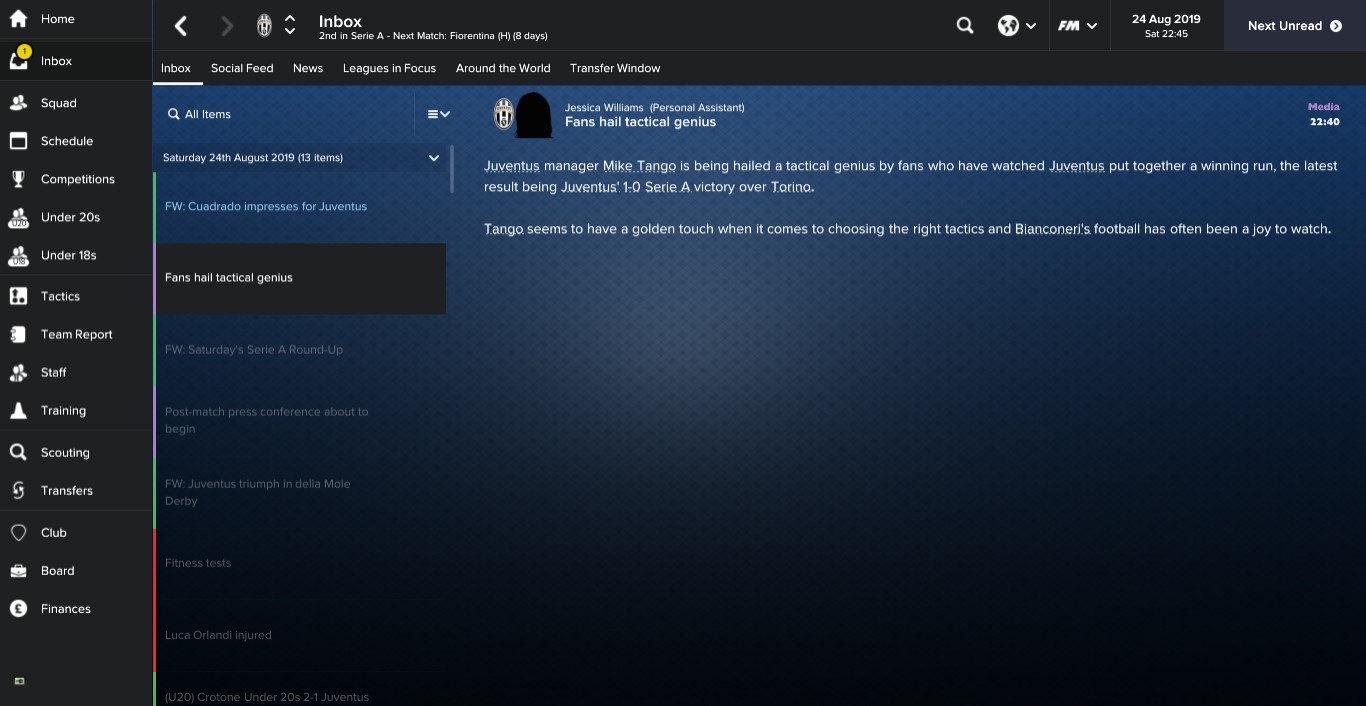 Yes, it does say 'tactical' and 'genius'. You're welcome Juve fans, you are damn welcome. Tune in next week for more GENIUS but before August ends, there is some important news. You can't win the trophy in the Champion's League group stage but you can lose it. Let us all find out which members of the European elite we will face…
When you walk through a storm…
Thank you for reading, join us on twitter at @FM17Challenge, @CharlieTangoFM & @MikeTangoFM for excusive comments, developments prior to episodes and reaction afterwards. Continued thanks to Chris and everyone at Tempo for the opportunity to share this with the readers.