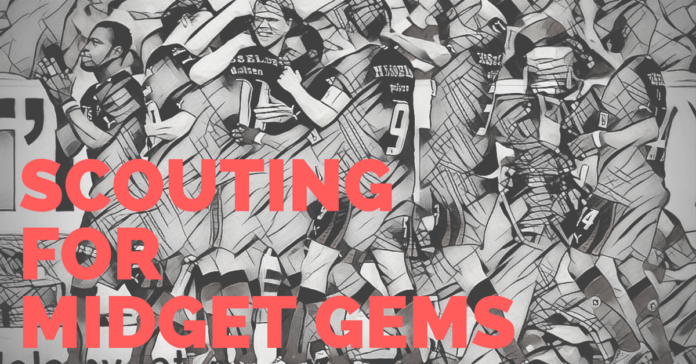 Well, I never actually thought that I would be back writing about Football Manager so soon. Not in the traditional blog post sense at least. As with so many people that play Football Manager 17 however I often find myself inspired to play the game by something that I have read, and I tend to read a lot. Once more the desire to play a save and simultaneously share it with all of you has hit and once more the powers that be at Tempo Towers have allowed me a platform on which to share my thoughts.
This time inspiration for my save comes from a book that I have been sent in order to write a review, The Football Code: The Science of Predicting the Beautiful Game by James Tippett. The author is a former analyst at the betting company Smartodds, the company owned by Matthew Benham who in turn also owns Brentford FC and FC Midtjylland of Denmark. The book goes in to methods which Benham has used in order to identify inefficiencies within the transfer market and his own clubs in order to ensure that they perform above expectations.
The book has also piqued my interest in FC Midtjylland and as such this series will focus on my progress with the Danish side. My interest was further piqued when I realised that phonetically Midtjylland is pronounced Midget Land, hence the title of this series.
For those of you that are familiar with my Ajax series on Tempo with FM16 this series will take on a similar form, results and performance will be recapped in half season and end of season updates but the rest of the series will focus on smaller snapshots which will focus on specific aspects of the game to show how I play the game.
The main focus of the save will be two fold, to build a club with the emphasis on youth development and to implement a three tiered recruitment strategy to supplement the young players coming through at the club. As part of this introductory post I will go in to a little more detail on both of these aims.
Youth Development
There was a time in which I firmly believed that the key to developing young players to ensure that they are capable of playing first team football was to fit them in to the same tactical structure that you use for the first team, in short I followed the Barcelona model. I then came across a podcast in which the German coach Thomas Tuchel, then coach of FSV Mainz 05 was discussing his thoughts on youth development. Tuchel made the valid point that by shoehorning young players in to predefined positions to meet your tactical structure you are not developing these youngsters in the most efficient and effective manner.
Instead you should identify the position in which you believe that the young player could be most effective and look to build on their strengths as opposed to merely working on their weaknesses. To facilitate this further I will also control the U19 and B teams at the club, this will ensure that the players are given playing time in a position and role of my choosing, I will not however be playing these matches in great detail.
I will also ensure that each player has a customised training plan to help them develop as fully as possible, in the past I have been guilty of concentrating on the top 10% of my youth team whilst neglecting the others, this strategy however is inefficient for a club like Midtjylland and any young player who does not meet the necessary criteria to play for my first team can still be sold on to raise capital that can be reinvested in to the club.
I will be including a number of case studies and smaller posts concentrating on youth development as the save moves forward.
Recruitment
Recruitment and squad building is possibly my favourite side of the game, surpassing even tactics, there are so many rules that you can impose on a save that provide a vastly different experience each time, and lets face it who doesn't like finding an undervalued gem and taking them to their club.
In this save our recruitment strategy will consist of three tiers;
Primary – Recruitment within Denmark itself, the focus will be on identifying and signing the best domestic talent with scouts set to watch football at all levels domestically.
Secondary – Recruitment in Scandinavia, we will extend out network to identify and sign the best young talent in our immediate region. For years Scandinavia has been a hotbed of talent for other European sides, now we will be competitive for the best talents in Northern Europe.
Tertiary – Recruitment in Africa, we will extensively scout and sign the most promising young players that Africa produces. This has historically been an area in which Danish sides have reaped significant rewards, I hope to make the centre of Denmark the primary stopping point for talented African players looking to move to Europe.
There you have it then, my three tier recruitment plan. This will however be supplemented with a new and slightly experimental method of valuing players. Yes, I know that the game generates its own values but at times those do not represent the value that the individual player has within my club structure. If for example I have a player who is natural as an AMC but I don't play with that positional slot then he has less of a true value to me, he may be able to play as a central midfielder, a winger or a striker but his ability in these slots may not his ability as an AMC. Therefore he is instantly devalued within my system.
This is something that I hope to expand on significantly in a series of forthcoming posts as I look to explain why I build my squad the way that I do and why I value certain players more highly than others.
I've already surpassed the 1000 word mark (apologies) so I'll leave this introductory post there.
Thanks for reading.