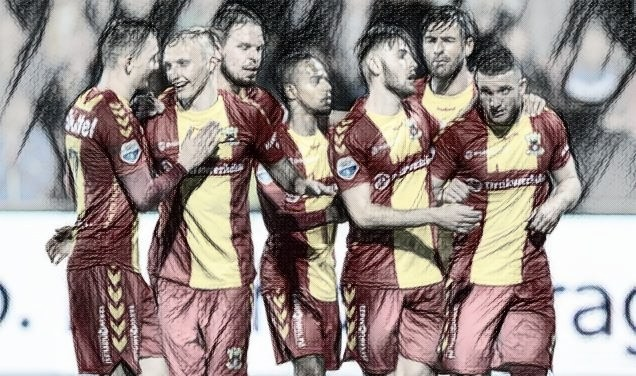 Now I analysed the club thoroughly I have a clear objective of where to go next. First off, I need to come up with a tactic that will allow us to remain in the Eredivisie. Next, I need to find players that fit the tactic and last of all, I need to survive pre-season with the squad prepared and intact.
Tactics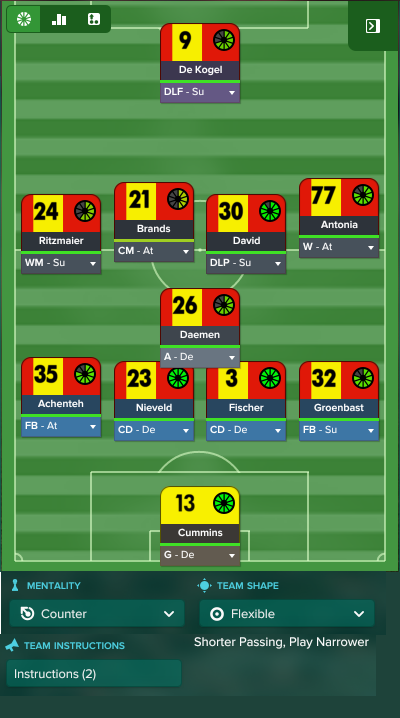 Tactically speaking, I'm a bit of a pragmatist. I have no overarching philosophy I want to use at a club. When choosing a tactic, I consider the club stature, the quality of the players and the type of roles they can perform. Considering we are one of the poorest sides in the Eredivisie, I want to play cautiously. It makes no sense playing very fluid, Dutch totaalvoetbal with a squad that is as limited as mine. That's why I have chosen a 4-1-4-1. The DM will provide extra protection in front of my defence and allows my CM (A) and W (A) to surge forward and support the lone striker. To add a little variation in my attack, I have chosen to play a WM (S) on the left with a FB (A) behind him, to provide overlapping runs and another option in the final third. Three attacking duties is a bit much for a cautious tactic, so I select 'counter' as a mentality in order to reduce the risk taking. Against much bigger sides, I may revert to 'defensive' in order to get a result. The idea behind my team instructions is simple. With 'short passing' I hope to keep the ball longer and 'play narrower' will make us harder to break down.
Transfers
My dealings in the transfer market are limited by two factors. One, I have only €200,000 to spend and two, I am €12,650 per month over budget in wages. This will need to be addressed first. Even though he is a decent enough player, I decide to send loanee Sinan Bytyqi back to Manchester City. We are paying him €12,000 per month for the privilege and that is something we simply can't afford at this time.
Other players I deem surplus to requirements are Randy Wolters, Mohamed Hamdaoui, and Darren Maatsen. Wolters attracts the attention of fellow relegation favourites Sparta, who loan him for the rest of the season and agree to pay his entire salary (€8,000 p/m). Unfortunately, Hamdaoui and Maatsen fail to attract any attention and will remain in Deventer for now.
These departures give me some room to acquire new players. For the moment, I am focused on only one position: central defence. As we have seen during my squad assessment, I have only three central defenders. When Nieveld, Fischer or Schenk get injured or suspended, I am immediately down to my bare bones. Furthermore, I want to be able to change things up a bit if they do not perform to my standard.
With determination, marking, and tackling weak points compared to the other teams in the Eredivisie, a new defender will have to score decent on these attributes to be considered.
I eventually settle for 24 year old Erik Schouten. We pick him up from FC Volendam for €200,000 and a monthly wage of €7,250. He has decent tackling and marking, plus a fairly determined personality. Schouten is also capable of playing both right and left back. I fully expect him to be pushing for a first team place. I'm very pleased with his arrival.
Now that I signed a solid defender, I will look for cheap options to add a little depth to my squad. I will be mainly concentrating on the loan market. The enormous squads assembled by Premier League teams might be a good source for useful talent, so I start by scouting their U23s squads.
The first player we are able to pick up that way is 20 year old defensive midfielder Sean Goss from Manchester United. He is a decent all-round midfielder who can be used in all three central midfield positions. A great player to have in the squad when injuries and fatigue plague the squad. And best of all: he doesn't cost us a dime, which is very welcome considering the wage budget I'm forced to work with.
In order to boost this type of recruitment, I persuade the board to replace FC Twente with Italian giants AC Milan as our senior affiliate. The Rossoneri have an enormous squad filled with players who could be very useful to us.
Pre-season
I am glad the board agree with cutting back on spending. They have arranged for a training camp in Hengelo, which is about a fifteen minutes' drive from Deventer. That way we are away from our usual stomping grounds, but close enough that I can sleep in my own bed. Otherwise, it has been a disappointing pre-season. We mainly play Jupiler League sides, with mixed results.

We start against NAC Breda, a strong Jupiler League side who are major contenders for promotion. The result is decent, considering they are about at the same level as us. Next match is against Jupiler League mid table side FC Den Bosch. It is a very dour matched which I play with a B-Team. The match against Derde Divisie (4th level) side vv Capelle offers more drama. We go 2-0 down within three minutes, but manage to claw our way back to 2-2. This is followed by a decent 1-0 win against Almere City, another Jupiler League mid table side. We have to ultimately descend to the 8th level of the football pyramid to enjoy our first convincing result. 3e Klasse B team Colmschate '33 were no match for us. So if we are ever relegated 7 times, we know we'll be fine… We end pre-season on a sour note, when we succumb to a 1-0 defeat against FC Emmen, who also spend their existence in the mid table of the Jupiler League.
All in all, the results are not particularly confidence inspiring. We have a tough campaign ahead and a few more wins would have been nice. A weak excuse could be that my tactic is designed to be employed against stronger sides who are willing to attack, which none of the sides we played against in pre-season did. But it is what it is and we'll just have to prove ourselves when it matters.
Join me again in Part 3 to see how we fared in the month of August.