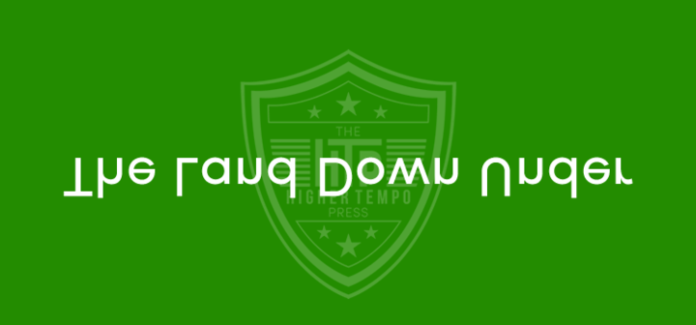 G'day, mate! Welcome back to The Land Down Under! The end of the season is upon us, so you know what that means? It's time to wrap up what we started this season before I take off to spend some of that AU$425k I've earned these last two seasons so that I can go watch the World Cup!
In the last update, I said that we had two matches left in the Champions League group stage and that we were two points short of qualifying with Quanjian from China and Jeonbuk from South Korea ahead of me in the qualifying positions.
Want to know how we did? Of course, you do, since you're reading this series still!
We did it by the skin of our teeth. We had a good 1-2 away win to Jeonbuk, and we lost to Quanjian. However, Jeonbuk also only drew their last match against Okayama FC, so we levelled out at 7 points apiece, with us taking the qualification spot on goal difference for the second round!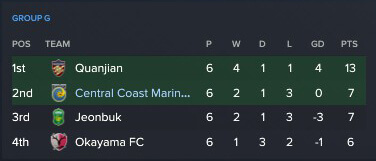 We were only expected to make it to the group stages by the board. They are happy and I am happy that we made it into the second round. It was a somewhat tough group for us, though Jeonbuk surprisingly fell easier than I remembered them doing in the past. At least we have the result! That's what matters!
Domestically, how did we do? Last season we won both the regular season and the Grand Final. Did we do it again?
Well, unfortunately, I can't give you good news in that regard. We did make it to the Grand Final, which was the board's expectation and my expectation. However, we fell short on my own expectations. We had to go to penalties and lose the shootout in a 0-0 draw to Melbourne Victory, who have been battling us for the title all season long. It was disappointing to not win the Grand Final and retain our championship, but considering the demanding season we had, it was probably a fair result that we could only hold a draw against the strong Victory side. After that, we all know penalty shootouts are luck of the draw anyway. We'll just have to work harder next season to get our Finals trophy back!
The 2017/18 Hyundai A-League season has come to a close with Central Coast Mariners winning the regular season and retaining our position as league premier. Melbourne Victory is the league champion with the Grand Final win.
With the curtain drawn on the A-League, I thought things were over, but I was wrong! We had to take part in the second round of the Champions League. I misremembered the timing of the competition rounds when I previously said the group stage was all we'd do during the first half of 2018. We have to do the second round as well.
In the second round, we faced off across two legs against Pohang Steelers from the K-League, and we took the win in a convincing 3-5 aggregate win. We won 4-1 at home in Gosford on the first leg, then we travelled a week later to Korea to lose 2-1 away. It seems home advantage played to both of our favours, but we got the better end of the stick for our home result.
The AFC Champions League has taken a break for the off-season, so it's time for us to wind down for that incredibly mild coastal Australian winter and relax for a bit. On August 8, we will come back from the break to get ready for the usual busy preseason.
Let's move on to the end of season notes and awards. I've secured my second Manager of the Year award with my regular season performance. Not really much to say in this regard, but I wanted to share it.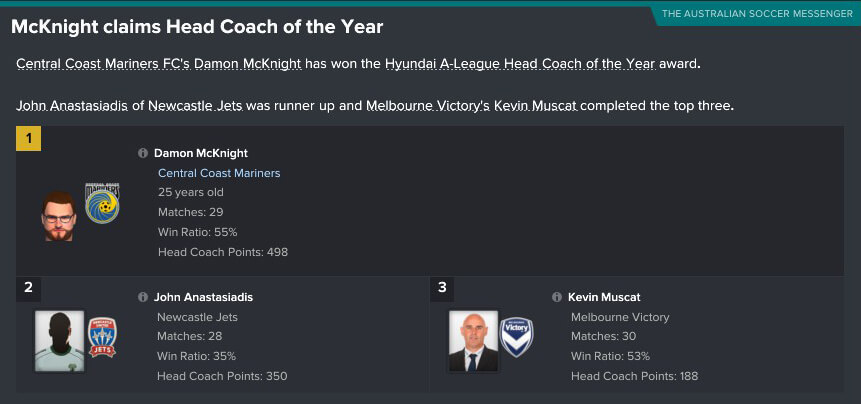 Goalkeeper Paul Izzo, left back Michael Neill and attacking midfielder Josh Bingham all made the Australian All-Star XI and Team of the Year. A good achievement, to be sure, since they all deserved it, but there are a couple of other players I can think of who should have been a part of it, like Andy K, who was just amazing for me, despite being shifted backwards from attacking midfielder to central midfielder.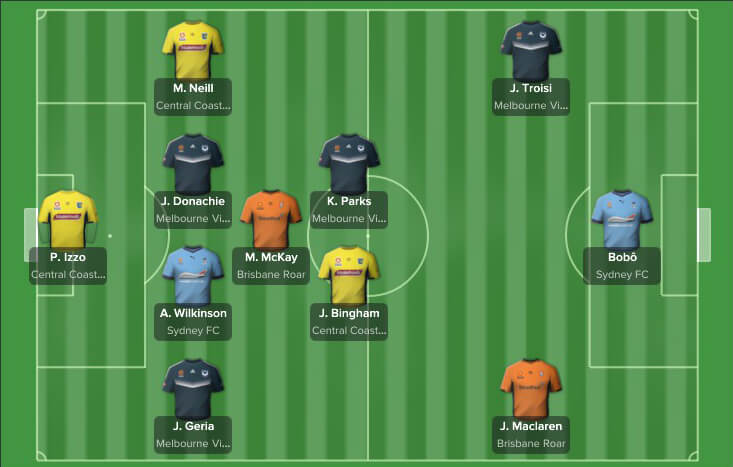 Onto fan-voted results, the signing of the year was determined to be Liam Woodling, who I brought in to replace Kieran Dowell, who was on loan last year from Everton.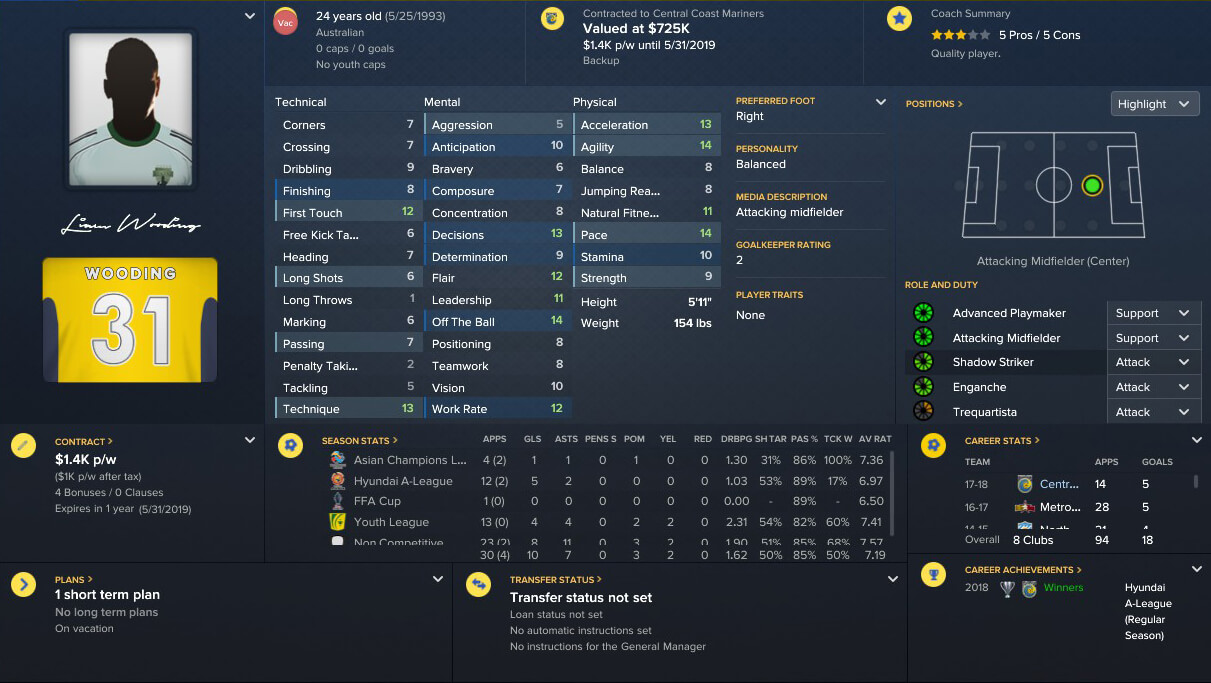 In 17 senior team starts across all competitions, Woodling had six goals and three assists, and when he played he was very average. He's good enough to be on the team still, but I wasn't blown away by him. Relatively speaking, he was good enough though, as Raul Meireles ended up being AU$11.5k per week of disappointment because of his advanced age, and Cameron Howieson, while great during the half of the season he was here for, still has some time to make good on the fact that I tried spending over $1.5m on him, which was always a questionable thing to do, but I was feeling impulsive with someone else's checkbook.
The fans' Player of the Year was Josh Bingham, and this is one that I fully agree with! He was fit enough to start every competitive match we were in this season, which is impressive considering our injury streak we had! 15 goals and 10 assists across 36 starts is definitely the Player of the Year in my books.
He really turned it up for me this season. I remember him being rather average last season, but when he had to step up to fill a regular starting spot, he delivered the goods.
I didn't really give this window much of a look last season, but I noticed it shows who had the top shirt sales, and my plan to see if a Porto icon in Raul Meireles could provide some financial boost and shirt sales didn't work out. He retired at the end of this season with some results that were so disappointing that if I could afford at the time to terminate that marquee contract I would have.
However, Josh Bingham, Cameron Howieson, Fabio Ferreira, Andy K, and Jake McGing all sold a lot of shirts. Our sponsorship deals are going up this year, so hopefully, we'll have the money needed to give this team the boost it needs to make it the last couple of rounds in Champions League.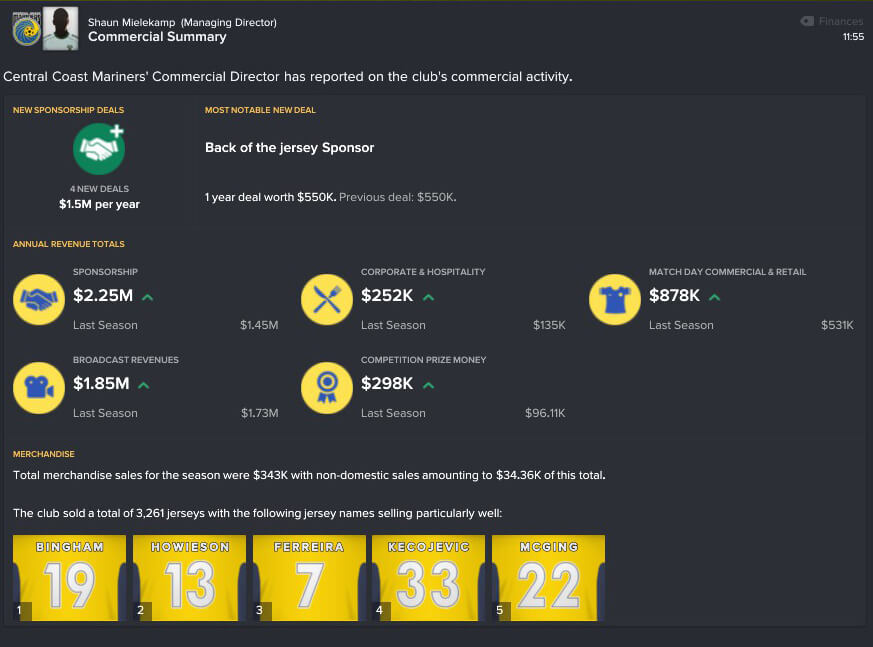 I allowed a lot of staff contracts to expire over the year, because the staff wasn't up to snuff for my ambitions, and I needed some upgrades. I don't have an image to share for comparison, but I had absolutely horrible everything when I took the job. Now we're either above average or top of the league for the quality of the staff, which is always nice.
We can't develop elite Australian players without an elite staff, so with the start of a good staff coming into place, my goal for the next couple of seasons will be to see if I can pinch enough pennies to get the board to do some facility upgrades to aid us in youth development and in international competition.
With all of this out of the way, it's time for the important business…
What are my goals for the off-season? The core of this team is solid. I did some substitutions when it was needed due to injury, but I have had very little need for additional players. Central Midfielder Raul Meireles retired after one season with us, as did CM Nick Montgomery. It's not a big deal to me. Montgomery had precisely zero starts for me this season since he was so old, and he was going to be released when his contract expired anyway. Meireles was, as I said, not good value for his wage, despite my initial hopes for the guy. He did me a favour by choosing to retire since I didn't plan on playing him anymore. Central Defender Jacques Faty left the club at the end of his contract as well, since he was in his mid-30s and badly declining.
For goalkeepers, Izzo, Bray, and Pearce are fine as they are. Izzo is good at not getting hurt, so I never have to sub him off, and he's still doing a good enough job for me that I'm not in a rush to replace him.
For defenders, with Faty's retirement, I think I want to promote Reece Papadimitrios from youths to Faty's position. There are probably better options I could scout out for his position, but he's been doing a decent enough job that I want to give him a chance during the first half of the season. I've got some scouts working on some shortlisted players that I want full knowledge of, so I have a fallback if I need it. The academy players will always have first chance at the first team before outsiders come in, however.
My wingbacks will remain Neill and Galloway on the left and O'Brien and Roux on the right. I see no need to change that around.
For midfield, I have been playing Andy K and Jake McGing in central midfield, with Raul Meireles being a backup option after he disappointed as a regular starter. K and McGing are going to have their contracts renewed this summer and retain their positions. Jake Adelson, a CCM youngster who has been out on loan, has been doing good for himself, so I think I'm going to set the scouts to work on finding fallback options, but I'm going to promote him to a rotation option to fill the hole left by the departure of Meireles.
The attacking midfield probably won't change either. Cameron Howieson, Liam Woodling, and Josh Bingham are a great trio together, and our regen from last intake, Ozcan Gunes, is coming along just fine on his own and has been a great league rotation option despite being 16 years old for most of the season.
Competitively, I want to take the Champions League run as far as we can go, since we're already exceeding expectations. I want to do better than the first or second round of the FFA Cup like the last two seasons were. I want to win the regular season again, and I want to reclaim my lost Grand Final trophy.
A bit longer of an update than usual, but I had a lot I wanted to talk about. In the next update I'll go over our preseason, discuss any signings that I might have made, and we'll see how the start of the regular season is going to play out.