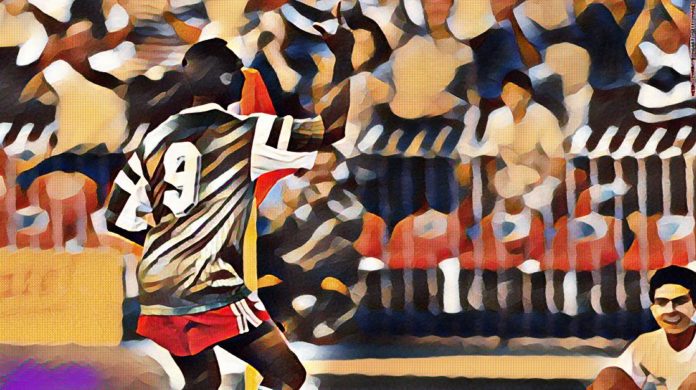 As I announced, exclusively, yesterday I (sorry, Mark Monroe) is the new manager of Cameroon. Today I will let you know how the first matches in charge of my adopted country went as we had a B team match and a full match against Gambia B and Senegal respectively.
But first I really want to update you on the goings on at Tonnerre KC, the day job.

I tell you this for nothing, considering we were 13-1 outsiders for the match against Al-Ittihad, to play in front of 61,000 passionate home fans and come way with a 3-0 win was pretty special. We battered them from start to finish and we were even better in the second leg, winning 4-1.
We only had time for one MTN Elite match, dominating Bamboutos 2-0 with both goals from Tchuenté. We are still mid-table, but we have five games in hand on everyone else.
And then it was the second round first leg against the Nigerian side, Warri Wolves. It wasn't much of a match, but if you go away and keep a clean sheet then you can't complain too much. Mind you, we definitely need to score at home – obviously.
The side is pretty settled now, meaning both Fopossi and Ndanza being far from happy at not playing every week. Fops has handed in a transfer request but it will take at least €50k to let him leave. Marcy may not be our best striker on paper etc, but the guy is nearing in on 100 appearances and has 57 goals. How can you drop that when he rarely goes on a long streak without scoring. Plus, Abdel Latif has a goal every other game for us in his 50 or so appearances and smashed it in preseason. I would love to squeeze both Fops and Danz into the team, but their direct rivals for the shirt (Tchuenté in Danz's case) are our two top scorers this season.

I'd imagine I'll get through those games at the very least today. Obviously all eyes are on the Warri Wolves game at our place. If we win, we are in the group stages which would be huge for us and domestic Cameroon football.
So, switching over to the international stage!
First up was our B team fixture against Gambia B. I selected this squad, working on a "OK, you are young and already playing in Europe" type approach when choosing the 20 or so players.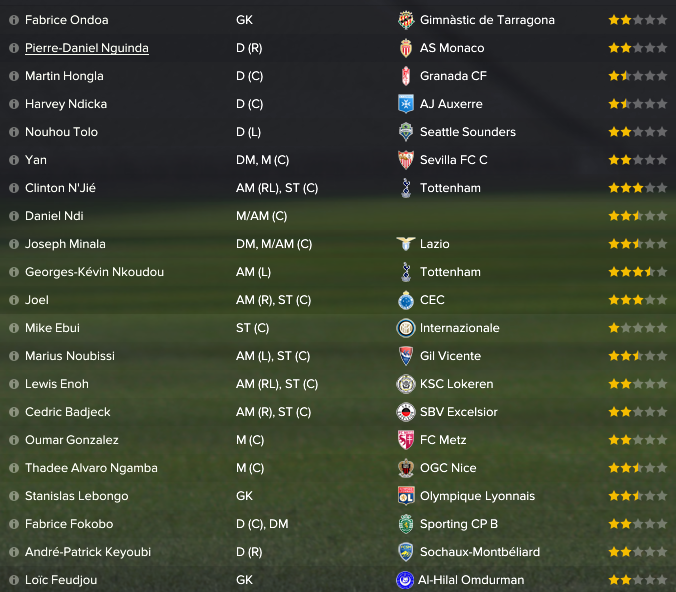 The standout players in this squad were N'Jie and Nkoudou of Tottenham and Joseph Minala of Lazio who, incredibly, is still only 22.
In all honesty, I didn't know of a single other player that I called up.
Anyway, the match with Gambia B ended 0-0. We were the better side until Hongla went straight through the back of the man he was marking just after half-time. In the end, we held on. As suspected, the three higher profile players looked a cut above and, depending on how the first team got on, were already earmarked to move up a level. My only concern with Nkoudou was his tendency to cut inside, beat four men then fire over. If he can start passing it, he is dangerous.
A few days later the full international squad got together to face Senegal, ranked 13th to our 32nd.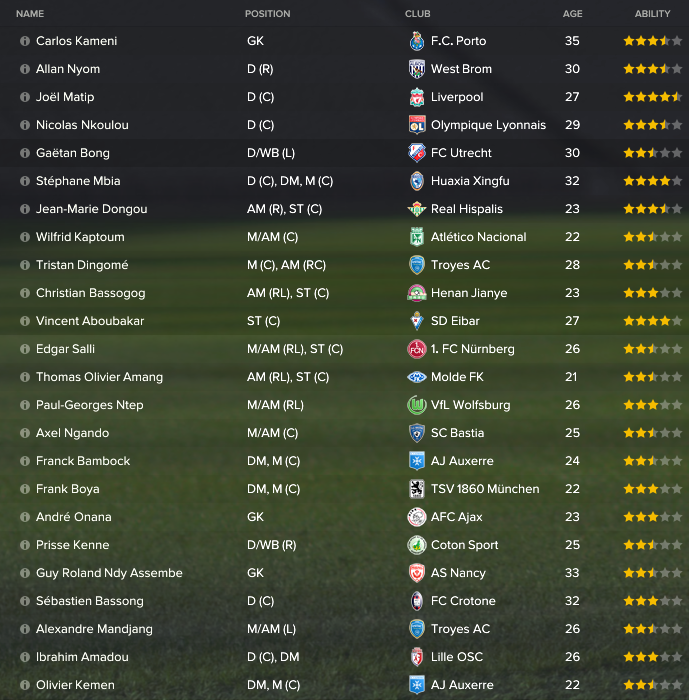 Now, I have a calendar year before the qualifying for the AFCON kicks off so I can be fairly patient about building my first choice squad. So, with that in mind I didn't ring changes immediately – all bar two this is the squad that bombed in the recent AFCON. But, we changed the shape to my 4141 where they had been playing 41221. Wilfrid Kaptoum was one who came in to the fold, a young talent. The squad looked pretty balanced on reflection.
When it came to the match, big Vinny Aboubakar scored a beauty to give Mark Monroe his first goal as an international manager. Real Hispalis' (yeah, time to redo that name fix again) Jean-Marie Dongue put us 2-0 and it was all good. Then Vinny got sent off, Senegal woke up and we ended up clinging on again, this time for a 2-1 victory.
In terms of probably changes for the next outing, against the USA in a few months, the two Spurs boys and Mangala will step up probably for Mandjang, Ntep and Amadou.
All in all though, I was delighted with the first international break.
So what is left?
Financially the Tonnerre pot is replenishing – we are nearly back up to €600k in the bank which is great considering we spent all that cash on the training facilities.
The U21 side top their group again, and the U18's currently sit mid-table but do have four games in hand. That said, I am not expecting a title from the U18's this season as there has been mass change in the squad.
So, I shall leave it there as I want to crack on and play!
#LeTKC