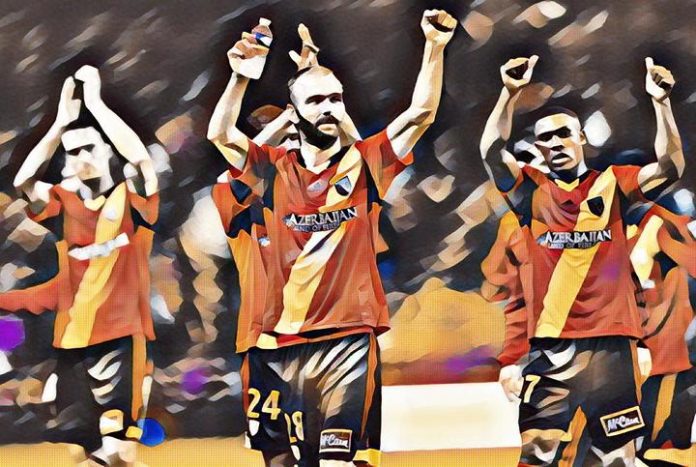 So, I'm back again with a new FM17 save, and hopefully this one goes better than the last. Rather than start in the non-league of England, this time I've decided to move across the Channel and begin proceedings in France's Ligue 2 with Racing Club de Lens.
Lens have been a side that of late have seen the heights of Ligue 1 but usually play their football in Ligue 2. Before we get started I think I'll explain the main rule of the league just in case some of you don't know. In Ligue 2, as usual the top two teams are automatically promoted to Ligue 1, but the 3rd promotion spot is decided by a play-off between the 3rd placed Ligue 2 side and the 18th placed Ligue 1 side.
Now that's out of the way let's get down to business. After my first board with meeting with club President Gervais Martel and Head of Youth Delepmont Herve Arsene, I found I had £602K to play with for transfers but the club are spending £4.6K over their wage budget of £152K so some things may have to be tweaked.
Reading Arsene's team report it's clear that the squad I have is good enough to achieve the top half finish wanted by the board but we're lacking depth. Already spending over the allocated wage budget I'll be looking to bring in some loanees and maybe even find a senior affiliate club as well as looking for players at Arras Football, Baki, CS Avion and Millonarios who we already have affiliate partnerships with. A couple of reserves I've been told to look out for are goalkeeper Valentin Belon, striker Milos Zukanovic and central defender Valentin Wojkowiak so maybe they can force their way into the team too.
Pre-Season

As a whole, pre-season was quite encouraging was we picked up a few very good results despite the frustrating start. Going forward I don't have many questions of the team seeing us score on every outing, even going 2-0 up against Ligue 1 side Stade Rennais along with the 6-0 thrashing of RJ Wavre.
A couple of players that I've gained a liking for include John Bostock, formerly of Crystal Palace and Tottenham Hotspur who scored twice in pre-season and will be playing in midfield as an Advanced Playmaker whether that's in a 4-2-3-1 or 4-4-2 which I've been testing.
Up next is striker Cristian. The Spanish target man, formally of both Real Madrid and Valencia B squads, has bagged three goals over the course of these games and I look forward to seeing what he can do when the season begins.
Transfers

Looking at the team report it was made clear that I had to improve the depth of the squad, but with the club already overspending on their wage budget, it's been a bit difficult. The two loan signings I've made sees a striker in Appiah and central midfielder Maggiore arrive at the club.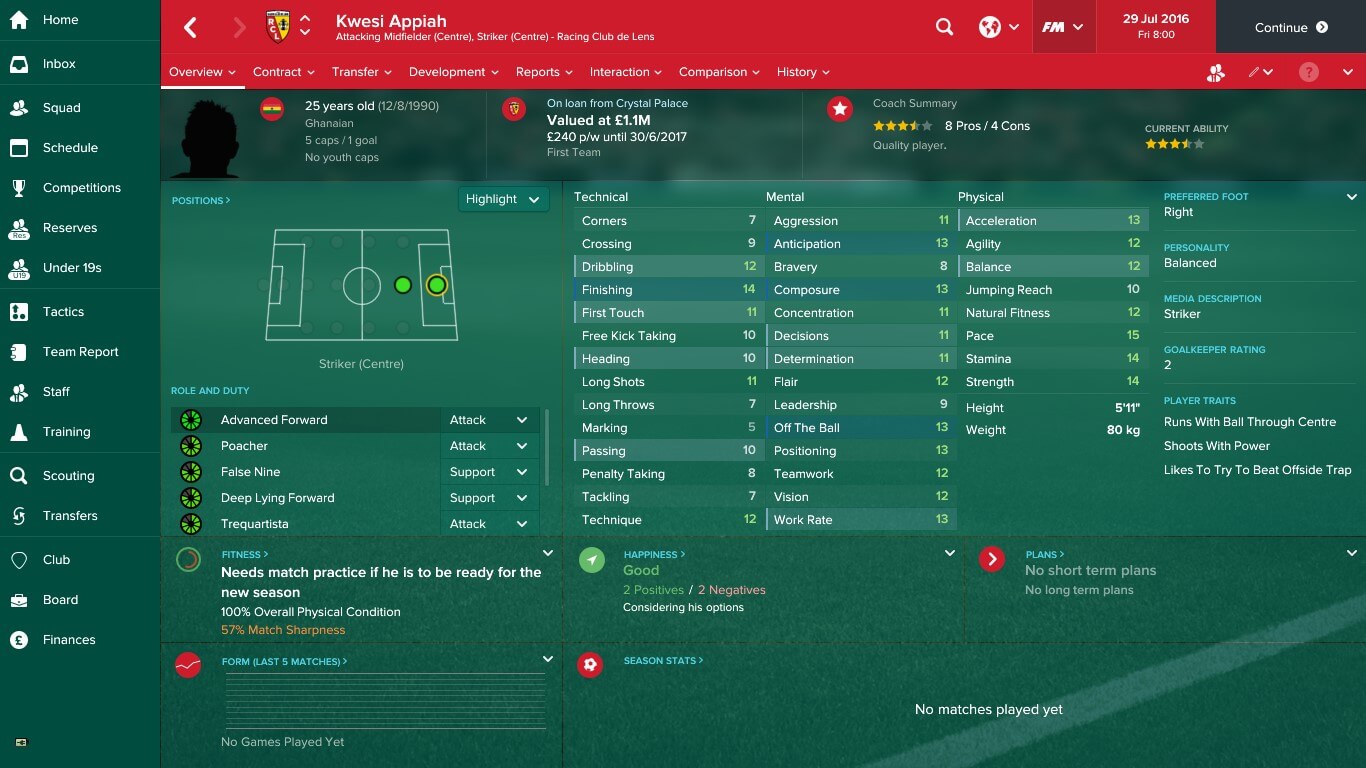 With two out of the three strikers already at the club being target men I was hoping to bring in a quicker partner to get some depth up front. With Cristian being the main man hopefully Appiah, coming in from Crystal Palace, can feed off of him nicely and grab some goals for himself when we play with two up top.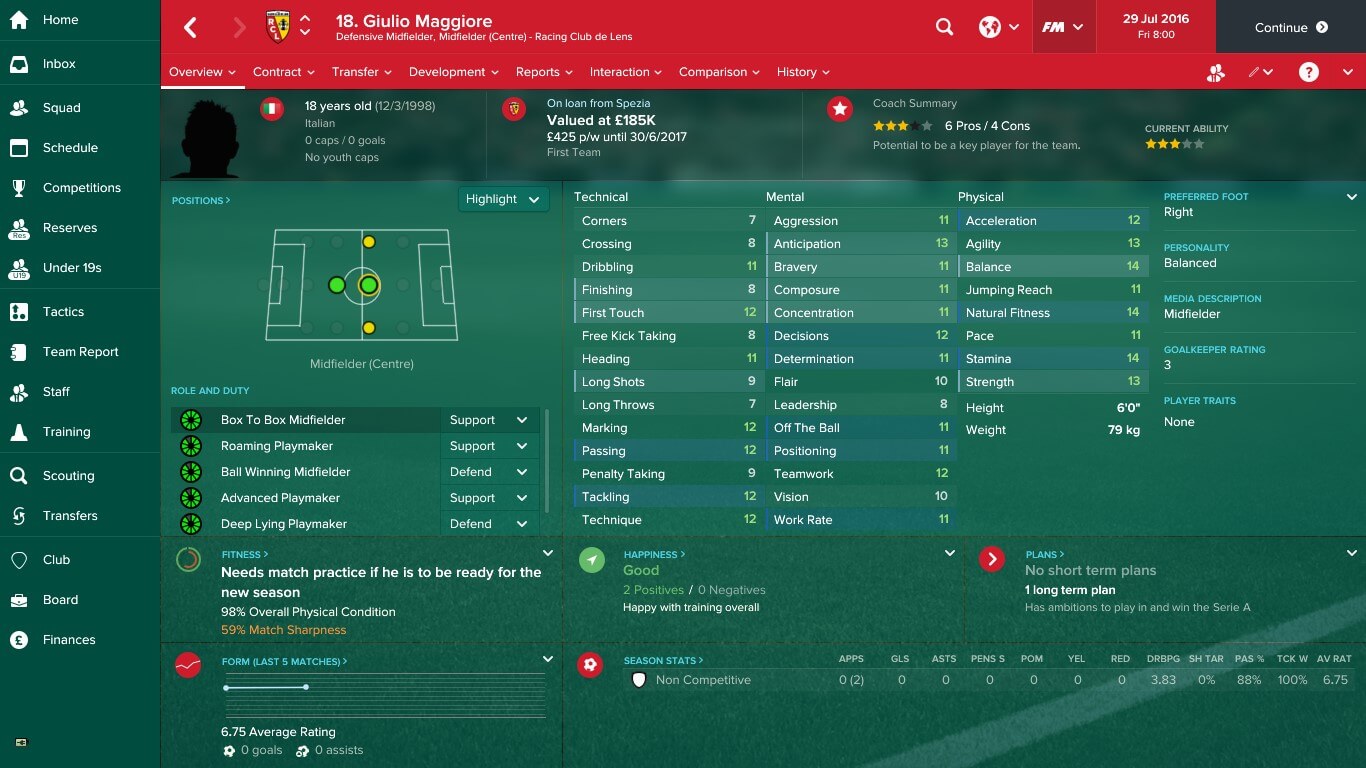 And Guillo Maggiore, coming in on loan from Italian Serie B club Spezia. He'll mostly be used as a backup central midfielder, just brought in for some depth really. Unfortunately though with these signings I've reached the limit of five loanees allowed at the club so any other incomings will have to be permanent deals.
Aims
Looking at the history of the side I'm looking to possibly push for a play-off spot, which we are predicted to do, but I won't be too upset if we have to settle for a top table finish which the board expects. I'm not too fussed about the cup competitions for this season but wouldn't mind a little cup run.