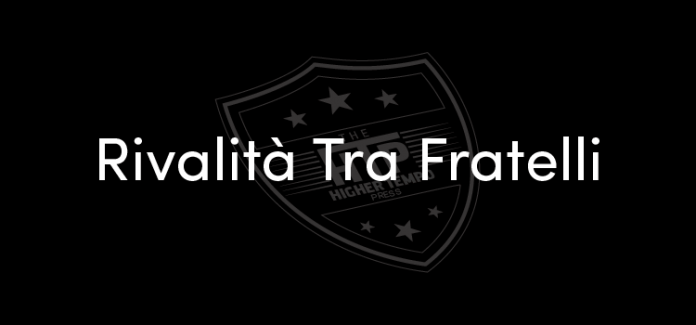 This is the story of two brothers, a modern-day Cain versus Abel if you will, based in the northern powerhouse Italian city of Milan. If you'd like to replicate this challenge, we're using the updated medium database with the following leagues: England (Premier League, Championship, League One & League Two), Italy (Serie A & Serie B), Spain (La Liga & Segunda División), France (Ligue 1 & Ligue 2) and Germany (Bundesliga & 2. Bundesliga).
Rivalità Tra Fratelli – #WeAreTheRivals, Episode 17
CHARLIE: Looking back, I'm glad I didn't say much in the aftermath of our loss to Juventus. Nothing I could have said would have been worthy. I'm frustrated, after all that work and clawing into a position where our fate was in our own hands, we then tossed it away like a wet shammy. It wasn't the draw against Sampdoria that did us in, it was the last game at home against Marcelino's Juventus and two goals by Paulo Dybala. @Ed_Wilson87 of the Deep Lying Podcast may worship him for his exploits with RB Leipzig but I certainly don't.
In the end, the Italian Cup game against Lazio was something of an underwhelming experience. An anti-climax if you will. It was nice to give Rodrigo Palacio the farewell with that a long-serving player deserves but still, I imagine you don't read this for strolls in the park in a cup final. What we have now is a little review of the season, complete with some award winners and I imagine criticisms of each other's performance.
MIKE: This seems as good a time as any to remind everybody that AC Milan won Serie A. Just before we begin, it's best to set my stall out.
The Managers
CHARLIE: All through the season I have attempted to deal with the press in a calm fashion, along with a little passion where necessary, particularly around the big games and Milan derbies. That behaviour carries over to the players, where I have engaged in several conversations with the likes of Kondogbia, Handanovic and mostly regular one-to-ones with Mauro Icardi. This consistency has seen off the player revolts and maintained a healthy spirit.
MIKE: Assertive has been my tactic with the press, who quite frankly, deserve it. I've always done my level best to provide a little extra comment as well for the back pages, mostly an expletive or insult. Zdenek Zeman was left needing surgery for twisted blood such was the force of my verbal barrage over the two games we played against Pescara. When it comes to players, slapping them back down into place has been the plan. Actually, I've been a lot kinder to the players than that. I've promised several that they can leave if we don't get Champions League football such has been my confidence in achieving European qualification.
CHARLIE: As the more humble of the two, I don't really like to point this out but I did win Manager of the Year and Manager's Manager of the Year, although I have to confess I'm not sure how. We did both vote for each other in the Manager's Manager stakes, despite a late wobble by Mike as he considered giving his vote to Zeman for putting up with his remarks. It won't be productive to ask for Mike's remarks on my winning both Serie A Manager of Year and Managers' Manager of Year awards.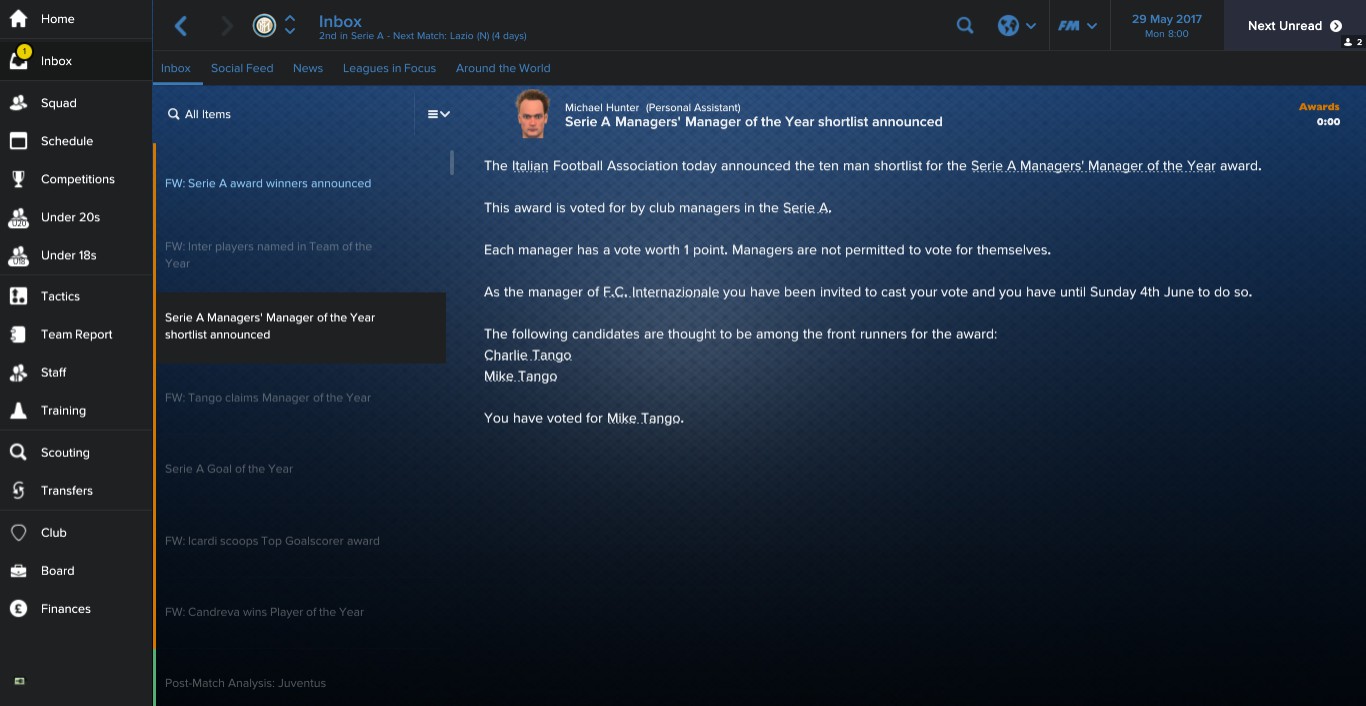 Transfers
CHARLIE: My two big signings were young promising Englishmen, Charlie Taylor and Kortney Hause. Both were absolutely epic for me. If you look back, I actually only signed Taylor because I received a decent offer for Danilo D'Ambrosio from Valencia at the start of the season. They ended up second and third in the player rating stats behind Candreva, which was recognised in the end of season awards.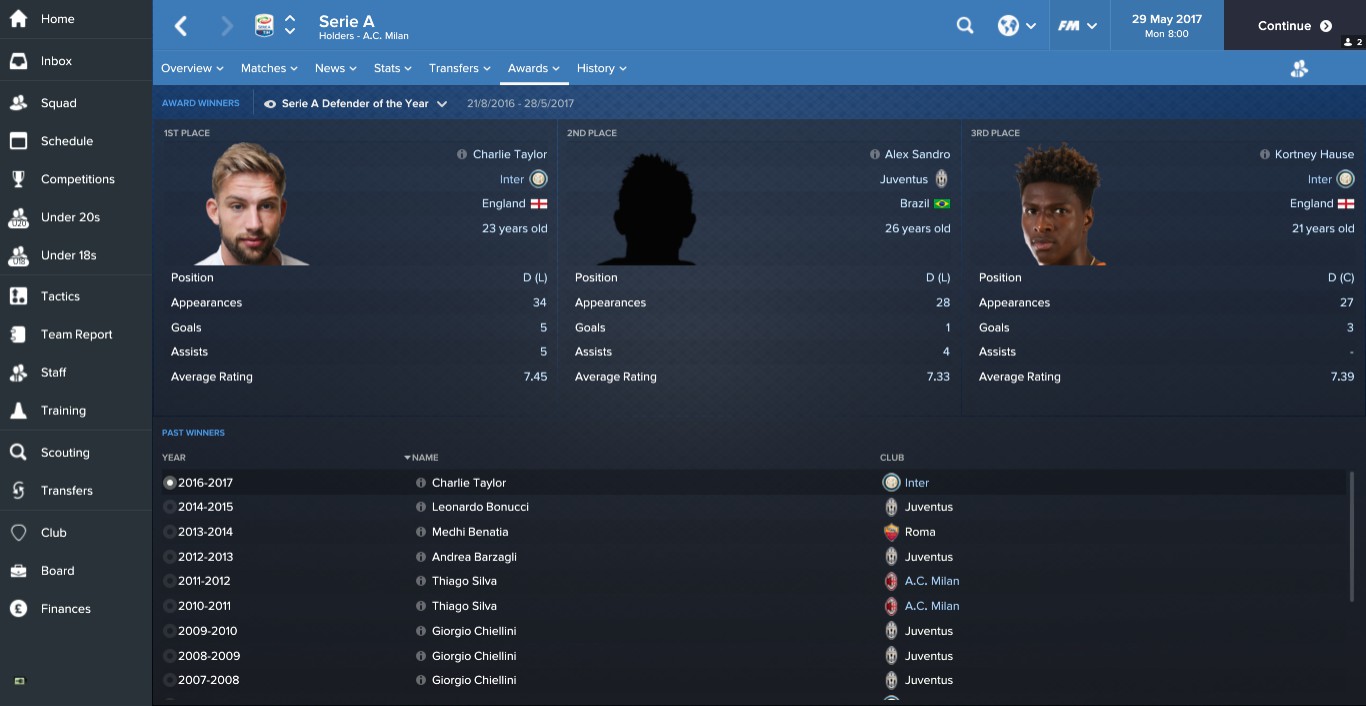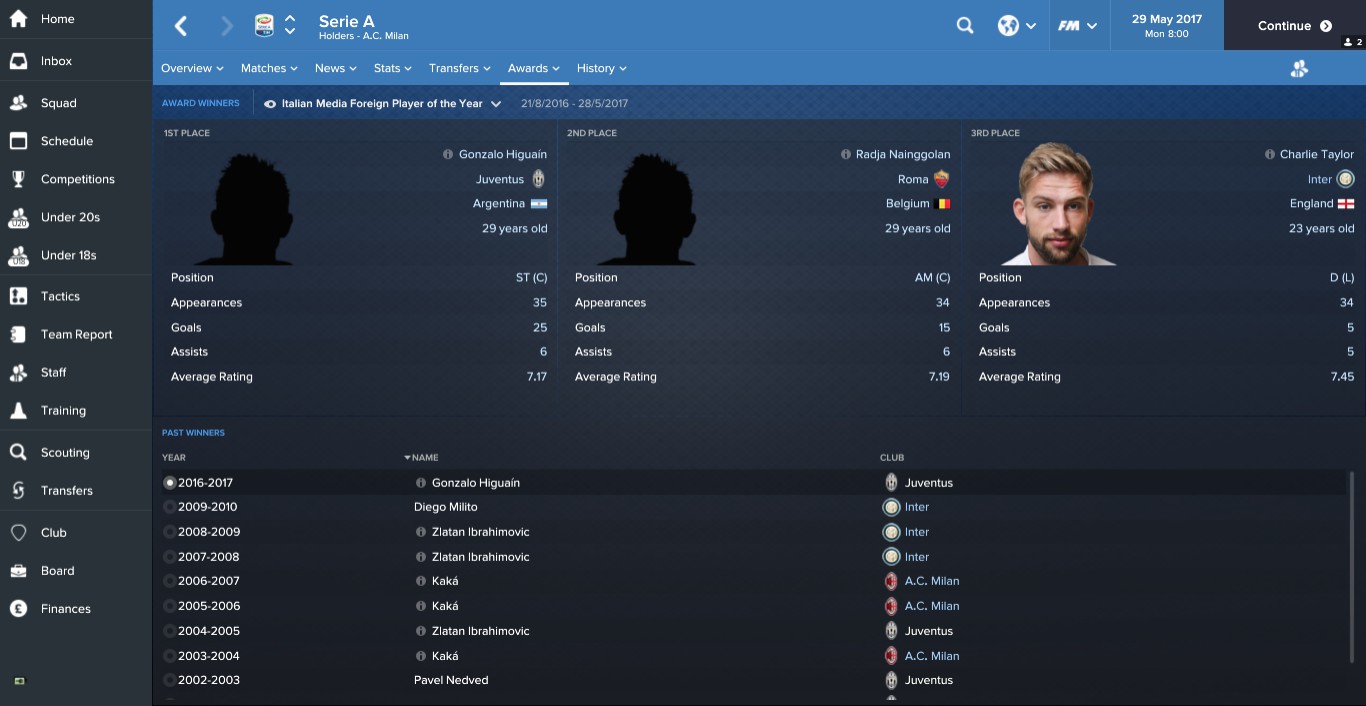 Just seeing the name Radja Nainggolan sends a shiver down my spine after what he and Roma did to us in our biggest defeat of the season.
My 'return on investment' strategy mostly stayed intact, aside from the signing of Yaya Touré but his experience, especially in Europe, was essential. He was touching 8's in average rating for the Europa League. We made a big sale to Arsenal of Jeison Murillo but his replacement came in the form of De Ligt and Wesley Hoedt, who are both quality young players.
MIKE: I really shone when we look back at transfers, I mean, come on… Didier Drogba was a masterstroke. All my signings bar Barcelona B's Gerard Gumbau are experienced internationals who can just slot into the team. Stewart Downing gave us valuable width opposite Deulofeu, Wazza Rooney remains one of the best players in the game and Concrete Ron Vlaar provides the solid base in front of Donnarumma. Having had far too many midfielders at the start of the season, the sales were necessary of Suso (part exchange for Rooney) and Giacomo Bonaventura for a fee which could go up to £58 million eventually.
Formations
CHARLIE: We were fairly consistent in our set up, we started the season with the Skewer, the Classic José (based on his system at Chelsea in Mourinho's first spell) and a defensive Padlock to see games out. During the season we tried several variations, particularly in Europe. We attempted a Strikerless formation that paid dividends and, having read an article about Pep Guardiola's inverted wing-back formation on The Higher Tempo Press by @DistanceCovered, it was invoked as it was fairly close to the 4-3-3 Classic José. I feel this was an area I have the edge over Mike because I know my best team, in fact, it was exactly as described in the Inter team of the season, but I always felt he never figured out his best eleven or made a connection with the players.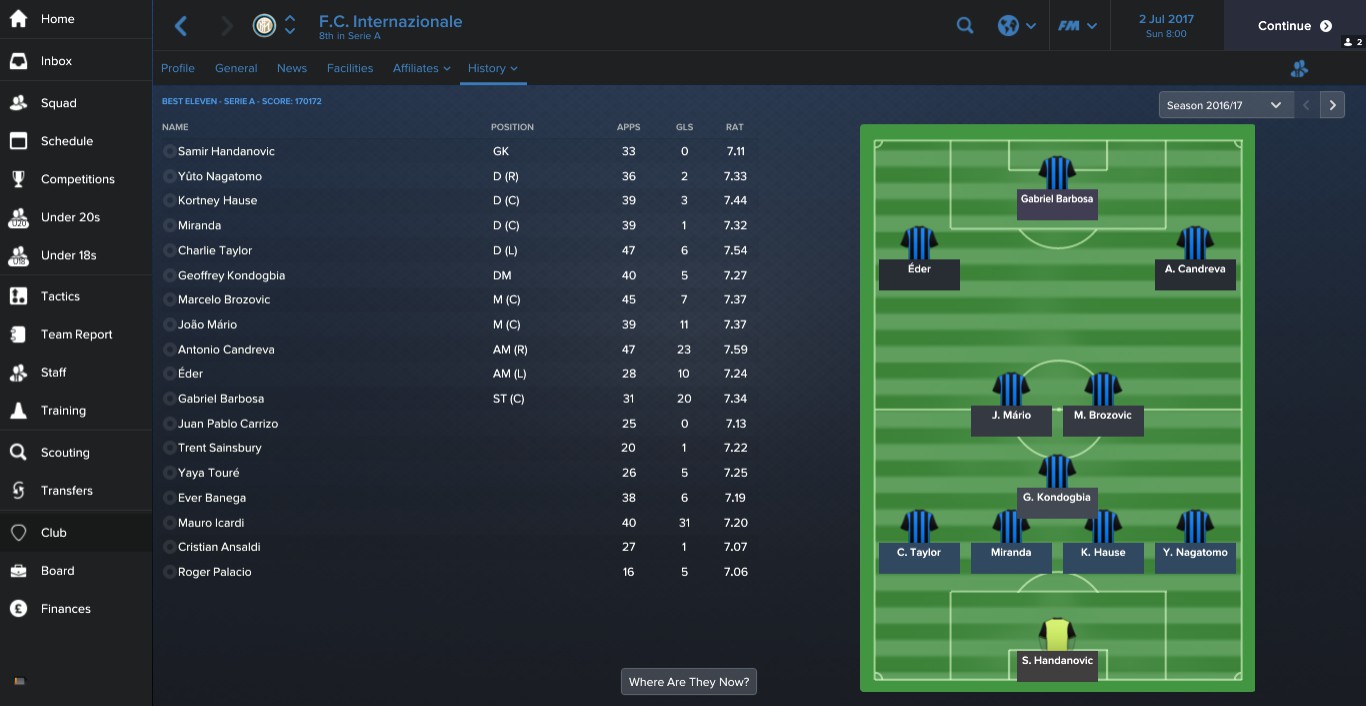 The absence of Icardi, considering he was the league's top scorer is controversial but that bad spell he had after hearing word of Manchester City's interest on the blower cost him dearly.
MIKE: The AC Milan team of the season highlights this game doesn't pay attention. Our most successful formation has been the Dogs of War, a 4-1-4-1 or #weareacmilan, an attacking 4-2-3-1, yet the game is stuck on the original 'Vintage' AC Milan system I started the year with. As a result, I'm not even going to defend this dog turd.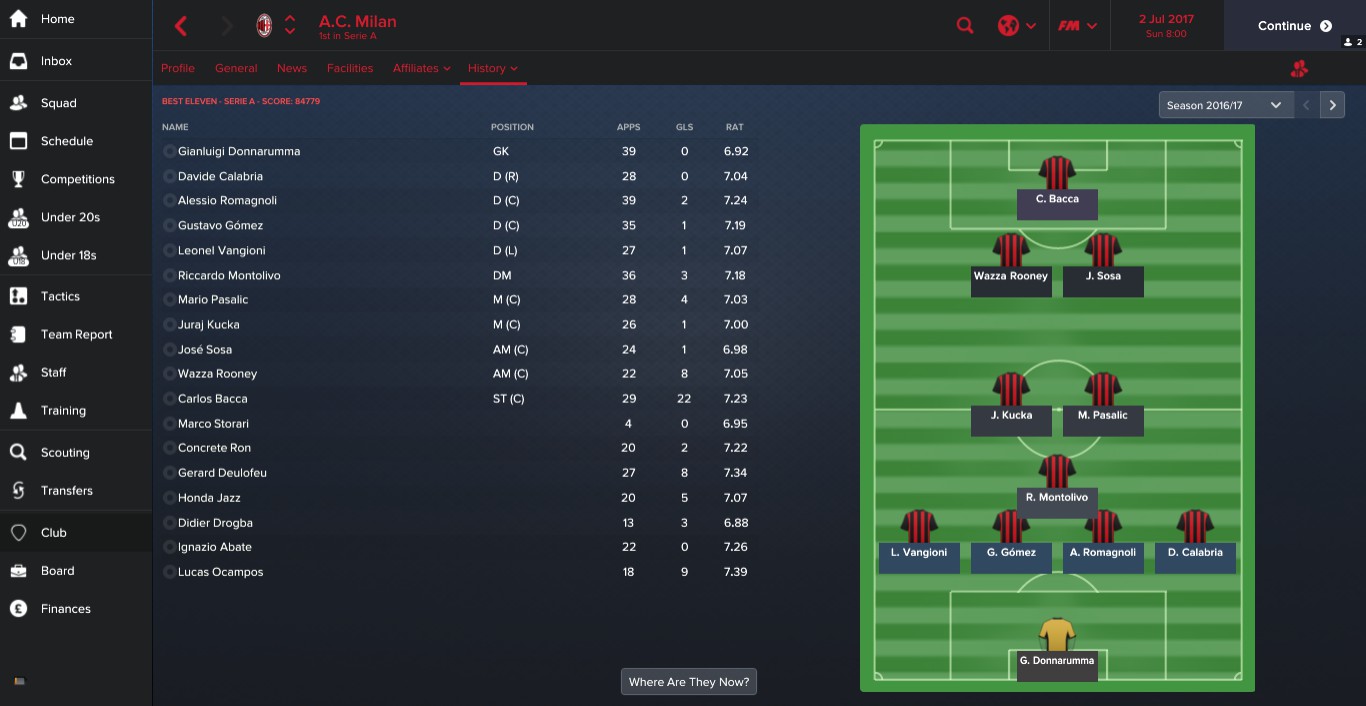 What I should be lauded for is realising that I had to change to get the best out of Deulofeu and having done that, he ended the season with eight goals/seven assists.
The Players
CHARLIE: I've said it a few times, even though Mauro Icardi is the league's most prolific marksman, his contribution to our side has been overshadowed by Candreva notching fifteen assists and another fifteen goals. We had heroes all over the pitch, notably the midfield triangle of Kondogbia, Brozovic and Yaya Touré, not to mention Charlie Taylor and Hause. I'm glad that the awards recognise Candreva for his accomplishments. The other big disappointment aside from Icardi's attitude has to be Ever Banega, who I expected big things from and he never really delivered.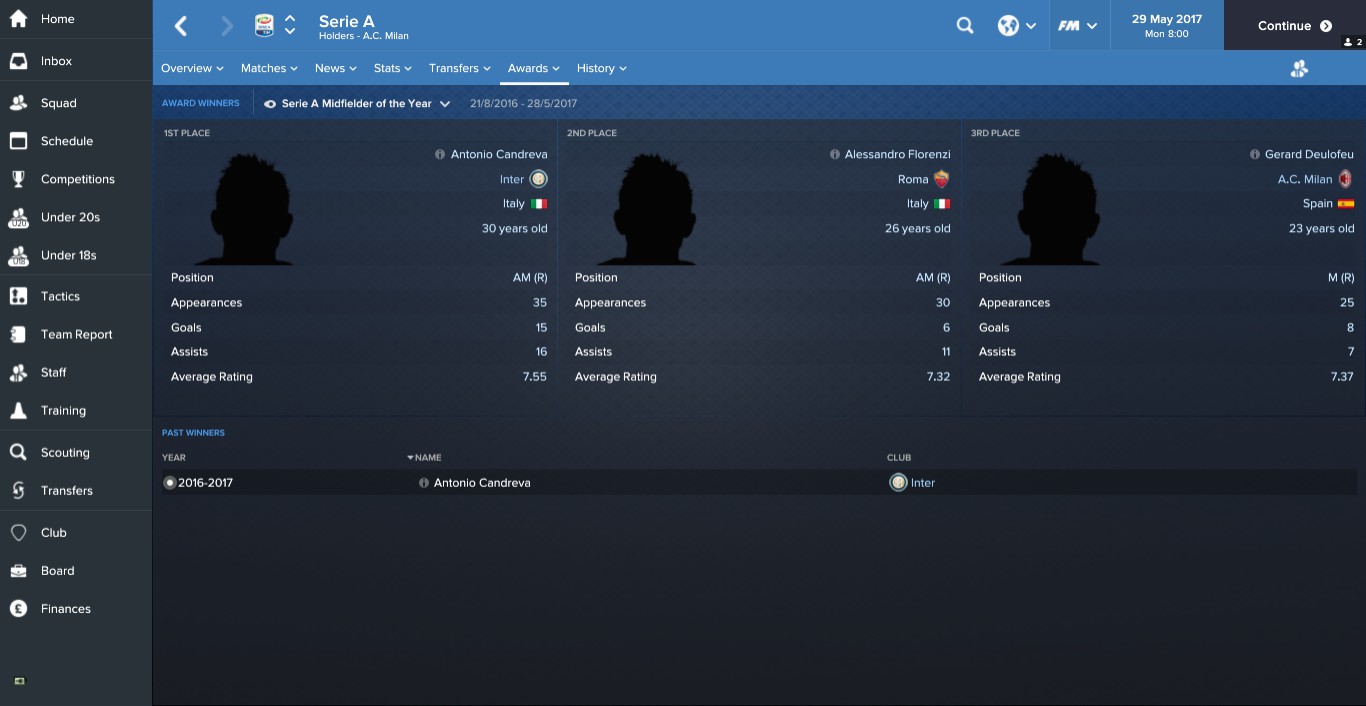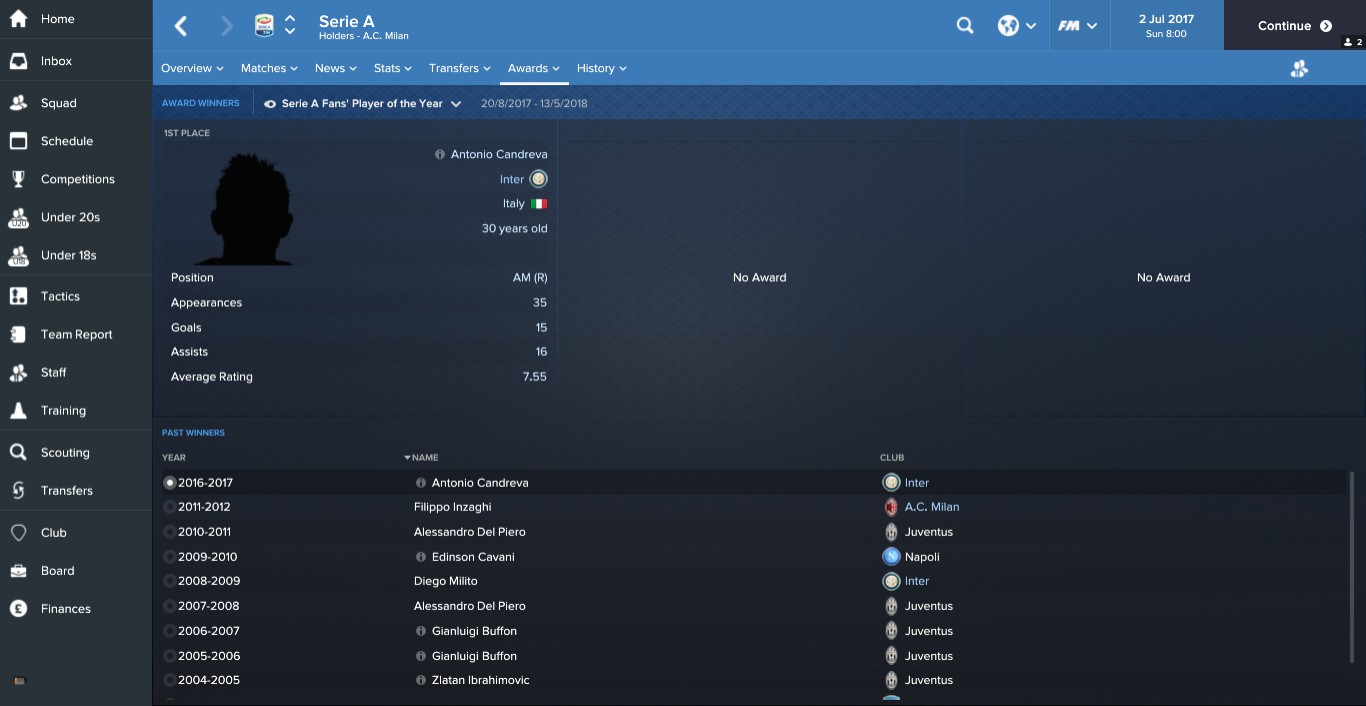 MIKE: I don't think I know anything more about AC Milan than I did at the start of this save having watched them on television thanks to their matches being selected pretty much on a weekly basis by BT Sport. I'm especially annoyed to see that I took over the Red & Black a summer too early considering all the spending. Donnarumma will be the best goalkeeper in the world, aside from Alessio Romagnoli the defence isn't good enough, there's was a distinct lack of width and we're lightweight in the striker department. Having said that, there have been successes.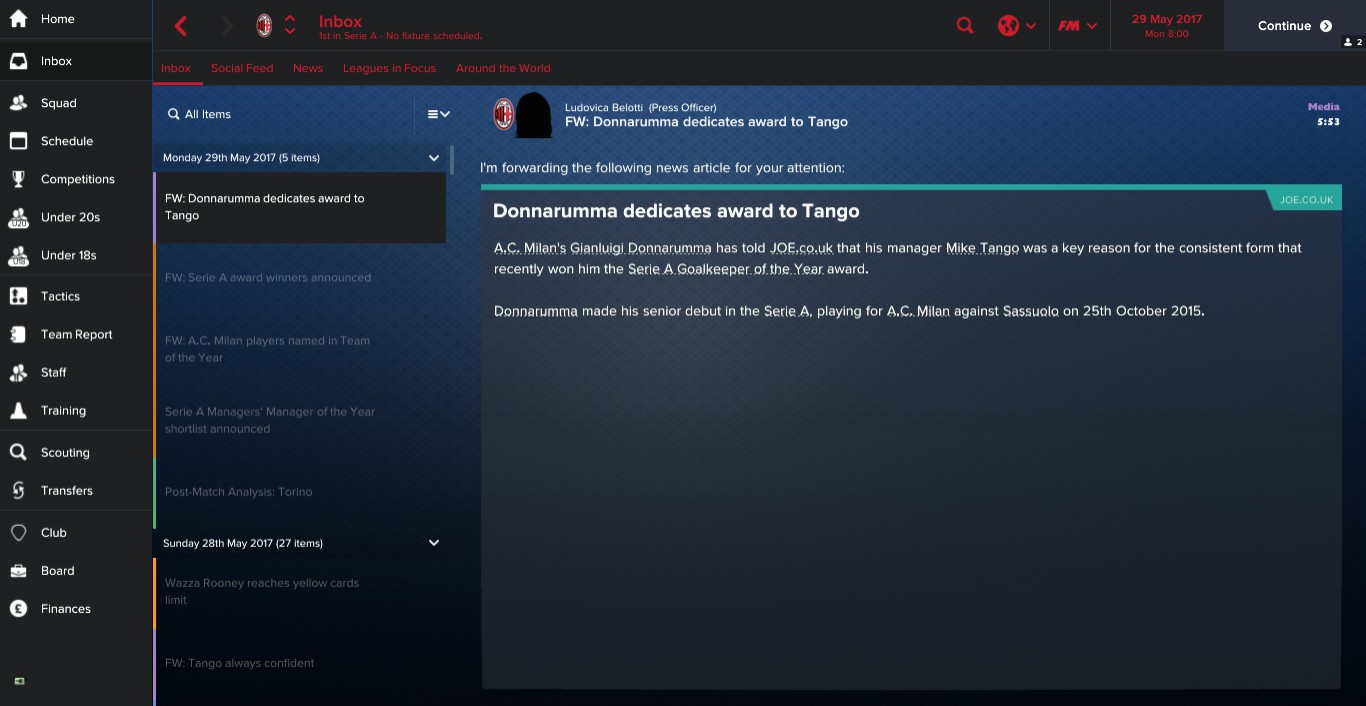 I also contend that Bacca should have been in the team of the year, he was superb following his return from injury and ended up third in the number of goals scored. His injury rocked us at the start of the season and despite Didier Drogba holding up the ball to bring others into play as I expected he would, we did just about get by without Carlos Bacca but it could have gone either way. With Aogo's long lay-off, we were unlucky with injuries in a way that Inter never were.
Results
CHARLIE: Looking back over the schedule, we only lost two games all season. One was the demolition job by Roma led by Radja Nainggolan, who tore through us like salt through a widowed woman, and the second was that last day defeat at the San Siro by Juventus which put the nail in the coffin of our title hopes and left me refusing to speak to family members. We scored four goals or more in no less than sixteen games, including a 7 – 0 victory over Cagliari, 6 – 2 over Palermo and the beautiful 6 – 0 destruction of Mike's AC Milan.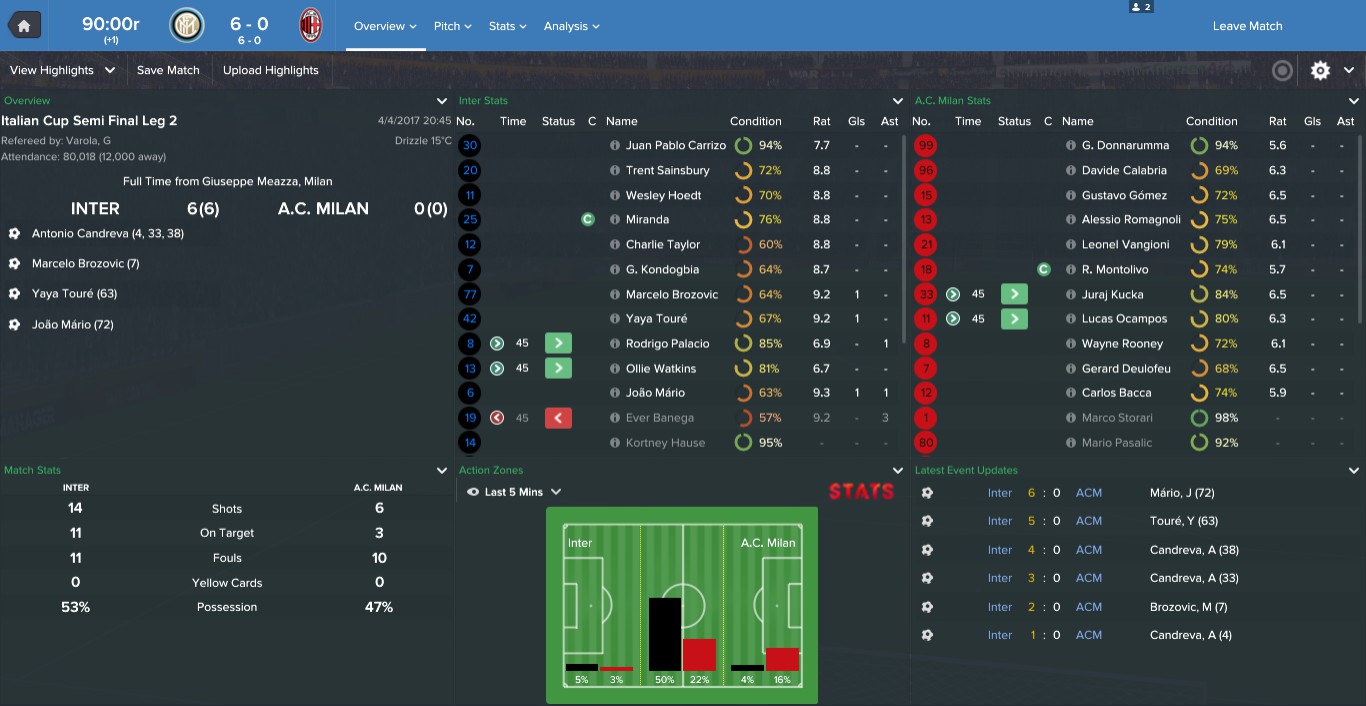 MIKE: Two losses also for us, only they both came to Inter and only one in the league. We did not lose to Juventus in four matches over the season despite them being tipped as heavy favourites to retain the Serie A crown. Charlie has been making sly comments all season that the lack of European football has benefitted us, although having just been forced to listen to his many European high scores proving valuable momentum, I suspect that's just a smokescreen.
World Leagues
CHARLIE: In Episode 15 I touched upon the other leagues in this Rivalità Tra Fratelli world, it's only fair I follow that up. Let's start with Spain, where the Madrid Derby in the Copa Del Rey was actually Real Madrid vs. Athletic Bilbao, somebody must have misread that… [innocently whistles]. Real won 2 – 1 in extra time thanks to, guess who, a Ronaldo winner. In other happy news, Chris Darwen's Oviedo finished runners up in the Spanish second division to earn promotion alongside Tenerife and play-off winners Almeria.
The German Cup final saw Darmstadt claim the DFB-Pokal for the first time in their history, somewhat appeasing their fans following relegation from the Bundesliga.
Over in France, PSG retained the French Cup for the third time in succession with a narrow 2 – 1 in against Rennes. That makes three trophies in one season with the French Cup joining Ligue Un and the Trophée des Champions.
Arsenal lost to Tottenham Hotspur in the Champion's League final but did have 100 league points to console them after they did indeed defeat Watford on the last day of the campaign thanks to a Sanchez goal. Fourth place went to Tottenham, despite playing Liverpool on the last day they managed to see off the Reds as Manchester City recorded a routine win over Middlesbrough. Liverpool have the humiliation of a Europa League third qualifying round while Southampton ended the 2016/17 campaign rock bottom of the league.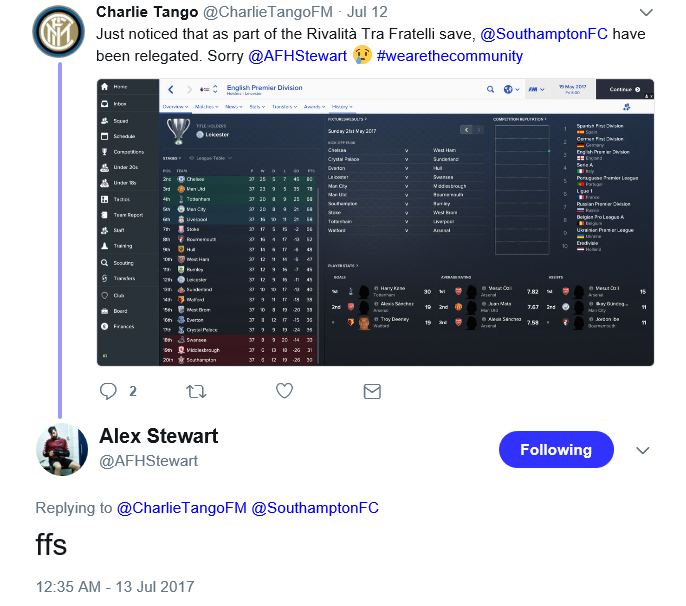 I'm cheered by the news that the 2022 Qatar World Cup has been relocated to Argentina due to club protests as we close this review.
What happens next? You know that old saying in baseball… there's always next year.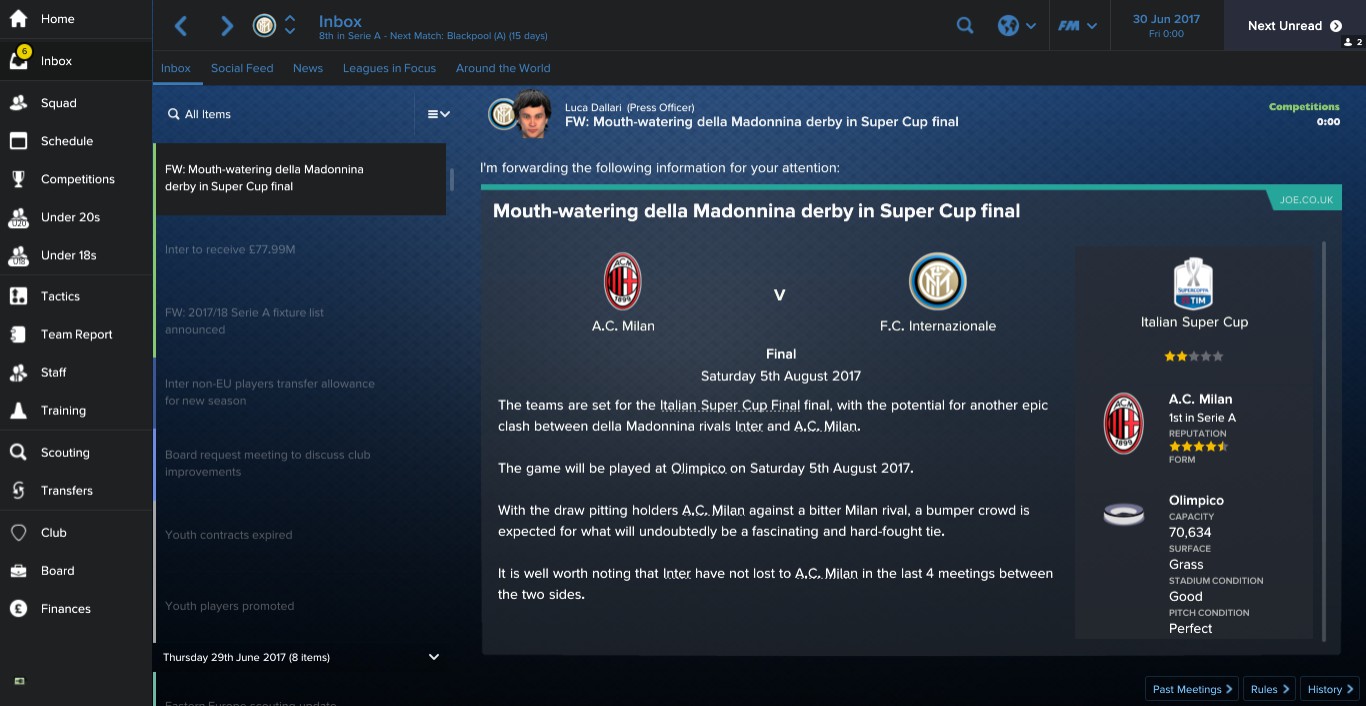 Thank you for reading, join us on Twitter at @FM17Challenge, @CharlieTangoFM & @MikeTangoFM for exclusive comments, developments prior to episodes and reaction afterwards. Continued thanks to Chris and everyone at Tempo for the opportunity to share this with the readers.