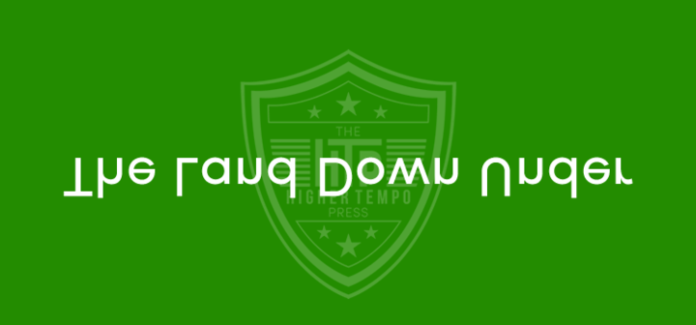 We're coming into the final minutes of the Grand Final against Perth Glory. Last season we failed to win it and defend our title, and we were up 1-0 and ready to pop the champagne bottles. Harry Ascroft and Sean Pratt were on each side of Andy Keogh closing him down as he made a move towards Izzo and the goal. Ascroft slid in to clear the ball and mistimed his tackle to foul Keogh. The referee pointed to the spot. I threw up my hands in frustration and cursed our bad luck and Harry's poor judgment on the play. Keogh lined up to take his shot and it went into the corner of the net just out of reach of Izzo's outstretched arms. With this 90th minute goal, we were going into extra-time.
I'd say "g'day, mate!" like I usually do, but it's hard to celebrate the bitter pill that we had to swallow when our team ended up on the wrong side of a penalty shootout again!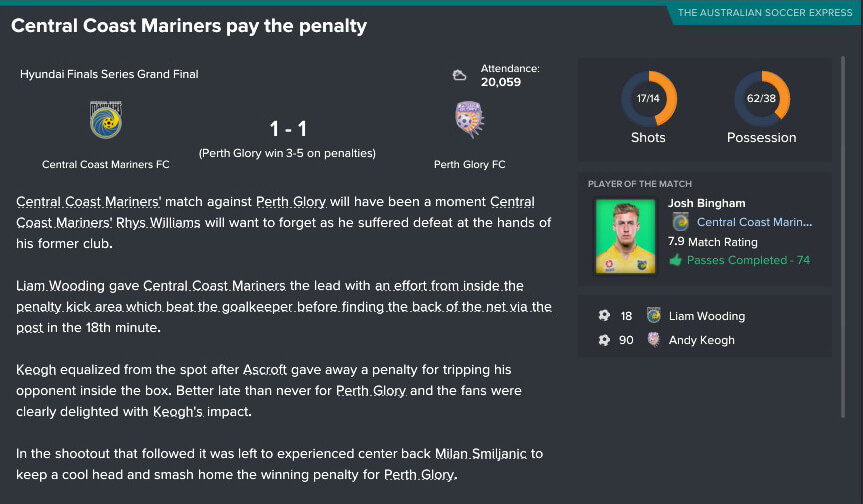 We have the best team in the league, without a doubt, but for the second season in a row, we've choked on a Grand Final at the last moment and lost the match! I really don't know what to say other than that I was so frustrated that I decided to fine Harry two weeks worth of wages for throwing away an important final at the very last minute. At least I got the satisfaction of turning his initial complaint into him acknowledging that he screwed up. It's the first time I have ever decided to dock pay for a poor performance in a match, but when I went to criticize him on his profile I saw the button. Why the hell not? He deserved it!
That rant aside, let's move on to some end of season awards before we cover the Champions League run since that ran past the Finals Series.
Cameron Howieson won the A-League Player of the Year award, pulling in 10 goals and 10 assists in 25 appearances for the club. Fully deserved award! He's been an asset at the front of the team, being capable of both scoring goals and finding openings to selflessly throw in some brilliant assists for the other players. In the two seasons that he's been with me since coming from New Zealand, he's really been proving himself worth what I pay him, considering his record transfer fee.

I said in the last update that it was looking like Ivica Buric, our 16-year-old I've been raving about, is looking like the Golden Boot winner. I was wrong. Andy-friggin'-Keogh from Perth Glory snagged the award with his goal tally from the Finals Series allowing him to take the lead at the last minute.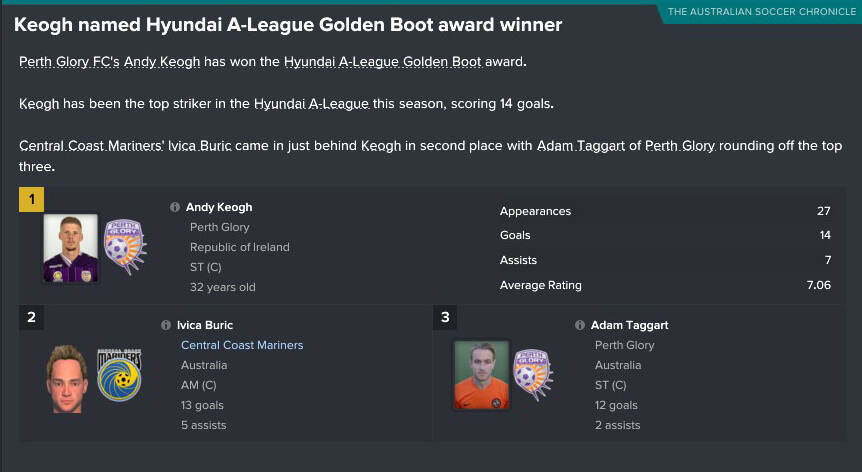 It's a shame that Ivica was unable to hold his lead, but it's still a great achievement coming second for the award at 16-years-old. He had 13 goals and 5 assists playing regularly with men who are way older than him! And he scored for Australia because I abused my privilege as Socceroo boss to cap him! Ozcan Gunes, you say? Who's that? Never heard of him! It's all about Ivica Buric these days! Watch out, Strok, you've got an antipodean cousin who's gunning for being the best player ever!
While he may not have won the Golden Boot, Buric did end up winning the Young Player of the Year award to go along with his many Young Player of the Month awards from the season, so he's not going on holiday empty-handed, at least!

Unfortunately, I did not win a third Manager of the Year award. I came in third behind Melbourne Victory and Perth Glory. A load of crap, seeing how I had a historic third consecutive A-League regular season win. Did I mention that no team has ever won it twice in a row before me? Did I also mention that I am now the number one ranked manager in Australia's Hall of Fame? To be fair, the A-League is so young that it's not a big hall of fame list, but I'm still top of it, damn it! And, I actually don't think I mentioned it, but it did happen after I won the regular season premier again.
Here's our end of season Champions League fixture list. As you'll see, we had a convincing run through all of our group matches and finished of Suwon with no unnecessary difficulty. We're still in this competition!

Folks, it's been a decent run for the season. I'm irritated that we still haven't won the FFA Cup, I'm clearly angry about losing on penalties in the Grand Final, but we're still in the Champions League and going strong and we're still guaranteed a spot by virtue of being the league premier. International competition is our real challenge and the main focus for the next coming years since I don't see the domestic league as a challenge to me anymore.
It's time for the players and staff to take off for a much deserved holiday. Well, most of them anyway. I have to keep working through the summer since I'll be managing some international friendlies and preparing for the 2022 World Cup qualifiers. That means a couple of dozen Australians aren't quite off the hook yet since I have to come up with 23 who will have to work into June before they can take off for their month or so of rest before preseason.
Here's the Socceroo fixture list for the remainder of the year, as of late May. We've got a match against Sri Lanka on June 8 to kick off the World Cup qualification run, followed by two friendly matches against Lebanon and Iran. In September we'll get back to work during the preseason with the rest of our competitive matches for the season. This will be a tricky one. I want to put forward a competitive national team that features Mariner players and a strong team based on domestic players, but at the same time, I need to keep specific good players available for the club, since I spent the last three seasons as a club manager complaining about the poor timing of international matches!

If we make it to the World Cup itself, I'll do a dedicated set of posts about it and my attempt to have a team consisting primarily of domestic players win a major international trophy. I'm going to either skip entirely over the qualifiers or mention it briefly as an afterthought depending on my mood when I get ready to update you all again on the happenings in the land down under.
I'll see you all again in a couple of months when I return for the September youth intake and go over the preseason.