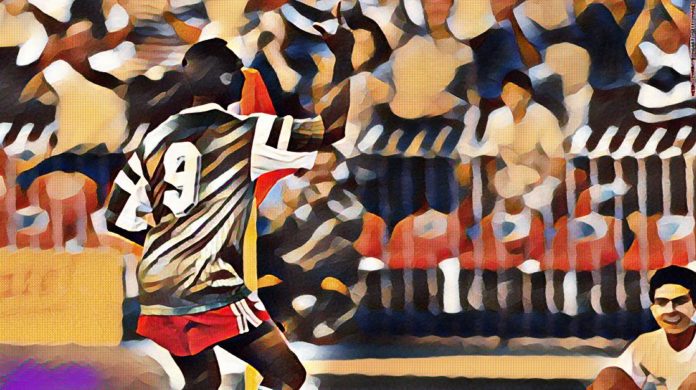 Time seems to past quite fast in Cameroon. That might be because the air is cleaner, the climate is better and the food is nicer than back in Blighty. Anyway, Mark Monroe has been hard at work over the winter break trying to ready Tonnerre KC for their first season back in the top flight, Cameroon's MTN Elite I.
As far as close seasons go, it was actually pretty dull to play. I rounded off the promotion campaign by arranging eight friendly matches with top flight sides, to get an idea of how we might fare – well, as good an idea as you can get from friendly matches.
We held our own, winning some, drawing some and losing some. There was nothing to alarm me at all.
The aim for the close season was to categorise every player at the club A, B or C with regard to the contract they would get offered once we turned professional, which happened on the day preseason training commenced. A was they could have any contract they wished, B was they'd be capped at a certain limit and if they wanted more they could whistle, and C was they would remain non-contract and continue to prove themselves to me.
That process was remarkably simple and doesn't really need any further explanation – however there was a moment where some clubs beat me to it with regard to nailing down a couple of players.

Mind you, when you have 30+ players on non-contract terms, losing two having put together a decent side is alright, especially when neither is a first team player. I was disappointed to lose Mbondi though as he was progressing nicely, but Koya was free to leave with my blessing.
In terms of recruitment, I felt we needed another quality central midfielder having analysed our strengths and weaknesses. Boris Ilouga, formerly of Inter believe it or not, was available on a free having performed very well indeed for AS Matelots despite them getting relegated. He only wanted €30 a week, which was fine, and he joined us along with this lot.

Djidda is one to keep an eye on – he wanted quite a bit of cash, which makes me think he might be a decent player (I know, not a classic way of deciding on a player, but when he wants 3x more than your best striker, you can't help but think he might be good. We shall see!)
The rest are purely academy players, who might prove to be half decent over the next year or so. I'd like to find another academy attacking midfielder which will mean all squads have a good balance, but other than that I am very happy.
I managed to pack in 13 preseason games, mixing it up between smaller clubs and having another look at some top flight rivals. The results were varied, but we managed to hold our own against the current champions which was very pleasing.
So, we are as ready as we can be to embark on the next part of the journey.
We are clear, clear, clear, distant favourites for the drop. But then, we are spending the least in the division, a common theme with me.

Genuinely, looking at the players that would have been interested in joining us anyway if I had relented on the U21 only rule, I would have struggled to spend much more than that. For reference, the champions Lion Blesse are spending €380k a year.
To cheer myself up, I am thinking about what a superb financial position we will be in by the end of the season.
We sold 2,167 season tickets at €3 each which comes to… €6,501
17 home games where we will sell, I reckon, 2,500 tickets on the gate at €1 each comes to… €42,500 before we add in matchday income etc. So, in true me style, we break even on our gate receipts and everything else should be clear profit.
I thought long and hard about bringing in some more staff, but then thought why? Last season we did very well, almost every player improved with me as the only coach and we had a decent youth intake. Why rock the boat? It's cheaper this way and until we are 100% set up financially, probably at the end of this season, I still don't want any unnecessary costs.
I will once again bang on the door and try and get the youth coaching upgraded and the facilities improved, but the board appear to be as tight as me. They have paid for me to do the next coaching badge though, which is cool.
Finally, aims for this season – without stating the obvious, don't get relegated. I was concerned about being promoted, so I hope that my young bucks can keep us up. If they do, we will go from strength to strength but it is a huge ask. My gut feeling is that there must be at least three teams that will have shocking seasons, so we must do better than them. The first ten games will tell us a lot – will we adapt to the higher level? I am gambling a lot on the fact that the starting eleven will probably only have one change from last season, Ilouga coming in for Anderson Bekombo, maybe.
I, and you, will know more by tomorrow.
#LeTKC