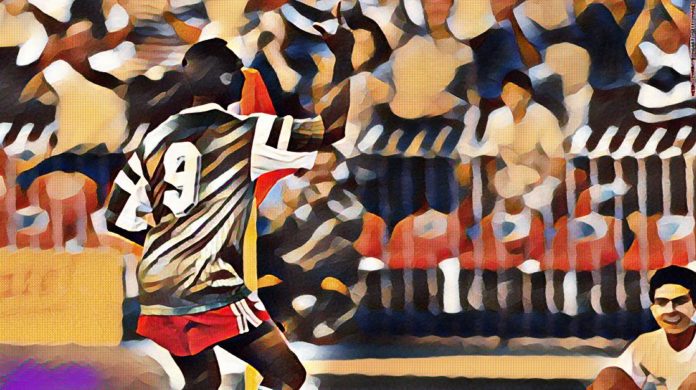 This is not going well. This is not going well at all. Do you remember when I said I didn't really want to get promoted as my young bucks could well get ruined in the top flight? Well, my young bucks are getting ruined in the top flight.
I chose not to recruit experience.
I chose to continue playing with guile and flair and throw men forward.
The top flight chose to leave us bottom of the league with a mere 4 points collected from the first 36 available – a last minute winner for a 2-1 win and a hilariously bad 5-5 draw when we led 5-2 with 20 minutes to go.
Scoring goals hasn't been a problem, keeping them out at the other end has been. There have been a few mitigating circumstances. Honest.
Mbonga, our skipper, was injured to start the season.
I've been denied Djoufack and Bekep for long spells due to injury.
We're probably not good enough, yet, to play the football that got us promoted in the top flight.
So, what is one to do?
Aim number one is to NOT GET SACKED as I love this club and I want this to be a decent save.
Aim number two, which will probably enable aim number one is TO FIND A WAY NOT TO GET RELEGATED.
Fuck knows how though.
Plan A – switch to a 4141 and try and be a little tighter. We will go from trying to control the game and impose us on them to counter attack and try and get it forward quickly.
Plan B – recruit some more experienced players on a deal until the end of the season.
Plan C – holiday until the end of season, pace up and down nervously and see how the dice falls.
Plan D – bring in some staff, maybe improve things behind the scenes?
Obviously I won't opt for Plan C.
As you can see from the results, we've been so close in so many games…

There's only two matches where I walked away thinking, "yeah, they were too good for us" and that was UniSport and Astres – we just didn't turn up. Every other game, with a bit of luck, fewer errors and turning possession into goals and we'd have won. We were genuinely the better team in each match. BUT. I cannot afford to wait for our luck to change, confidence is slipping fast and we could end up in an even bigger hole. We are nine points from safety already, I mean that is a lot of points when you have forgotten how to win.
It's not just in the first team – the U21 side and U18 side are having tough seasons too.
So, moving forwards. We'll switch to 4141 and not resort to panic buying. I just about have a squad that can cover doing this and, if in doubt, stick a striker on the right of midfield like the good old days.
I have no idea how it will go. Actually I do. We are going down and I am probably going to get sacked, but hey. I have to learn to enjoy these situations. There are plenty of managers in the real world who were known for getting teams promoted, but never quite having what it takes in the top division. I am not going to become an FM Neil "Colin" Warnock. Not for anyone.
Onwards.
#LeTKC