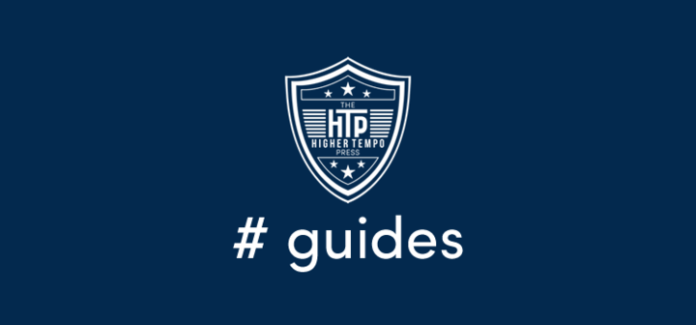 Youth Intake day is one of the most exciting days in football manager. We look forward to it every season, hoping for that next superstar. There is not a lot more satisfying than seeing your youngster turn into a world class player. Your youth and training facilities are obviously very important if you want to develop your youngsters to their maximum potential. However, there actually is one role in your staff which influences the youth intake: The Head Of Youth Development.
The Head Of Youth Development (HoYD) brings in new youth players in the annual youth intake. The HoYD can be assigned to do multiple tasks, rather than just recruiting new youngsters. He can run the general team training for youth squads, set up individual training for your youngsters and he can even handle the transfers relating to your youth squads. It all depends on your preferences. However, I will solely focus on his main task in this guide: Bringing in players for the annual youth intake.
Key attributes
1. Judging Player Potential. It's probably the most important one. Your HoYD needs to bring in new youngsters and therefore needs to be able to see which player actually has the potential to play for your first team in a couple of seasons.
2. Another big influence is his Personality. The personality of your HoYD influences the personalities of your youngsters. You don't want a promising looking youngster with a bad personality such as Unambitious or Low Determination as it will hold back their progression. Therefore, you should look for a HoYD with a positive personality such as (Model) Professional, (Fairly) Determined or Driven. There are some more positive personalities but I tend to look at these 5 as I personally feel like they help with the development of my youngster.
3. The preferred formation of the HoYD. This can influence the type of player that comes through your youth ranks. If you are a playing a wide 4-2-3-1 with two wingers I would suggest looking for a HoyD with a preferred formation that includes wingers. You will most likely not find any wingers in your intake if your HoYD has the 4-3-1-2 narrow as his preferred formation.
However, these are not the only attributes that are important for the HoYD. Working with youngsters, tactical knowledge and his coaching abilities are important if you have assigned multiple tasks to your HoYD. If he runs the (match) training for the U18's or U19's these attributes will definitely matter. I prefer my HoYD to focus on the youth intake and hire certain coaches for the training but again, it all depends on preferences.
Finding your new Head of Youth Development
Alright, we finally now what attributes are important. Let's see if we can find a suitable HoYD for my club. I've started up a new save with Hellas Verona in Italy and just like many of you I like to hire/fire my staff on the first day. If you want to search for a staff member you go to Staff -> Staff Search and in our case we enter the role HoYD.

There should pop up a list with people who are capable of filling the HoYD role. However, we want to make this list more specific to suit our needs. I would like to play in a variant of the 4-3-3 so we need to find a HoYD with a preferred formation that includes wingers. To add the preferred formation you go to 'add' -> Tactical and add a formation that will bring in players that your formation needs. In this case, I went with the 4-2-3-1 DM Wide as it will bring in wingers as well as a DM.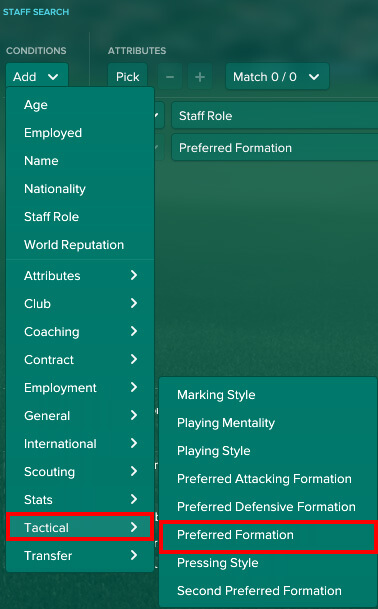 Next up we want to add his personality. Just like adding a preferred formation this is a system of error and trial. We are looking for a very specific HoYD so there may not always be one available who suits all of our demands. I started with the best personalities (Model Professional for instance) and worked my way down. To add a personality you go to 'add' -> 'General' -> 'Personality'.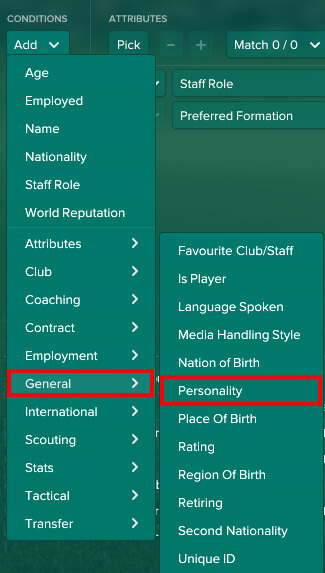 The final key attribute is the Judging Player potential. You can easily add these via 'Attributes' -> 'Pick' -> 'Judging Player Potential'. If there is still a large list of HoYD's available you could increase the value of this attribute but for I'll keep it on 15 for now.
If you are struggling to find a suiting HoYD you can always untick the preferred formation category and just filter through everyone that pops up. Just keep in mind that his preferred formation needs to be similar to your own!
Our new Head of youth Development
These criteria above narrowed the list down massively and I ended up with only one suitable HoYD. I've signed Dario Scozzari as my Head of Youth Development.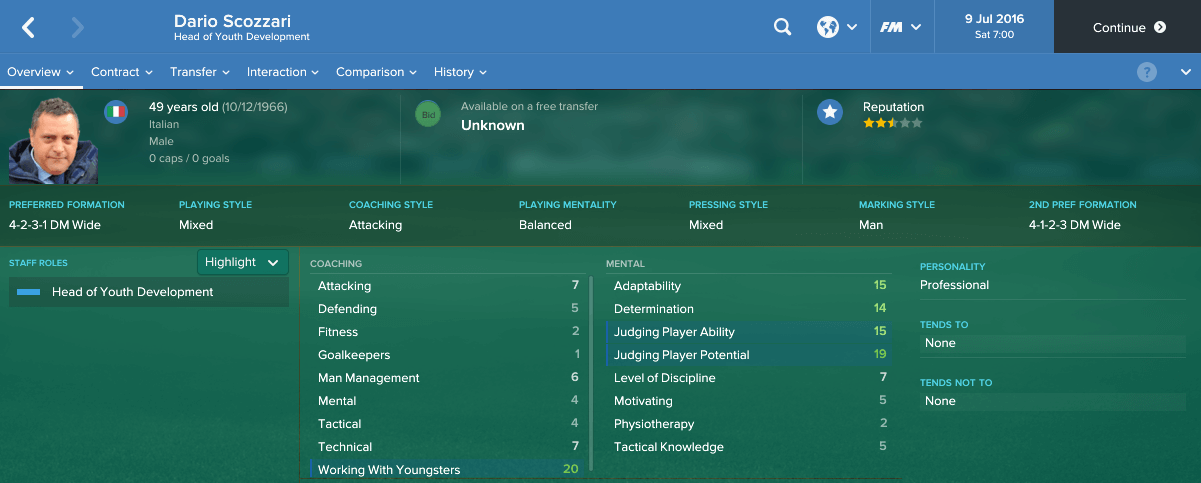 His 19 for Judging Player Potential means that he will acquire some players with high potential and his formation will bring in players that are usable for me in a couple of years. He has a good personality which will help the players develop when they arrive. A player with a professional mentality is more likely to improve than someone who is unambitious!
Results
First of all, I want to reiterate the fact that the HoYD doesn't impact the quality of these newgens but he gives you the best chances of finding that next superstar and influences them with his personality. Let's see what players he has brought in for our first youth intake!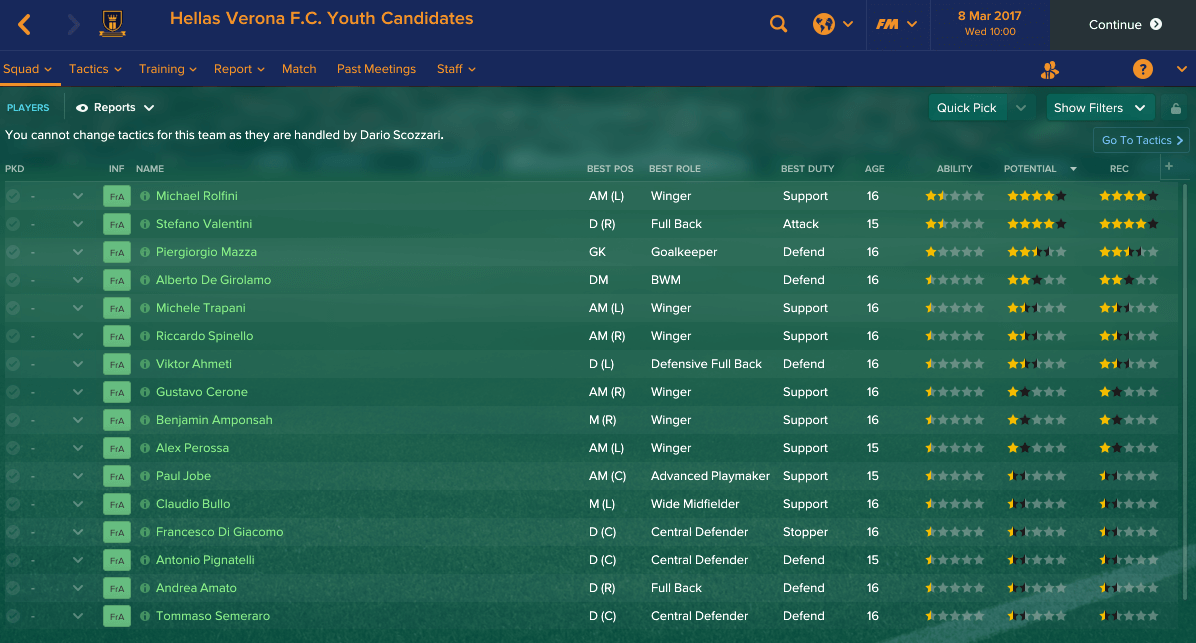 As you can see Michael Rolfini is our brightest prospect. He's also a left winger which we were looking for and he has a professional personality. Combine this with his high determination and you've got yourself a very bright looking prospect.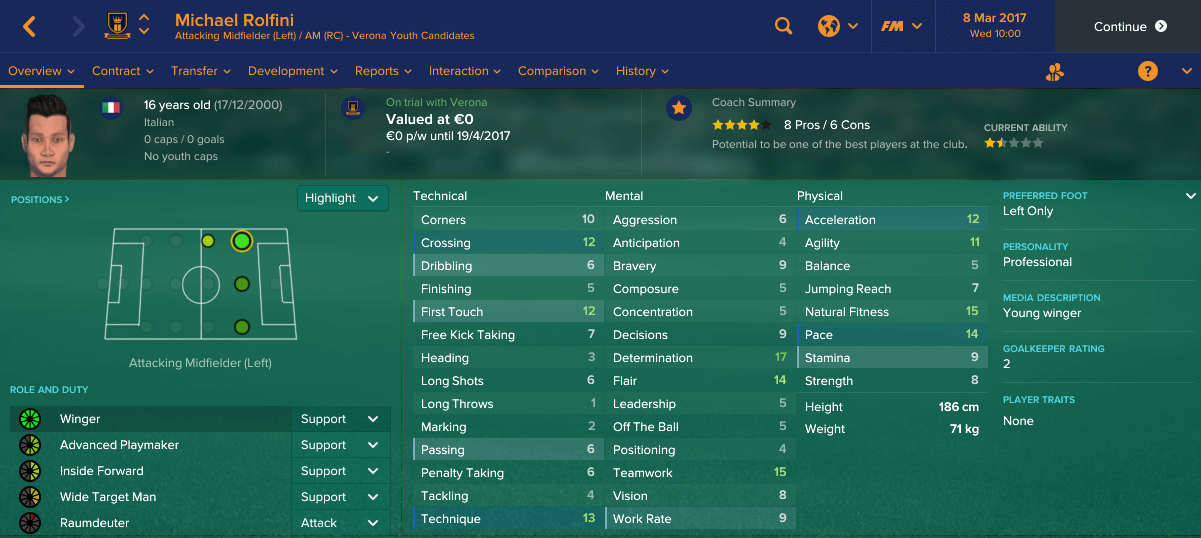 To sum it all up, our HoYD has definitely influenced our youth intake. He brought in a very bright looking winger which was possible because of is preferred formation. He also influenced his personality which will help Michael Rolfini reach his potential. The HoYD is an important staff member and definitely needs to be picked with care.
Thanks to Cleon for spotting a minor mistake in the article. you can follow him on Twitter @Cleon81.