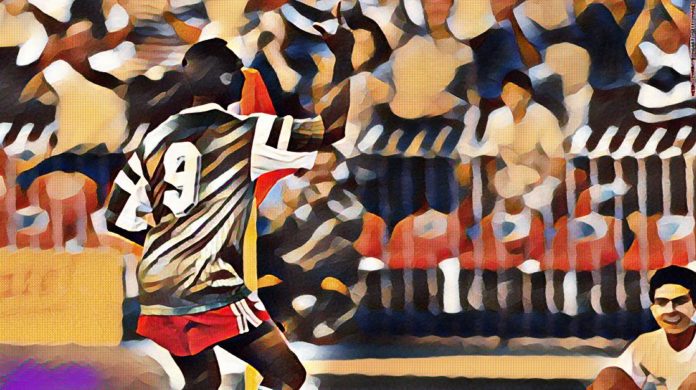 Alright folks? Sorry there was no update from me yesterday, time got away from me. Having picked up three new youth prospects (puppies) at the weekend we needed a new team coach so that was collected today.
I have high hopes for the big lad, Buddy. He's a bit clumsy right now, but I think he will develop into a fine box-to-box midfielder. Bonnie, the black one, has the elegance of a regista already whilst the little lad, Joey, is going to be a work-hard full back all day long. The appropriate training schedules have been worked out, tutors nominated and I will be sure to monitor their game time. The new car however, was a reward for managing to navigate over a year of being a freelance writer and convincing people to pay me to take the piss out of football and play Football Manager.
Anyway, you didn't come here for that did you?
What's been happening in the last 48 hours in Cameroon?
When I left you the other day we had four matches left in the MTN Elite I – four matches where we could (a) win the league, (b) finish second and still qualify for the Champions League, (c) finish third and be in the Confed Cup (Europa League in European money), (d) finish fourth and still be in the Confed Cup or (e) none of the above.
In fairness, top two would have needed one hell of a lot of things to go our way – we just had to focus on winning our games.
First up were New Star, and we saw them off at home 3-0 in front of 6,834 delighted fans. Marcy scored again, Walt got a rare one and an own-goal saw us stroll through the last half an hour. Above us, a result went our way on the same day with Canon Yaounde drawing 0-0.
Mid-week, whilst we rested, Young Sports Academy surprised everyone by hammering Coton Sport 3-0. The team in 17th had blown the title race wide open!
With our next match being on a Sunday, we waited to hear how Coton responded on the Saturday against Renaissance. 1-1! Suddenly we were in a title race, providing we could win against Young Sports Academy ourselves on the Sunday. Julio M, recovered from his smashed hip and playing his last few matches before retiring, got us off to a flyer scoring from close range after a minute before a spot-kick from Marcy doubled the lead on half-an-hour. The game finished 2-0 to us, away from home. Game. On.
Canon Yaounde picked themselves up, and we heard of their 4-1 win over Astres as we went back to the changing rooms. It was getting very, very tight.
We played again on the Saturday, having not conceded a goal in the last nine matches. Union Doula were the opposition and we knew it was going to be a tough game. Julio M put us ahead early once again, but the game was grid-locked at 1-1 until just before the hour mark. I'd thrown on Karim Ndzana, one of the recent signings and very much one for next season, and he grabbed a brace to put us 3-1 up. With 15 minutes left they pulled another one back and we were clinging on at the end, but cling on we did and it was another vital three points. The next day Coton Sport and Canon Yaounde met. A draw would have been perfect, or a Coton win would have closed it all up very nicely. A win for Canon would have all but settled where the title was going. Coton 3… Canon 2! Now all three of us were massively in with a shout.
Canon had a game in hand, which they won 4-1. Everything was going down to the final round of games – we would play first on Saturday, the other two guys would play their matches 24 hours later.
We could win the title.
We would go into our match just two points behind them, but with a better goal difference. If we beat Renaissance, which I was confident we would, then a draw from both Canon and Coton would mean we would lift the title! However, both teams had games they should win.
A goal from Julio M, again, and a second-half penalty from Marcy was enough for us to win 2-0 and throw the baton over to our rivals the next day. We sat top now, so it was up to them.
It felt like an eternity as the results processed. The first one came in. Coton had bottled it, losing 1-0 to Sable and handing over their crown to us or our city rivals. Canon Yaounde were playing Botofago, and Botofago led at half time…….!
Canon equalised early in the second half, but if the scores stayed like this we were champions! I started to believe.
Then, out of nowhere, it happened. It bloody well happened. A 30-yard screamer!!! For….
Canon Yaounde. 2-1, game over. Canon Yaounde, who we dicked 4-0 on the opening day, were champions of Cameroon. We finished an incredibly respectable 2nd.

Holy crap, a team I rebuilt from nothing has reached the African Champions League.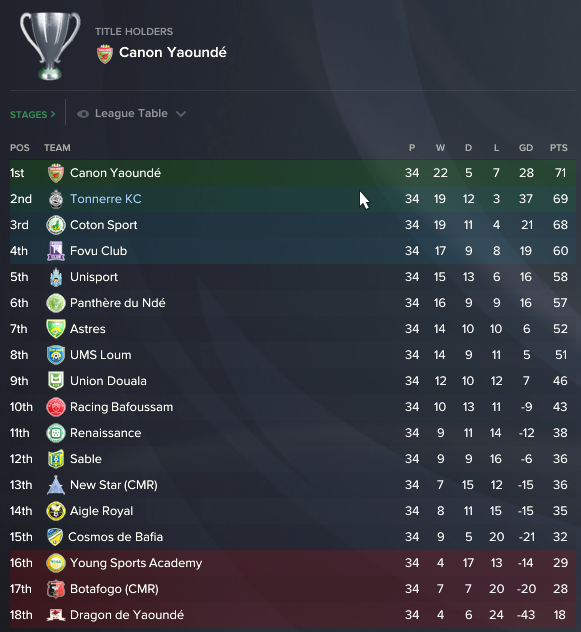 I think we can be pretty proud of that, seeing we were clear favourites with everyone for relegation this season.
We will enter the Champions League at the qualifying stages and I know nothing about this competition so I need to do some research.
Hey, look at the top five wage spenders!
Though it is much more fun to look at the bottom five…
I love that, I always love that.
Marcy finished second top goalscorer.

The top 10 average ratings in the league make pleasant reading as well. I am guessing this has a lot to do with the fact we massively over-achieved?
Not at all, eh?
The Academy sides did pretty well as well…


BUT!
The season isn't over. We have a the quarter-final of the cup to go yet.
Silverware?
Who knows, who knows.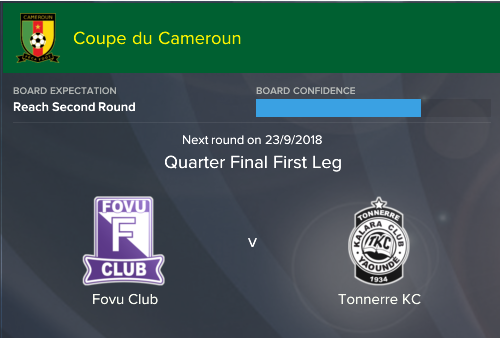 #LeTKC