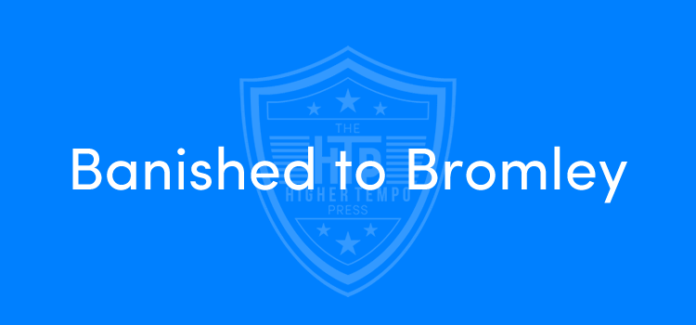 Moving into the New Year there was some good news to report as I managed to tie down Thomas O'Connor for another 2 years after he'd picked up 4 goals and 4 assists this season. There was also a New Year's Day fixture on the cards as we tried to redeem ourselves against Sutton United after our loss to them in the last game.
With our only right back Alan Dunne suspended for the game a reshuffle was needed before sending the teams out, I was hoping that he wouldn't be missed too much but sadly that wasn't the case. Two quick fire goals in the first half saw Sutton beat us again but luckily the result didn't see us move down in the table as we stayed in 14th.
Somehow after the two Sutton games I've found an in enemy in their manager Paul Doswell, after being repeatedly asked about his position and refusing to answer, the press seem to have pitted us against each other.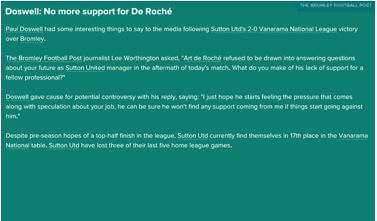 With the lack at right backs at the club I decided to recall Ugo Udoji who'd been out on loan at Tonbridge until now, scoring 3 and assisting once in 26 games.
The next game saw us go up against top of the table Forest Green who we beat 1-0 earlier on in the season. It seemed that playing against these lot brings out the best in us as Ramadan finally scored for the first team again after 16 minutes having replaced an ineligible Omar Bugiel. We only lead for about 15 minutes as Kaiyne Woolery levelled things up but with 7 minutes to go in the first half Ben May exchanged passes with Ramadan on the edge of the box before smashing in his first goal of the season to make it 2-1. However, this lead lasted even shorter than the first as only minutes later Liam Noble make it 2-2 from the spot before Woolery made it 3-2 before half time. After what was a mostly uneventful first half we finally got the equaliser in the 90th minute through Elford-Alliyu who was passed fit just before the match. Some game that was.
After the game I finally got some news that I'd been waiting for since the start of the season. Youth Player George Bradford was now a professional. The 17 year old looks to be a great addition to the squad.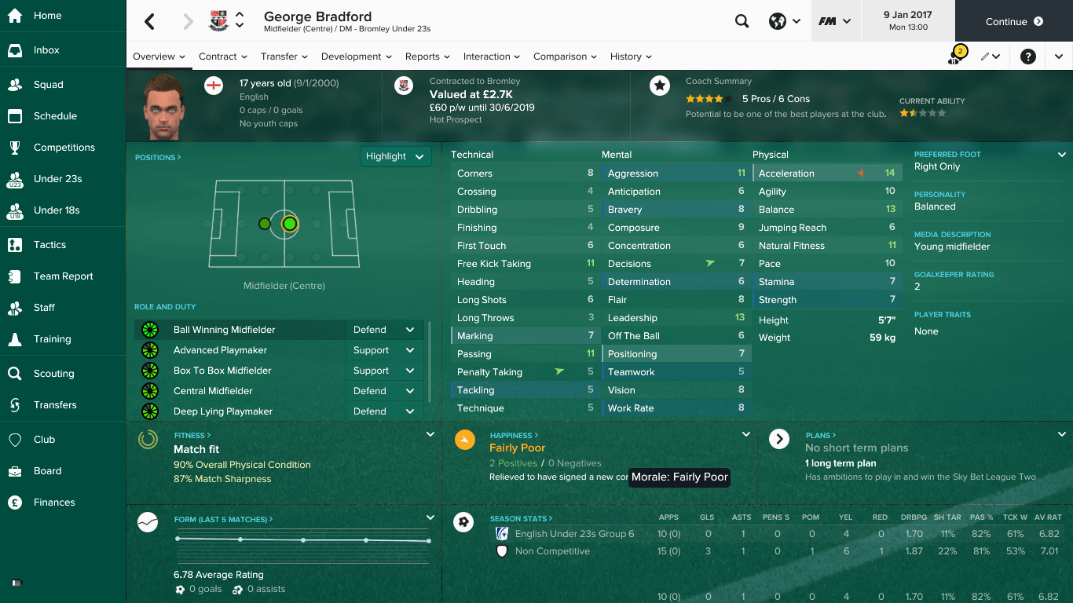 Our next game would see us play Boreham Wood in the FA Trophy 2nd Round, and despite almost reaching full fitness and scoring in the last game I decided to keep Elford-Alliyu on the bench for now. Bradford was called in early for his debut in the first half as Lee Minshull received his marching ordesr for the second time this season which this time he was fined for. Elford-Alliyu was also introduced early as he replaced an injured Ramadan who would turn out to have a broken foot which would keep him out for 4 months. The red card proved to be the turning point in the match as a Boreham Wood dominated second half saw them win 1-0 to progress to the FA Trophy 3rd Round.
Looking to finally get back to winning ways we travelled to 22nd placed Dagenham & Redbridge, with Lee Minshull and Cemal Ramadan both missing out after their incidents in the cup game, seeing Bugiel and Connor Dymond return to the starting 11. But yet again I was let down as we conceded within the first 2 minutes of the game, 10 minutes later it was time to really contemplate what has been going on recently as my most experienced player in Alan Dunne was shown a straight red… Unlike last time I was able to bring in an actual right back to replace him in Udoji but at the cost of striker Ben May.
There was even more heartache when Dagenham went 2-0 up as goalkeeper Ross Flitney broke his finger in the process, enter Nik Tzanev. In an attempt to rescue whatever chances we had of getting some points from the game I opted to bring on Elford-Alliyu in a three-man strike force including Bugiel and Louis Dennis. To my delight we actually managed to grab a goal midway through the second half as Bugiel got on the end of a low Rowley cross for his 5th Bromley goal on the season, at least he's been doing well. But the game was killed off as we conceded a penalty which was scored to make it 3-1. We seemed to be leaking goals at this point as Jack Holland turned a cross into his own net making it 4-1 and leaving us 14th, 1 point off 13th and 2 points north of 15th.
After 5 games without a win it was definitely time for another team meeting! Luckily the players seemed to be in a reasonable mood, accepting my frustrations at where we found ourselves, but I made sure I let them know I believe they could turn things around which improved morale.
To try and change things up a bit before the next match to hopefully change our fortunes I also set the team up in a new formation for the week's training. Hopefully it pays off!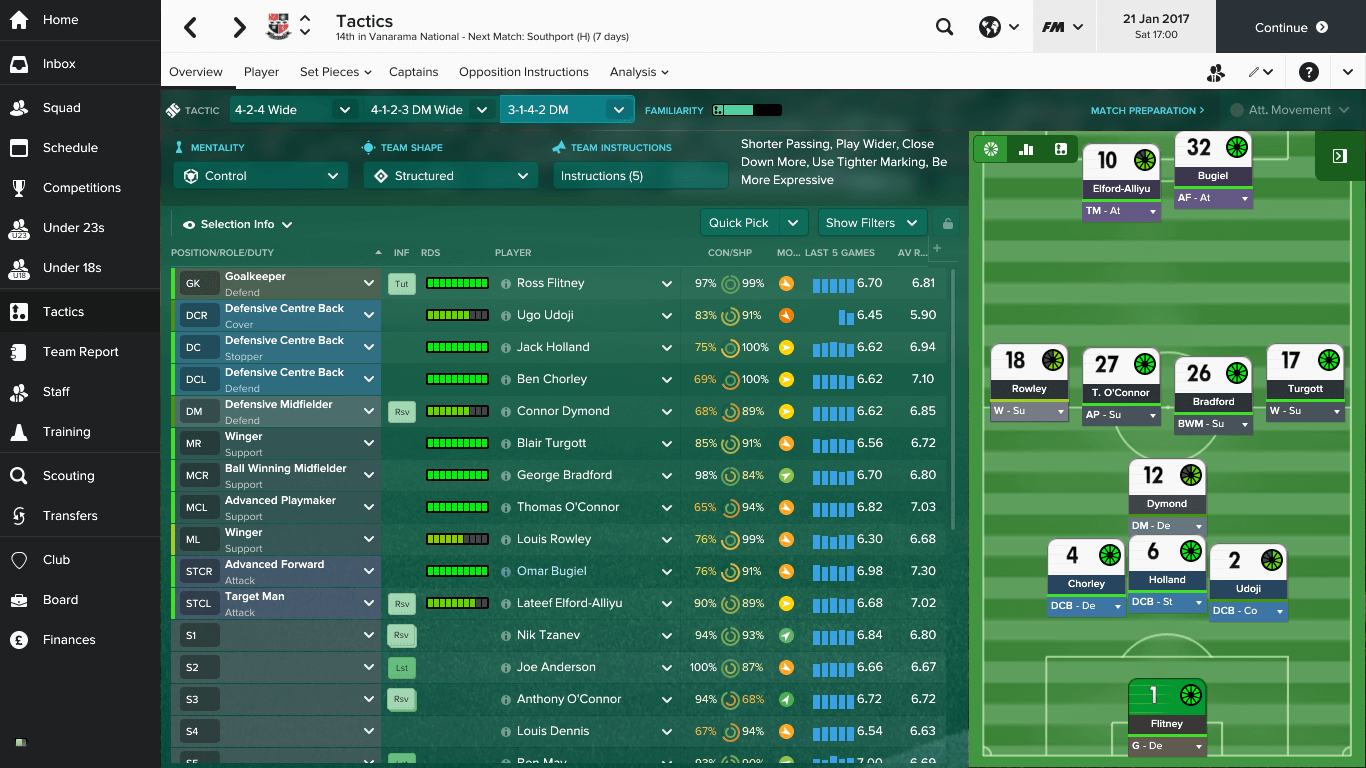 In the week leading up to our next game against Southport there was some sour news as the morale of the team seemed to take a U turn. All stemming from a conversation with winger David Martin which saw the two of us fall out as I couldn't offer him first team action at the moment which saw almost the entire squad's morale drop, hopefully I can turn this around somehow too… and with my job security becoming insecure for the first time tough times look to be ahead.