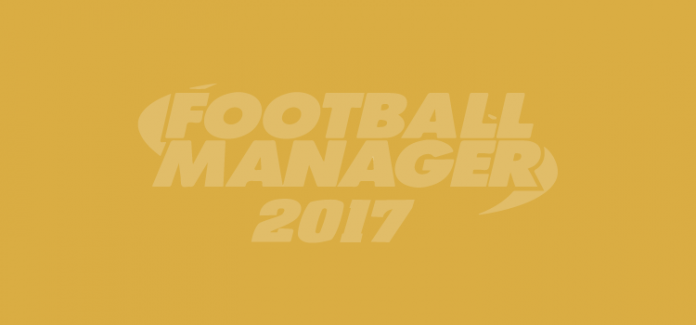 It's the year 2021. Brexit is happening and it's a bit hard. Monaco have just won Ligue 1 with 103 points. An Alvaro Morata inspired Manchester United have just defeated Kevin de Bruyne's PSG in the Champions League final while Paulo Fonseca's Spurs won the Europa League (a competition won by Leicester in 2020) by defeating Zinedine Zidane's Liverpool.
Over in Italy, Salernitana have just finished their first season back in the second tier after a brief flirtation with top flight football and it has been disappointing. So disheartening in fact that the Salernitana Story (which I'd highly recommend reading *nudge*) ends right there (editor's note: it hasn't really ended). Fortunately, we've found a new budding manager's career to stalk…follow. He's got the pick of the teams across the world but just who should he end up managing?
Here are his options…
Bolton Wanderers
2020/21 – 3rd in League One (Lost to Preston in Play-off Semi Finals on penalties)
A rather topsy turvy few years for the Trotters has seen them go from Championship relegation to barely surviving back in League One to just missing out on promotion back into the second tier.
There lies a club with the infrastructure and the squad to compete in the third tier and they should really be looking at promotion. Current players still at the club include David Wheater (34) and Josh Vela (27) and they have added decent Championship/League One talent in the form of Lee Angol, Chris Forrester and Sam Baldock along the way.
The one overarching negative is that their main source of goals – 20-year-old Kris Marriott – is on loan from Swansea and while Angol and Baldock reached double figures, their combined record was still two shy of Marriott.
Proposed Aim – Re-establish the club in the second tier and push for a return to the Premier League
Colchester United
2020/21 – 23rd in League Two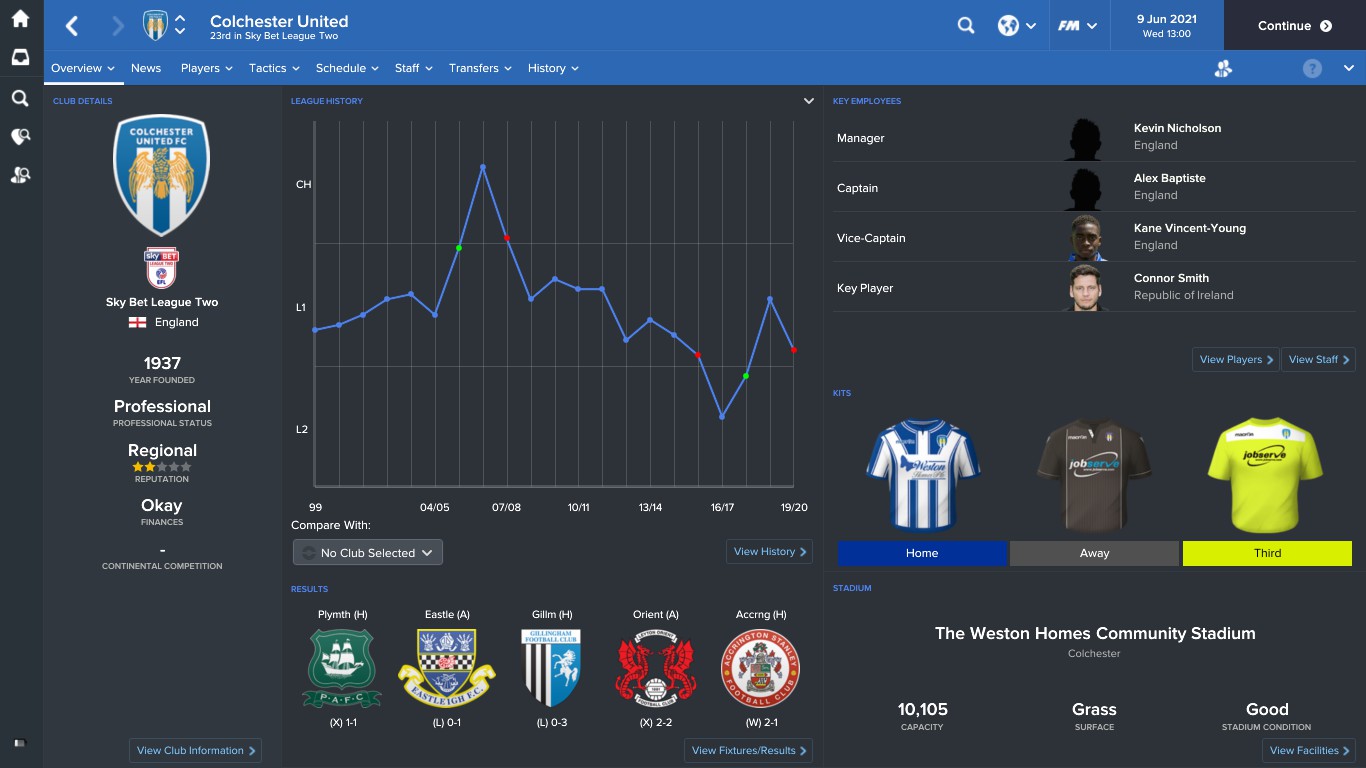 Whoops.
Colchester have had an absolute nightmare over the last two seasons. Oldham may have finished bottom of the Football League in 20/21 but Colchester are the big story with their consecutive relegations.
Once a Championship side, their mid-table League One existence has disappeared and they are now headed for their first non-league season in 30 years.
There is very few positives with Colchester – their top scorer Ryan Loft wants out; their star performer was a loanee and their next highest rated player wants to leave too while their second top scorer was also a loanee. However, it does provide the opportunity to turn a profit on a few of the unhappy campers and build brand new foundations for the club to move forward.
Proposed Aim – Get back into the Football League ASAP and build
QPR
2020/21 – 20th in Premier League
Chris Wilder has done a great job in taking Rangers to the Premier League once more but they were by by far the worst side in the league during 2020/21.
Much like Colchester, QPR have many many unhappy players including most of their key men including one Simon Mignolet in goals. Maybe explains why they went down.
All kidding aside, this is a Championship-calibre side that will probably need rebuilt and strengthened. Their top scorer was Portuguese striker Lucas Joao, notorious for playing for Sheffield Wednesday sometimes. Their key player according to the game is Trent Alexander-Arnold who's on loan from Liverpool.
They've got plenty cash though so that's always a bonus.
Proposed Aim – Get back into the big time.
Hertha Berlin
2020/21 – 3rd in 2.Bundesliga (Won in Promotion Play-Off)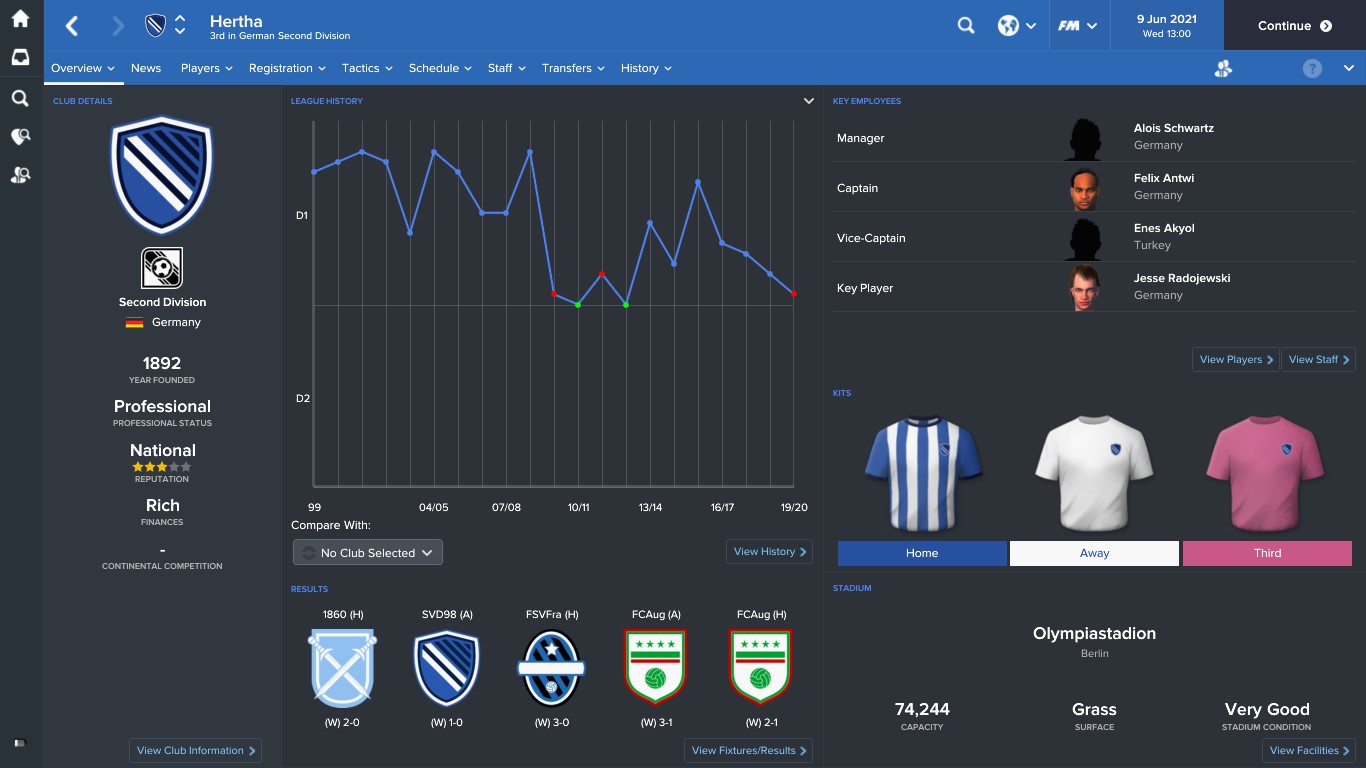 They spent big in the second tier after a relegation-caused mass exodus and got promoted by the skin of their teeth.
Their squad is clearly a talented one – ex-Bremen striker Johannes Eggestein has been brought on board along with the likes of Daniel Ginczek while club captain Felix Antwi is only 19 and striker Heiner Albustin-Voge has something special about him.
Proposed Aim – Spend their money and win
Augsburg
2020/21 – 16th in Bundesliga (Lost in Promotion Play-Off)
The other play-off side is also an option. Like Hertha they have money to spend however unlike other relegated side, they've yet to have a mutiny.
That may not last long though. Their star man – Adama Traore – is wanted by Crystal Palace while club captain Jeffrey Gouweleeuw has Fiorentina sniffing around him. Goals could be an issue too with top scorer Ardjan Ajeti the only player to reach double figures.
Special mentions go to youngsters George Lamptey, Aires Romao and Giannis Samios who look to be the future spine of the club.
Proposed Aim – Rebuild and promote
Lille
2020/21 – 16th in Ligue 1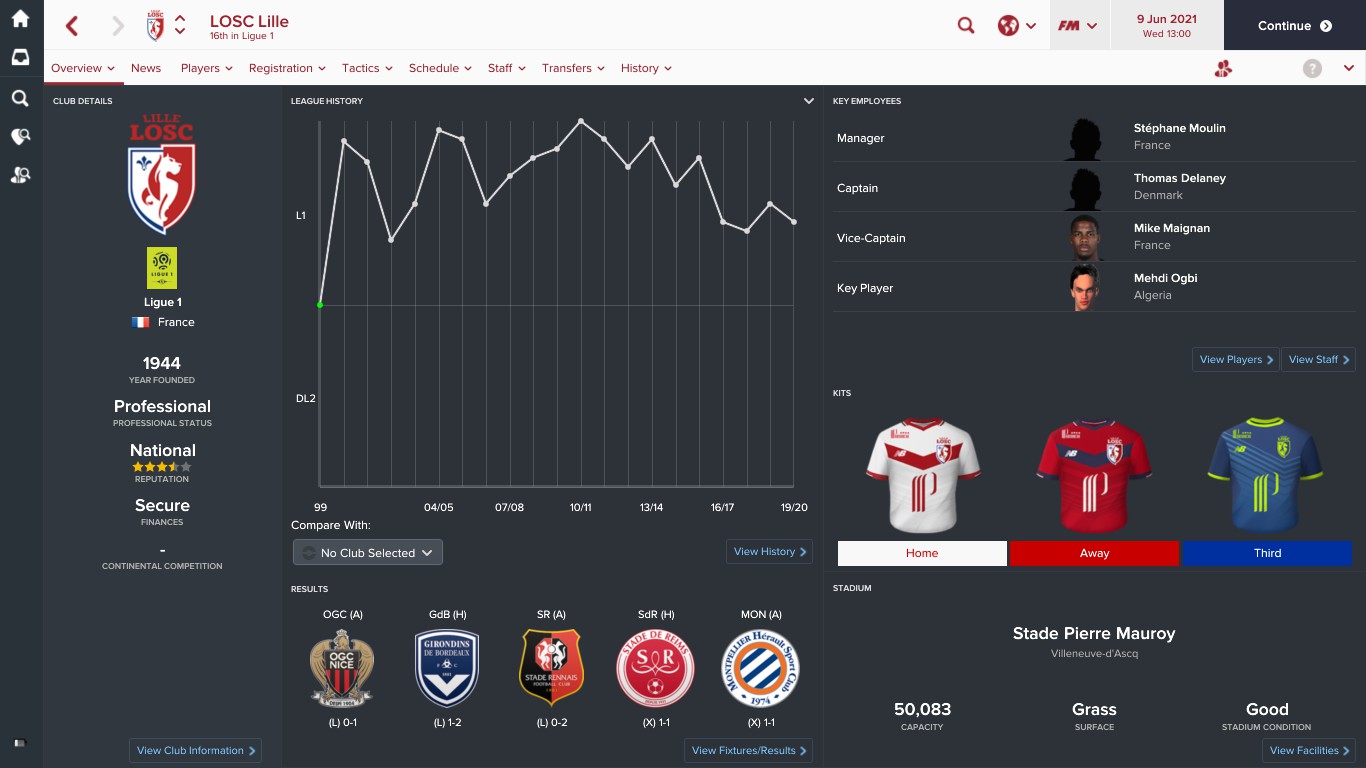 Nearly a decade on from winning the title, Lille found themselves slumped all the way down in 16th.
Player performance was understandably way down on what you'd expect but some names still stood out. Goalkeeper Mike Maignan is just hitting his prime and turned in a decent season all things considering while ex-Sunderland man Joel Asoro was their main source of goals.
That being said, there's plenty of deadwood I'd want to move on if I could. Defender Jonathan Mensah managed to get a 6.19 average rating for the season while the likes of Kim Jin-Su and Zlatko Junuzovic also underperformed badly.
Proposed Aim – Try and get somewhere near the top of the league
Eibar
2020/21 – 18th in La Liga
Everyone's favourite small Spanish team have finally been relegated.
Even with a 33-year-old Fabio Coentrao being their best player, Eibar slumped to relegation by a solitary point. Goals were the main issue with Nano top scoring for them with 9.
Proposed Aim – Promotion
That's the choices then so get voting for the one you want to see in the spin-off.