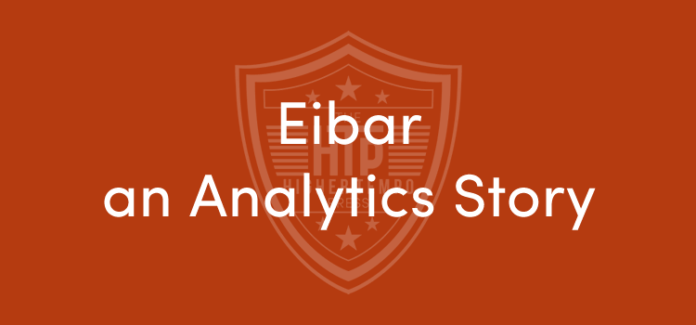 Hello everyone, Eibar is back. We are getting to the back end of the season and the race for places in Europe, the place at the sun and the remaining places in the league. Like every season, this coincides with what some people call the most exciting day in the season – Newgen day. It is a day of joy or a day of disappointment and there's always that excitement when you click on your Youth Candidates. So, let us get into it:
Youth Intake

Our Youth Facilities are average and our Youth Recruitment is fairly basic so there was no big hope of getting really good players in so I didn't have great expectations. The only player to maybe write home about is Carlos Ruiz: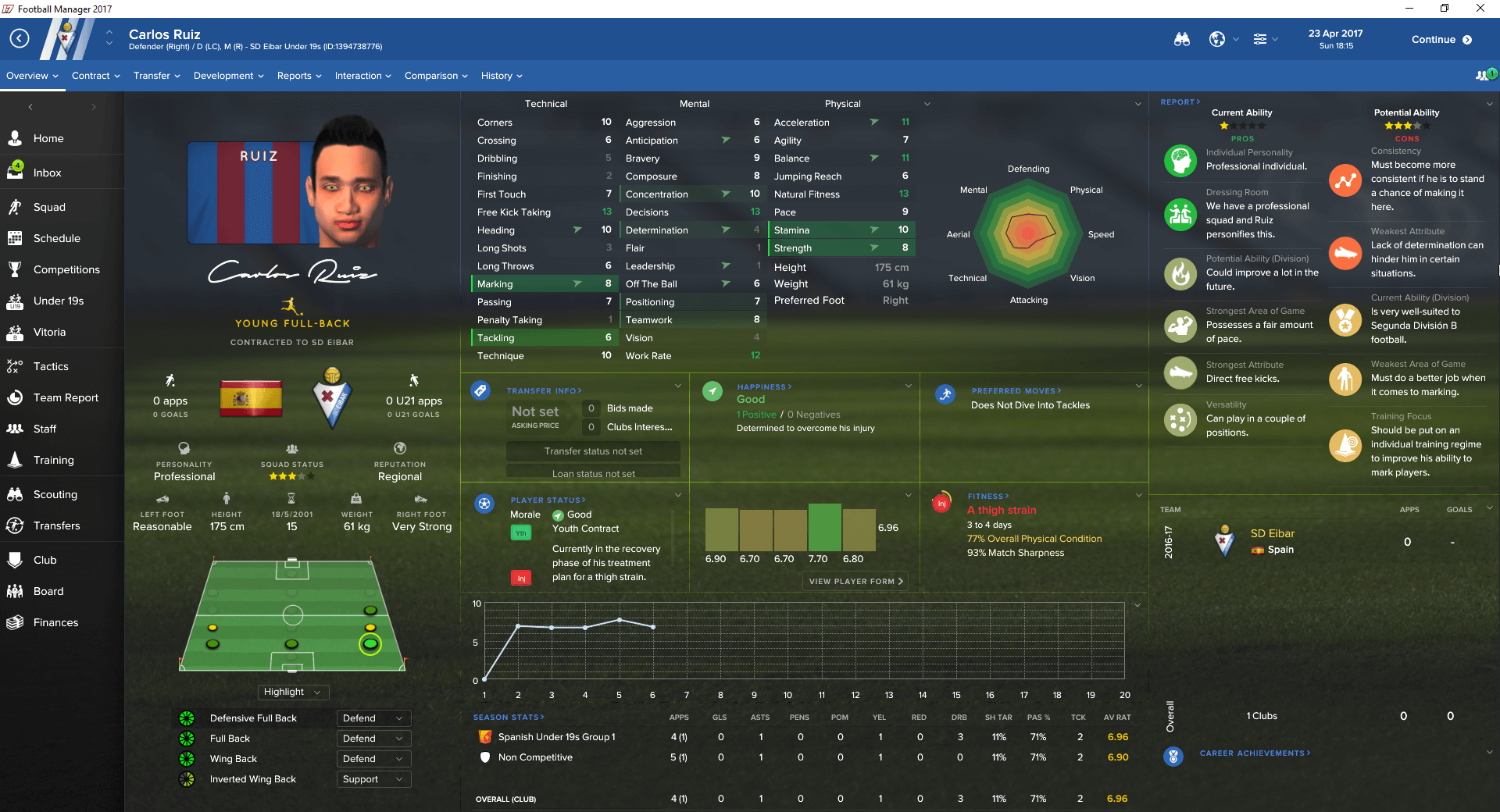 As a small club, it is always important to hand early professional contracts to your youth players meaning that they can't get poached by other clubs and if other clubs want to sign them they will have to pay the transfer fee. It also gives you more power when it comes to negotiating wages and if you are managing in a country where minimum release clauses are mandatory it allows you to set this as high as possible.
I also like to look at other clubs in my region right on Newgen Day so I can maybe get some of their good players for my team. However, since we are really small in our region and very small in Spain, the options of players who actually wanted to talk to me weren't great so I opted out of any potential signings we could have done and instead decided to devote the money to actual signings once the season ends. At this point it is obviously unknown how much money we will get but considering there isn't much money in La Liga for clubs outside of the Big Three it is unlikely to be a lot.
Match Preparation
One big part of Analytics is obviously the pre match preparation where it should help you get the biggest possible advantage over your opponent. In real life there's often more than one person who is responsible for that and you can shape the data in different forms – things that aren't quite possible in Football Manager. However, there are some other things you can still do in Football Manager – depending on the time. I don't do the same match prep prior to every game but here is a typical way of preparing for a match – especially if it is an important one:
Step 1 – The Basics
When looking at the opposition for the next game there are always some basic things you can look out for even without a lot of time to go into in depth scouting. The first one would be the manager:

The most important thing here is the general style of the Manager. Is he a Pressing Manager, does he like to stand back and so on. If you play against a Manager that is going to make his team put pressure on you maybe want to change one or two players or you might want to go a bit more direct. Another thing to look at is the Assists for and against chart: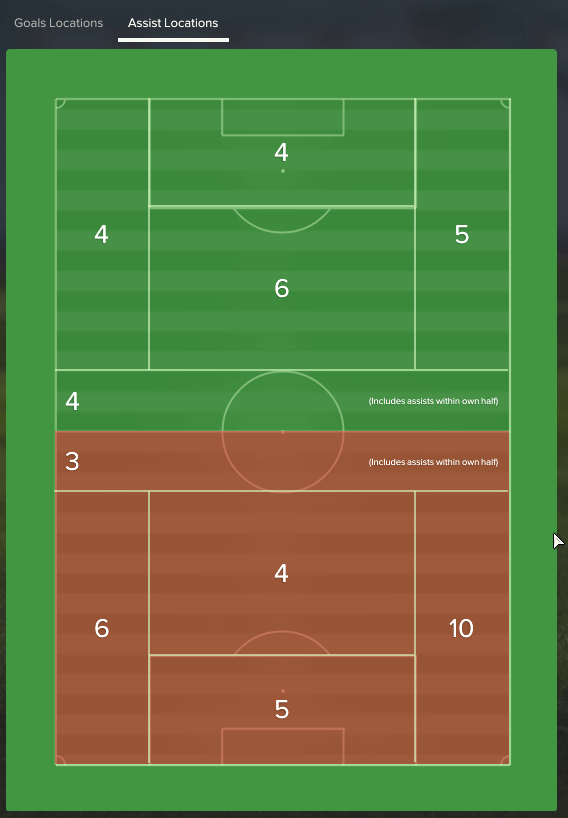 For any team, you can find these if you click on the respective Team go to Team Reports and then click on Goals in the Senior Squad tab. In this case, we see that Bilbao is quite weak down their right defensive side and weaker than usual (compared to the other zones) on the right side. That implies that there is some sort of weakness in their tactic maybe because the Wingers in the wide 4-2-3-1 aren't tracking back enough and their FBs are isolated. That is just speculative but there are basic things that you can draw from just looking at this really quickly.
Apart from this you always look at the Scout Report that you are given prior to the game but these tend to more about specific players who could be a problem and more often than not I have used it to just sign the guy who is named as the Hot Prospect.
Step 2: Pre-Match Report
The Pre-Match report you get from your Data Analyst is always a good place to start. It gives you some of the info that we already talked about like the Assist locations but more importantly it updates you on the last game that your upcoming foe has played. For example, you can take a look at the most common attacking paths but beware there is no certain intention there because teams that are successful will always have more Attacks down the middle because these are usually the best attacking paths in terms of Attacks/Shots ratio. It's also interesting where the best players and the worst player did their things but most importantly it leads to the final step.
Step 3: STATS
STATS (formerly Prozone) is a wonderful thing. It allows  you to conduct analyses right where you want it to which is why I am not going to go too in depth about it because that would be well out of the boundaries of this series. If you want me to write a piece just about this, let me know.
However, here is one example for some bits I did for this game. After figuring out that Bilbao were weak down the flanks I wanted to take a look at some specific players and in this case my focus quickly shifted on the left back and I decided to take a look at his intercepted passes and his mistakes: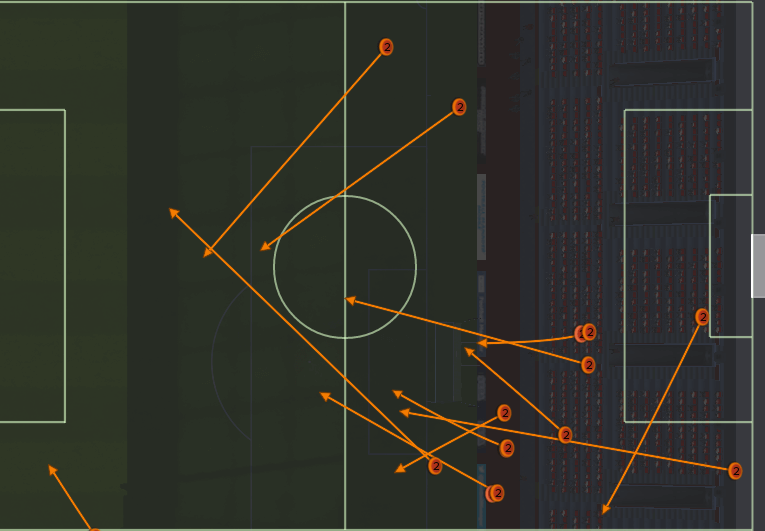 As you can see here, most of them are long passes and upon looking at the highlights it was obvious that he does not deal with physical pressure well and often decides to punt it long making him a target to press. Obviously, you should always look at several games to see developing patterns and try to not make judgements based potential on One-Off situations but time is obviously always an issue with the lack of manpower so between one and three games tends to be the maximum for myself.
Results
Things have been going well since the last update with 12 points out of 6 games. We have scored in every of the games and especially Pedro Leon has been absolutely outstanding contributing six goals and one assist on a 7.9 Average Rating for those games. Thanks to his contribution, Gino Peruzzi had a very easy time getting accustomised to the club because he can always do these runs in behind the opposition Fullback when Pedro Leon is cutting inside and "taking the Fullback with him".
We are now unbeaten since that 4-1 loss against Barcelona in February and without injuries there are great things possible in the run in consisting out of home games against Valencia and Malaga and travels to Alaves and Las Palmas and since we are level on points with Bilbao, everything is possible. This is how the table looks like: