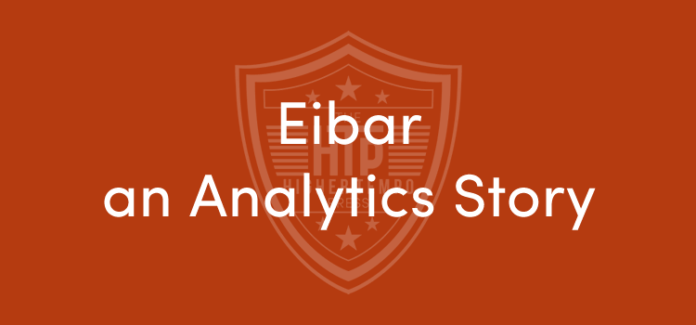 It's that time of the year again – it's the transfer window time. We are obviously in January so it's only the short window, but with 23 players and only La Liga and Copa del Rey to contend with, some sales are imminent because players are going to be unhappy and there is no point in keeping unhappy players at the club if they are not of the level of first team options.
Outs:
Bebe – West Brom for 1.9m €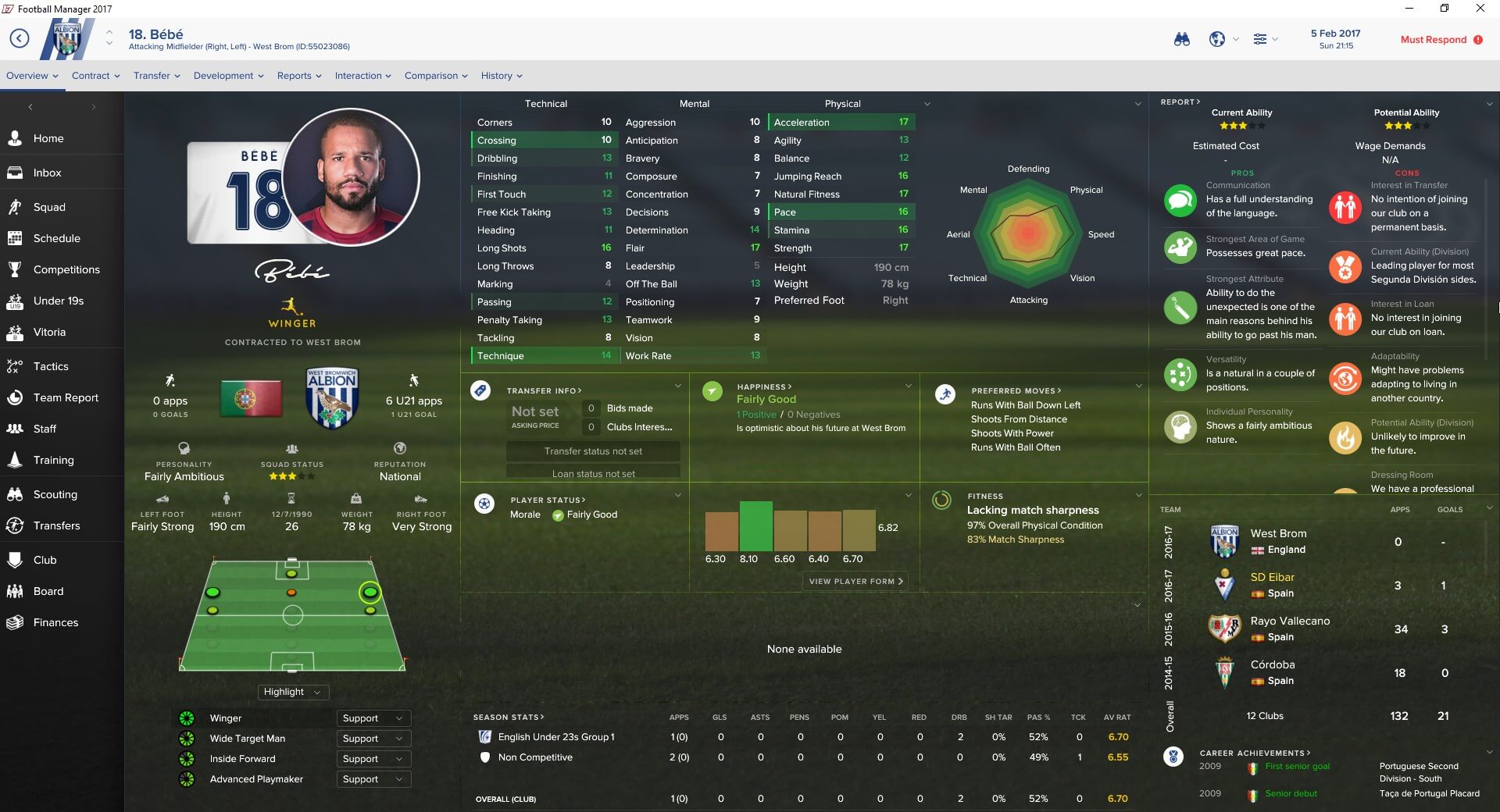 With Pedro Leon coming back to fitness, we play with a Winger again from time to time but Bebe just isn't the option I need and want for that position because playing a Winger position in our 3-4-3 (ish) doesn't require very good Physical Attributes and that is pretty much all he has to offer for us.
The only way I could see him be useful would be as a late impact sub to stretch teams but we do already stretch teams sufficiently in terms of width with just our Fullbacks so what we really need in a situation against a team like that is a deep creator and not a wide runner and just running fast at the opposition doesn't do much against the deep blocks we force against the bottom 6-8 teams.
Anaitz Arbilla – Olympiacos for 1.3m €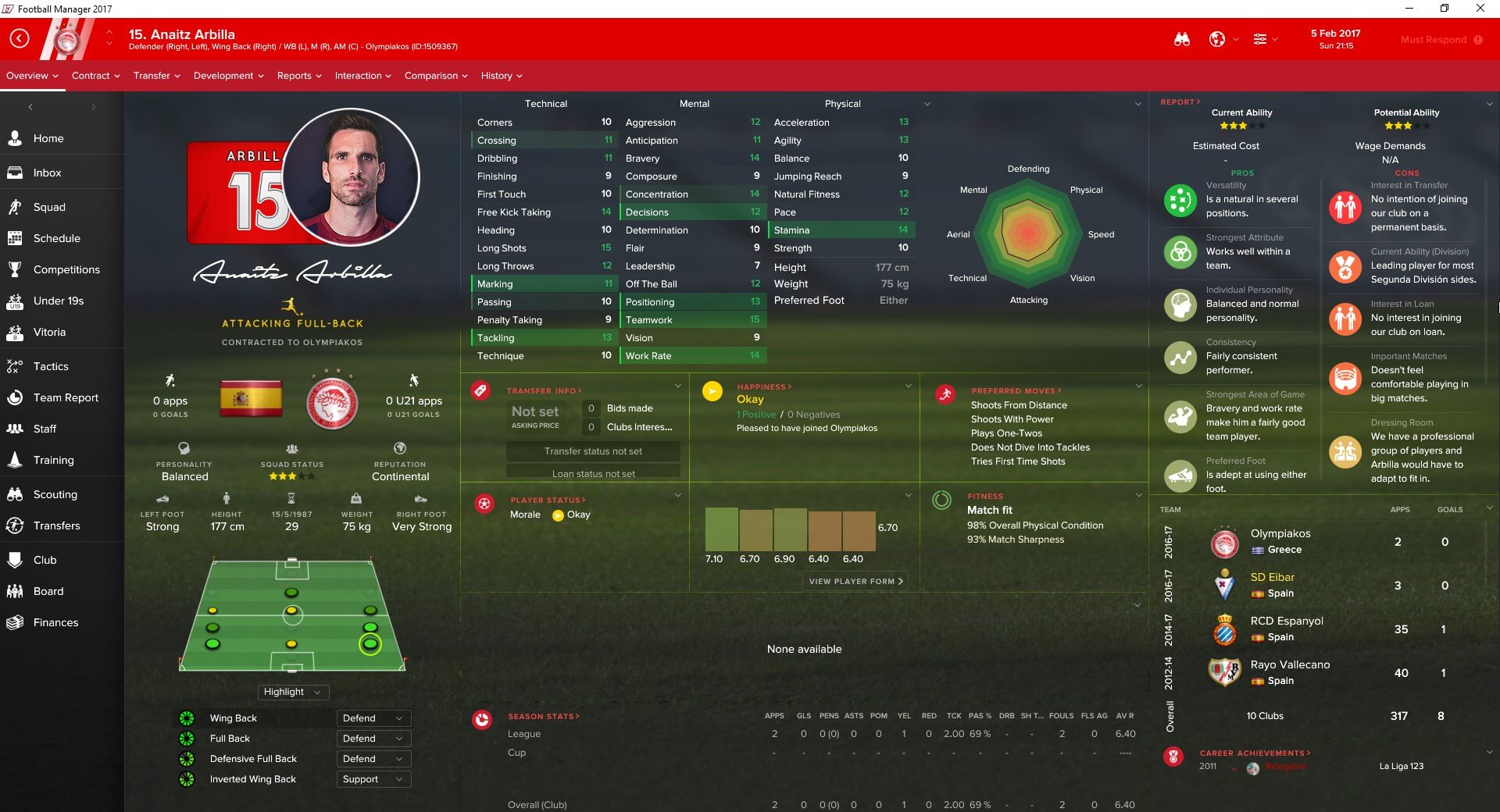 One important thing that needs to be considered with transfers is age. In this case, age and a contract running out in 2019 were the main reasons to sell this guy. Looking at his attributes, he looks like an ok backup player and he wasn't on very big wages since he was supposed to just be that.
But he isn't more than a backup player. While I can just change my LB from Luna to Junca and get similar outputs in terms of passes into the box and key passes, there was a gap in quality between Arbilla and Capa. This obviously means that Capa is getting rested in training more often than other players, and because of this I usually try to get players who are in their prime or close to their prime if I am looking for a first-team option in a position that is very physically taxing.
Ander Capa – Internazionale for 6.5m €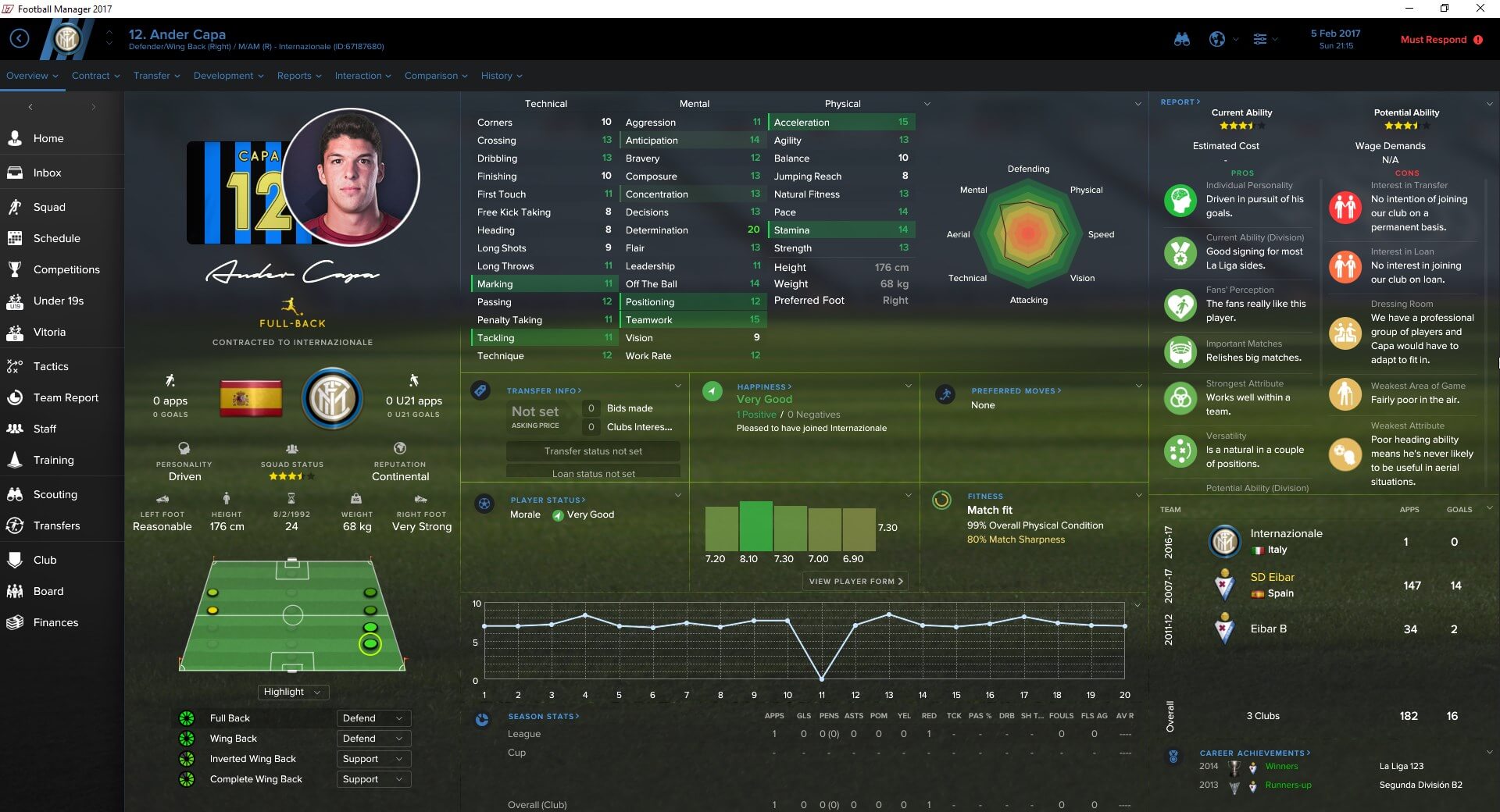 Well, this one wasn't really planned. Like you might know, every player in Spain needs to have a minimum release fee in his contract. For Ander Capa – who is obviously a youth product of the club, this fee was just 6.5m. I tried to extend his deal during the first half of the season because, due to his contributions, I expected a team to go in for him and Inter was that team.
Perhaps the most annoying thing is that they triggered the clause on the 20th of January but the deal actually took until Deadline Day to go through, so we had to wait until that very day to actually sign a replacement. The main problem with having to wait so long is obviously that the replacement is going to need until later in the season to get familiar with our approach.
Ins:
Gino Peruzzi from Boca Juniors for 5m €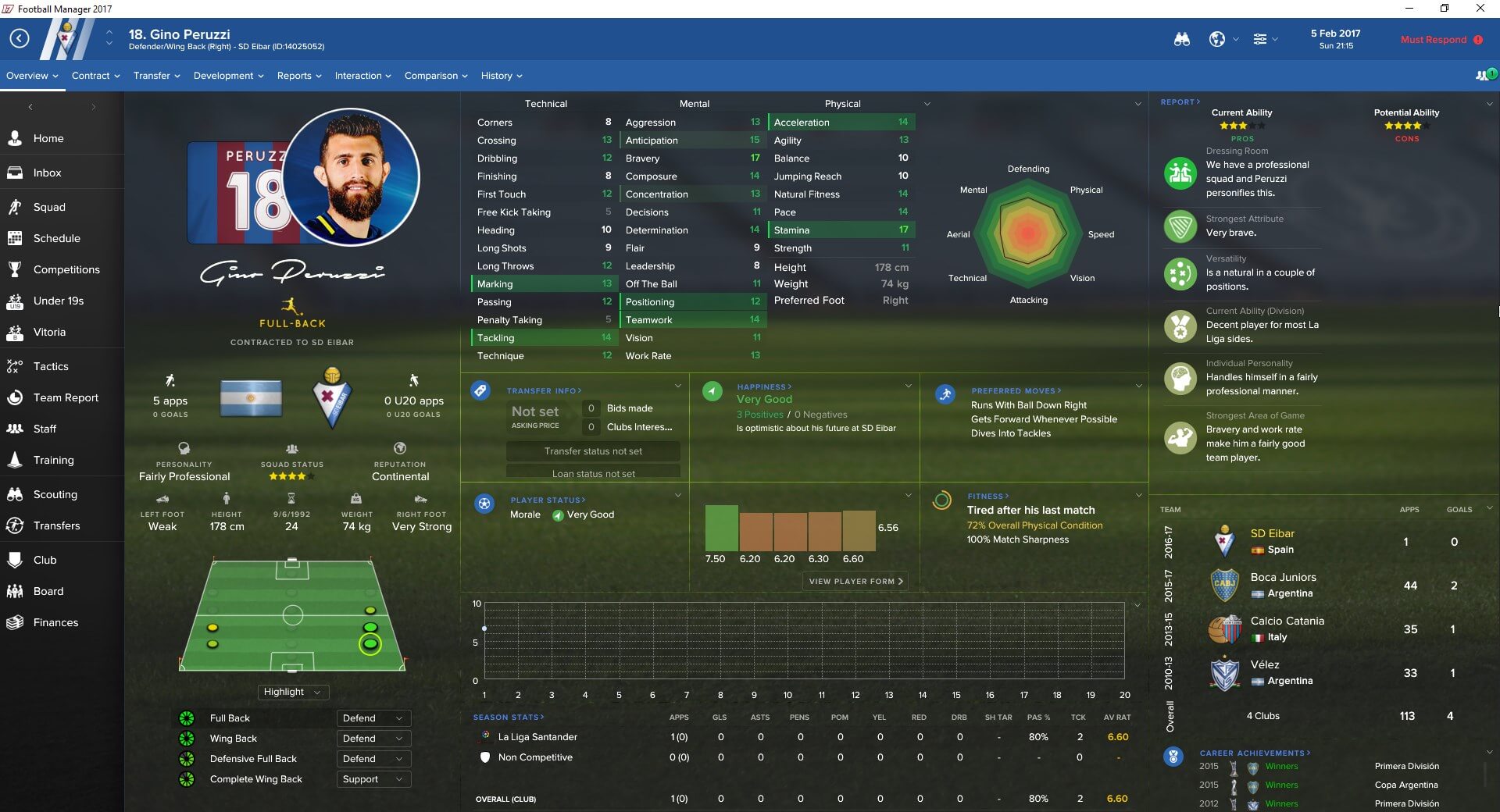 When Capa left I knew that I would have to replace him with a player of a similar calibre because he had a big impact. Capa made runs on the edge of the box a lot and four of his five Assists came from breaking through to the byline and cutting it pack to a player in the middle.
I don't have the Argentinian leagues loaded so I had to trust my scouts but, as they delivered me no cons I identified him as my main target. Knowing that the deal with Inter would take a bit I scouted him further, coming to the same results and revealing the last of his attributes. Just like Capa, he is very well rounded, meaning he can be a part of us changing our approach in the middle of the game and thanks to Italian being his secondary nationality, he does not count as a Non-EU player.
Another thing that impressed me and that I talked about regarding my wing backs before was the "Get Forward Whenever Possible" making him go for a riskier approach when it comes to attacking. One thing I noticed with other wing backs was that they stopped when there were two players ahead of them and just turned inside. This shouldn't happen with Peruzzi.
Rodri Tarin – Loan with Option to buy from Barcelona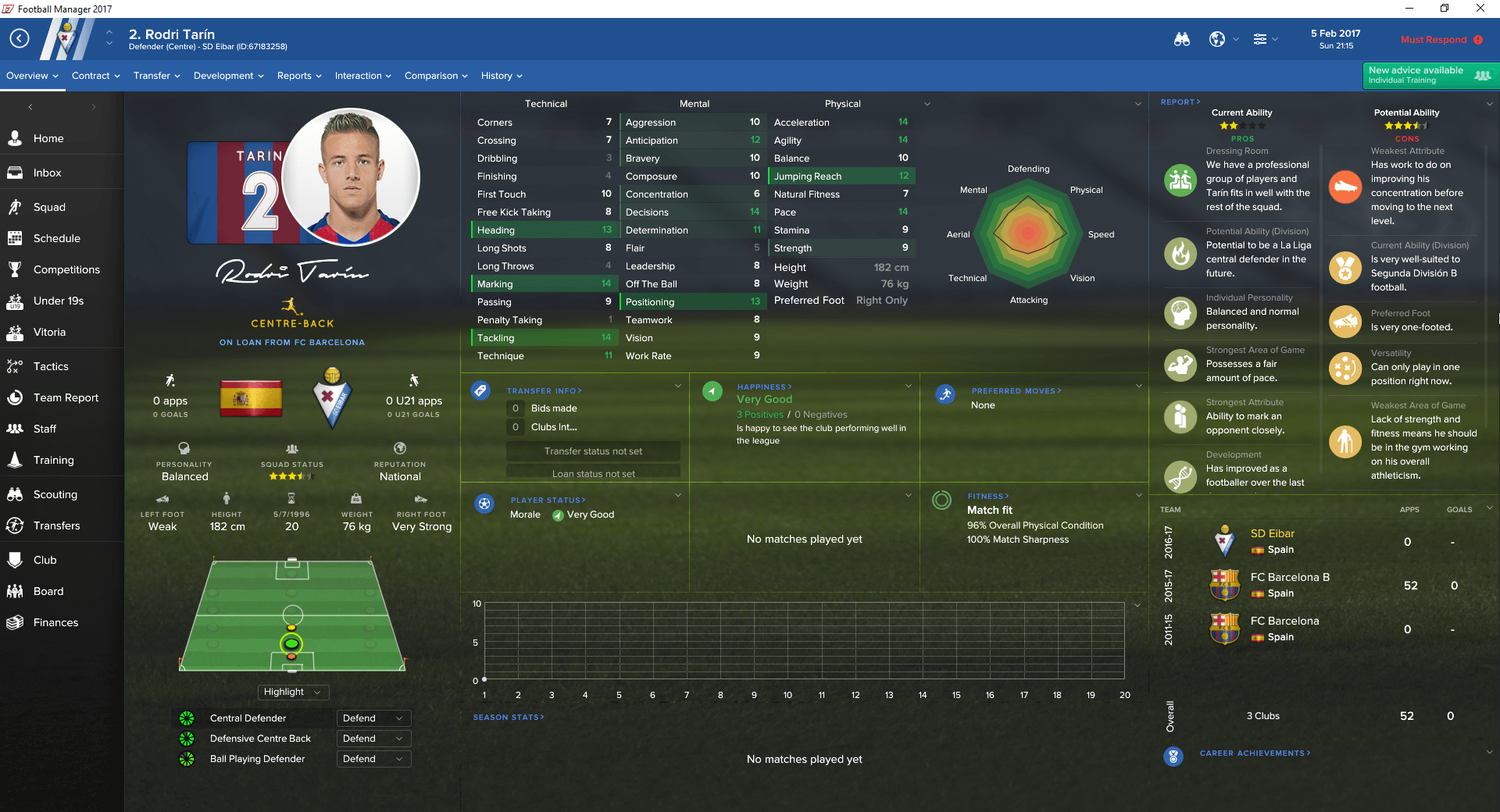 This one was a pretty straightforward transfer that I pursued the whole January. We do play with three centre-backs but we only have four in our squad and Mauro dos Santos is below the level of Ramis, Lejeune and Galvez so these three usually have to play. Tarin offers a) a fifth option and just depth for no risk and b) an option for the future to replace dos Santos. One thing I was also missing in my CBs was a decent amount of pace and he already has that even though there is obviously a lot of work to do
The optional fee is in the region of two million and should dos Santos leave and he most likely will, Tarin most likely will be used. Dos Santos has his contract running out in the summer but we can just extend it via an option to cash in.
Kleber – Loan with an Option to buy from Flamengo
When Capa was leaving and Arbilla had already left, I wanted a backup RWB. Since the board wasn't giving me enough of the funds from the outgoing transfers I needed to pursue loans. This one is similar to Tarin: a young guy with a lot of potential who isn't there yet but could be there in the near future.
However, it is obviously possible that Kleber might have to start a couple of games and this is where the risk lies because quite frankly he is worse than Arbilla. But the options for RBs/RWBs weren't great so getting a young player who has decent attributes in important areas was the best option.
If we make use of the option entirely depends on the budget we get in the summer and on the league finish. Should we get Europa League I might look for a better backup RWB because being in Europe we just have to rotate on a regular basis. So, how is our Assault on European places going?
Results

After knocking Depor out of the Copa del Rey we couldn't break them down in the league but considering we created 2 clear cut and 3 half chances, I wasn't too worried. The Copa del Rey tie against Barcelona was one I took seriously in the first leg but, when we threw away a 2-0 lead, my focus instantly went onto the league where we smashed Sporting 3-0, Ander Capa with his last great performance for the club.
Real Madrid peppered us with shots but most of them came from outside the box or went off target so it needed a late Casemiro header for them to take all three points. In the game against Leganes we weren't able to sufficiently create enough against a deep block again. This provoked a little change in the tactic that will be the topic of the next post. I'll just leave you with the table: