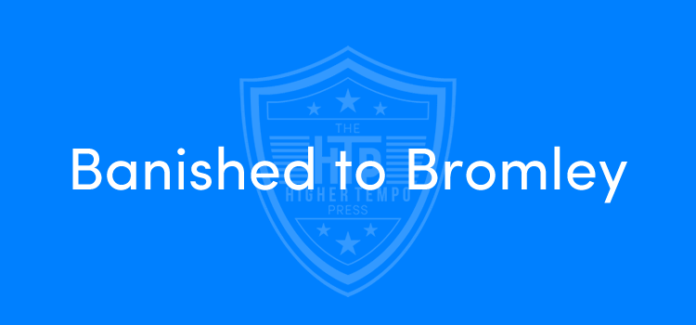 Back to Vanarama National League football and we're faced with a trip to Xrexham to try out the new 4-1-2-3 formation out for a full 90 minutes in a game where Xrexham were favourites sitting at the top of the table. Here was the team I decided to go with to experiment this new tactic, using Dymond as a ball winning midfielder, Torres as a central midfielder and O'Connor as an advanced playmaker.
Thankfully the new formation paid off just 17 minutes into the game as playing further forward on his own, Elford-Alliyu was now able to run in behind the defence to meet a great long ball from O'Connor before finishing nicely to put us ahead of the league leaders. O'Connor then bagged his 3rd assist in 2 games after a move consisting of 10 passes before he slid Turgott through 1 on 1 with the keeper who completed the 2-0 win dropping Xrexham from top spot and moving us up to 9th place making it 3 wins in our last 5 away games.
Despite causing such a massive upset there was a negative that came from the match. It was yet another 'heavy challenge' that undone us as most recent signing Sergio Torres suffered a hip injury which would keep him out for 5 months. In his 8 games at the club the Argentine really made a good impression on me in midfield and looked to be an integral player for the rest of the season as he had won 83% of his tackles, completing 85% of his passes and making 95 interceptions, hopefully all is well without him.
On a more positive note though Thomas O'Connor managed to break into the Vanarama National League team of the week after his two assists.
After a successful outing at top of the table Wrexham using the new tactic why not use it again against 10th placed Dover. With Torres out injured it was time for Minshull's first start since the first day of the season when he was red carded, using him as a ball winning midfielder rather than a normal central midfielder. After just 25 minutes Minshull did his case to start no harm by scoring twice in 6 minutes, the first being a blasted shot from the edge of the area after a headed clearance fell to his feet, six minutes later he doubled his tally by cleaning up the scraps after Elford-Alliyu's long shot bounced off the bar for Minshull to finish. Now getting regular game time Dennis finally showed me why as his dangerous low cross was turned in by Dover captain Jamie Grimes on 33 minutes. Minshull then got himself an assist playing through O'Connor who finished off a free flowing counter attack to make it 4-0. There was a dampener on the day though as we failed to keep a clean sheet conceding a cheap goal just after the hour mark but luckily we killed the game off in the first half and Dover weren't able to close the gap any more.
There was another talking point as a young Anthony O'Connor replaced Thomas to make his debut, and no they're not brothers, at least I don't think they are. With Torres out for so long I decided to look through the under 23's squad for midfielders and with George Bradford still not eligible, the next most appealing player was Anthony O'Connor who has potential of at least 4 stars.
The win also saw us leapfrog 3 teams to move into the play-off spots for the first time this season now sitting in 5th place, surprisingly only 1 point of top spot… the table is starting to look interesting.
Next it was time for our first TV appearance with a game against 17th placed North Ferribly. But before that I was glad to see that in his first appearance for the under 23's to gain some match sharpness Cemal Ramadan grabbed himself a couple of goals within the opening 10 minutes of the game which earned him a place on the bench for the North Ferribly game.
After a very forgettable first half it was important to ensure the team stayed focused on a win which could move us to first place. But it looked like the quick turnaround took its toll on the players as fitness became an issue late on which saw our centre backs beaten to a cross by North Ferribly's Kendall who killed the game late on and ensured a 1-0 defeat and a missed opportunity to go top of the table dropping to 10th place instead.
On a brighter note though, now moving into November it was time for the October goal of the month competition. The competition saw Sergio Torres come second for his effort against Southport on the 1st on the month, a long shot which flew into the top corner.