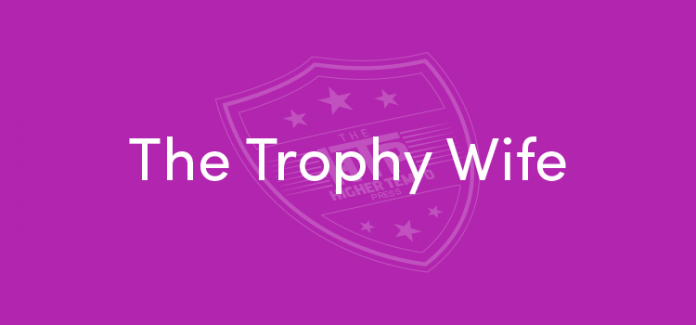 After an incredibly successful season, I release the squad on holiday. Most of the players take advantage of the warm weather offered abroad, but Marouane Fellaini, fresh from his loan spell at Villareal, decides to hit the United gym in an effort to win back his place in the side. After two weeks of massaging oil into his stomach muscles to make his six pack more defined, and finding excuses to lean against Caryl's office door without a shirt on, Fellaini is annoying everyone at the club. Assistant manager Rui Faria complains that he can't get Fellaini to sit still when he's trying to discuss tactics, he's constantly doing sit ups and punching himself in the stomach to prove how muscular he is. Caryl takes a dim view of the Belgian's antics, and sends him to Qatar. Permanently. We rake in £6,250,000 for the 29 year old.
Caryl's end of season trip to Madrid has been a success. Well, she's brought a player back with her, anyway. He's Portuguese… but it's not Ronaldo. It's Pepe!! Caryl has thrown £150,000 a week at 34 year old Pepe to convince him to not sign a new deal in Spain. Although fans are pleased at Caryl's determination to bring in big names, the four year deal is a bit of a concern…. Pepe fails his medical spectacularly, with barely enough cartilage in his knees to play. His left kneecap wobbles uncontrollably while running, but Caryl clears the deal anyway.

A few days later, PSG Director of Football Patrick Kluivert is a surprise visitor to Manchester. After touring the training ground, and meeting with a few of the coaching staff, I manage to get an obligatory selfie with the Dutch legend before he shuts himself in Caryl's office. An excited crowd swarms outside the door, waiting to see what happens.
Six hours later, and most people have given up waiting. Nobody is really sure what is going on. We all go to bed waiting for news, but I get woken up at 3:00 AM by Caryl throwing cash all over the bed and rolling in it, giggling hysterically. After trying unsuccessfully to get her to stop laughing and explain herself, I roll over and go back to sleep. I'll deal with the aftermath in the morning….
When I wake up, I collect up all the cash that's left in the bed, and take it to the accountant's office for counting. After two hours of coffee fuelled counting, the amount comes to just over £99,000,000. Where on earth has Caryl got this money from?
I head for the training ground bursting with curiosity, and camp out in the car park to see who turns up, but more importantly, who doesn't. The usual parade of Range Rovers and sports cars flood in, but a versatile Mini Countryman is conspicuous by its absence. Where's cheery Dutchman Daley Blind? An hour passes, and he still doesn't arrive. Neither has Anthony "Caramel Hero" Martial. As I start to realise what's happened, my attention is drawn by what can only described as an angry mob of rainbow flag waving rioters. The LGBT community have clearly already found out about Martial's departure. I run into my office and barricade the door, only to be confronted by news reports on my TV of Martial and Blind's transfers to PSG. Our Caramel Hero has raised £64,000,000, with a possible £16,000,000 of add ons, while Daley Blind has cost £35,000,000 plus a £6,500,000 add ons. I sneak down the fire escape and in through the canteen to break the news to the squad. Michael Carrick shakes his head in disbelief, and immediately retires.
After training I head for the Director's office, only to be told by her new secretary that the office is full and I'd breach Health and Safety protocol by entering. When did Caryl get a secretary? I wait until a flood of people exit, and to my shock, I recognise a few familiar faces. Alongside Pepe is Atletico's Theo Hernandez, the talented young left back. After him is the towering figure of goalkeeper Ederson from Benfica, young Italian Daniele Rugani, three more people who I don't recognise, and finally, the delightful face of the most adorable Mexican in world football. Babyface Chicharito is back!!!!!

Javier Hernandez returns to Old Trafford in a deal worth £29,000,000. He'll play up front to replace the ageing Zlatan Ibrahimovic. After a quick Google image search, I eventually find the identities of the new signings. Malang Sarr is a youthful centre half, William is the Brazilian right back I don't need, but probably deserve. Piotr Zielinski is a deep lying playmaker in central midfield, he'll join the long list of players that are currently backup to Paul Pogba.
It turns out that I don't really need to know Malang Sarr, as he's instantly shipped out on loan. Last year's signing Maxi Romero, Timmy Fosu-Mensah, Wayne Rooney and Ashley Young all get loaned as well. Rooney complains about being sent to Ajax, but when he's reminded about the variety of local "entertainment" in Amsterdam he suddenly becomes a lot more keen on the idea. Ederson will stay and fight for his place in goal with Sergio Romero, David De Gea, Jordan Pickford and Joel Pereira. That's a lot of goalkeepers. Another overcrowded position is in defence, where we have four right backs, eight centre backs but only two left backs. Another well balanced side then.
Eight centre backs is simply not enough though, as Caryl continues to splash the PSG cash, spending £13,500,000 on AC Milan's Gustavo Gomez. Maybe if I play six in defence we can keep everyone happy…..
This latest transfer takes our spending to £176,000,000 for the season. Always a fan of even figures, our Director of Football also picks up a teenager from Argentina for £4,000,000 to make it a round £180,000,000 spend.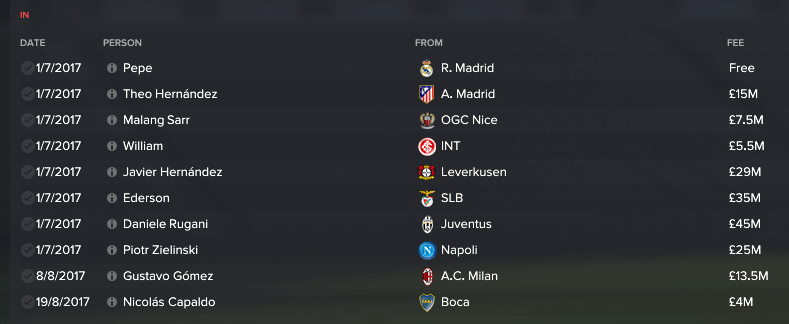 We come up against Tottenham in the Community Shield in good form. A risky 3-4-3 formation with Zlatan, Chicharito and Rashford up top pays dividends in a 3-2 victory. The same scoreline in the European Super Cup against Barcelona gives us our second trophy this season, and our fifth under Caryl's regime, if you include two Community Shields.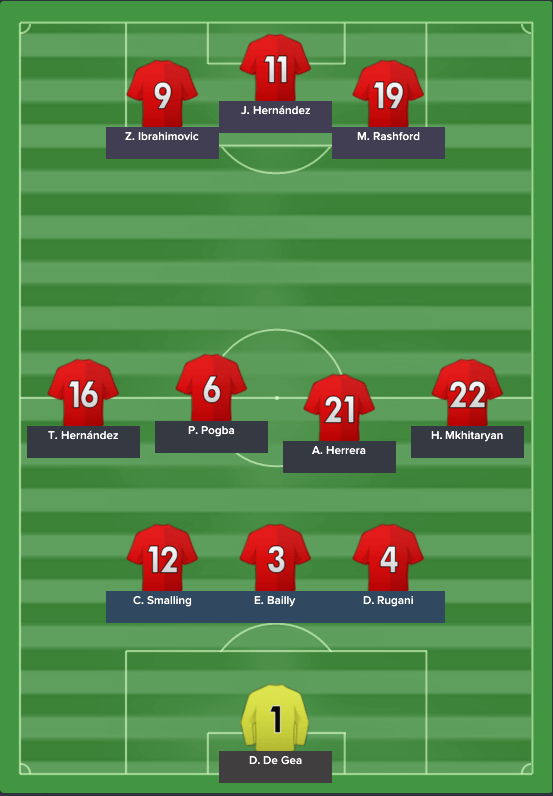 Despite two trophies, Caryl complains that her new signings, with the exception of Chicharito and Theo Hernandez, aren't playing. Pepe wraps enough tape around his knee to suffocate a giraffe, but still isn't match ready. We change to a bog standard 4-3-3 with Ander Herrera dropping deep to make room for Zielinski. Rugani partners Eric Bailly at the back.  
With so many players, I need to make some tough decisions. New signing Gustavo Gomez is left out of the Champions League squad, as is…deep breath here…Sergio Romero, Ander Capa, Marcos Rojo, Bastian Schweinsteiger and last year's marquee signing Isaac Success. At least my League Cup side will have a bit of class to it. 
One man who won't get any games, League Cup or otherwise, is con man Tosin Kehinde. Caryl catches him trying to guess her iCloud password, and immediately packs him off to Portsmouth on loan. I receive an email three days later, from unidentified kidnappers, asking for £3,000,000 ransom to ensure his safe return. I'd be more inclined to believe it if the moron hadn't sent it from his own email address.
We get through the start of the season well enough, only losing one of our first five league matches, a 2-0 defeat away to Liverpool.
Has this incredibly expensive but unbalanced squad got what it takes to push on and compete in the Champions League as well as retaining the Premier League???