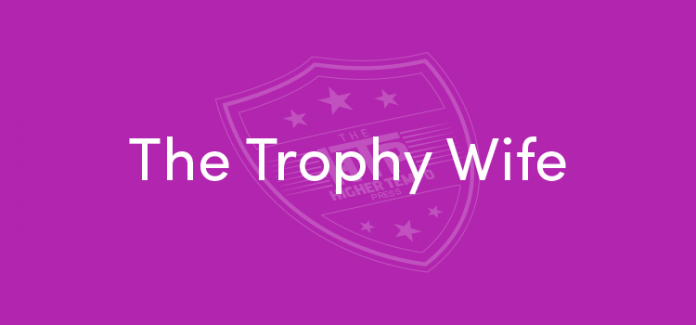 Caryl, our Director of Football, departs on a well deserved holiday while I review the £75,000,000 worth of damage done in the January transfer window.
Caryl's half decent but vastly expensive backups will grace my bench for the rest of the season, while I plod along with my usual lineup. One man who definitely doesn't want to be replaced is Luke Shaw, who puts in some superb performances at the start of February. Swansea, Arsenal, Everton all fall to my sword, although Man City do sneak a 2-0 win at the Etihad. We get our revenge in the 5th round of the FA Cup, beating them 1-0 with a Rashford goal. Ludogorets are brushed aside in the 1st knockout round of the Europa League, Angel Gomes grabbing a goal and Tosin Kehinde featuring after yet more pressure from assistant manager Rui Faria. When I'm undecided about playing Kehinde again, Faria breaks down in my office and threatens to leave unless Tosin plays.
After an hour of grilling Rui Faria on the topic, he confesses that Tosin Kehinde has some erotic pictures of Faria with a woman who shall remain nameless, but is certainly not Mrs Faria. In return for his silence, Rui has pledged to get Tosin Kehinde first team football. We discuss the situation man to man, but in the end I can't risk the team's success just so Rui Faria's genitals don't get leaked onto Snapchat. Eventually I agree that Kehinde can remain in the first team squad, but I'm under no obligation to play him. I also refuse to let him take any set pieces.

Despite an impressive run in the league, we sit rather disappointingly in 5th spot. Crystal Palace and Bournemouth both hold us to 0-0 draws, while we rely on a clearance bouncing off Anthony Martial's backside and into the Old Trafford goal to defeat Burnley. The local LGBT community get quite excited about this, and start attending our matches in droves, labelling Martial as "The Caramel Hero".
Luke Shaw continues his excellent form in the Europa League, winning a Man of The Match award against Sporting Lisbon in a 2-0 win, putting us in the quarter finals against St Etienne of France. In between the two legs against Sporting, Jordan Pickford forgets that he's allowed to use his hands in goal, resulting in a 2-0 defeat in the FA Cup to Birmingham City.

Isaac Success, after one start and seven substitute appearances without anything to show for it other than one shot on target, finally puts in a performance in his ninth attempt, against Middlesbrough. With two assists and his second shot on target in nine games, Success is finally trying to live up to the £33,000,000 price tag. Buoyed by his display, I give him another chance in the next game, against St Etienne in the Europa League. He actually manages another shot on target, but is otherwise anonymous. United fanzine "Reds In Manchester" actually begins a shot counter in their weekly magazine, putting Success' output at just three shots out of twelve attempts, none of them anywhere near troubling the goalkeepers. Luckily Juan Mata and Zlatan Ibrahimovic have no such issues, bagging a goal apiece.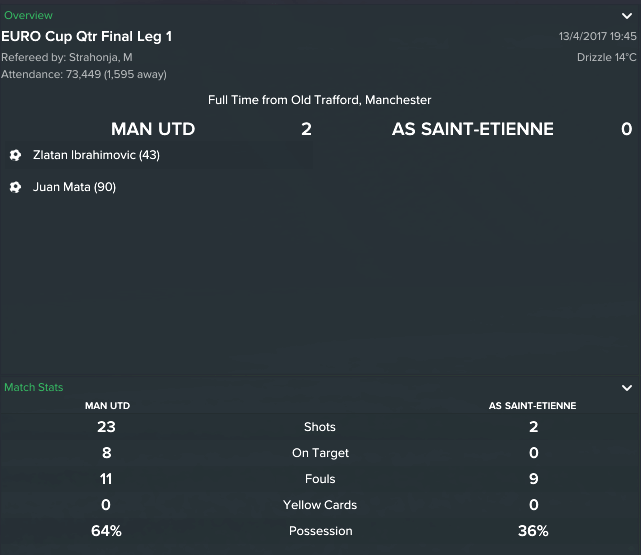 Success gets another go in the next game, but trips over and knocks himself out on the turf at the end of a 3-0 win over Southampton. I never, ever wanted to say this, but Jesse Lingard replaces him as my main goal threat behind Ibrahimovic or Rashford. Rashford saves our bacon in the second leg against St Etienne, scoring a brace to get us through after Chris Smalling has a nightmare in central defence and we concede three goals in France.
Before a big league game against Tottenham, Tosin Kehinde finds his way to my office. Having only made two appearances since Rui Faria came clean about the X-rated snaps, Tosin is a little bit miffed to say the least. Having expected to get a bit more game time, he starts complaining until I remind him that Caryl actually transfer listed him at the start of the season, and it would be a real shame if she were to be reminded that he's still around….
After Success' self inflicted injury, I'm left with a dilemma. Someone has to take the attacking midfield role just behind the striker. After reviewing my squad, I'm left with two options. Jesse "Dab-Dab" Lingard, or Anthony "Caramel Hero" Martial.
Lingard does nothing whatsoever against Tottenham, although we do win 2-0. Lingard could have scored two himself, but his finishing is abysmal. I make a mental note to replace him with Martial for the majority of the remaining games.
Martial gets two in the next two games, a 3-2 defeat in a Europa League semi final first leg against Southampton, of all teams, and then the winner in a 3-2 win against Premier League leaders Liverpool. With only three games left, the Liverpool win has taken us to the top of the league! Thanks to dealing with Success' injury, Kehinde's photos and the Europa League, I haven't really been keeping an eye on the table. Could we pinch the title out of nowhere?
Marcus Rashford sends us to the Europa League final after scoring twice in a 3-0 win at home to Southampton, as I finally learn my lesson and stop rotating goalkeepers in Europe. De Gea returns to the lineup and has a stormer.
West Ham visit Old Trafford in what is a title decider. We've been top for a total of 6 days, yet we could win the title with a game to spare. I go with the strongest team available to me, Darmian replacing Shaw, who's been brilliant apart from regular injuries. In a daring move to get an early goal, Pogba moves up into a more attacking role alongside our Caramel Hero. Ibrahimovic is also injured so he is replaced by the able Marcus Rashford, who has twenty-one goals this season.
It only takes Rashford twenty minutes to get his twenty-second goal, then West Ham shut up shop until Anthony Martial breaks through the defence with eighteen minutes left. If our win, and subsequently the league title, is a caramel inspired cake, Ander Herrera ices the cake with a late penalty. With a 3-0 win, we have secured our place at the top of the table, not having been higher than 4th for most of the season.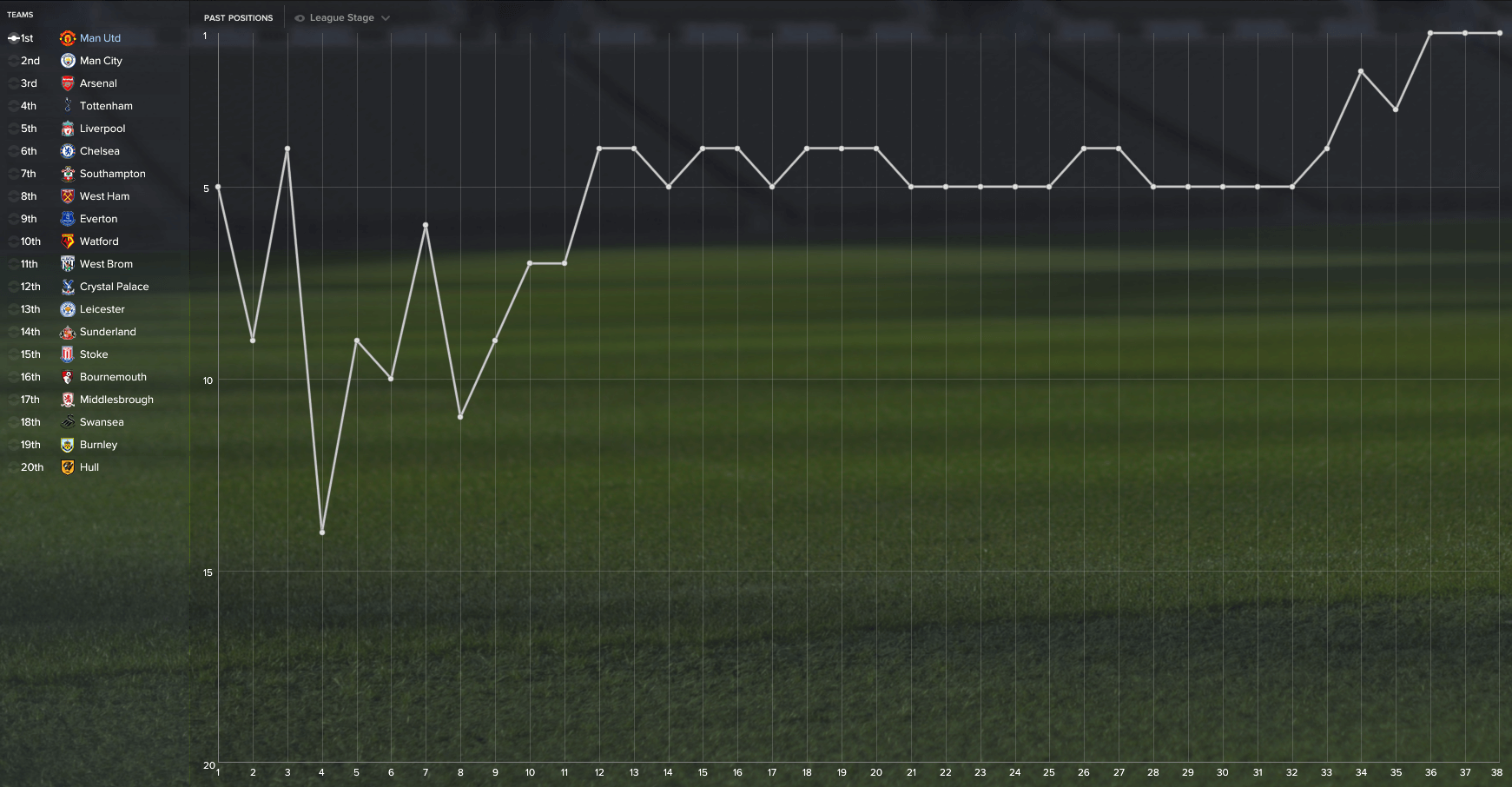 This leaves us with a Europa League final against Tottenham. After beating Southampton in the semi, English clubs made up three of the four semi-finalists. Better the devil you know, I guess…
Ibrahimovic returns to the starting lineup, and Michael Carrick sits in midfield to dictate the play. Pogba moves back into midfield to accommodate Juan Mata's return from injury.
I doll myself up in the customary suit and tie, and head to Stockholm for the final.
The game starts off slowly, and we get to half time with scarcely a highlight to show for it. I need to galvanise the troops. The players gather round, expecting an aggressive onslaught. I go for a different idea, using a quote from a former United manager by the name of Sir Alex Ferguson.
"Lads, it's Tottenham."
Anthony "Caramel Hero" Martial scores almost immediately, and wild celebrations ensue. While our entire team are camped by the corner flag cheering our fans, Tottenham sneakily kick off and Harry Kane runs through the empty pitch and slots past David De Gea. No matter how much I protest, the goal stands, and Tottenham proceed to park their sizeable bus in front of their goal. We knock on the door until the 89th minute when Juan Mata steps up and pings a 30 yard screamer past Spurs keeper Pau Lopez. The little magician is tackled to the floor by the entire Manchester United staff as I look on joyfully. I even join in with Pogba and Lingard's dab celebration before spraying the dugout with a freshly shaken can of Coca-Cola.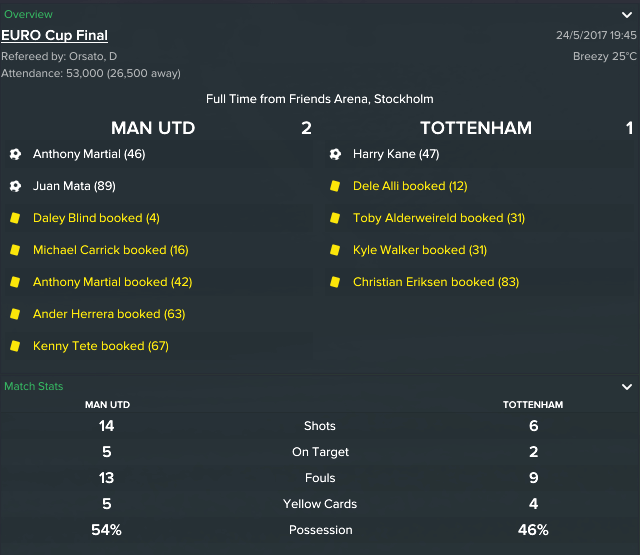 It's been an incredible end to the season, coming out of nowhere to rob Liverpool of the league, sneaking through European ties too close to call, as well as dealing with injuries and scandal. To top everything off, Caryl is off to Real Madrid on a shopping trip…who will she bring back??