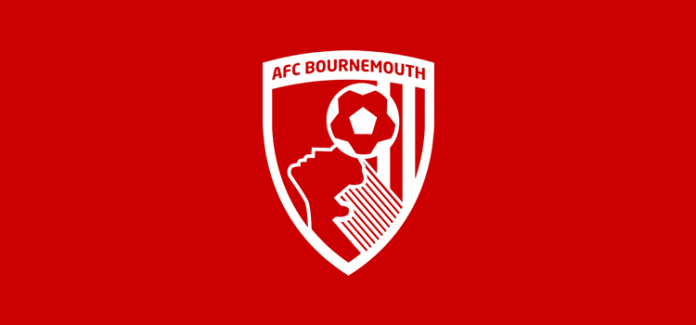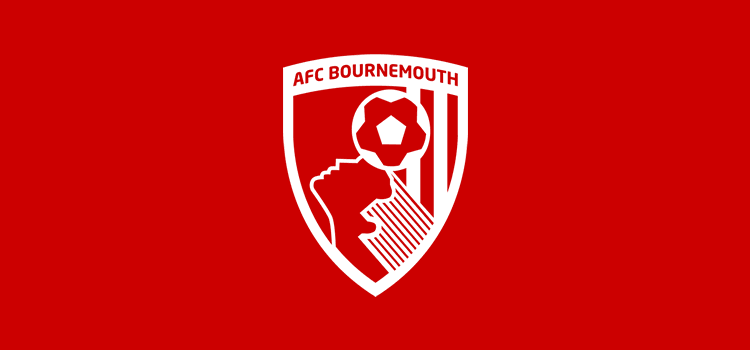 I said my next four games would be make or break. I should have been less rigid in outlook; it turned out to be both.
The good news is that it's very much "make" on the league front. Third place Everton are first in line and are seen off 3-0. Adam Smith makes amends for his profligacy in Switzerland by actually scoring a chance that was eerily similar to the ones he fluffed against Basel. Mattia Perin then wafts a left glove at Charlie Taylor's free kick but all that does it cause it to hit the side, rather than the back, of the net. Saido and Welbeck link up to finish things off.
Arsenal are the next to be brushed aside as the Gooners prove they're no match for the power of Narrative. Luan sticks Arsenal ahead but then the prodigal son decides to turn things around by himself. First Jack Wilshere flings a right trotter at a deep, deep Taylor cross to the far post and it somehow finds its way past the goalkeeper. Then, with seconds left, he digs out a winner from nowhere by peeling off his marker and simply rolling the ball past Big Pete. A symphony of boos reverberate around the stands at the Emirates and he's loving it:
It's a case of another game, another London powerhouse vanquished when Chelsea rock up to the Bournemouth Stadium (I'll never get over how horribly bland that is). An entirely (and I mean *entirely*) uneventful first hour passes and I'm prompted into making a double switch up top to liven things up. It immediately goes exactly to plan, with Berahino tackling Ivanovic down by his own corner flag and instantly swinging a cross towards the unmarked Wilson, who taps in. Lewis Cook and Wilson then take it in turns to smash goals in from the edge of the box and we go home with a 3-0 win. That's seven points from three games against teams who're going to be contending for Champions League places. I'll take that every day of the week.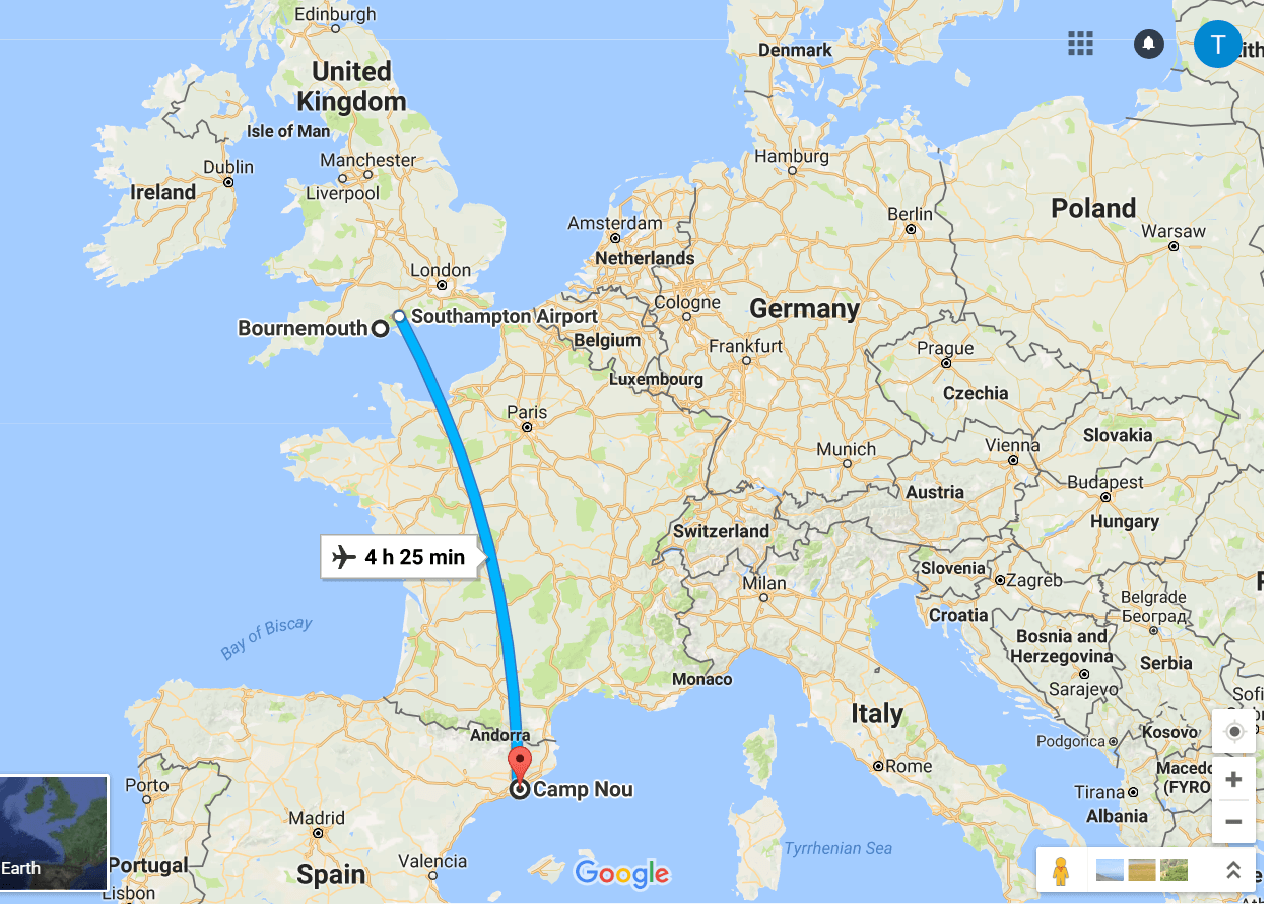 Sadly, it's in Europe where the "break" occurs. That galling loss to Basel last time round left us with seven points from our opening four games; not disastrous but I wanted to be closer to securing qualification by this point.
But, before we get to that, we receive the big message. Finally, after just over three seasons, the UK has announced its departure from the European Union. The news…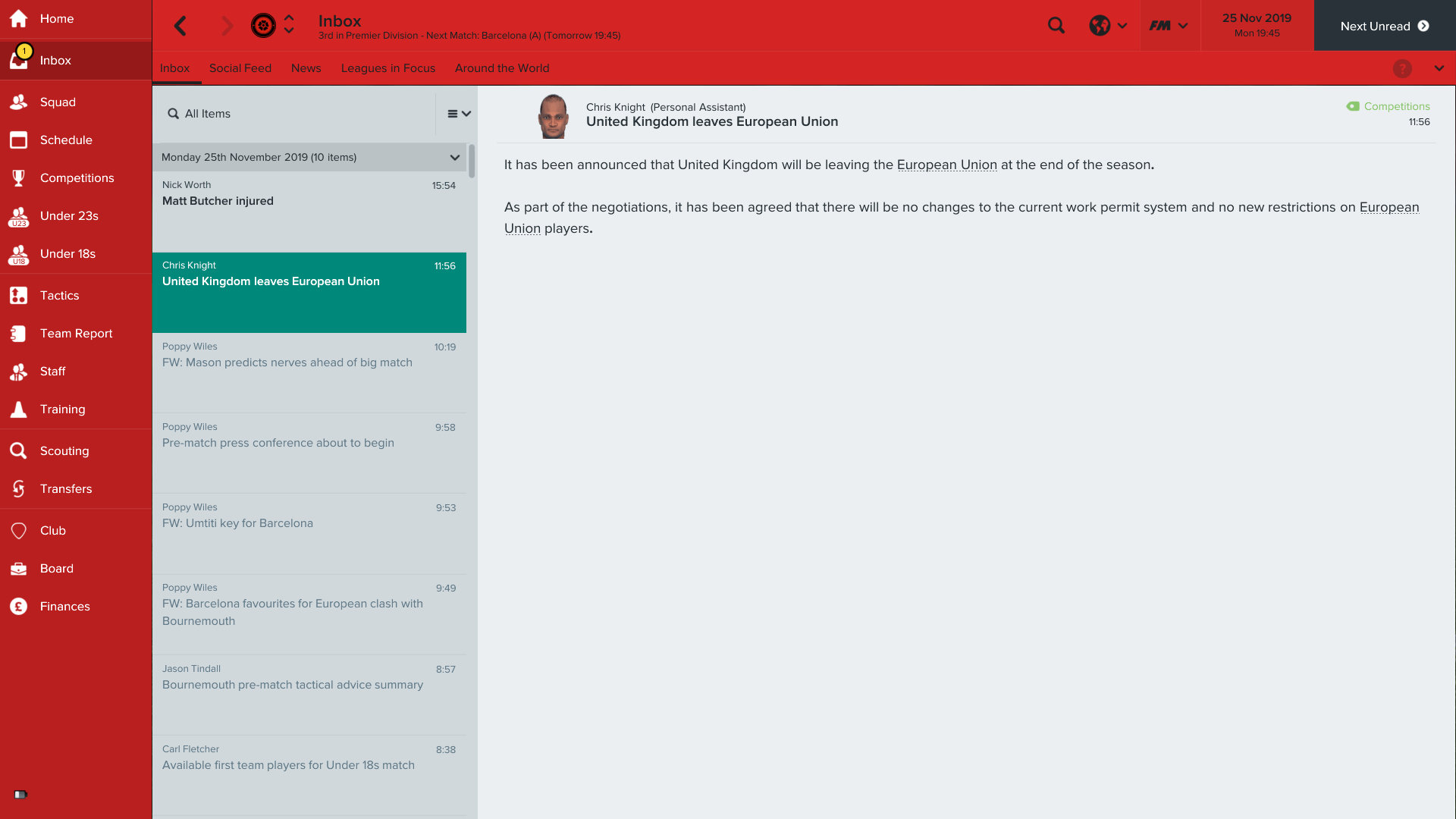 …is not great. Typical. After all of this, the decision to exclusively use Englishmen will be of no specific benefit to us whatsoever. There will be no punitive measures for any club that imports a neverending stream of foreign talent to fill their squad. Superb.
Still, we've come this far, so why stop now? And besides, isn't this somehow… better? There's no longer a case to be made that our motivation for playing this way is self-serving or financially advantageous to us. In fact, it's now a matter of principle. By choosing to embody the spirit of Brexit even when it's not strictly necessary, our mission has become purely ideological and ideologically pure.
With Europe on our mind (when isn't it, to be fair?) we turn to our showdown with Barcelona and hop on a flight to Spain. Our game at the Nou Camp leaves me with a knot of dread in the pit of my stomach: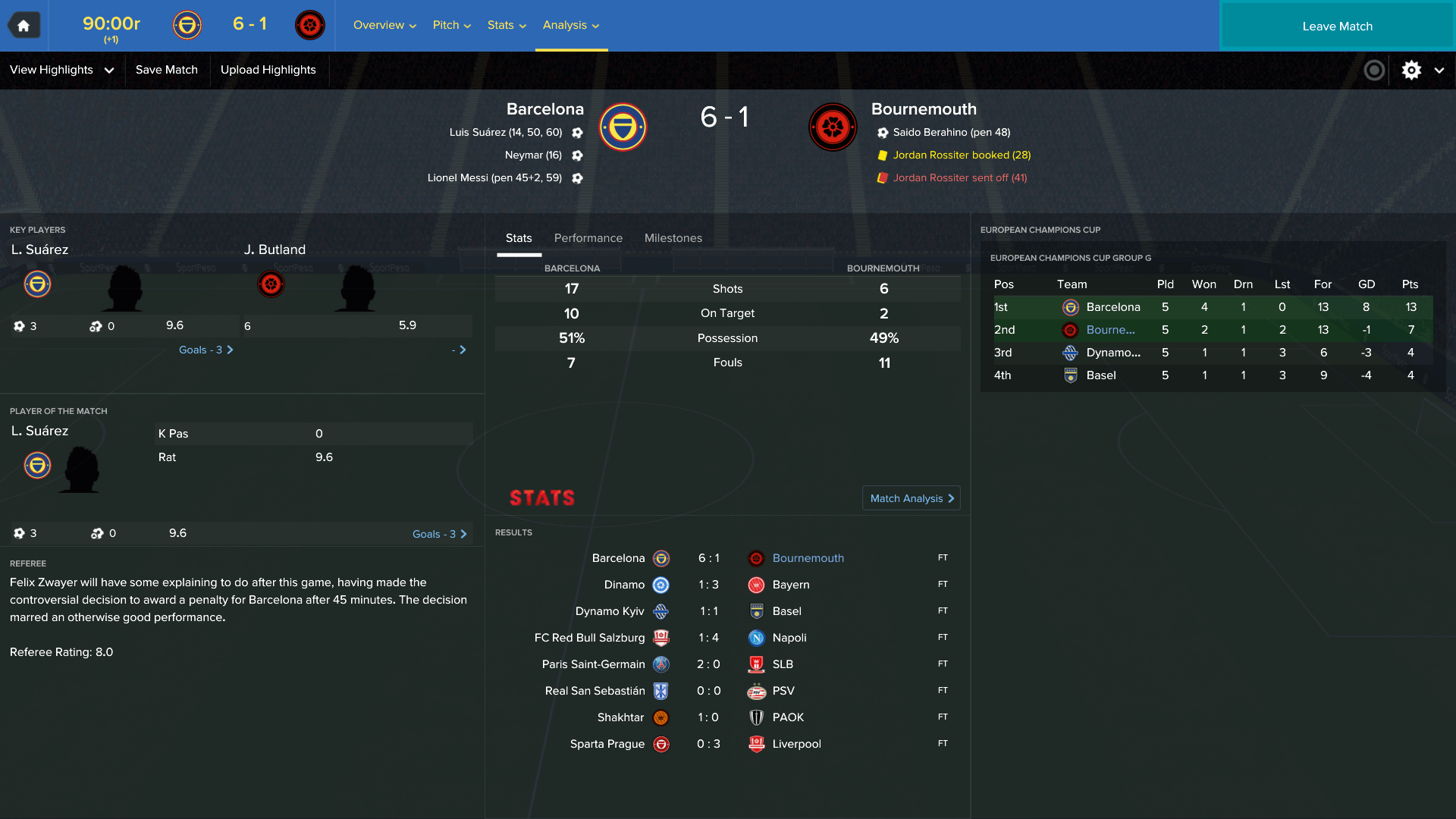 The Catalans really put us in our place here. When Suárez and Neymar kicked into life early on, the game was practically dead but it was in the five minutes before half time that things truly began to go south. First Jordan Rossiter picked up his second yellow in the space of fifteen minutes (he's really becoming a liability on this front), then Adam Smith foolishly tripped Messi inside the box and the Argentine scored the pen.
We won a penalty of our own shortly after the restart to dangle the possibility of a miraculous comeback in front of me but it wasn't ever on the cards. With the odds firmly stacked against us we crumpled and Barcelona's attack burst through us like a sledgehammer through damp cardboard. Suárez. Messi. Suárez.
It could easily have been double figures. What it means is that it's going to come down to the last game, Dynamo at home. Our previous win against them gives us the advantage on head-to-head, but our chances of keeping a clean sheet are virtually nil, so we're gonna try to win that game.
But before we get to that, there's more domestic football to take care of. The quarter finals of the EFL Cup send Middlesbrough our way in a tie against yet another Championship side. Honestly, after winning this competition last season, I wasn't planning on expending much energy on it, but if the fixture computer keeps chucking us games like this, I'm not going to turn it down. Valentin Stocker wobbles us with an opening goal inside thirty seconds, but young Marcus Edwards is the hero as he bags a tidy double to reverse the result in our favour. The kid looks very accomplished in possession.
While that was relatively straight forward, the same can not be said of our game against West Brom which descended into another unnecessarily entertaining affair. Chambers puts a couple on a plate first for Welbeck, then for Steve Cook, to put us two up. Rondón then grabs a goal himself from a corner and we respond through Adam Smith, whose clumsy run sees him bundle through three or four tackles and lets him pass the ball into Ravel for an easy finish. Rossiter and Morrison extend the lead with a couple of astute penalty area finishes, before Otávio steals past Stephens to snatch a late consolation. That 5-2 loss is the death knell for AVB who is given the axe immediately after the game.
A three goal margin is the difference in our vital Champions League decider against Dynamo Kyiv, too. Fortunately, it goes in our favour. In fact, it was more comfortable than anticipated; Sturridge's opener after seven minutes was a nice settler, Welbeck's close range finish from a corner gave us some breathing room, and a soft penalty converted by Nat Chalobah sealed the result and qualification.
That leaves the final standing of our group looking like so: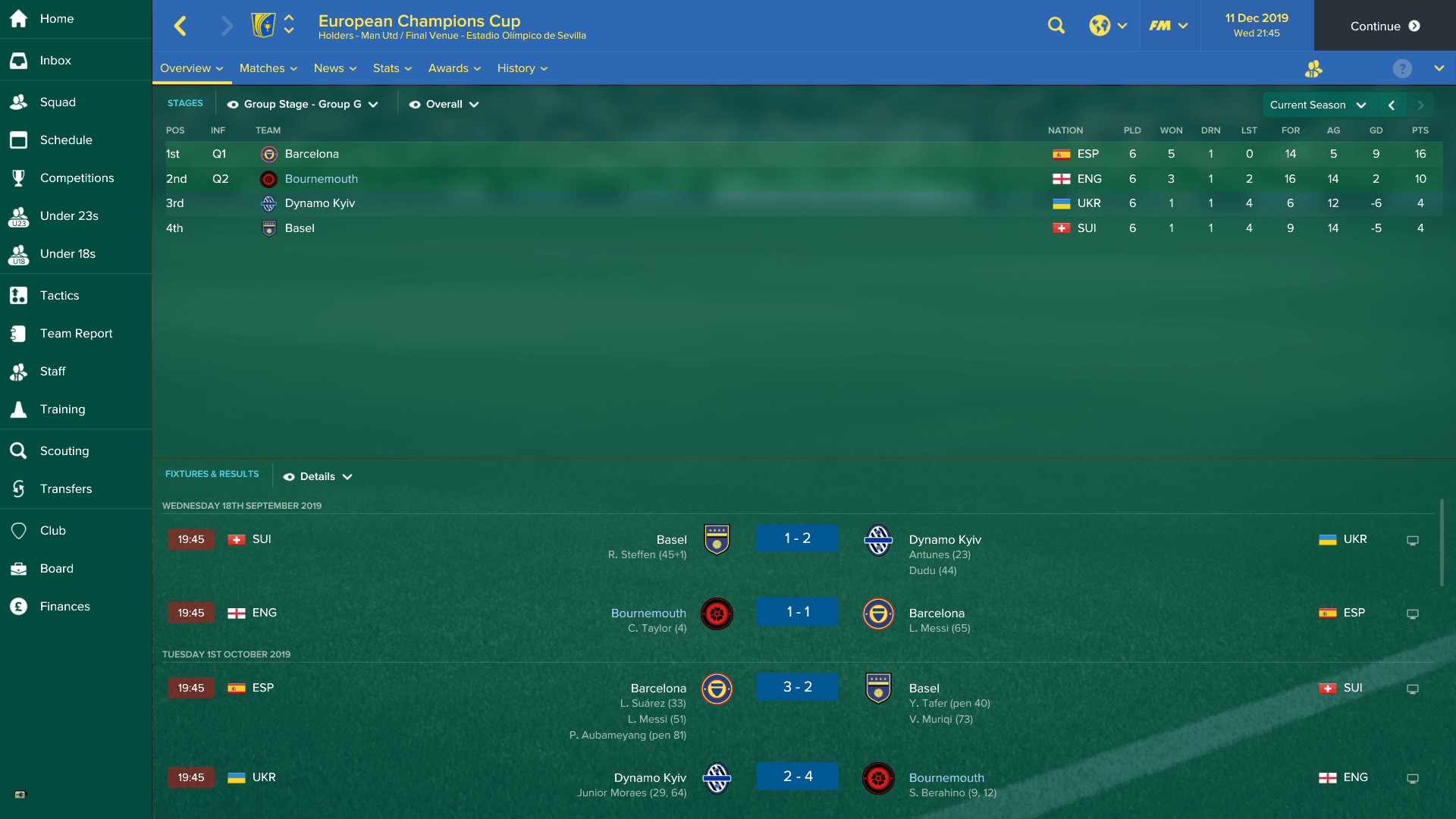 Which is honestly about what I was expecting – even if we hadn't slipped up against Basel, we'd have needed to win against Barça to top the group. Our reward for a second place finish? Real Madrid. Looks like our time mixing it with the elite might be a relatively brief one after all.
Adam Smith's horror challenge after five minutes against Brighton makes me fear that our superb efforts to avoid the post-Champions League hangover are about to come to an end. Remarkably, I was wrong and our brilliant record over Brighton continues – we've beaten them in every single encounter so far. They're no match for the combined forces of Saido and Callum Wilson, who score and assist each other. With a decent lead, I switch up to a gruesome 4-4-1 to clog out the game and it does the business, although Jordan Rossiter obviously didn't get the memo as he marauds forward to thump in a third from range. Sandro then takes it upon himself to imitate our diminutive Scouser, but that's the closest the Seagulls got to us, despite their numerical advantage.
Perhaps we used up all of our luck in that game, though. A pair of fixtures against relegation-threatened teams is our undoing and seriously undermines any title aspirations we may have this time round.
The game against Villa is a tale of two missed penalties. Rather than marking his man like a responsible, sensible defender, Lewis Cook decided to shove Jack Grealish to the floor from a corner. El Kaddouri stepped up and pummelled his pen right at Butland, who either read his run up perfectly, or otherwise couldn't be arsed to move. Then,we squander a golden opportunity to nick a win as Villa return the favour by giving us a penalty in injury time. Although Chalobah is the taker, the result is the same, with Gollini nudging his rather weak effort out of the danger zone.
Two points dropped is bad enough but we then contrive to lose comprehensively to the team anchored to the bottom of the table. A journey to Vicarage Road doesn't recall happy memories of our two season stint as tenants there, and maybe this is payback by Watford for that time we finished off the last of their milk and left the empty carton in the fridge.
At times this match felt like a personal affront to me: Success both scoring and being denied to me; Zé Gomes – the man who kept Afobe out of the Leicester team last season and prevented him triggering his add-ons – sticking one past a woeful Butland; Actual Child Rodrigo Conceição humiliating Charlie Taylor and making it 3-0.
It was a disgraceful performance and I dish out some fines to the worst offenders. We hold on to a point in a tepid 0-0 draw against City on Boxing Day to bring us up to the halfway stage, and it's difficult to feel as though these recent results aren't going to hinder our chances significantly.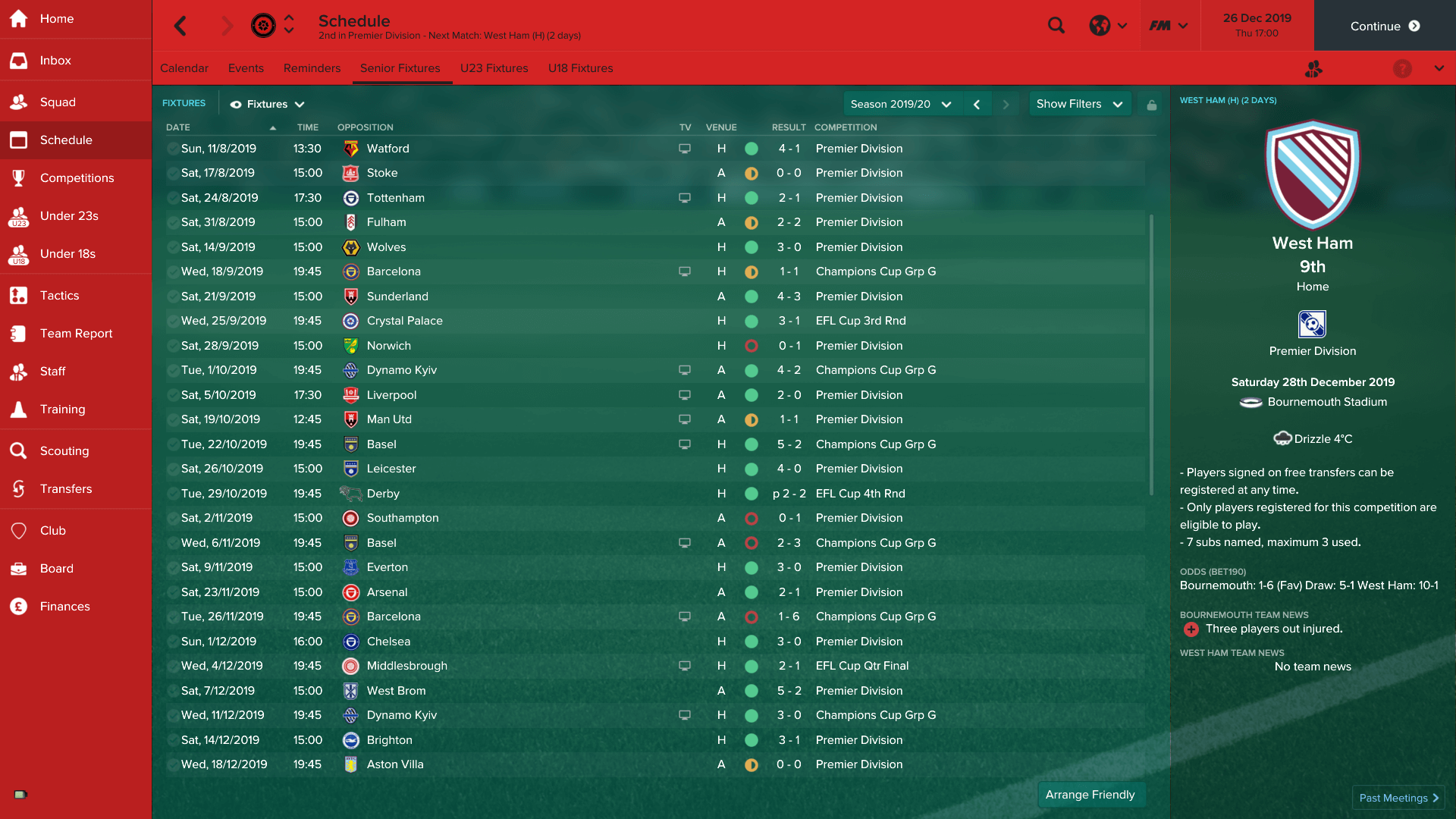 United have been off gallivanting at the Club World Cup so have three games in hand on us. Despite that, we're still only level on points with them. Chelsea, meanwhile,  have been relentless – we're the only team to have inflicted defeat on them so far. Still plenty left to play for, but United are going to prove extremely difficult to catch.
Our last game of 2019 comes just one day after the City game, so I hope you took it easy on the turkey lads. They show few signs of weariness though, as we put the game to bed in the first half. Chalobah's long range pings have morphed into more considered finishes this season and he places a left-footed effort into the bottom of the corner from just inside the box to make it 1-0. That lead triples thanks to a pair of back post headers by Steve Cook – now up to seven goals and a 7.57 rating for the season – and then Calleri robs us of a clean sheet by scoring from a corner himself.
Stoke are next and the game is decided two minutes from the beginning and two minutes from the end: Jack Stephens nodding in a near post corner and Marcus Edwards curling in a free kick to reclaim the lead after a Mattia Destro equaliser somewhere in the middle.
Despite our collective bedshitting, we somehow accrue all three positions on the Player of the Month award podium: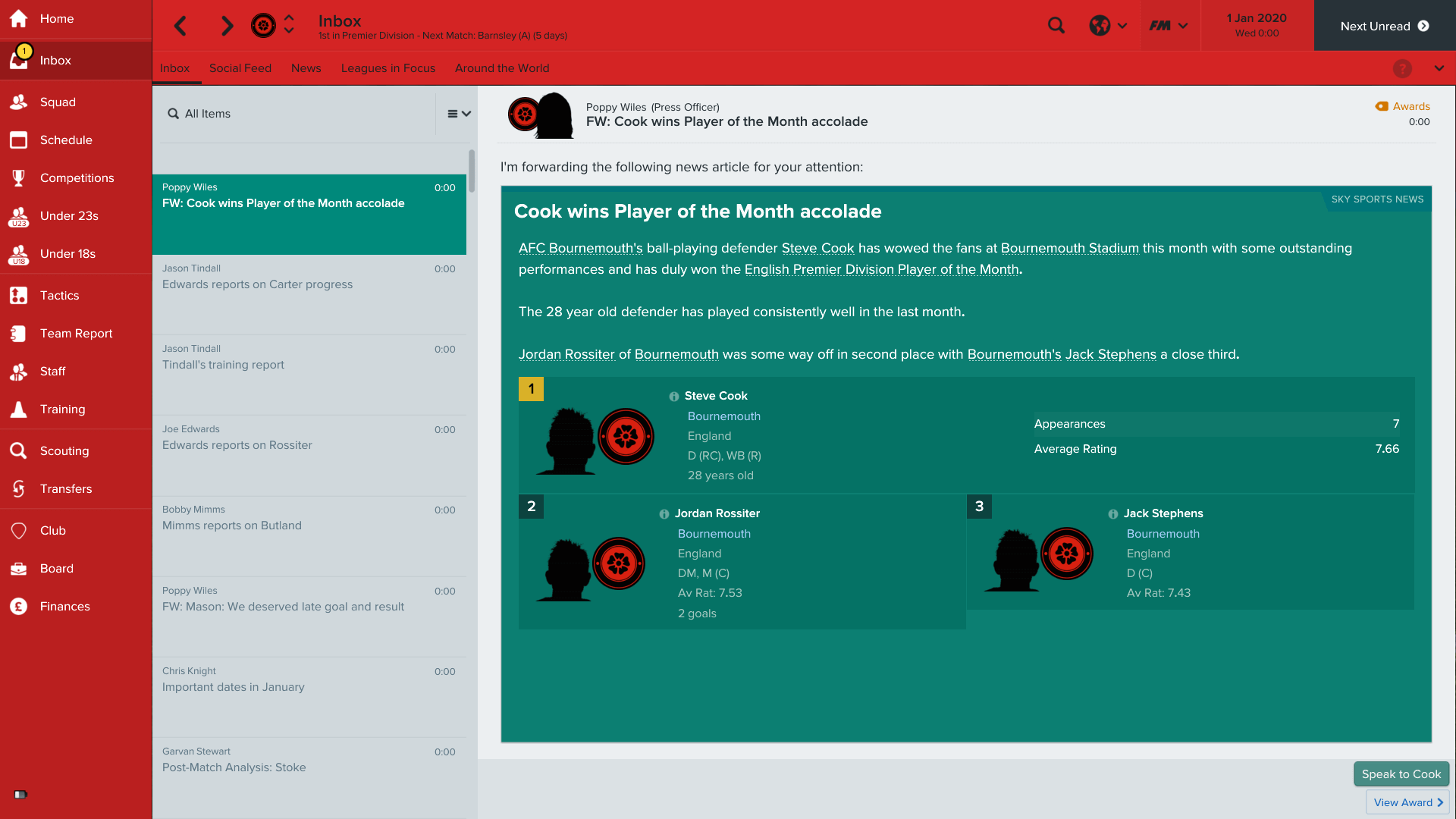 The second week of January rolls around and brings with it the FA Cup third round. We're treated with a game away at Barnsley and we make tough work of it.
On the plus side, Wilson bails us out with a hat-trick (including lovely looping backwards header from Hayden's long pump upfield) and Edwards scores a free kick in a 4-3 victory. On the negative, Jordan Pickford was abysmal and Wilshere pulls a hamstring yet again.
That means he misses out on his favourite away day – against Spurs at *New* White Hart Lane (good to know it's not just us adhering to uninspired naming conventions) – but we manage just fine without him. Lewis Cook takes over his role as architect-in-chief and sends a ball soaring over Jan Vertonghen for Ravel to race onto and confidently send the ball past Lloris.
In the build up to the transfer window reopening, the board announced that they'd be making extra transfer funds available due to an improvement in the club's financial position: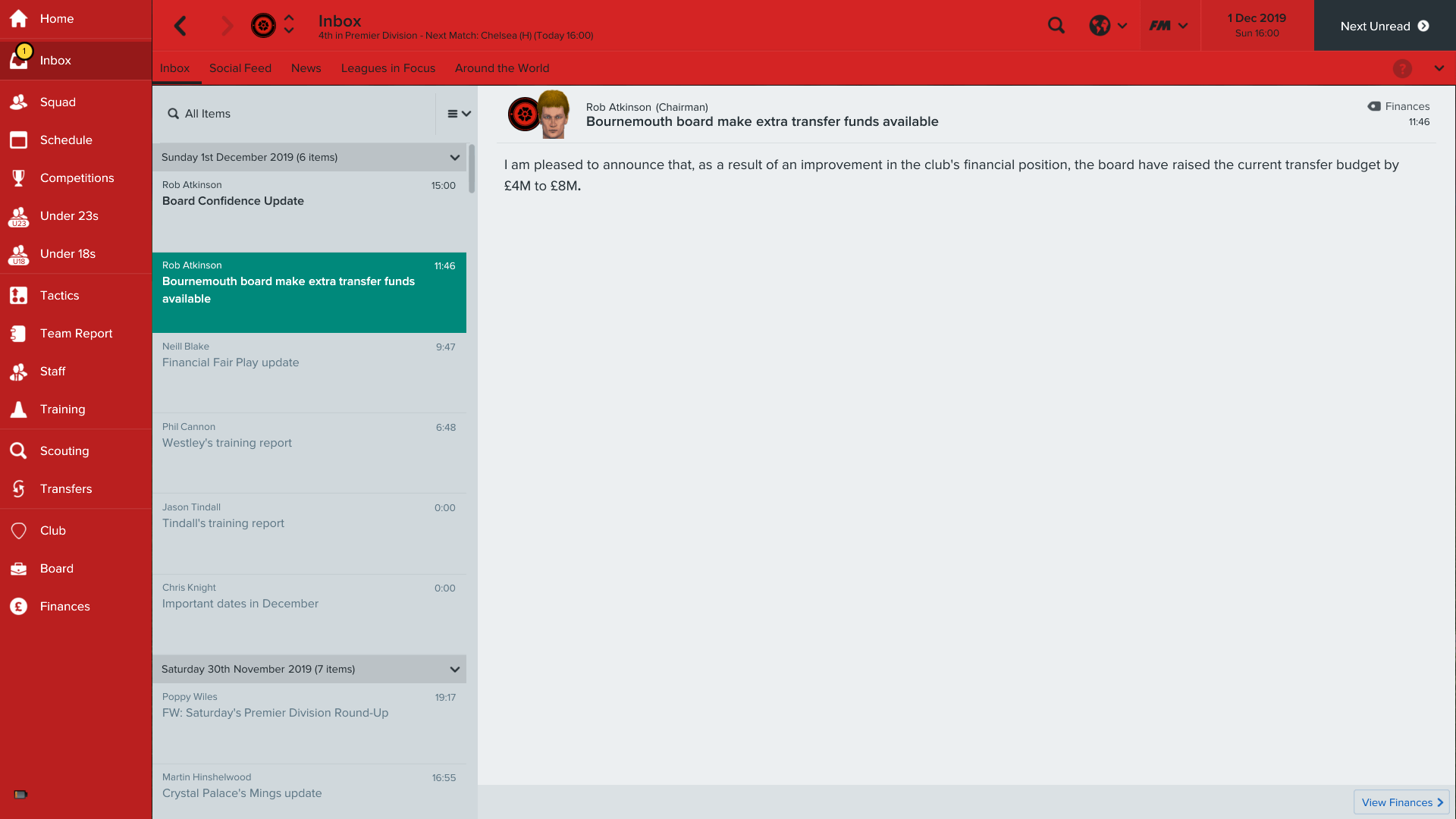 Wow, so generous of you. I didn't realise your pockets were quite that deep.
There are a few outgoings that help to boost that sum a little bit. Charlie Daniels came to me and told me he wanted to leave for a new challenge and, with six months left on his contract, I was happy to oblige, eventually selling him for £190k to QPR (of which £47k went to Leyton Orient due to a sell-on). Meanwhile Callum Wilson said he was unhappy with his playing time so I agreed to send him out loan to keep him sweet. He moves across the Channel to Lorient for 100% of  his wages and a fee of £220k per month – the equivalent of £1.5 million overall.
That opened up a space for me to finally clinch one of my long term targets: Danny Ings. I'd actually agreed a much cheaper fee for him over the summer, but the tightening of the pursestrings hobbled that deal. As such, I had to pay slightly over the odds for him now, but he's a good option to have as he offers something a little different: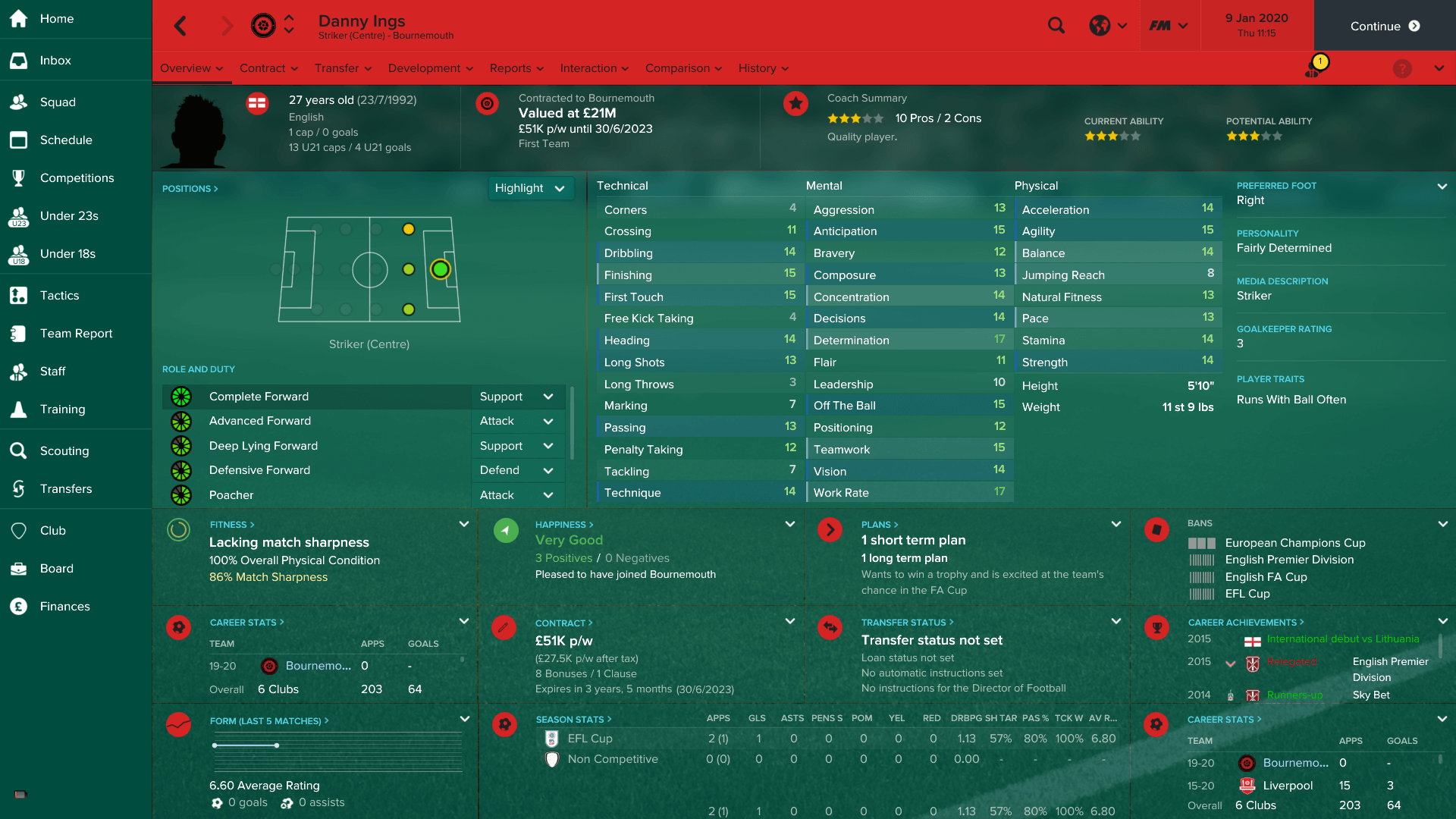 We pluck him from Anfield for £4.5mil upfront, with that figure rising to about £7million after a substantial number of goals and appearances.
I also pick up Juan Cazares (on a free and for £10k p/w) as I continue to dabble in my money making scheme: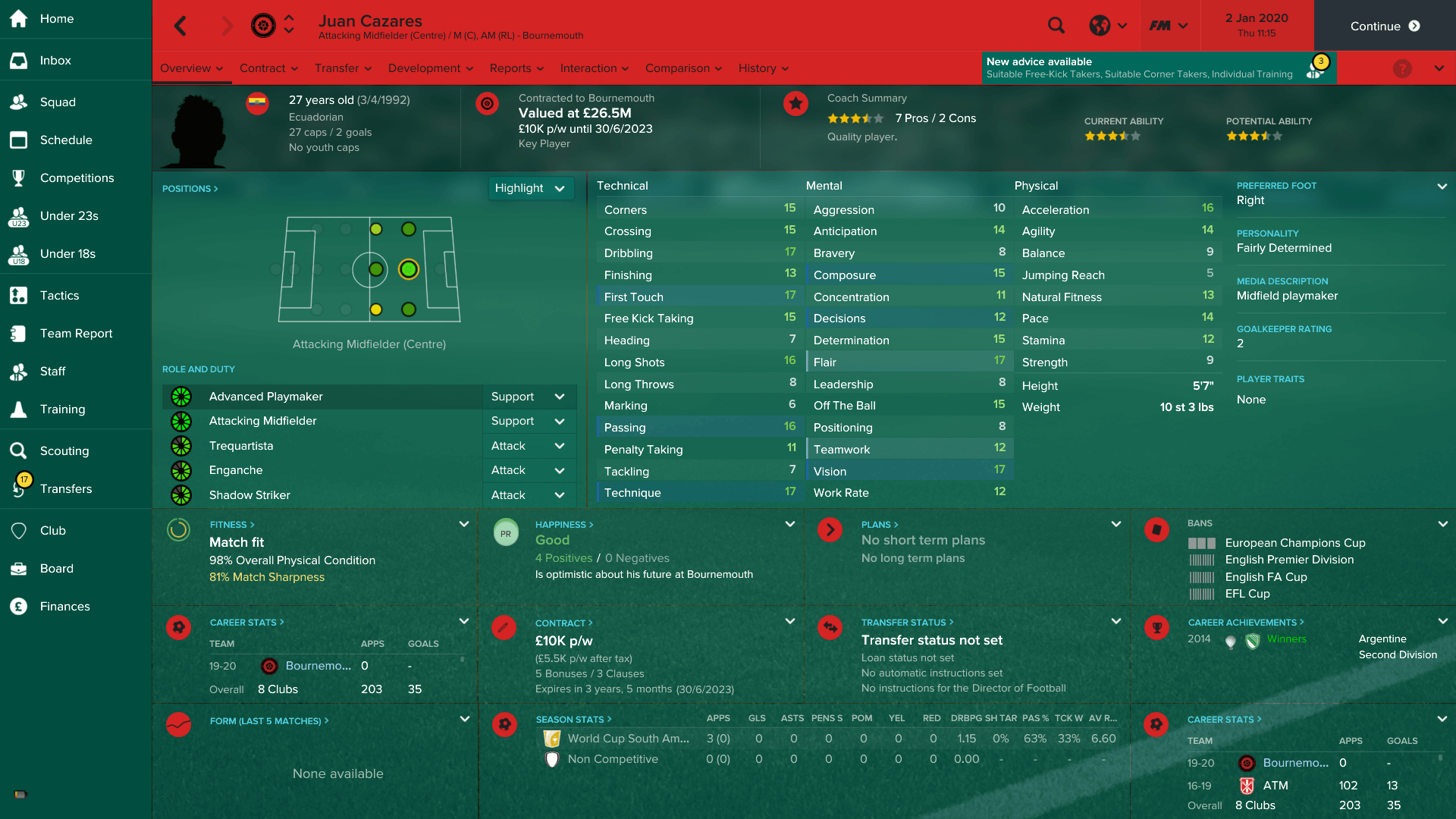 There is one slight hitch, however: I've found it virtually impossible to sell Depay or Coulibaly so far. Their complete lack of playing time has seen their value plummet/ regress back to what they're actually worth. Seeing as I can't move them on permanently, I decide to send them out on loan rather than letting them stagnate further: Depay to Lazio for £190k p/m + 100% of wages (£2mil total) and Coulibaly to Sassuolo for £175k p/m + 100% of his wages (£1.5mil total). Hopefully they can play well and increase their value in this short stint away.
The Ings move doesn't quite go through in time for him to be registered for the EFL Cup semi against West Ham, so we start with a Berahino/Welbeck combo at the sharp end of our attack. It pays off nicely as both score in a 2-1 win, even if Saido's was miles offside and definitely shouldn't have stood. Calleri scored another goal from a set piece against us to keep the second leg interesting, but we've got one foot in the final based on that performance.
The other foot appears to be in the grave. Or, at least, it feels like it after our next game against Wolves. In the build up to the match, Daniel Sturridge attains a sports hernia which rules him out for over a month and leaves us a bit thin up front. That wasn't my biggest concern however, as we managed to once again lose from a winning position.
Although this time we conceded six times against 14th in the league. Berahino sent us racing into a 2-0 with a double (both assisted by Chambers) in the first quarter of an hour. Then we have a ten minute spell where things completely implode: Bojan scores a hat-trick and Wolves score each of their first four shots on goal: a spectacular curling shot; a penalty straight down the middle after a stupid Rossiter tackle; a tap in after Berghuis murders Taylor for pace and a Florin Andone overhead kick.
Astonishingly it's five before half time and, yep, they've scored all five shots they've taken. Utterly exasperated, I just send our lot back out for the second half knowing this game is gone. We make a bit of a fist of attacking but I know deep down it's all futile. Then Vincent Janssen capitalises on tired legs and minds and scores Wolves' sixth. From their sixth shot on goal. They ruin their 100% record when Bishop's free kick hits the post, to their eternal shame.
Embarrassing. Appalling. Irredeemable. I actually save the game, quit and refuse to play it for two weeks after this.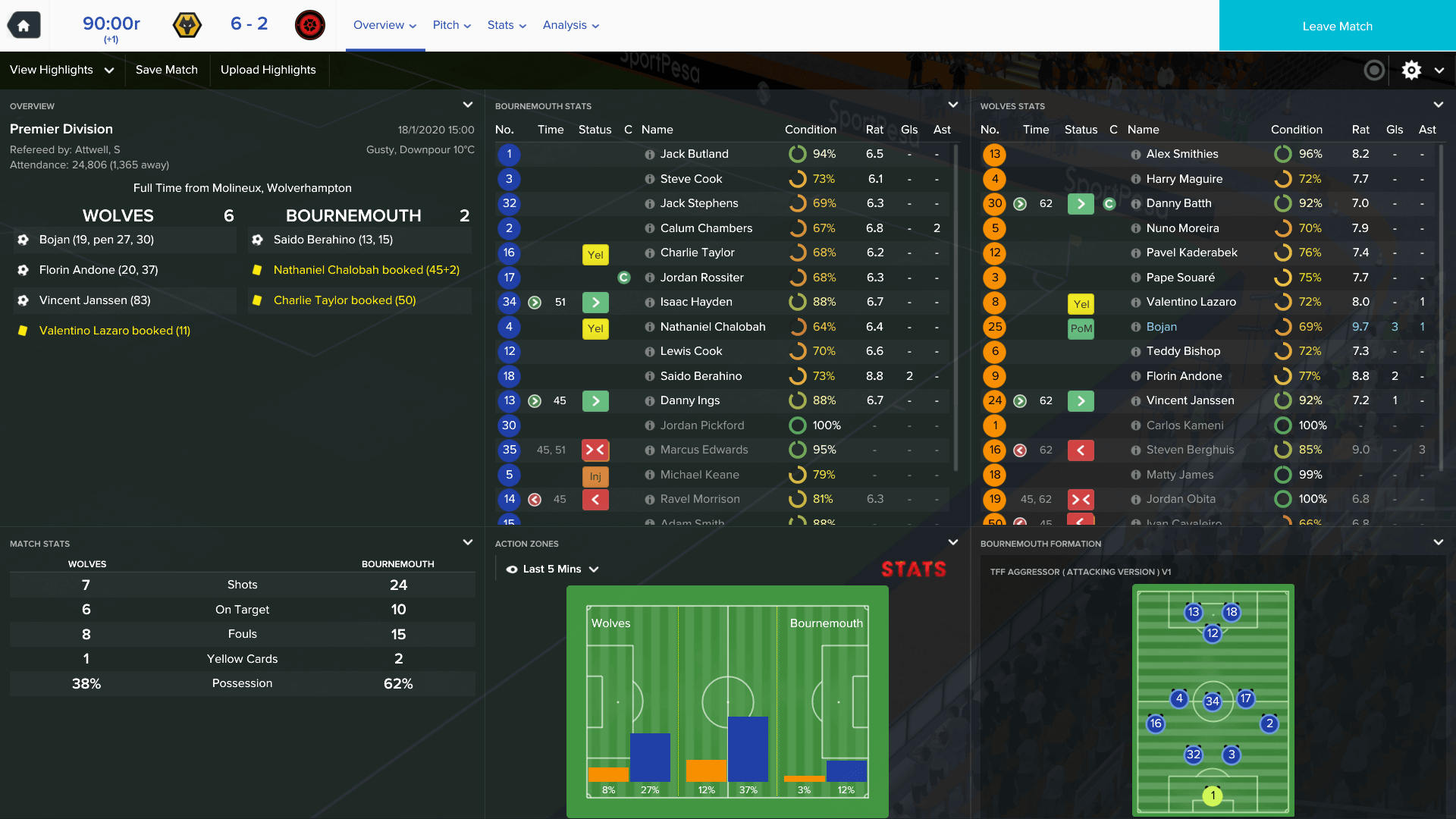 All I can think is: if we're being ruthlessly carved apart by mediocre sides like Wolves, what are Real Madrid going to do to us?!