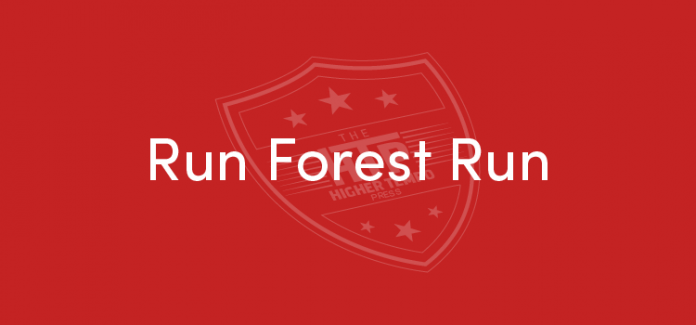 The first day of October also brings us the first match of October. We visit plucky little Bristol City, who are bottom of the table with only 4 points out of 10 matches. They are yet to win a game this season. For a side overperforming at 2nd place, The Robins should not be a problem. Meanwhile, I finish second in the Championship Manager of the Month Award and Britt Assombalonga sees his fine form rewarded by becoming Championship Player of the Month, with Danny Fox a close second.
Eric 'Mr. Dependable' Lichaj is suspended for collecting five red cards, so young Finnish international Thomas Lam is given a chance to prove himself. Because of his goal against Fulham, Lansbury returns to the side. This means Williams will return to the bench. With the worst of the injury crisis seemingly over, it's a nice feeling to have some choice in who to field. Because I suspect Bristol City might be playing quite defensively, I employ the direct tactic.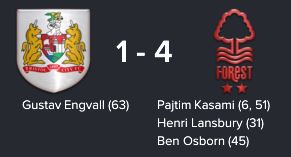 Within six minutes, I'm proven right. A Bristol City counterattack is stopped and immediately followed by one of our own. Lansbury sprints down the right, crosses for Kasami and the Swiss lad puts it past Bristol 'keeper O'Donnell. It's Lansbury himself who ensures we look quite comfortable with 30 mins played. He heads in a Cohen free kick to make it 0-2. Mere seconds before half time Osborn volleys in a third after a Cohen corner. This is turning into a very fun afternoon. Our set pieces are very lethal today, because a second corner by Cohen is converted by Kasami to make it 0-4 after 51 minutes of play. Out of nothing, Bristol City pulls one back. A beautiful volley by Engvall makes it 1-4. Surely, too little too late? I'm not entirely confident and switch to defensive. With The Robins pressing for an unlikely comeback, we get the room to counterattack, but Vellios (on for Assombalonga) wastes two fine chances. And so it remains 1-4. An easy victory. I love it.
I especially loved the perfomance by Lansbury. After an indifferent start to the season (a 6.78 average rating after 8 games), he has finally hit his stride with 2 goals and 1 assist in 2 games. The Bristol City game is followed by an international break, which is very unwelcome considering the recent run of form. After 18 minutes in our beautiful red kit, Lord Bendtner is leaving us. He will be joining Bologna come January 3rd. It's a weight of my shoulders to get him and his £20,000 a week salary of my back in exchange for a cool £ 2,000,000. Meanwhile, The League Paper reports that the takeover talks between Fawaz Al-Hasawi and Roman Romanov are going well. I really don't know how I feel about this. Something about preferring the evil you know…
After a relatively uneventful fortnight, we resume the season against fifth placed Birmingham City. They have only lost two times this season and look very capable under the management of none other than Ryan Giggs. Especially right winger Che Adams is in lethal form with 7 goals in 14 appearances.
The three points at the City Ground will have to be earned without Jack Hobbs, who is suffering from a twisted ankle. I trust Matt Mills to be a decent replacement. Lichaj is back from his suspension and will take up his regular place at right back. In other news, Spanish left back Dani Pinillos has returned to match fitness after his long injury. But with Fox having an average rating of 7.23, the Spaniard will have to be patient for his chance. Considering the result against Bristol City, I decide to retain the direct tactic for now and use it to hopefully gain a fourth win in a row.
The first half passes by relatively uneventful, with only a few half chances between the sides. I tell the lads to do it for the fans and send them back on the pitch. We remain harmless, however, and I decide to switch things around by bringing on Dumitru for Osborn and making him play as an inside forward. With ten minutes to go, we refuse to create any chances. And with Birmingham City agreeing with this state of play, it is becoming a very dour affair. This looks like changing in the 88th minute, but Birmingham 'keeper Kuszczak parries both close range efforts by Dumitru. And so it remains 0-0. I don't think we entertained a lot of people today.
The next match is in three days' time against Blackburn Rovers in Ewood Park. The Riversiders have lost their most recent match against Ipswich Town and find themselves in 11th place, which is, considering their ownership, a good performance by manager Owen Coyle. We travel to Lancashire without Mustapha Carayol (strained knee ligaments) and Pajtim Kasami (suspended). They are replaced by Licá and Jordan Williams. Hobbs returns to the side and takes his regular place in the centre of defence.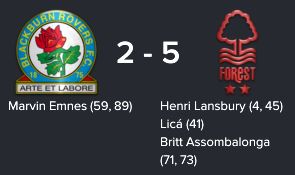 We are less than four minutes underway when Lansbury continues his good form and scores the opener after a Fox cross, a Hobbs flick on and an Osborn pass. It's his 3rd goal in the last 4 matches. Lansbury is on fire once again and five minutes before half time he gives a defence splitting pass to Licá and the Portuguese winger scores his first goal for the club. Another beautiful move puts the third goal behind Blackburn 'keeper Steele. Licá advances down the right, puts a low cross in for Williams, who plays a one touch pass to Assombalonga, who puts it wide with his first touch for Lansbury to tap it in. Tiki-taka in the Championship; it doesn't get any better than this. With a litte more than 30 mins to go, Marvin Emnes pulls one back for Blackburn. So I decide to go on the defensive. But that memo never arrives at Assombalonga, who converts a fast counter attack and makes it 1-4 with his 8th goal of the season. Only a few minutes later he adds a 9th with a low shot to the keeper's right. To their credit, Blackburn Rovers don't give up. It's Emnes who scores his second of the game in the 89th minute. And that's it. 2-5 is a fantastic result. Where are really going places. I like this.
After the game, Football365.com reports that the takeover attempt by Romanov is close to falling apart. Apparenlty, Al-Hawaz wants more money than the Lithuanian is willing to pay. I'm sure the fans of Heart of Midlothian are happy that they won't have to welcome Romanov back on UK soil just yet. MailOnline disagrees just days later. They report a breakthrough and are confident there will be an announcement in the next few days. These journalists should really get their act together.
We return to the City Ground for the match against Cardiff City. The Welshmen aren't having the best of times and languish at the bottom end of the table. Neil Warnock's side are two points above the relegation zone and have only won two times in 13 matches. Kasami is back from suspension and replaces Williams in the starting lineup.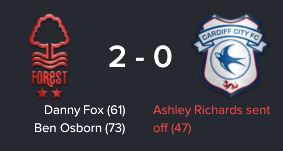 The first half sees a few chances. Hobbs hits the bar after a Cohen corner and Rickie Lambert misses the target after a dangerous counterattack. Lansbury is taken out of the game because of the two defensive midfielders The Bluebirds employ. I react by pulling Lansbury back to the MC strata en giving Kasami a box to box midfielder role. I hope to disorganise the double DM protection by introducing more runners from deep. We are aided by Ashley Richards receiving his second yellow card in the 47th min. It is Fox who breaks the deadlock with a wonderfully taken free kick in the 61st min. The lead is doubled when Osborn heads in a Cohen cross in the 73rd min. We end the game 2-0 up. A decent victory. That means it's 9 matches in a row without losing. I'm very pleased.
The takeover saga is beginning to look like a yo-yo. It goes up and down and after about 10 mins you get bored of it. I barely even notice the new report by BBC Radio Nottingham about the imminent collapse of the takeover talks between Fawaz and Romanov, which is of course followed by a report from Sky Sports News that the takeover is about to be completed. Sure. Wake me up when something happens.
Boistered by the recent run of great results, we travel to The Madejski Stadium for our final game of the month. Jaap Stam is doing so-so with his outit and just ended a 7 match run without a win by beating Rotherham 1-0. But that doesn't count. My dad, the village idiot (I'm looking at you, Jamie O'Hara!) and a stick can beat Rotherham. The Dutch readers will be astounded by the fact none other than Roy Beerens is the club topscorer with 4 goals. Quite an achievement by the sympathetic winger. I think for the first time this season I don't have to change anything about my lineup. We stick with the same eleven names who beat Cardiff City last week.
Reading look like the side most likely to make things happen and in the 30th minute they do. We fail to clear a Reading attack very effectively and the ball rolls in front of Garath McCleary, who puts it past Stojkovic. I aggressively tell the lads to show me something else in the second half, but nothing really happens. So I decide to change things around. Dumitru comes on for Osborn and will play as an inside forward, and Mills comes on for the failing Mancienne. This is a golden change as Dumitru hits the ball in the back of the net with his first contact: 1-1. And just five minutes later, we score again. It's Fox who tumps the ball behind Al-Habsi with a devastating free kick to make it 1-2. But we're not allowed to enjoy our lead, because about two minutes later it's Joey van den Berg who equalises the score. It was a thrilling match, but we lost 2 points and lose our 2nd place to Norwich City.
But, all in all October has been a very good month. We won three, drew two and scored 13 times! That last draw to Reading, however, has seen The Canaries overtake us. It's a tight affair at the top with only 6 points separating positions 1 and 6. I never expected us to be in this position and I'm delighted with the way we are playing. I don't expect automatic promotion, but a place in the playoffs would be a great result for my first season in charge.

Even though we performed great this month, the Football League doesn't mention us in any of the Monthly Awards. Bastards. And so we say goodbye to October 2016. We'll never return to it. Which is sad, but also the nature of our calendar and the laws that govern the space-time continuum.