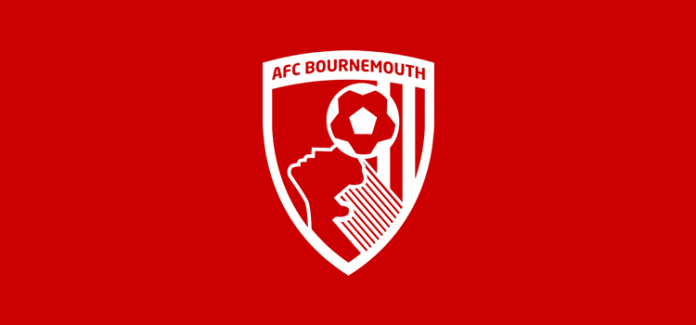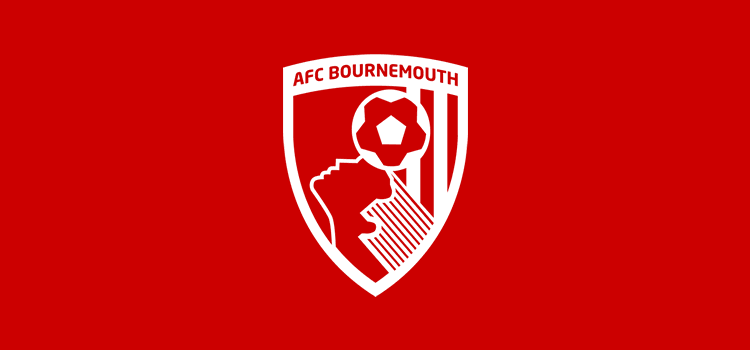 We pick up with just nine league games left and an FA Cup semi-final against Palace in the pipeline. Our league season is comatose and the prospect of a trophy is the only thing keeping the fans onside in what was been another largely disappointing campaign.
After the pure, unadulterated, ecstatic bliss of that 5-1 blitzing of Arsenal in the quarter-final, we come thudding back down to earth with a 0-0 draw at West Ham. It's a game that was thoroughly unremarkable aside from an injury to Charlie Daniels that'll keep him out for 3 weeks or so.
Never mind though, as the boys are still riding the crest of wave and we're going to try to make the most of it before it inevitably crashes against the shore. Going to Anfield isn't exactly an ideal place to try to maintain a good run of form, but we'll have a stab at it.
We would have gotten away with it too, if it wasn't for that meddling Edinson Cavani.
We started brightly against Liverpool before the game settled into a bit of an attritional midfield battle. As half-time approached there was plenty to be pleased about, but at about the 40 minute mark Lallana knocked the ball into Cavani's feet on the edge of the box. The Uruguayan had dropped into the pocket, swiftly turned Michael Keane to face goal and then proceeded to get out his protractor and measure one right into the top corner, his shot kissing the inside of the post before rippling the net. It was, much to my chagrin, a thing of beauty.
A bit of gentle encouragement in the changing room at the break saw us come out all guns blazing and, 15 minutes into the 2nd half, Keane prodded home a near post corner. Suddenly we had something to hold onto. I desperately tried to shut things down, building walls, throwing up barricades, parking buses wherever I could. It so nearly worked, but our resistance was punctured at the death by a near post header from Cavani, the square-jawed handsome bastard.
Our inability to shut games down is slowly driving me mad; we've thrown an unbelievable number of points away from winning positions and it's one of the major factors holding us back from becoming a real Premier League force.
The Liverpool game was annoying but parts of the performance were admirable so I'm not too harsh on the gents. Besides, our next game is Stoke, who're skirting the relegation zone, which gives us an opportunity to get things back on track.
An opportunity we don't take. Twenty minutes in and Mame Biram Diouf decides that he's Diego Maradona, collecting the ball 30-yards out, leaving Jordan Rossiter for dead, nutmegging Simon Francis on the edge of the box, dribbling towards goal and then squaring it for a Ramadan Sobhi tap in at the last second. Utterly, woefully dire stuff from our defence.
Stoke do a good job of disrupting our rhythm, chopping us down at every opportunity and picking up 5 first half bookings in the process. I tinker and tweak but I know this is just going to be one of those games where we're not going to get the rub of the green. We're handed a lifeline when Gianelli Imbula picks up a second yellow after an hour. Feeling as if my efforts are going to be futile either way, I immediately crank us up to Overload to try and overpower them. To no avail though, sadly, and we've just lost to a side in the bottom 3.
Just the sort of result we need going into the semi-final dress rehearsal against Palace. We travel to Selhurst Park and I decide to lay a trap. I've decided to play my 3-5-2 variant against them in the cup, so in this game, we go with a 4-5-1 to try to mislead them.
The subterfage blows up in my face as we get battered. After 5 minutes, Andros Townsend does what Andros Townsend always does, cutting in from the right wing and shooting with his left foot – like the bargain bin version of Arjen Robben that he is – except this time, he fizzes one in past Jack Butland.
It was all downhill from there, to be honest. Christian Benteke bullied us, adding a goal and an assist. The last goal in particular was a farce; Townsend picked the ball up on right wing, dips inside and then does a great big looping u-turn, running inside to out until he's level with the six-yard line where he picked out Eric-Maxim Choupo-Moting, the double double-barrelled prick, at the back post. We were limp going forward and flimsy at the back. Despite having 58% of possession, we muster just 6 shots and only 1 on target. Palace don't do much better but manage to score from 4 of their 5 shots on target. Ruthless.
I'm simultaneously furious and panic-stricken. If we play like that in the cup game, that thin sliver of hope for a trophy is going to be extinguished and I'm going to get the boot. That's not to mention the fact that we've now lost three in a row and dropped down to 17th. What was I saying about us being safe from relegation? I can feel my collar tightening and the steely glare of Jeff Mostyn bearing down on me from the stands as I squirm on the touchline.
Fortunately, I have the chance to take out my frustrations against my old nemesis, Pep, in our next game. The Etihad has been a happy hunting ground for us and it proved to be so once again as we take home a solid point.
Ravel clearly has a bit of a taste for the big occasion, as he once again lays on a goal for Benik Afobe with an incisive pass that leaves the striker to do the business one-on-one. We hold out well against City until Sergio Agüero takes it upon himself to spank a 25-yarder into the back of the net. I've had just about enough of these South American superstar strikers scoring wondergoals against us.
It's a nerve-settling point, which is helpful because mine are in tatters ahead of the big day against Palace against Wembley. I stick with my trusty 3-5-2 shape and hope that my deception in the league game has pulled the wool over Pardew's smug, beady little eyes.
Sometimes this game is a perfect simulacra of real life football, perfectly imitating the real deal's ebbs and flows and shapes to the point where you become so enraptured that you momentarily forget that you're watching a set of pixels because it feels so much like watching an actual match.
At other points, FM veers so wildly into the realm of fantasy, deviating so far from reality, that you can't help but laugh, to revel in the absurdity of what you're seeing and feeling, admiring the surreality of it all.
Then there are those times when the game does something so broken, so unreflective of the real world that it makes you want to scream and rage and never play it again. The opening five minutes of the semi-final was one of those occasions.
Andros Townsend dribbles the ball into the box, somehow wriggles past 3 defenders clamping down on him and bludgeons a left-footed strike off the base of the post to put his team 1-0. Andros. Townsend. Bane of my life. How is this possible?!
We're firmly second best through the rest of the first half and I feel the match slipping away from me as Clatts blows for half-time. I march my squad down the tunnel, into the Wembley dressing room and I bolt the door shut. I'm usually quite a placid soul (honestly) but this is neither the time nor the place for a considered approach. I read them the riot act, steam billowing out of my nostrils like a violently boiling kettle, my voice growing hoarse as I tell them what I expect. (Passionate: Go out there and get revenge! in FM parlance).
It works. Oh boy, how it works. We're unrecognisable from the turgid side that showed up in the first half. Immediately everything is sharper: tackling, passing, marking all improves drastically and we get our reward with a Saido Berahino equaliser within ten minutes of a restart.
As the game started winding down, I withheld my substitutions with extra time in mind, but it proved to be unnecessary as a wonderfully slick set of passes between Chalobah and Morrison engineered a one-on-one chance for Saido and he barely hesitated as he strode onto the pass and steered it into the bottom corner. Rather than try to defend our way into the final, I decided to hold my nerve and continue to try to play. It paid dividends as, after our corner was initially cleared back to the taker, James Tomkins was so far behind the rest of his backline that he was virtually in a different time zone, granting Berahino the freedom of the Palace penalty area to complete his hat-trick. Incredibly, that's a hat-trick in both the semis and the quarters for dear Saido. Sensational stuff on the biggest of stages.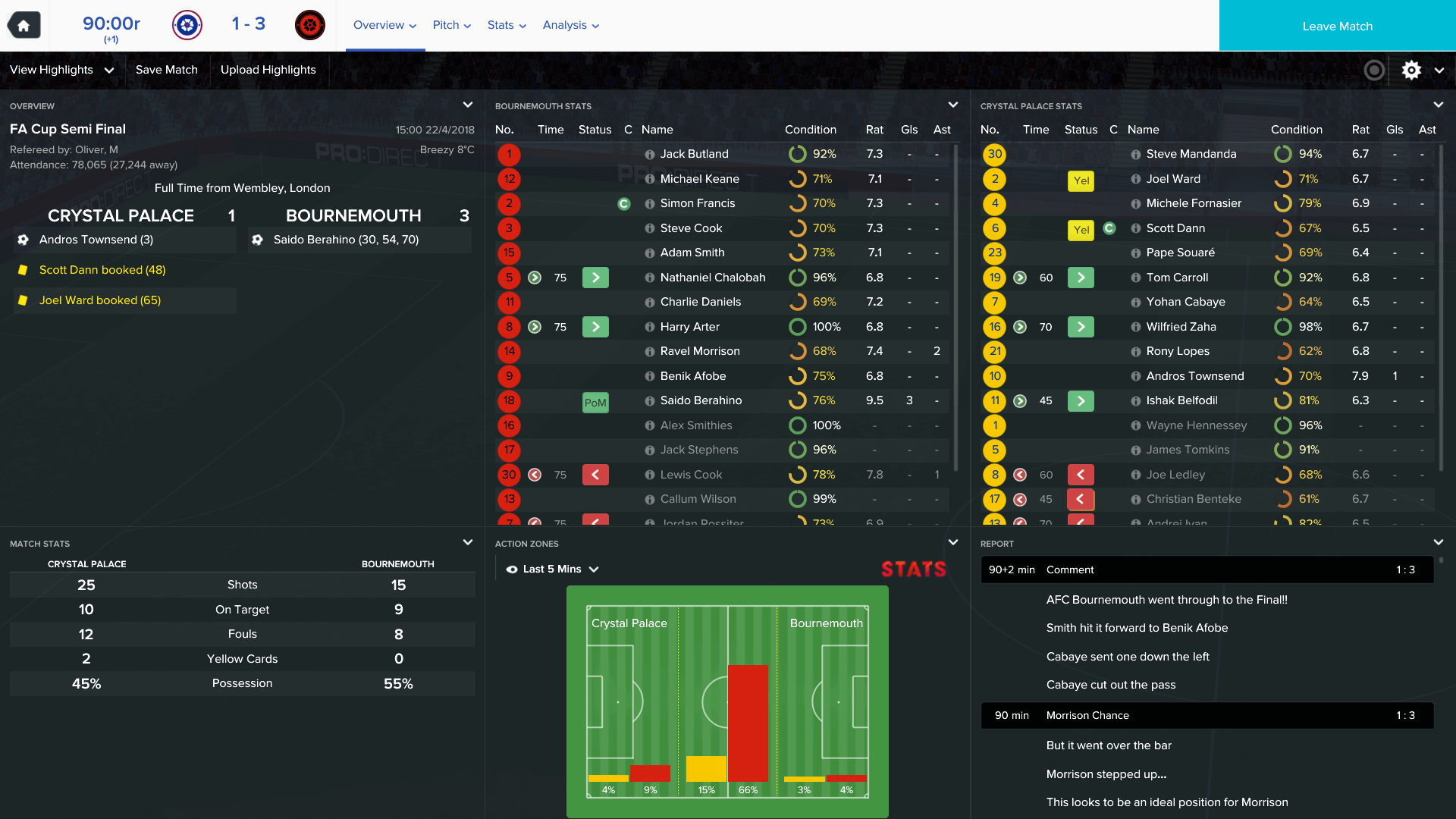 Pardew's deflated, we're elated and the game ends. We're in the final! (Which is great) Against Liverpool! (Which is bad) But they're in the top 6 so we're guaranteed a spot in Europe! (Which is great). Regardless of what happens on the big occasion, we've done exceptionally well to get this far.
Morale is absolutely through the roof after that and my jubilant Cheeries outfit steamroller Norwich in the next game.
I largely kept the same side who did so well against Palace in an attempt to keep things ticking over and I'm well rewarded. Adam Smith rampages down the right and slides one across the face of goal for Afobe to smash into the back of the net with a ferocity that almost rips the goal frame out of the ground. He doubles our lead with a towering header and then, bizarrely, we nick a third before half time. A corner is headed out to Berahino, who is lingering on the edge of the box. He then dinks an odd, floaty, spiralling ball up to Steve Cook, who peeled away from his marker and volleyed home first time from a difficult angle. A consolation goal in the 2nd 45 for Norwich spoils our clean sheet but doesn't spoil our mood. Thankfully, this victory dispels any lingering concerns over relegation as it creates a solid enough gap between us and the danger zone.
Confidence is now oozing out of our every orifice and we put in a stellar performance against Newcastle in the penultimate league game of the season. Saido in particular seems to have found his groove and apparently he's also a set piece specialist now (who knew??). He scorches a freekick past Karl Darlow's unforgivably awful barnet.
Sadly our inability to see a game out strikes once again. As soon as Ryan Fraser was subbed on I did wonder if he'd come back to haunt us and obviously he did, taking just 5 minutes to wrangle his way through Jack Stephens and then firing his shot off the shins of Butland and in. 1-1 is a good result against a side surprisingly contending for a Champions League place, but it's still more dropped points.
The league season ends on a frustratingly damp note against West Brom and Pulis gets the better of me yet again. Michael Keane has been MOTM 5 times this season and I receive a message saying that one more will put him in the Bournemouth record books for most received in a single campaign.
It was hardly surprised then when he fouled Matt Phillips inside 3 minutes. Nacer Chadli took care of things from 12 yards and I just knew we were already in deep trouble. We do well to wrestle our way level, Afobe tucking home from a Daniels cut back, but WBA score a mirror image of that goal within twenty minutes and they hold out for a 2-1 win.
It means we finished 16th, which represents a slightly regression from last year. We dropped the ball a bit as we progressed quite far in both domestic cup competitions but that's no excuse. Next season must see a drastic improvement.
And that just leaves the FA Cup final to play. Our form has been up and down all season so I really have no idea which version of my team is going to show up on the big day. I have a terrible record against Jürgen Klopp, as the journos are only too happy to remind me in the pre-match interviews. Rather than try to be cautious and attempt to stifle them, I decide to be positive and to try to play our own game. It's potentially a foolish decision but one that I feel comfortable making. If we lose, I want to go down swinging.
Here. We. Go.
The game is settled in a whirlwind 5 minute spell early on. A cagey start, with both teams prodding each other gently, began to turn in our favour when we got a corner after 8 mins. An inswinger from Cook tempted Mignolet to come out, and the Belgian keeper tried to punch it clear with one of his polystyrene wrists. The ball dropped to Afobe, who instantly looped a header back towards goal to pick out Simon Francis, who had ghosted away from Lucas Leiva to pummel the ball home from all of 2 yards.
The skipper was over enjoyed, galloping his way over to the corner flag to celebrate his first goal of the season. What a time to get it.
Bafflingly, things got even better almost immediately. Nathaniel Chalobah rushed forward to close down Jordan Henderson and crunched into him, leaving their captain in a crumpled heap, and he looks up, spots the run of Berahino, and dinks a chipped ball through for the striker. Saido doesn't even blink. This is the FA Cup. This is his competition. Touch and bang. 2-0 up. 12 minutes on the clock.
But I'm in a pickle. What do I? Do I leave things as they are and hope that our dominance continues? Do I try and shift men behind the ball and squeeze the life out of the match?
I pause the game and take a breather, have a quick wander around the house, and decide what to do. I leave things as they are and hope for the best.
From the kick off, Liverpool work the ball out to Mané. He and Clyne pinball passes between themselves, barrelling down their right wing, past Daniels, past Cook and then, Mané slots an exceptionally tidy finish past Butland. That's 2-1 Bournemouth with 12 minutes played.
I'm drowning in sweat now. I switch player roles to defensive mentality, switch team mentality to Counter and slow the tempo right the way down as I desperately hope to ruin the final as a spectacle.
We scrape through to half time with relative ease. They're dominating territory but not manufacturing anything too worrying. I tell the lads to not get complacent and send them back out. I hope that they don't notice the nerves in my voice or my trembling hands.
Every time Edinson Cavani gets the ball I wince. I remember what he did to us at Anfield. I know he scored 30 league goals this season. I know.
My fingernails are long gone and my hands are now bloody stumps. I ring the changes, doing my best to prevent Liverpool from working themselves into a rhythm. There are mercifully few highlights in the second half and then… the whistle. We've done it. Somehow we've bloody done it.
Look at the confetti. Look at the despondency of the Liverpool players. Look at Saido's joy. Delicious.
What a phenomenal achievement. We've won the FA Cup. I sort of have to write those words down to actually believe them. We've won our first major trophy – a grand English institution won by an Englishman who fielded a team of Englishmen in the final. If this isn't properly Brexit, then I don't know what is.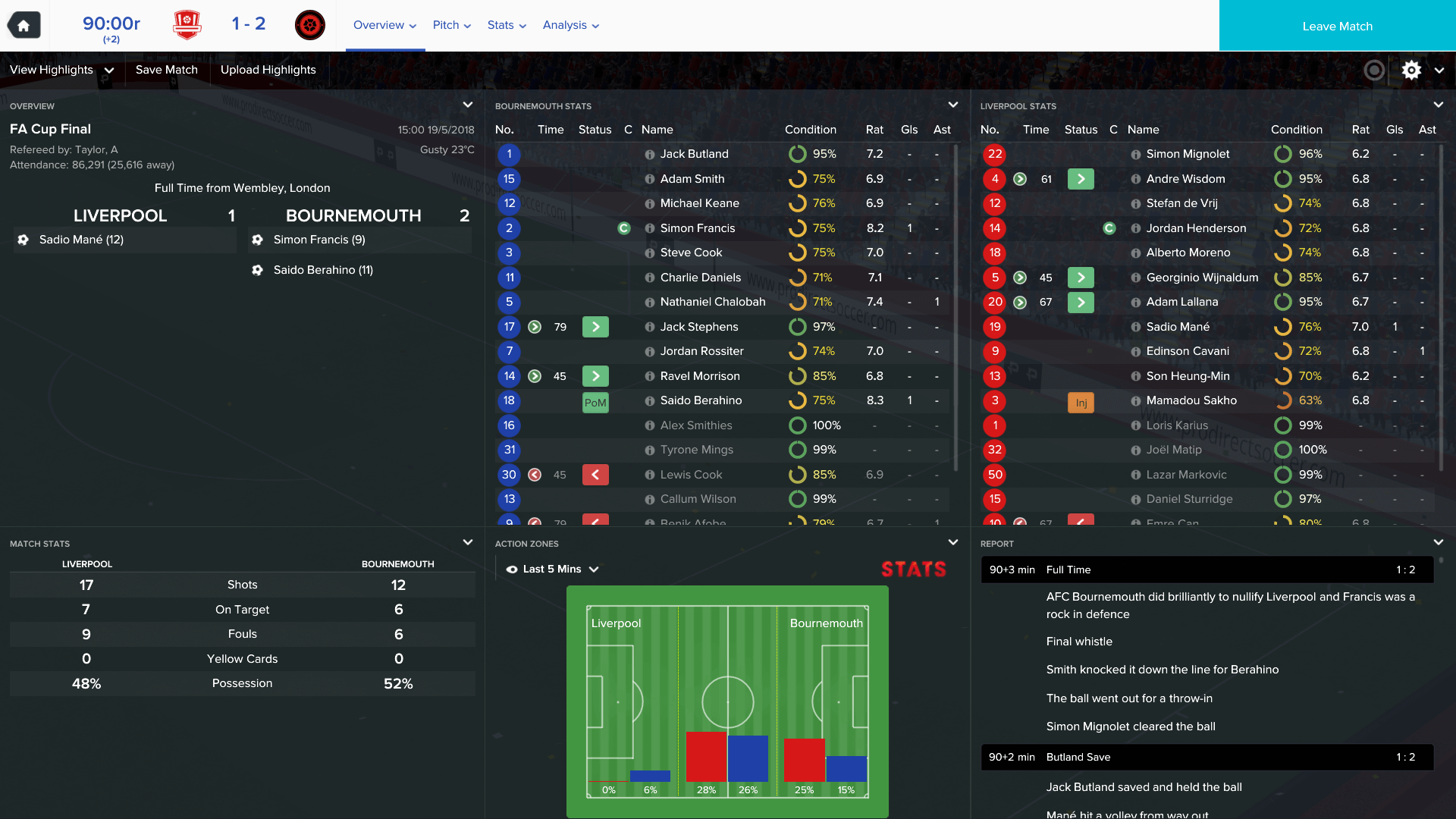 I am absolutely delighted with that. It more than makes up for our distinctly tepid league performances. A wonderful day out for the fans, and a superb reward for what is still an exceedingly young and talented group of players. Let's hope this is the springboard for further silverware. But before we get caught up in all of that, let's just drink it in. Just think – one day Paul Nuttall will lie publicly about this, about being there when an entirely English team won the FA Cup against a bunch of foreigners.
What more could a boy dream of?