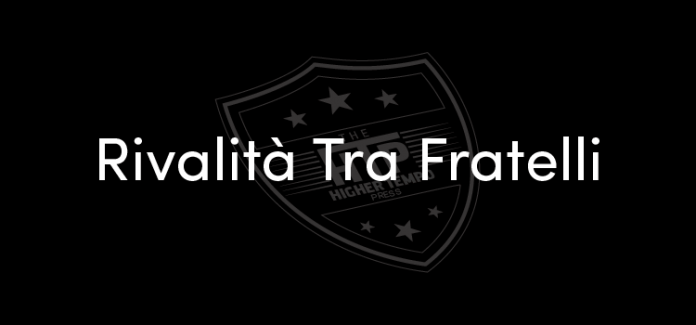 This is the story of two brothers, a modern-day Cain versus Abel if you will, based in the northern powerhouse Italian city of Milan. If you'd like to replicate this challenge, we're using the updated medium database with the following leagues: England (Premier League, Championship, League One & League Two), Italy (Serie A & Serie B), Spain (La Liga & Segunda División), France (Ligue 1 & Ligue 2) and Germany (Bundesliga & 2. Bundesliga).
Rivalità Tra Fratelli – #WeAreTheRivals, Episode 7
CHARLIE: What do you do when your star striker and best player wants to leave?
I want to bury my head in the sand and pretend this isn't happening, that would be Mike's strategy. I can't ignore him. I confront Mauro Icardi head on.
He thinks he's outgrown Inter. I counter and say that there's been no offers so it's a moot point. With every click, I'm seconds away from the best striker in the league taking his ball and literally going home.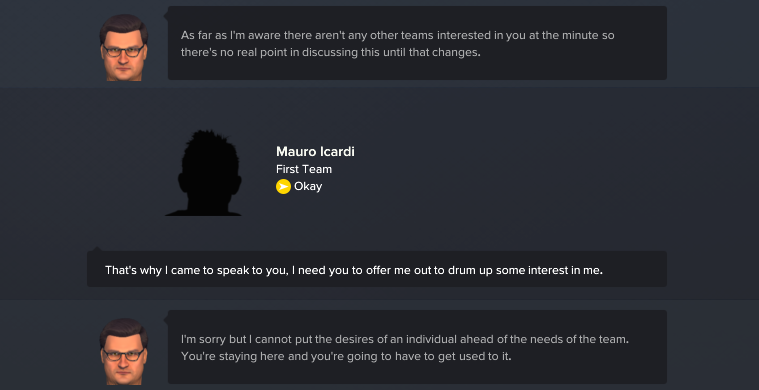 He now wants me to offer him around. I can't do that. He grudgingly accepts my decision. Or so I thought. I wish at this time I'd thrown an international footballers reputation into my profile. Little do I know that the entire first team squad 'invite' me to a meeting to discuss how poorly I've dealt with Icardi led by Ever Banega, Ivan Perisic, Samir Handanovic and Miranda. Even Charlie Taylor and Kourtney House are standing by Icardi. My first response that the team comes first goes down well. No less than 14 players say it's fair enough (not exactly an Italian phrase I imagine) and head back out onto the training pitch. Only Miranda, Ever Banega, Brozovic, Perisic and Gary Medel stand firm. I add a line about admiring the loyalty they are showing to stick up for a team-mate but it's time to drop it.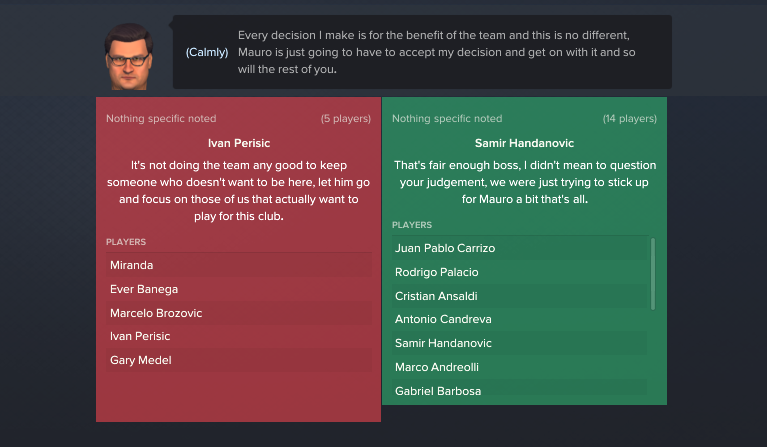 Despite those players retaining a grudge, I think it's over.
I think we can get back to matches.
I'm wrong. I'm now breaking out in a cold sweat.
Marcelo Brozovic has heard of interest from Manchester City on the blower (news to me) and he wants permission to speak to them if an offer comes in. Much like Icardi, I tell him this is all conjecture until a bid comes in but suddenly he turns into Ray Winstone. Apparently he's come in only as a 'courtesy' and he's got no intention of letting me 'fob him off'. I can take that but when he says that I HAVE to agree to let him go, my resolve stiffens.
If you're worried about missing anything, fear not. It's an international break and Mike has gone off to Columbia to watch their two fixtures, which is to observe Carlos Bacca's return from injury as he is in the national squad against both Bolivia and Argentina. I ask him to keep one eye on Jeison Murillo and Ever Banega for me, he flicks me the V and mutters something about having to sit beside Diego Maradona in the Maracanã.
As Mike is abroad, I'm working on rebuilding player relations. Following Gabriel Barbosa's four goal haul in Europe, I've assigned him a mentor in Candreva. I've also taken the time to praise Charlie Taylor for his recent performances, which he was receptive to. I've then rather sneakily increased Icardi's asking price to £100 million. Hopefully he doesn't notice.
He has noticed. I've now got Perisic demanding a move to City and wanting to set a fee, then Icardi is back for round two. I take a hard line with Perisic, setting his value at £40 million but he wants £32.5 mil. I compromise at £35 million but he still thinks that's pricing himself out of the market. We end discussions there.
MIKE: I'm sure Charlie is pleased to get back to the football. He should just decline all meetings like I do, makes things much simpler. I've had Bench Warmer 1 coming to me whining about first team football. Two words Bench Warmer… Hard and Luck. I did take in Carlos Bacca's return to football, he came on as a substitute in the internationals and scored one. We're now less than a month away from Didier Drogba's intended retirement, he starts this upcoming game with Bacca expected to join the fray at some point.
With Deulofeu doing so well on one wing, I'm looking for a genuine wide man on the other flank. Lucas Ocampos is on loan from Marseille and hasn't really had too many chances. He comes in opposite Deulofeu.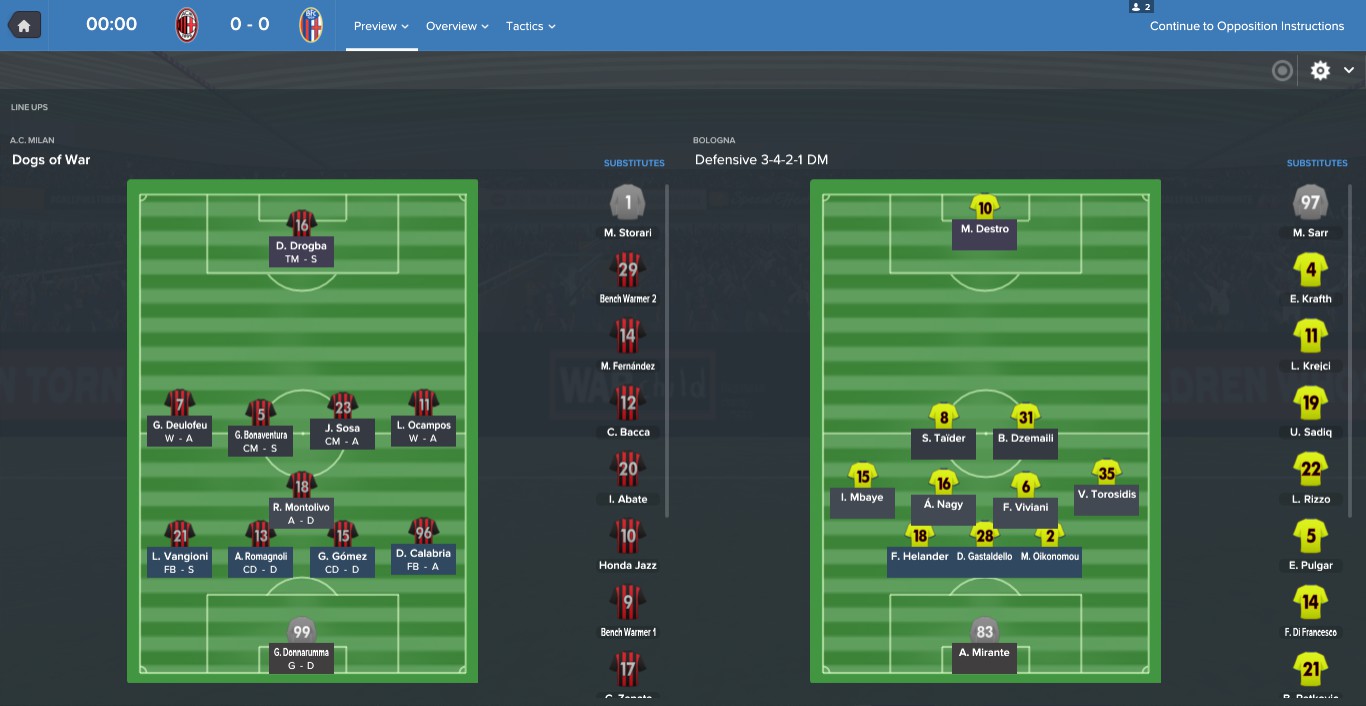 I would like to introduce you to my new best friend – Carlos Bacca. Oh yes, he's back.
After going behind to a Viviani free-kick, despite the referee absolutely bottling sending off after issuing him with a final warning while on a yellow card, Deulofeu equalises and we enter the last 10 minutes sweeping forward but Bologna are set up nice and tight at the back. It's like pouring smoke through a keyhole until we get one of those disputed penalties. You know the one, the cross comes in and seemingly for no reason the referee blows. Carlos Bacca steps up and fires us into the lead as we enter injury time.
Move over Dids, I've got to give Bacca a good sponging.
CHARLIE: I am very glad to get back to the crux of the matter, a game of football. We play slightly later than AC Milan and having seen Juventus only draw with a man sent off, things have been positive for us even before we enter the Carlo Castellani at Empoli.
I'm tempted to drop Brozovic and Icardi but that would be petty, also something Mike would do. I do bring in Murillo for Miranda, who I expected some support from as Vice-Captain and Éder starts wide left as we revert to our 4-3-3. In all honesty, I can't even remember what formation we played last time so much has happened since amid all the player revolts.
Candreva steadies the nerves with a trademark free-kick within 7 minutes before Icardi's volley from a corner is going wide until Kortney Hause sticks out a foot to divert the ball into an unguarded net. I keep an eye on Icardi, he celebrates with the entire team. As well he should, it is Hause's first goal for us after all.
The only blemish on our record is a Pasqual free-kick which Handanovic should really have saved, it wasn't anywhere near the corner of the net.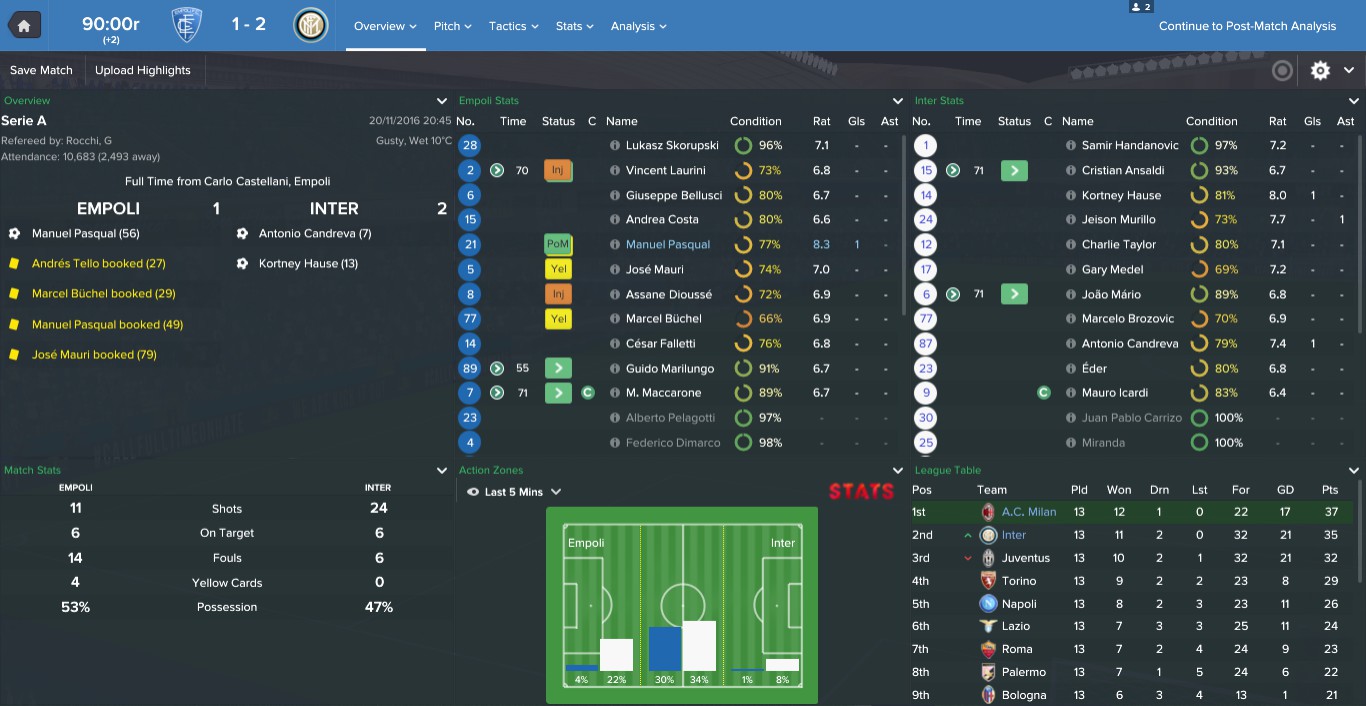 Inter Milan play AC Milan at the weekend, but first we have Hertha Berlin the Europa League and considering we've already qualified I'm considering sending out the U20's. Ivan Perisic plays, as punishment for his recent transgressions. Gary Medel has also been making noises about playing more, so he can captain the young inexperienced side.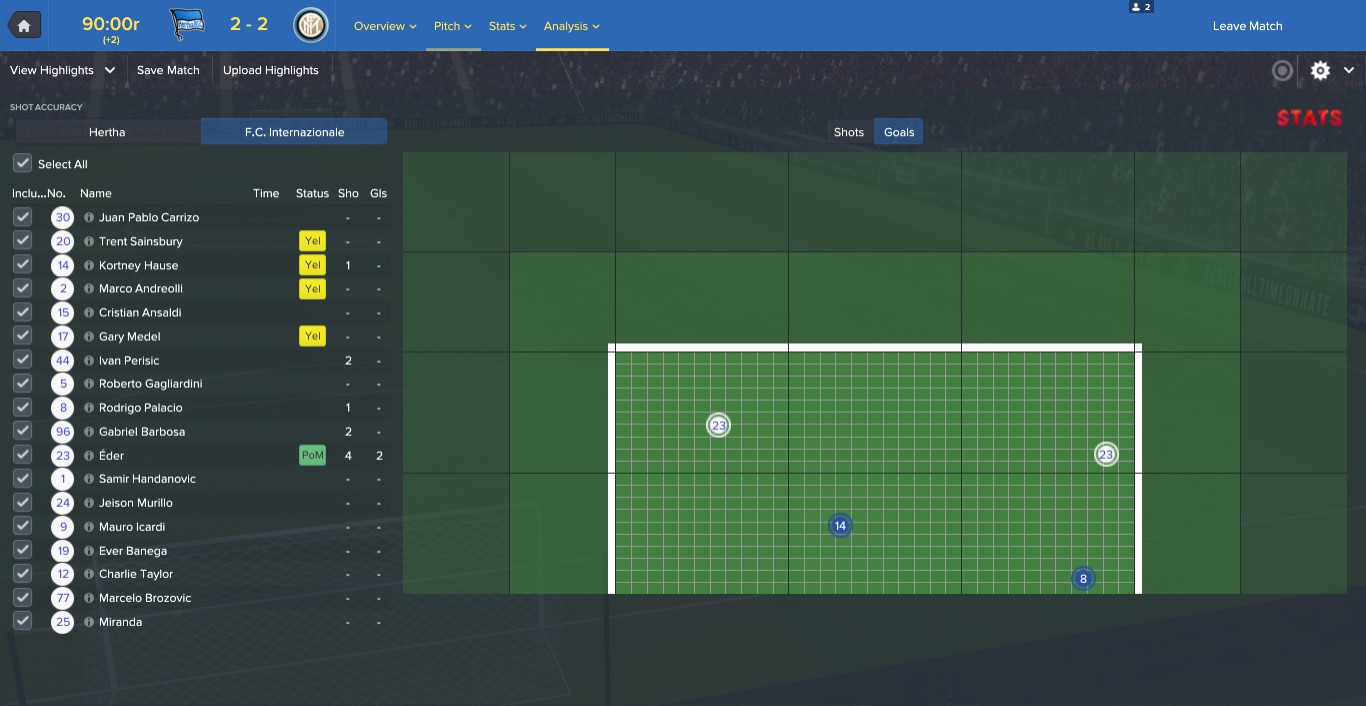 A 2 – 2 draw is fine, that guarantees our top spot in the group because of a much better goal difference than Hertha. Éder grabs two goals, which ends a long run without one. Goals must be like buses. I didn't make one change so every other first team player should be as fresh as a daisy.
The next game is San Siro Derby, the Derby della Madonnina, the Derby di Milano… Rivalità Tra Fratelli. Episode 6 was devoted to the preview, anticipation and proper build up, please go back and read our exclusive thoughts if you haven't already before continuing to read.
—
It's time. We can't put it off any longer. And the question is… how do I win? How do I beat him? I wish you were all here with me. Mostly because I'd rather enjoy managing by committee. At least one of you will have a good idea. If Mike plays his Vintage AC Milan formation then width will be our ally. That means Pep's Inverted Wing-Backs or Classic Jose for the use of wingers. If he goes Dogs of War, this new attacking homogenous mass formation, then I think the Skewer will be most effective. I think, I think and I think. We even go respectful in the media build up, which clearly won't last.
MIKE: I have to win this. This is real pressure. It's the most important game of Football Manager I've ever played. He's more worried about this than I am, I can tell. He's chuntering to himself, jotting things down on a new magnetic tactics board which has suddenly appeared out of nowhere and then crossing it out before I see what it was. Inter are the favourites at the bookies, they're as poor value as evens. Draw and an AC Milan win are both 11-5.
Montolivo is suspended after five yellow cards and Dennis Aogo remains injured, as does Andrea Bertolacci but he hasn't been fit all season.
I did have a plan, a cunning one at that. I was going to line up in Dogs of War, then switch to the Vintage formation but the lack of Deulofeu in the side would give that away. Bold as brass, I announce my team. I can see his brain processing whether to trust me or not. The mind games have begun.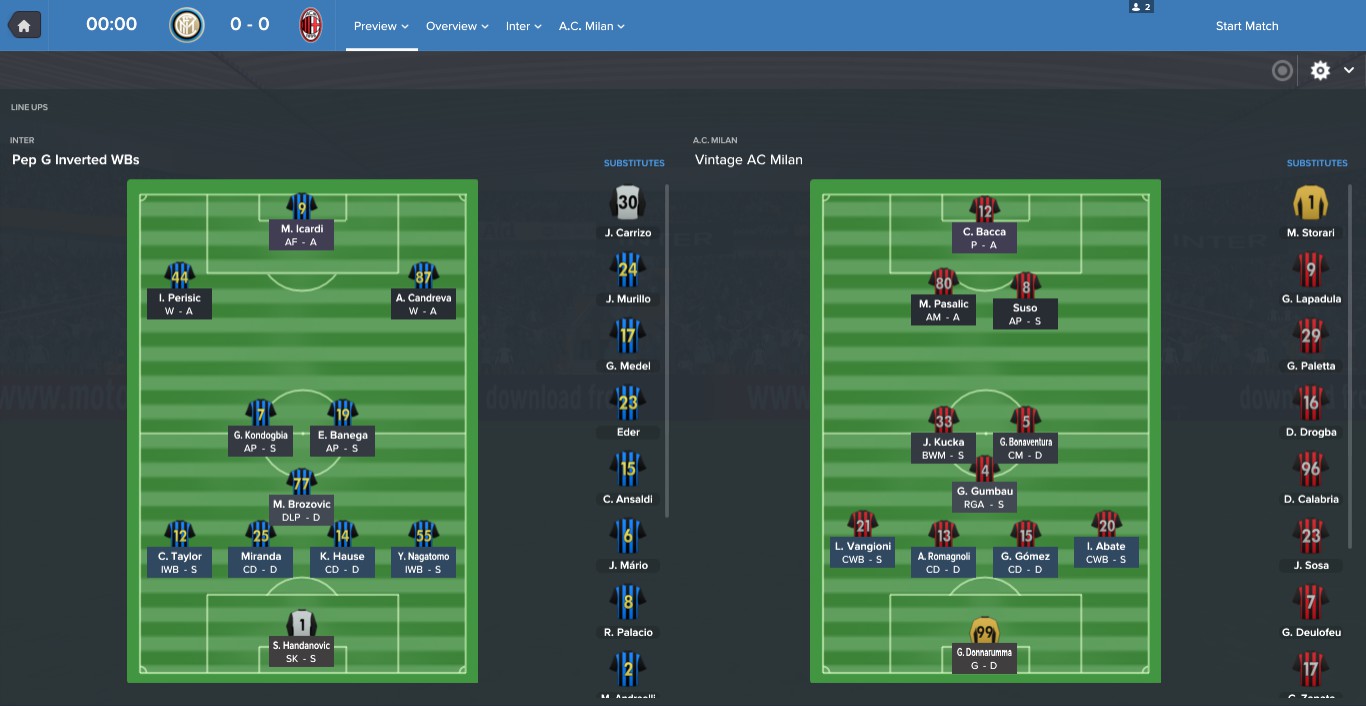 CHARLIE: Early in the game, 43 seconds to be exact, Brozovic receives a booking and faces suspension for an upcoming game. Then Miranda, who I've set to man mark Carlos Bacca, is also shown a yellow. This is not a good start. In positive news, Kortney Hause is mighty and dominant as he steps in to make interceptions. Bacca looks rusty and is resorting to long shots, Handanovic is comfortable claiming crosses chest-height.
MIKE: Handanovic is the busier 'keeper. Mauro Icardi looks so complacent that he's barely got changed for the match. And then it happens…
CHARLIE: Kondogbia plays a ball over the defence and with all AC Milan defenders naturally moving across to cover Icardi, Perisic profits and scores from an acute angle underneath Donnarumma. The lead lasts barely a minute as Carlos Bacca comes to the party. After several close offside calls, Bacca finally times his run to perfection as he gets in behind Miranda to slot home Pasalic's driven ball, Handanovic had no chance. Just as it looks like the floodgates will open with another AC Milan attack straight from the kick-off, Hause steps in to clear. He has been immense and dare I say it, Jaap Stam-like in his positioning.
MIKE: At the break we both carefully select our words of encouragement. The score is three reds for Inter, eight greens for AC. I have noticed that one of my subs is standing beside me on the touchline doing f*****g star jumps. Who is the guilty party? Bench Warmer 1. D*ck. Everything begins to unravel on the hour. First Charlie makes a change, the cautioned Brozovic comes off and Gary Medel comes on as a deep lying playmaker – not a ball winning midfielder. Donnarumma matches Handanovic's save from earlier with a smart stop of his own after an audacious effort from Kondogbia. From the resulting corner Icardi is lurking on the edge of the box and picks up Pasalic's headed clearance, who was tussling with Hause. Icardi's shot takes a cruel deflection off Gumbau to wrong-foot Donnarumma.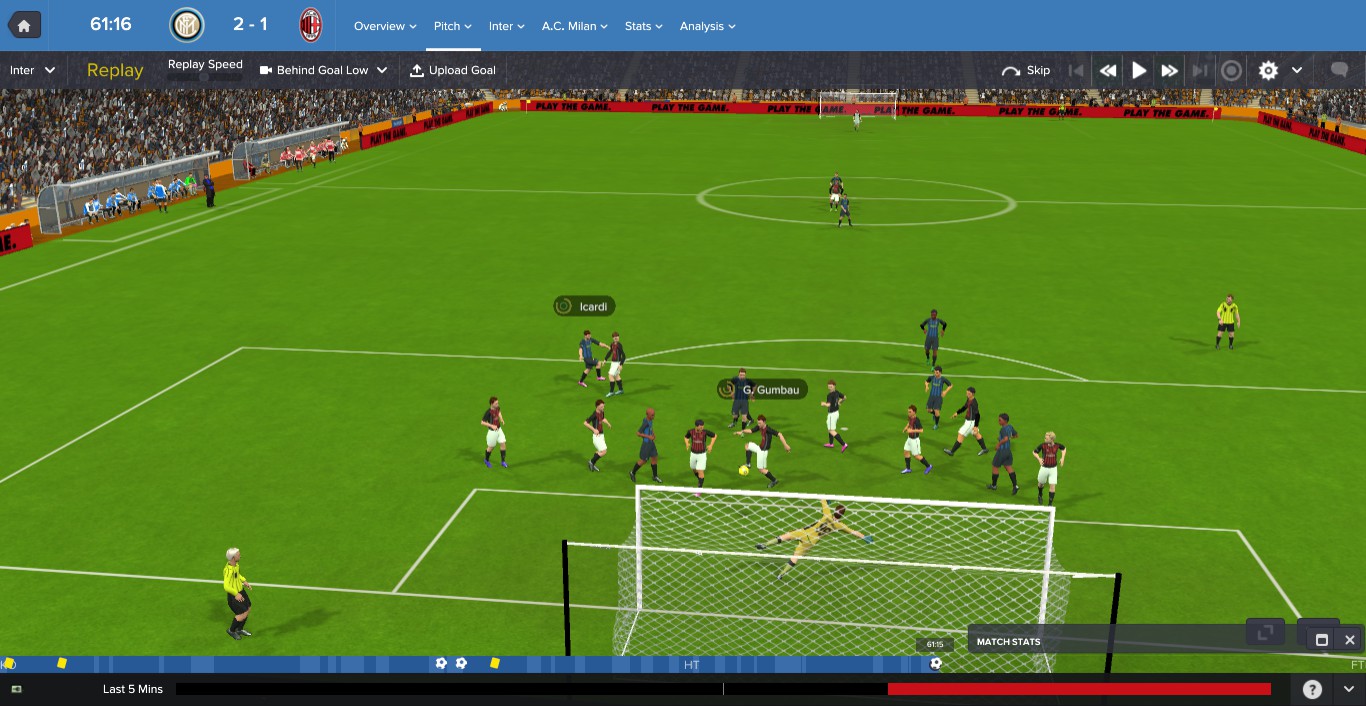 CHARLIE: Handanovic makes another massive save, this time from Pasalic. Mike was already celebrating, he was so sure it was going in.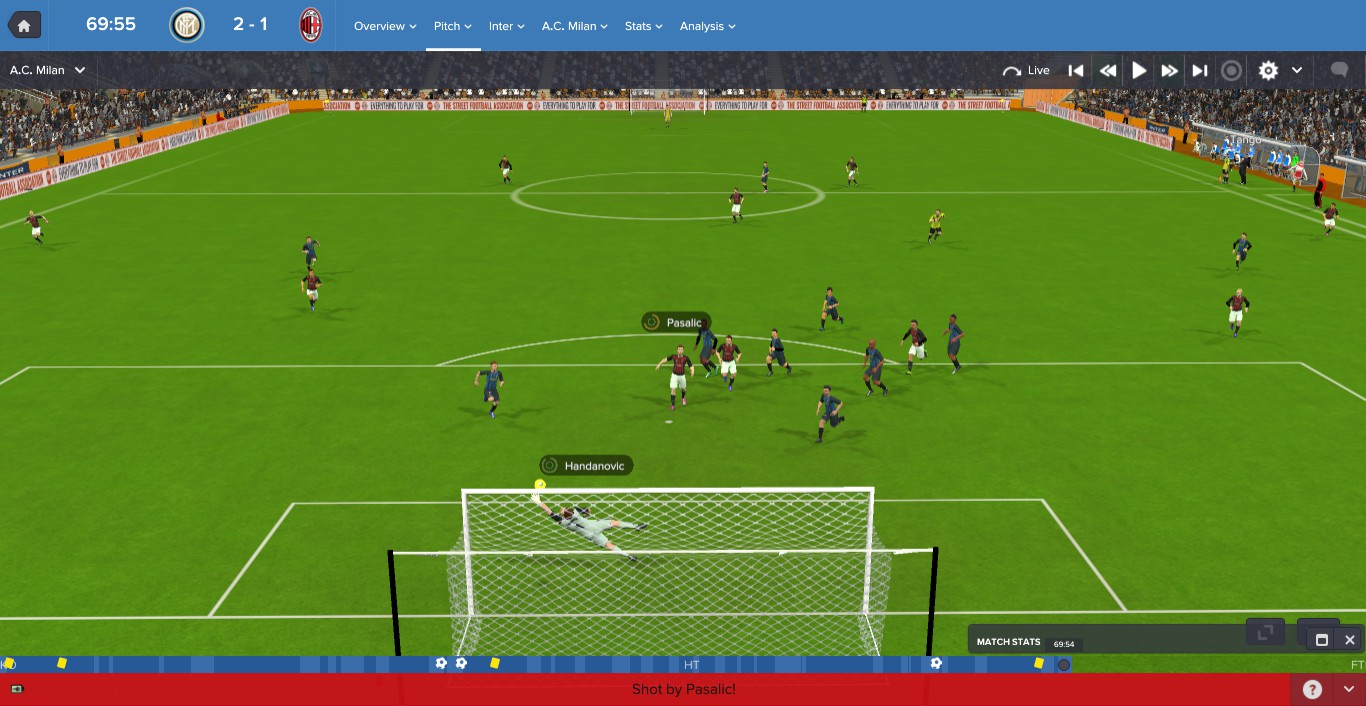 AC Milan roll the dice, bringing on Drogba for the unlucky Gumbau and moving to a 4-4-2. AC have two clear chances, the first is set up by Drogba as he plays in Abate but the full-back is the wrong man completely and he shanks wide. The last chance had me on the floor, beyond the two minutes of extra time allotted (yes, I know it's a minimum) Carlos Bacca is all alone to fire one in but Handanovic is equal to it.
The whistle is blown! Inter are victorious! Miranda is Player of the Match, mostly for his marking job on Bacca – that last chance aside. Hause's rating is decent but I am sympathising with Mike, he often has complained about Drogba not being appreciated and I don't think a 7.8 is fair considering Kortney's impressive performance.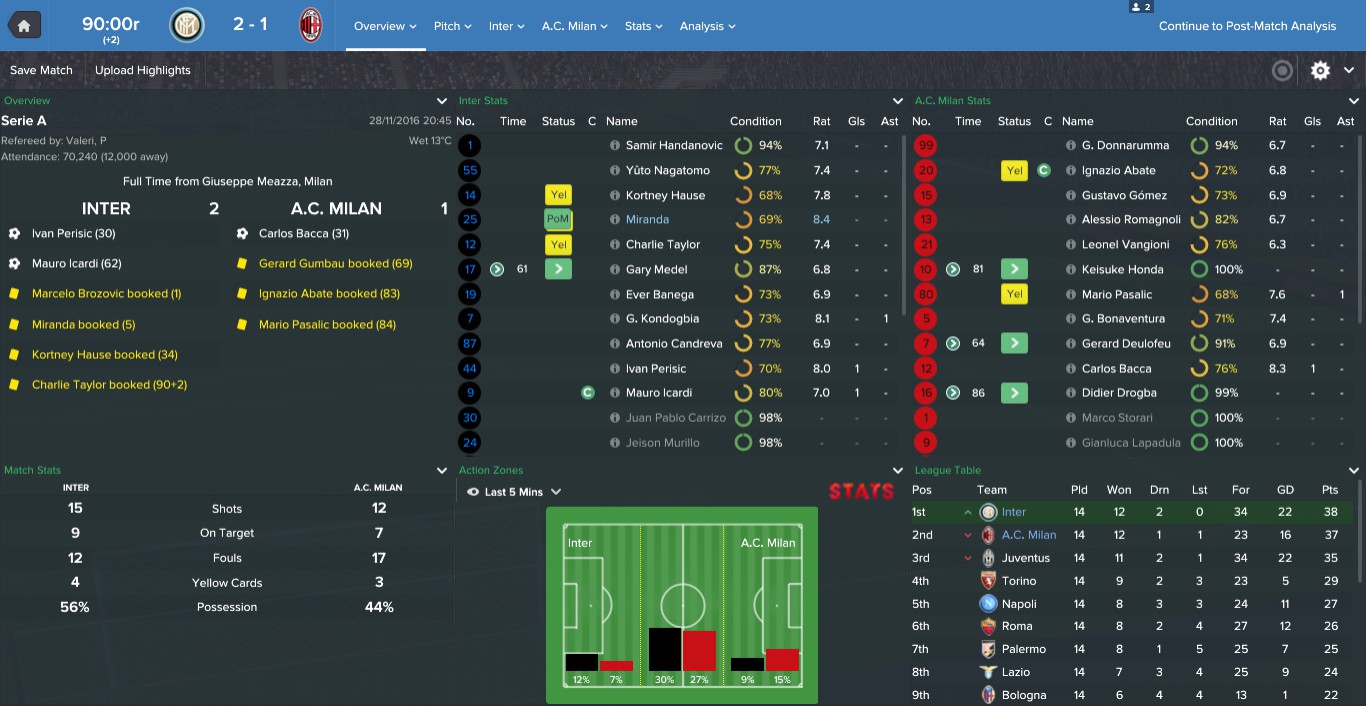 So Inter ascend to top spot in Serie A, followed by AC Milan and Juventus in third. It was a really good game, not just because Inter won, much to my relief. The statistics were all close, hardly anything between the two teams. 15 shots (9 on target) to 12 shots (7 on target), 56% possession to 44%, successful passes are within 10% of each other, as are headers and tackles won. AC Milan actually had three more clear cut chances. But the only statistic that really counts is the one in the corner of the screen, we all know this to be true.
MIKE: Carlos Bacca. Carlos, Carlos, Carlos, Carlos Bacca. Abate I can forgive considering he was so far up the pitch you'd expect him to get a nosebleed but you, you international of many caps, you should know better. More than that, you should DO better. A world class striker and that was poor. I'm going to use a phrase that leaves a sour taste in my mouth and that's 'at this level' he shouldn't miss that.
I think my feelings can be summed up in one response made at my press conference following the game.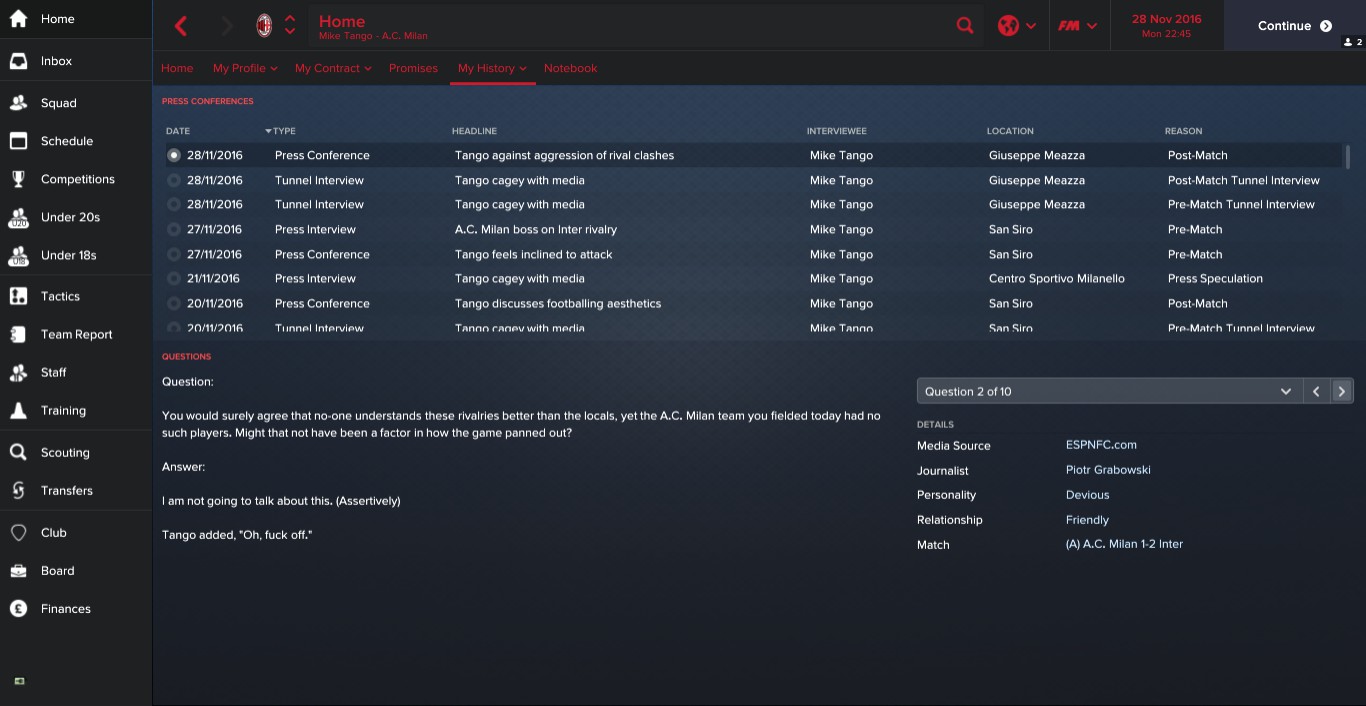 I don't like losing. I don't like all this "oh, well done, good for you" crap. I barely shook his hand when it was offered. I'd be a damn sight happier if he'd have been arrogant about winning but no, he was all respectful and quick to point out that Bacca could have levelled it. I'm the type of person who scowls when he hears a teammate praise the opposition while playing five-a-side and avoids passing to them for the rest of the game as punishment. Having lost a Super 6 league today by a point, what do you think the text message I sent to the winning party consisted of? If you think it was a hearty message of congratulations, you haven't been reading. Sense the tone.
CHARLIE: I thought it would end at verbally abusing journalists but Tango Towers witnessed its own version of 'Pizzagate' later in the day. I offered him a slice from what privately was my own celebratory pizza, only for him to take two. One to eat and one to throw in my face. That's brotherly love for you.
The positivity around the Nerazzurri continues as Brozovic places first and third for two strikes against Palermo in the Goal of the Month competition and no less than five of our boys are selected in the Serie A Team of the Month.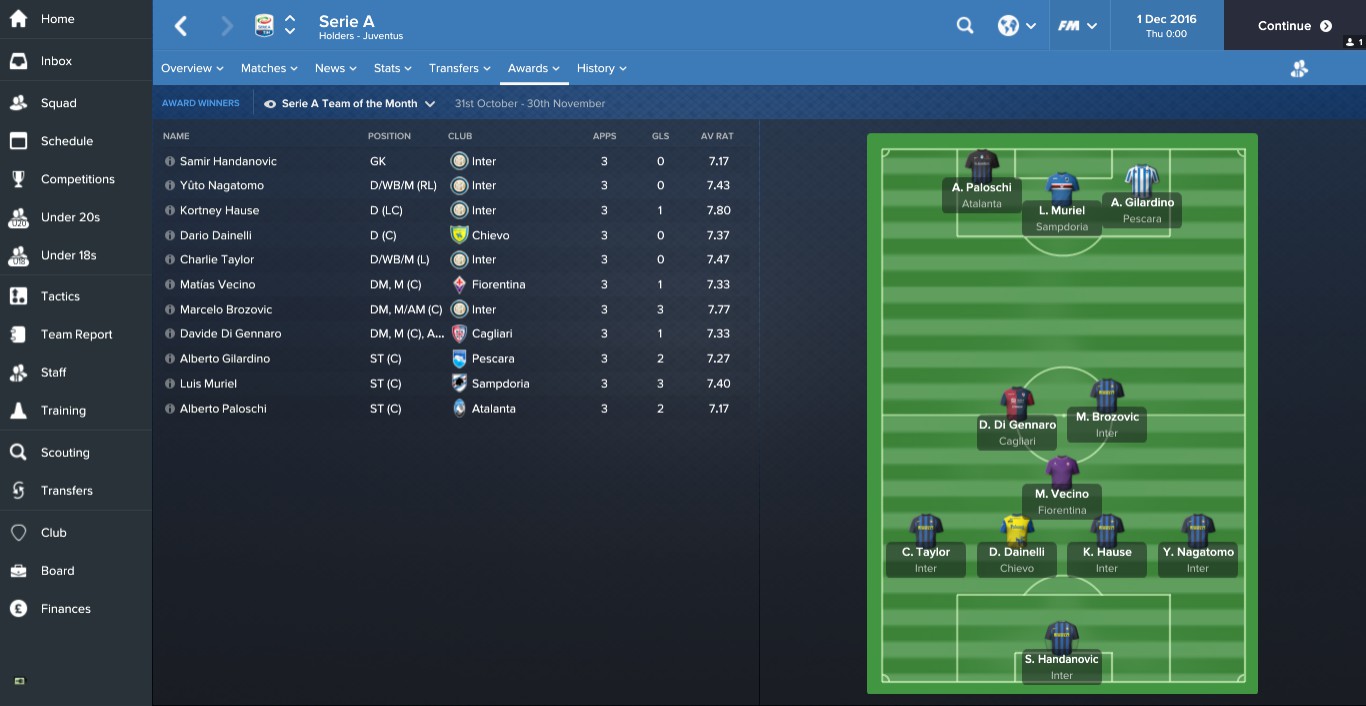 We hit the road to take on Atalanta, who have gained many plaudits for their performance in the real life Serie A. I pretend that doesn't really exist, especially because I am the only actual Inter Milan manager at the present time. The absolute key is to keep the momentum going.
If Atalanta had a chance, it was to keep all eleven on the pitch. That particular ambition is only achieved for 12 minutes. Kessié first upends Perisic for a yellow card before cynically obstructing Kondogbia as he looked to run through on goal after intercepting a pass from Kessié himself. He picks up a second yellow but if he was worried about being in the changing room alone, he has only two minutes to wait as Boukary Dramé joins him. I stood agape from my position on the sideline as Dramé launched himself from behind at Candreva with both feet. I've seen riders come off superbikes at Monza who were moving slower than Dramé was when he virtually chopped Candreva in half. It wasn't so much a sliding tackle as an assault with intent to commit actual bodily harm and the referee wasted no time flourishing a straight red card.
With a man advantage and superior players, it was only a matter of time before we took the lead. A corner is embarrassingly defended, everybody looks one way as its headed clear but the ball falls to the feet of Charlie Taylor to sidefoot into an empty net. The only negative is that we don't add to our score, despite over thirty efforts on goal but if that's our biggest concern, it's not been a bad day.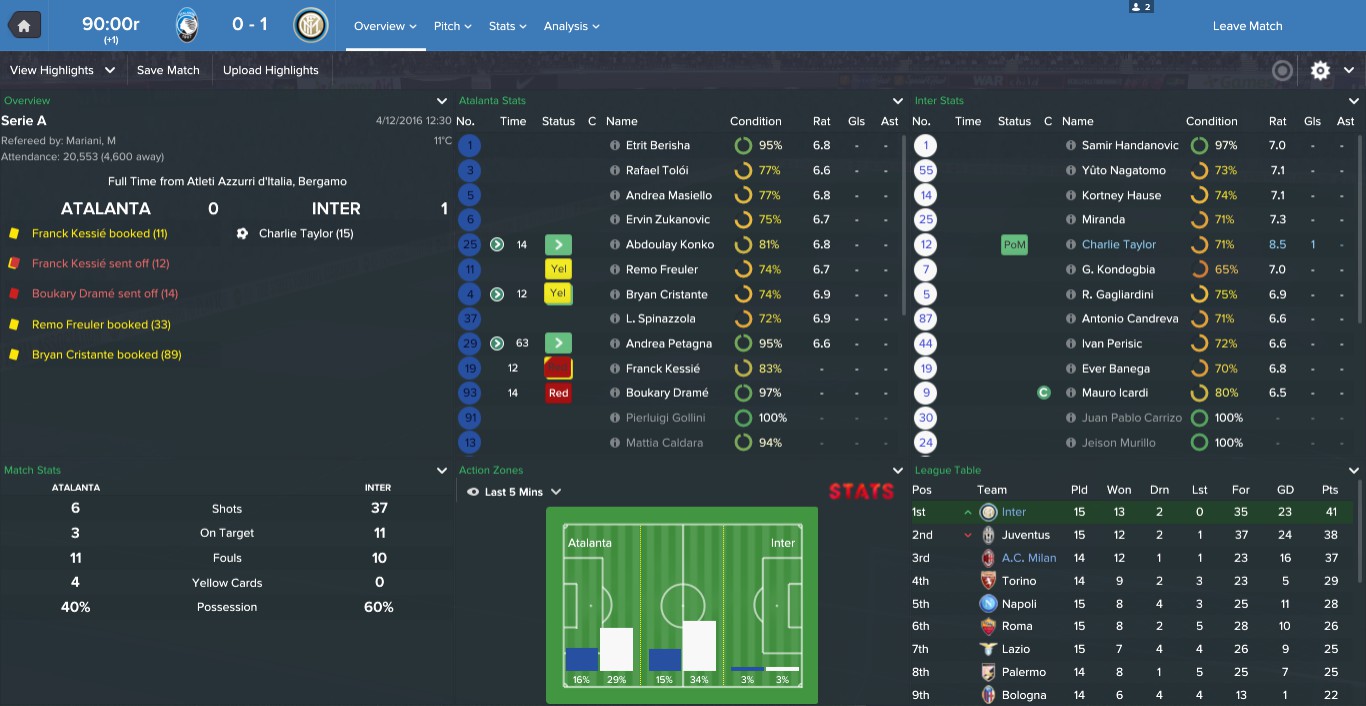 MIKE: After losing in the Derby, the only thing that matters is sending this shower of shite back out in the next match to win.
Our worst performer was Vangioni, who is dropped as a matter of principle. I don't even know who we're playing and quite frankly, I don't care. Bring them to me.
Like that, is it?
I cannot even fathom how it's possible for a team to fall off the cliff like this. Nicola Kalinic ghosts through the defence to head in a cross after the half hour like Jim Gannon back in the Stockport days, in the second half we need Carlos Bacca to equalise before Kalinic scores another goal so similar to his first that I assumed I was watching a replay. With just a minute to go, Pasalic grabs our second equaliser.
A 2 – 2 draw is not a disaster… said a loser. I'm not even remotely cheered that Bacca got another goal.
The date is 8th December 2016. Charlie is celebrating a demolition of BATE in his last Europa League group game by whooping every time Inter score but I'm more interested in an email I've received. I have had £9 million added to my transfer budget and we're less than a month away from the window opening. I wonder who's available…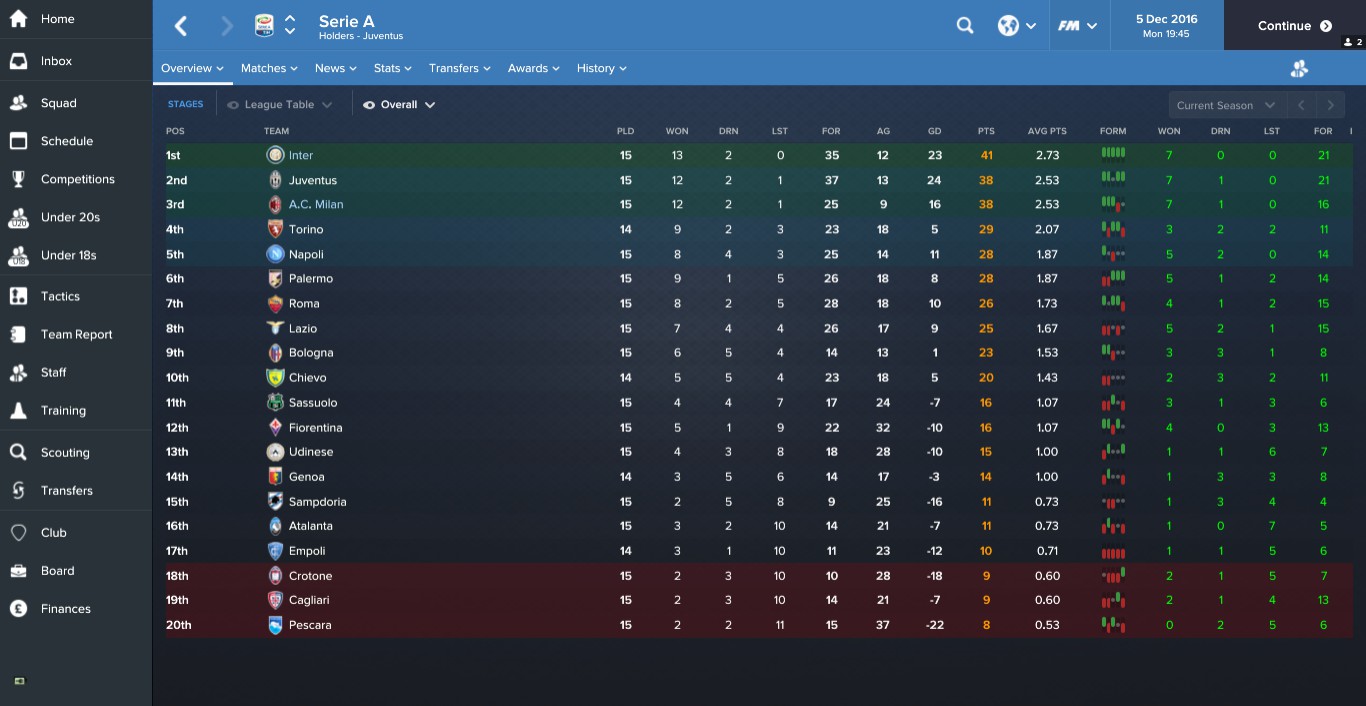 Thank you for reading, join us on twitter at @FM17Challenge, @CharlieTangoFM & @MikeTangoFM for excusive comments, developments prior to episodes and reaction afterwards. Continued thanks to Chris and everyone at Tempo for the opportunity to share this with the readers.