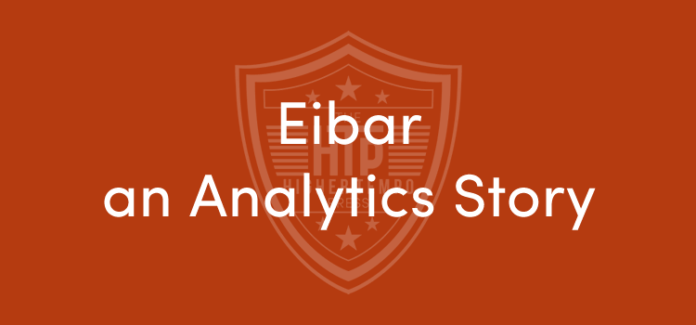 Hey, we are back with the 6th part of Eibar – An Analytics Story. Today we'll talk about how the first half of the season went with a focus on our defence. You'll see why in a second:
Results since last time:

As you can see, in the 7 matches since last time we only conceded one goal – a stoppage time strike by Malaga's Reccio finding the back of the net in all but one game – against Valencia. I think this warrants taking a closer look at our defence to see just how well they performed and why they performed so well.
The Numbers
A big part of this save is obviously looking at Numbers and Tactics and try to reach conclusions with their help. These are the main defensive numbers of Eibar in the first 19 La Liga and the 4 cup games in 2016/17:
Shots against: 229 (9.96 per game)
Shots on Target against: 93 (4.04 per game)
Half Chances against: 26 (1.13 per game)
CCCs against: 13 (0.57 per game)
This indicates that we do concede a decent amount of shots per game but the Shots on Target Ratio against us is quite bad with 40% – as a team that would rank 14th in the league. That is already good but the Half Chances against and Clear Cut Chances against are outstanding. Playing against us, teams often feel forced to take shots from wide or from bad angles. This especially applies to our games at home where we conceded 5 of the 13 Clear Cut Chances and 11 of the 26 Half Chances despite facing Barcelona, Villarreal and Atletico who are all in the top four.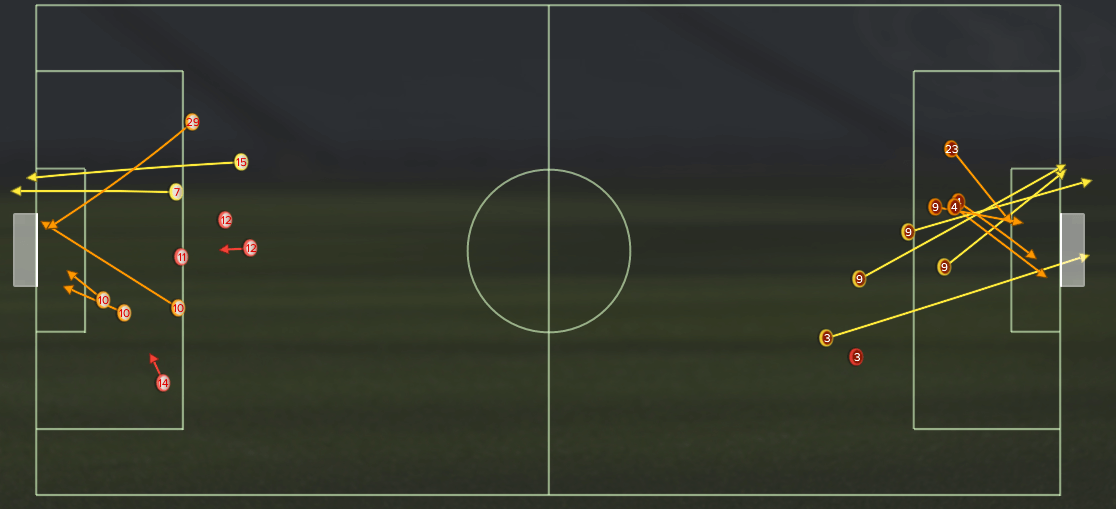 Above you can see the shot map from our meeting with Espanyol Barcelona – a game we won 3-0. Both teams are prone to taking shots from bad angles or from wide. This has been at a pattern for every game in the Ipurúa this season and part of the reason might be the pitch size. When asked about it in the pre-season I went for a long and narrow pitch. This essentially stifles teams who want to stretch us laterally and it obviously does the same for us. Add that to the amount of ground that has to be covered to get from one box to the other it is quite obvious why players would refrain to taking long shots instead of trying to work it into a box that can easily be crowded.
Tactics
You have seen my tactical approach before (if not, check out earlier episodes) and it is obviously very well suited to our pitch. We only have two wide players with our Wingbacks and because of our three Centre Backs and, with the injury to Pedro Leon three Central Midfielders it is very easy to defend in a narrow style and just concede the wide areas because a) there isn't much space in the wide areas as you can see in the shot map above and b) it is harder to create chances from wide and c) chances created through crossing are inferior to chances created from e.g. through balls.
This is an example of a typical defending situation for us just after the opposition has recovered the ball at their Keeper. There are five lines of defence. The firsts consists of the three Central Defenders, the second of the Wingbacks and the DLP, the third of the other two Midfielders, fourth and fifth of our "two strikers". For the most part we want to be very narrow without the ball so the only wide Defenders are the two Wingbacks.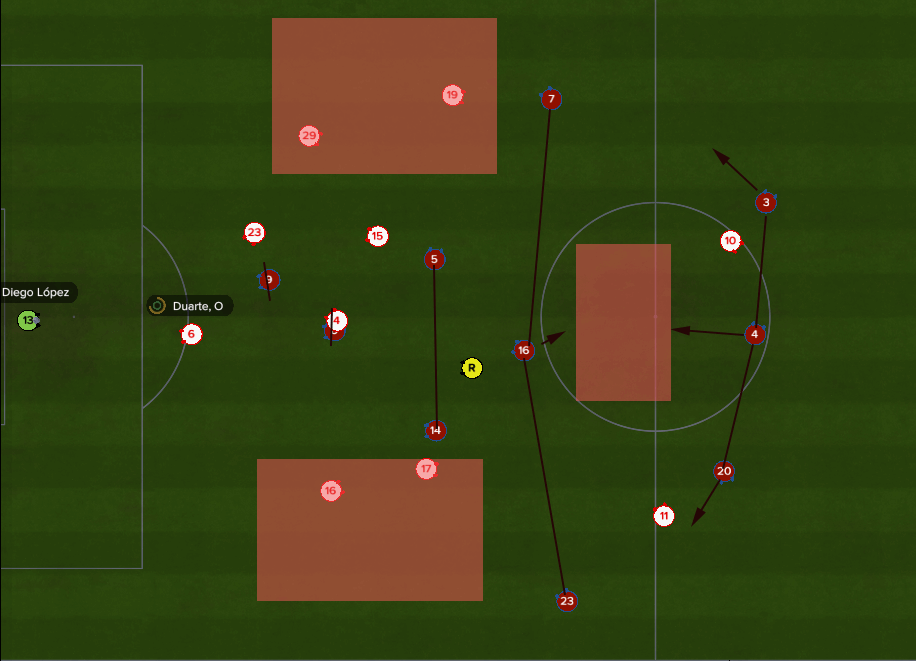 This picture nicely shows why our system is so good against a 4-4-2. We have numerical superiority in the most important areas. Three of our midfielders play against two of their midfielders  and our three Central Defenders are up against their two strikers. The red areas I highlighted are the ones that can be a problem for us against any sort of system. First of all most teams play with wide players other than Fullbacks, creating a 2v1 against our Wingbacks. However, even more against a 4-2-3-1. the wide Centre Backs can cover and often the wide Central Midfielders shift across too, meaning that any team trying to break us down  that route needs a lot of pace.
The other problem areas is the gap between the back three and the Midfield three. Since our opposition in this case is playing a 4-4-2, they don't occupy that space with anyone since they don't have an Attacking Midfielder or a Forward that is dropping very deep. However, after our first games against teams who had players in that pocket of space I made a little change to the Centre Back in the middle of the tree – Ivan Ramis – who is now playing as a Stopper meaning he steps up into that space on occasion with the DLP on Defend helping him out sometimes. This is a role change that is only getting reverted should my opposition play with three out and out Strikers, because then it could open up a lot of space.
One of our main weaknesses is the pace at the back. As I alluded to in the squad episode, none of our Centre Backs does have great pace, meaning that long balls over the top can be a good way to break us down, especially with Ivan Ramis pushing up. However, I haven't seen that as much in Spain as I do in Germany or England. This might just be a bad cliche but teams in Spain are more into intricate short passing styles and often lack directness that could be helpful to them.
The Table

Prior to the season I said that we don't want to get to Europe and I still stand behind that statement. However, I want to win every game (well, every winnable game) and we are already in a very good spot so the Europa League is a realistic thing. This obviously changes what we do in the transfer window. With the potential of European Football, we need a couple more young players who could be on a Europa League level in one or two years to really profit from that. Since it is the middle of January, we have the option to bring in some new players for the future – from the Basque Country or not – and build towards a bright future at SD Eibar.