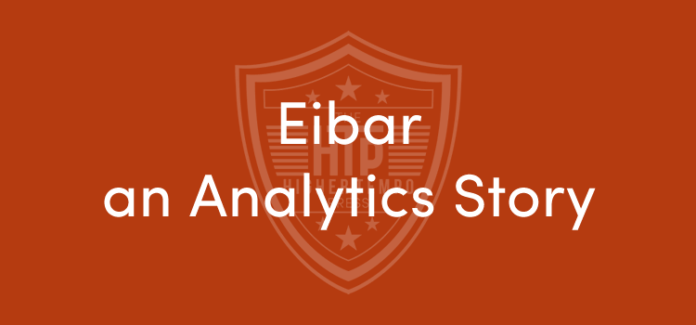 Hello, we are back with Episode 4 of Eibar – An Analytics Story. The Friday episodes are going to be more of update episodes with the obvious statistical and tactical analysis thrown in while the Tuesday episodes are going to focus on one specific thing. This can be one player, one part of a Tactic, a new Tactic or just Match Analysis.
So, let's get right into what happened since we met last time.
Matches since last time:


After an unfortunate loss to Real Sociedad – a game that saw us create more Clear Cut and Half Chances just to lose to a late own goal, we went on a small unbeaten streak. There are three draws in there but the main thing to note is our strong defensive display. We only conceded 8 Half Chances and not a single Clear Cut Chance. Obviously, these are not everything but if you apply the model i established in another post on Tempo, this amounts to 1.6 goals we should have conceded so there is a point in saying that we have been slightly unlucky.
How did we do all of this, especially against very good opposition like Sevilla, Villareal or Celta Vigo (who were 3rd before we swept them aside)? One of the main parts is knowing the threats your opponent has and then nullifying them. Going into the game against Sevilla I always knew we weren't going to be favourites, even at the Ipurúa. This is why i looked at the last few games Sevilla had prior to our meeting and I noticed that they always played a 3-4-3 but with two DMs who would usually be their main outlets in terms of passing and build-up. In the case of this game, it was Steven N'Zonzi and Vincente Iborra. So I dropped my Advanced Forward to a Defensive Forward on Defend and my Attacking Midfielder to a Shadow Striker. With Closing Down on More we made sure that both had to go for the short sideways option or just punt it long and well, Iborra got subbed off at Half Time after having just completed 15 passes.
At HT, Jorge Sampaoli switched to a Narrow Front Three so we dropped our Deep Lying Playmaker back right in front of the Back Three because three narrow Strikers usually suggest that one of them will occasionally drop deeper to find space between the lines – in this case it was Wissam Ben Yedder. To be fair to Sevilla, we didn't really create anything either because we withdrew some of our Attacking Players to nullify theirs. The way we used our only chance of the game and then didn't really concede any was almost a bit Mourinhoesque.
Against Celta Vigo it was a rather unfortunate incident that led to a tactical change that kept out Celta Vigo completely. To be specific it was a hip injury to Pedro Leon in the 10th minute making him unavailable for selection for at least 7 weeks. Before that he has been our best player with 6 Goals and 7 Assists. I also keep track of Touches in the Box, Passes into the Box and Shots in the Box. He leads Passes into the Box with 2.44 per 90 minutes and he's second at Touches in the Box with 3.35 per 90 minutes.
Coming back to my point, I could have just subbed him off for Bebe, our only other real wide player in the squad but instead, I chose to bring on a Central Midfielder with Adrian Gonzalez, switching to this formation:
This meant we could go even narrower while just relying on the Wingbacks to provide width on either flank. With Escalante being a Central Midfielder on Attack we also create a narrow Front Three with a lot of movement, especially coming from deep. This allows us to stretch the opposition both horizontally and vertically and in the end, we comfortably dispatched Celta Vigo with John Guidetti's late header just being a mere consolation. One reason why this worked so well is that Celta Vigo were playing with Inside Forwards. If there are teams with out and out Wingers we might have a bigger problem.
This is where it leaves us in the table: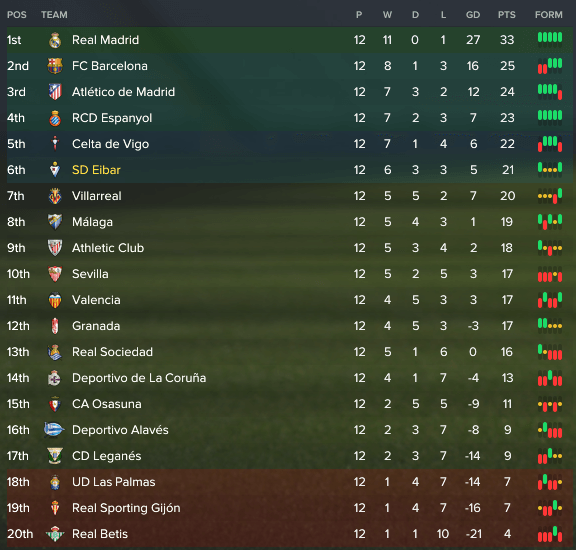 If you want to know anything, I am on Slack and you can follow me on any of the Socials below. See you next Tuesday and be prepared to be bombarded with ALL THE NUMBERS!