Having left Celtic and taken over at Southampton as the United Kingdom left the European Union, it was time to overhaul the new club.
After bringing in Emilio De Leo as Assistant Manager and Warren Joyce as Coach, we quickly filled out the rest of the coaching staff. Ruben Jongkind, Phil Neville, Luca D'angeli, David Coles and David Bechkoura filled out the first team coaches, while Carl Darlington and Michael Johnson joined the Under-18's setup. Andy Millen joined from Rangers as Under-18's Assistant Manager, and Andrea Nuti was added to the Under-23's coaching team. Erik Meijer was brought in as Director of Football, while Andrea Barzagli joined the club to take up the role of Head of Youth Development. A raft of scouts, data analysts and physios also joined the club to fill out the backroom team within a week of joining the club.
Meanwhile, we also moved quickly to add to the playing staff. Daryl Janmaat came in from Watford for £2.9m, before Facundo Colidio joined from Boca Juniors for £4m on the same day that two signings agreed by the previous management joined the club. First up, the signing of Fabio Radice from AS Livorno for £625k: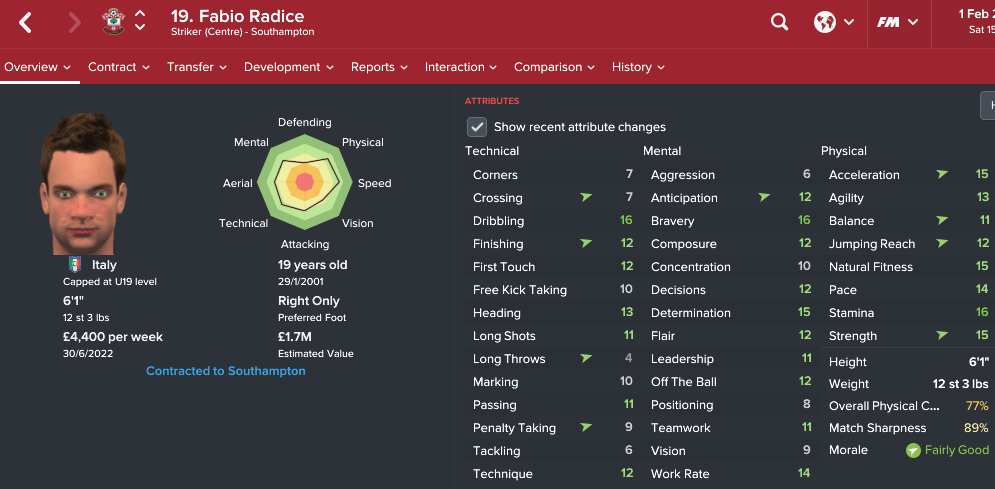 A promising young striker, Radice is highly-rated by the coaching staff. With Colidio, Deeney, Austin and Gabbiadini ahead of him in the pecking order, it's unlikely he will get much of a chance in the first team this season. The second signing, however, had much more of a chance:
Theo Bongonda (I'm not sure if that's pronounced Bon-gonda or Bong-onda, but either way it's a cool name) joined for £9.25m from Atletico Madrid. As we identified last time, the Winger/Inside Forward positions were up for grabs and Bongonda looked like he could take one of those.
Meanwhile, there were also departures. Some players left on free transfers – Paulo Gazzaniga, Martin Caceres and Alex McCarthy being the biggest casualties – while £3.1m was made from the sales of Marcus Barnes (Crewe), Maya Yoshida (Everton), Jérémy Pied (Stade Rennais) and Steven Davis (Fulham).
As we looked to add to the attacking options, we completed the signings of Robert Snodgrass for £1.5m and Pione Sisto from recently-relegated Huddersfield for £11m. Those signings, along with Bongonda, Calidio and Radice, meant that we were done with adding to our options in attack. It was time to move on to the defensive side, and we immediately needed to look for a new left back when Everton came in with a £15.25m bid for Ryan Bertrand. His sale was quickly followed by three more big-money departures, as Oguzhan Ozyakup (Newcastle), Charlie Austin (Middlesbrough) and Sofiane Boufal (Wolves) moved on for a total of £30.75m.
Charlie Taylor came in to replace Ryan Bertrand for £6.75m from Celtic, before we added some experience to the defensive ranks: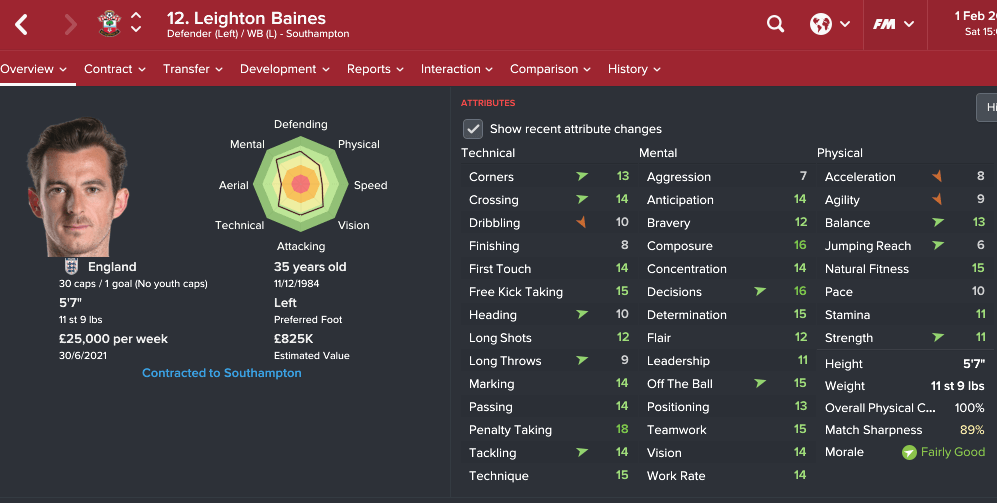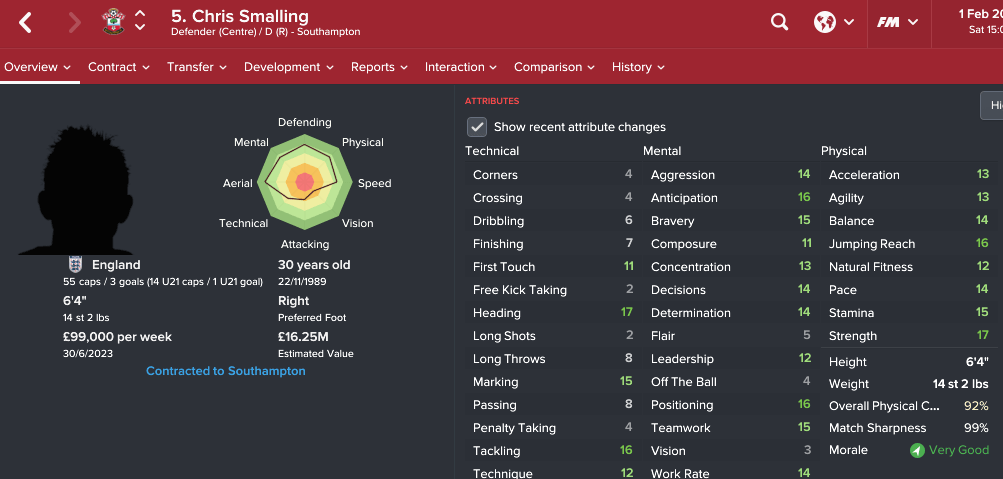 At 35 years old, Leighton Baines would be great cover for Charlie Taylor at left back. He would not play many games, but having that quality available as a backup is an excellent piece of business. Meanwhile, signing former Manchester United defender Chris Smalling immediately improved our options at centre back.
We weren't quite done in the market, and moved to bring in Dan Gosling from Celtic for £6.5m, while Ronaldo Vieira – surplus to requirements following the arrival of Gosling – moved to Middlesbrough for £15m. Aside from a few outgoing loans, that was it for the 2019 summer transfer window.
It left us with adequate cover in all the areas we had looked to improve – Daryl Janmaat joined Cédric (whom I had massively under-rated in my last piece) as options at right back, while in the centre of our defence we have Chris Smalling, Sven van Beek, Donovan Watson, Dayot Upamecano and Nordi Mukiele capable of doing a job. Charlie Taylor and Leighton Baines at left back gave me great confidence, and overall the defence looked pretty good. Fraser Forster was adequate in goal, while youngster Harry Lewis – touted as the next Joe Hart – would deputise.
In midfield, Oriol Romeu, Dan Gosling, Donovan Watson, Dayot Upamecano and Nordi Mukiele were all capable defensive midfielders. Gosling would also be first choice for the Box-to-Box Midfielder role in central midfield, alongside James Ward-Prowse in a playmaker role. Jordy Clasie, could also cover both roles, as well as Robert Snodgrass in the playmaker role.
Vincenzo Grifo, Pione Sisto, Theo Bongonda, Robert Snodgrass, Manolo Gabbiadini and Nathan Redmond would fight for the wide attacking roles, while Gabbiadini, Facundo Colidio and Troy Deeney would be our options up front.
We headed into the first game of the season with our transfer business concluded, and I was reasonably sure that we could finish in the Top 7 again this season. Contrary to what the final league table had suggested when I took over, 7th was not enough to take part in European competition, but there was no reason for us to discount the possibility of qualifying this season either through the league or by winning a domestic trophy.
Depsite our high hopes, the season started slowly. Draws at home to Derby (0-0) and away to Stoke (1-1) preceded a 1-0 win against rivals Bournemouth and a Troy Deeney hat-trick against Portsmouth put us through to the 3rd round of the EFL Cup.  A Theo Bongonda goal at Crystal Palace wasn't enough to stop us from falling to a 2-1 defeat, before Bongonda scored twice in a 3-1 win at home to Burnley. Bongonda scored again in a 2-1 defeat at Sunderland – a game which started a run of 7 defeats in a row, including a 4-1 home defeat against West Ham in the EFL Cup.
It was a run that left us in the relegation zone after 10 league games, and questions were beginning to be asked about my appointment as manager. Gordon Strachan was particularly vocal in questioning my ability, before Nigel Adkins joined him. I still retained the backing of the board, but things were not right. Although Bongonda had proved to be an excellent signing, the rest of the team was not clicking. Troy Deeney had scored 4 goals, but all of them had been in the EFL cup, while Manolo Gabbiadini had failed to impress. The biggest worry, however, was Facundo Colidio's awful form: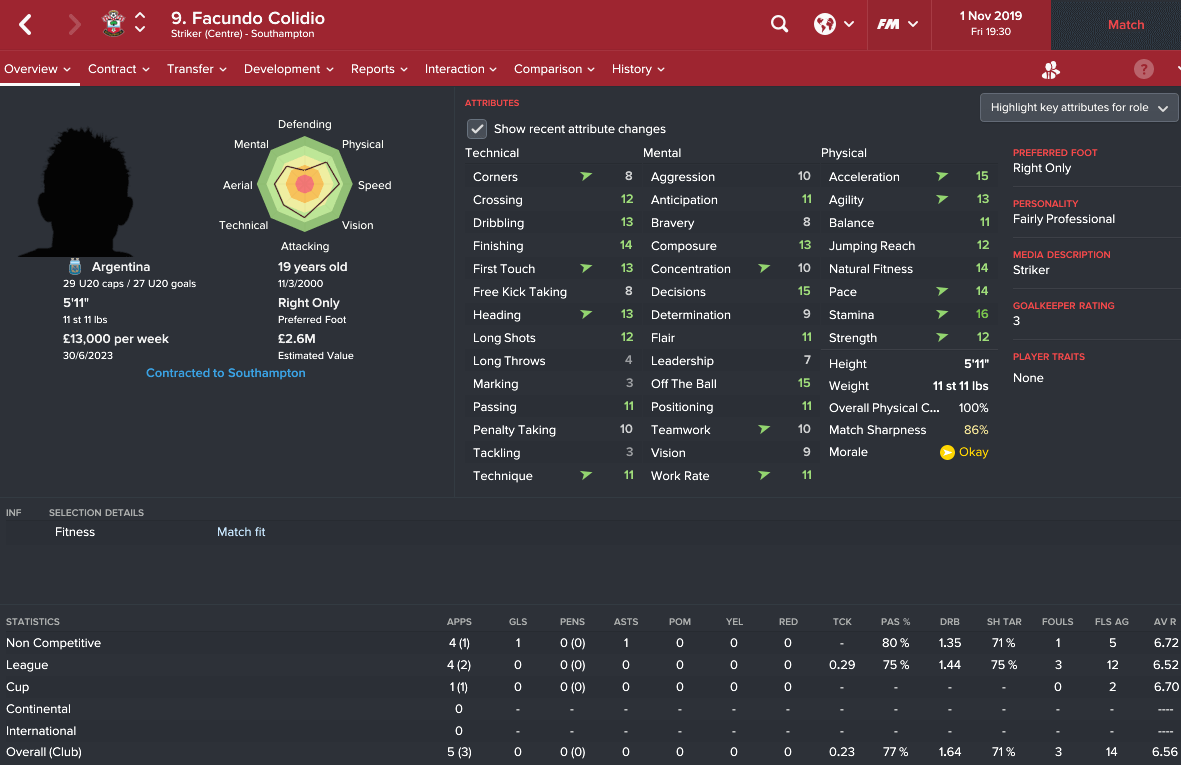 At only 19 years old and unable to speak a word of English, his poor performances shouldn't have been that much of a surprise. I had expected a settling in period, but I had also expected the rest of the team to perform much better than that had thus far. I decided to stick with Colidio for our next game, at home to Middlesbrough: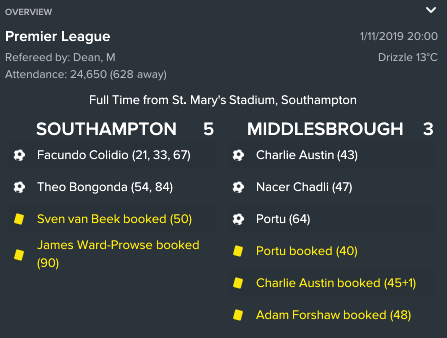 Finally, Colidio scored and – more importantly – we picked up a much-needed victory. Colidio scored in our next two games to buy himself more time in the line-up, as we lost 3-2 at Man City before putting on a masterclass at home to Watford in a 3-0 win. A 3-0 defeat at Old Trafford completed an inconsistent November which left us in 16th, but our performances had improved considerably following the win against Boro.
December started well, with victories against Newcastle (3-1) and Norwich (2-1), before a minor blip in a 4-2 defeat against Tottenham. Victories against Derby County (2-1) and West Ham (3-2) were followed by a 2-1 home defeat against Liverpool to finish off the year in 12th place and back in contention for the European places.
During the poor run of form early in the season, we had looked to the transfer market for reinforcements. With plenty of money left in the transfer budget, we agreed to sign young Man United fullback Djibril Sidibe for £21.5m, and on January 1st, he joined the club. Although he was capable in  both fullback positions, he was signed primarily to operate as a Box-to-Box Midfielder – initially as cover for Gosling, with the long-term aim to replace him in the starting line up.
He made his debut on New Year's Day in a 1-0 home win against Stoke, before we drew 2-2 with Swansea in the FA Cup 3rd Round. A 2-1 win at Bournemouth completed the double over our nearest rivals, before a 1-1 draw against Swansea in the FA Cup Replay ended with a 4-3 victory in the subsequent penalty shootout.
Having fallen out of favour, Nathan Redmond and Manolo Gabbiadini were both sent out on loan to RC Lens and Sassuolo respectively, bringing in £320k per month, and that appeared to be it for the transfer window.
A dull 0-0 draw at Burnley and a 3-2 win at home to Crystal Palace preceded a 1-1 draw at Sunderland, before movement was made in the transfer window. With table-topping, defending Champions Tottenham circling, Sven van Beek asked to leave and we agreed on a £20.5m deal. Although I was reluctant to let him leave, it did open up opportunities for some of the impressive youngsters sitting on the bench. Nordi Mukiele and Donovan Watson had both impressed in their limited appearances so far, and I felt confident that they could fill the void.
The extra money expedited a move for a new goalkeeper, which I had initially expected to complete during the summer window. Fraser Forster had been doing ok, but at 32 and with mistakes creeping into his game, I decided to make a move for Torino goalkeeper Vadja Milinkovic Savic. Following a 3-1 defeat to Arsenal, we completed the signing on the final day of the window.
Our improved form over the past two months has left us in 9th place, only 4 points behind 5th placed Chelsea. Having not scored in his first 8 appearances, Colidio has 12 goals in 24 appearances at the end of January. While Vincenzo Grifo has 5 goals in 11 games, having forced his way into the team recently. Chris Smalling has been a rock in defence and will be expected to lead the line following van Beek's departure.
In terms of Brexit, it's clear to see that prices of British players have started to creep up. Established stars' prices have remained relatively stable, but some of the younger players have ridiculous price tags. 20 year old Josh Tymon moved from Hull to Everton for £17.5m, while Rico Henry – a full back at Championship side Brentford – is valued at £12.5m. George Dwyer at Tottenham is valued over £10m, despite never having played a game for them, and other clubs have similar players.
With a limit of 17 foreign players per squad, however, there isn't any major necessity to sign British-born players. The rise in prices has actually increased the probability of foreigners coming in, which must be soul-destroying for Nigel Farage and Katie Hopkins! We will have to see what happens in the summer window, when a full year will have passed since Brexit, but at the moment the prices seem to be rising unnecessarily.
Overall, it's been an up-and-down season, but with 12 games to go, we are in with a shout of making Europe. Our next game is a 4th round FA Cup tie against Fleetwood, so I'm hoping we can progress there and hopefully put a run together. I'd be happy with 7th place again this season, but I'm not ruling out a higher finish. Following the Arsenal game, we have 4 of the top 5 still to play, but only one of those games is away (at Anfield). We have a further 3 games against sides in the top half of the table, and results in those games will likely decide where we finish.
In Scotland, Celtic have been struggling. At the time of writing, they are 3rd in the Scottish Premiership, 13 points behind surprise leaders Hearts and 1 point behind arch-rivals Rangers. It's a bittersweet feeling for me, as I had left them in good shape. Granted, I took Charlie Taylor and Dan Gosling from them, but there is still enough quality in that squad to dominate in Scotland. It's also a testament to how well we did to win the Europa League with that team.
So, there you have it – our first foray into a post-Brexit world. Much like many have predicted of the real Brexit, things started badly and questions were asked of the leadership, but things have picked up and hopefully we are leading Southampton into a prosperous new era. We are going to take back this once great club and make Southampton great again!
… Or, something like that…