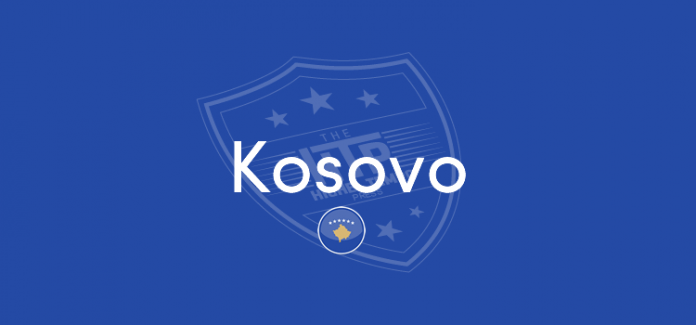 So, we've taken a break and returned with our feet firmly on the ground following our Euro 2020 outing. I pleased that we managed to go and actually get a win out there despite the odds being against us but I do feel there's still more to come from us. We set up for the UEFA Nations League to work on a few things before the World Cup Qualifiers for 2022 creep up on us.
We've been drawn in Group 2 of Division C in the UEFA Nations League along with Finland (65th), Romania (61st) and Scotland (55th). Our last Nations League outing allowed us to gain promotion from Divison D with 6 wins from 6. Our aim this time around is to consolidate our place in Division C.
The squad is announced for our first two fixtures and the media have had their say, as always. They were never this critical back before we got a touch of success about us…

First up is Finland at home. We played Finland before in the 2018 World Cup Qualifiers and lost twice but we're a more experienced squad now. We've been to the Euros and they haven't!
We're going for something new with a 4-4-1-1 with Valon Berisha playing in behind the forward, we'll be relying on him getting into the box to finish some chances.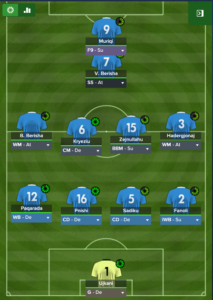 The first half is a tense affair with neither side giving up much ground, scoreless at the break. The game sparks into life on 57 minutes when Kosovo break from a poor Finnish corner, Valon Berisha is involved in a one-two and gets into the box to finish…GOAL! 1-0 Kosovo. We switch to a defensive stance and then in the 86th minute a break down the right wing sees a great cross in for Vedat Muriqi to head home…GOAL! 2-0 Kosovo. A fantastic result and a triumphal return from the summer tournament.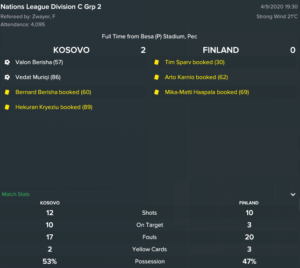 With that goal Vedat Muriqi overtakes Herolind Shala to become our top goalscorer on 8 goals.

It's Romania away now. The saying goes that 'if it ain't broke don't fix it' and I'm not one to fight with idioms. We played Romania in our Euro 2020 qualifying group and they beat us twice as well, let's hope we can show how far we've come.
It's not a great start as Romania take the lead on 15 minutes from a well worked set piece…GOAL! Romania 1-0. 2 minutes later and Romania have doubled their lead, the training ground has paid off as it's another set piece…GOAL! Romania 2-0. It's 2-0 at the break and Kosovo need to come out strong in the second half. In the 51st minute Kosovo pull a goal back, a long range shot from Zejnullahu is deflected goalward…GOAL! 2-1. It's not enough as Romania run out 2-1 winners.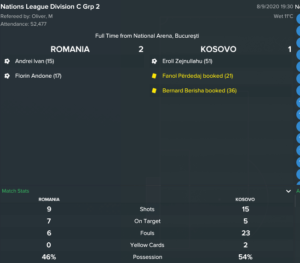 We've climbed up to 71st in the World Rankings – another highest point for us!

The October squad has been named, the big change is Bernard Berisha is dropped due to suspension and replaced by Arber Zeneli.
We travel to Scotland now who are currently top of the group with 4 points from 2 games. There are a few changes due to injury, Paqarada and Pnishi miss out. Zeneli starts in place of Bernard Berisha.
Scotland take the lead on 16 minutes against the run of play…GOAL! 1-0 Scotland. Kosovo hit back in the 24th minute as Muriqi plays Zejnullahu in to finish…GOAL! 1-1. Just as we look to be heading toward half time level Bajrami fouls in the box to give Scotland a penalty – Leigh Griffiths steps up and restores Scotland's lead…GOAL! 2-1 Scotland. Just a few minutes into the second half and we have parity again as substitute Sinan Bytyqi heads in…GOAL! 2-2. Heartbreak in the last minute as Scotland strike with the last kick of the ball to win the game…GOAL! 3-2 Scotland.
It's time to take on Finland again, this time we travel to Helsinki. Pnishi and Paqarada return to the starting line-up. Bytyqi starts in the place of injured Muriqi.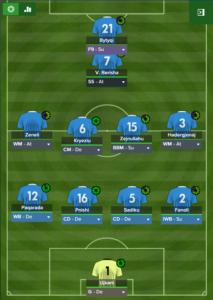 It's Finland who strike first on 17 minutes through a neat finish…GOAL! 1-0 Finland. On 40 minutes a well worked move sees Valon Berisha free in the box to finish…GOAL! 1-1. Just after the break a corner is headed on at the near post, headed across goal from the back post then finished at the near post by Sinan Bytyqi…GOAL! 2-1 Kosovo. On 66 minutes Kosovo break and the ball comes to Valon Berisha in the middle of the pitch and he strikes it with aplomb…GOAL! 3-1 Kosovo. WOW WOW WOW, on 75 minutes Kosovo have a freekick and Berisha strikes for his hattrick…GOAL! 4-1 Kosovo. What a result!
Berisha is now our new all time top goalscorer with 9 goals.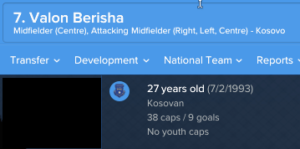 The October World Rankings see us break our own records again.

The November squad is named for the final games against Scotland and Romania. Bernard Berisha is back.

The squad for Scotland is named and Bernard Berisha and Vedat Muriqi are restored to the line-up. A draw will guarantee our safety in Division C. Kryeziu is suspended.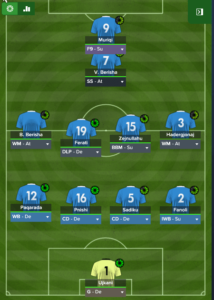 There is no chance of note in the first half and the match is scoreless at the break. The game looks to be petering out until the 78th minute when Kosovo get a freekick and Valon Berisha smashes it home…GOAL! 1-0 Kosovo. The game is made safe on 86 minutes when Berisha plays in substitute Sinan Bytyqi to score his 3rd goal in 3 games…GOAL! 2-0 Kosovo.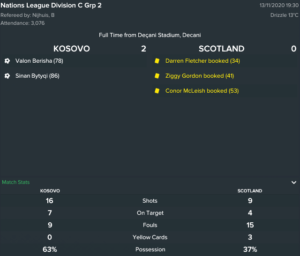 We're in control of the group as we head into the last game. 1 point clear of Scotland and 3 clear of today's opponents, Romania. Kryeziu returns to the starting line-up.
The deadlock is broken on 4 minutes as Valon Berisha takes the ball wide to cross for Hadergjonaj to knock it home…GOAL! 1-0 Kosovo. In the 16th minute an error at the back for Romania leaves Bernard Berisha with an open goal to aim at and he makes no mistake…GOAL! 2-0 Kosovo. 6 minutes after the half and Kosovo strike again, Hadergjonaj finds his second of the day…GOAL! 3-0 Kosovo. The lead is extended on 56 minutes as Hadergjonaj turns provider for on-form substitute Sinan Bytyqi…GOAL! 4-0 Kosovo. On 70 minutes Romania pull one back…GOAL! 4-1.
Amazing! With 4 wins from 6 Kosovo have managed promotion from their UEFA Nations League group for the second time in a row!

We keep rocking up those World Rankings! What a team.

A fantastic campaign that gives us so much confidence for the upcoming World Cup Qualifying Group. Please join us then…I've a feeling it could be memorable!