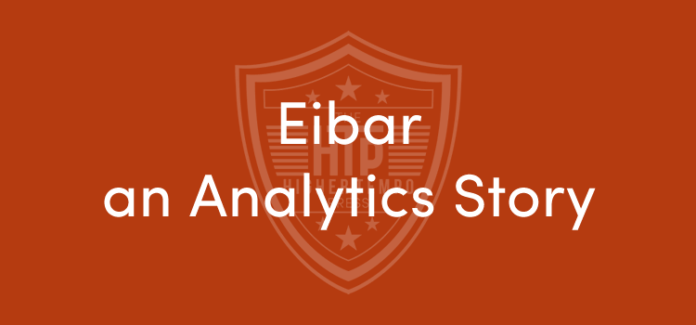 Hey, it's Eibar time again. Since we last met we have only played four games but as I said these Midweek updates are more about certain pieces of Analysis. Today we will take a look at two of our Midfield Players who have featured in most of our games in this season with Dani Garcia and Gonzalo Escalante. I am also writing this to help you to evaluate what exactly your Midfielders are doing and how they are doing it apart from just looking at the Average Ratings that can be inconclusive at times.
Dani Garcia
Garcia played most of his games so far as a Box-to-Box Midfielder, switching to a Central Midfielder on Attack after Pedro Leon got injured – something I was talking about in the last episode.
In terms of ground covered, he did his job very well, covering 14.3 kilometres per 90 minutes. He isn't the main Playmaker in the middle but with us playing a short passing style based on possession that is playing out fairly narrow we want Central Midfielders with very high pass completion ratios, ideally close to 90% like in this case. As it is the nature of the Box-to-Box Midfielder, he is also someone who breaks Pressing lines with Dribblings because the Nature of a Box-to-Box Midfielder is to drive forward when on the ball. However, his creative output leaves things to be desired.
I don't expect anyone to keep track of things likes Touches in the box and Passes into the Box but it is something you can get a pretty good picture by just looking at the Analysis tab after any game. Here is an example for Dani Garcia:
There is a lot of Passing going on high up the pitch because Granada were sitting deep in their own half but even if you add Shooting and Touches to this map, he does not really get into the box. Generally speaking, that is perfectly fine for a Box-to-Box Midfielder but if I was looking to replace him while getting to the next level – whatever that is – I would be looking for someone who maybe has a PPM like "Arrives Late in the opposition Area" just to get that extra attacking intent from him.
Apart from that, I really can't complain about the output as he is doing exactly what he is asked to do and as a club with limited funds and thus limited player options, I am very happy to have a player like him on a weekly wage of only €19,000. However, his contract runs out in 2018, so it is possible that his time at the club ends next summer depending on what he wants in terms of wages and on what other clubs offer in terms of a transfer fee.
Gonzalo Escalante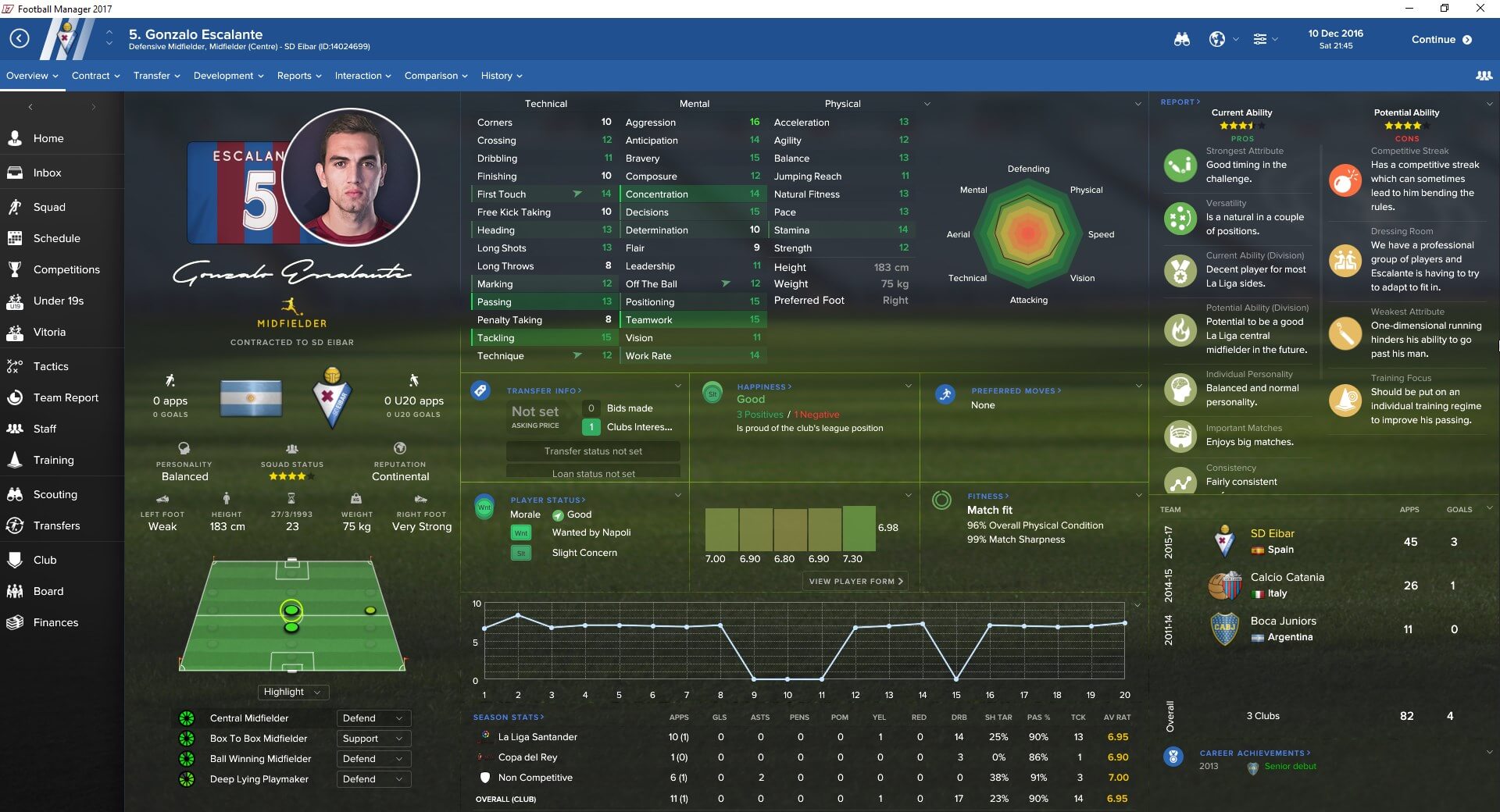 Escalante has been playing the Deep Lying Playmaker position on Defend for us. He started the season on the left of a midfield two, then moved to the right of a midfield two and after Pedro Leon got injured, he moved into the middle of a midfield three, sometimes dropping deeper right in front of the back three when it is obvious that there is a lot of space between the lines.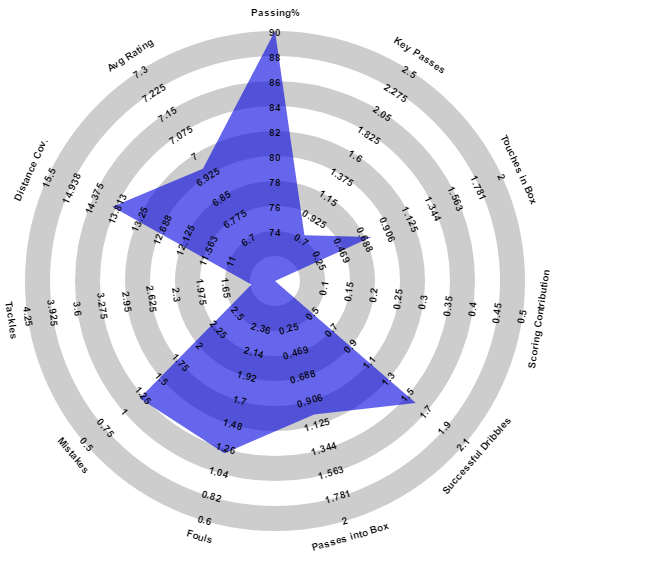 As I said before, we are a team that is based on possession and we really want to have the ball – only Real Madrid and Barcelona average more possession than we do. The DLP is a big part of that. He is usually the first one to receive the ball from the back three and then he is the one responsible for spraying the ball around.
This is also why he doesn't have a single Goal or Assist. In the Defend role, the Deep Lying Playmaker does not get forward very much and most of his movement is lateral or 25 metres around the centre circle. However, he does have quite a few passes into the box and these are usually to the Wingbacks who are providing width and running into the box. He also doesn't do a lot of Mistakes which is partially down to his role but also just to how good he is.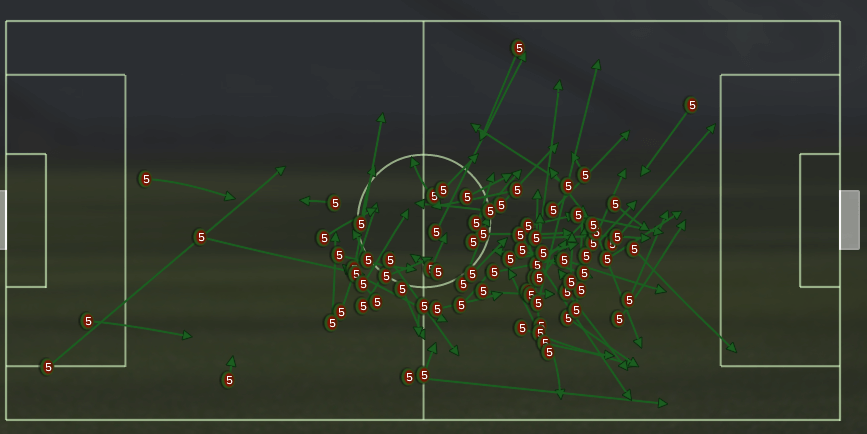 There is also a distinct lack of Key Passes but if you take a look at this passing map you see why: Most of his passes are either from around the centre circle and/or they are going out wide to the Wingbacks who have created space out wide showing how important a Deep Lying Playmaker can be in stretching the opposition both vertically and horizontally.
Results
Our new – narrower – system very much depends on the Wingbacks to provide the width. That means they a) need to have a good day or we won't have a good day and b) leaves space behind to be exploited in wider areas. Luckily enough, Atletico Madrid are playing a narrow style too so we could just outnumber them on most occasions with just a 1 on 1 in wider areas with their Fullbacks against our Wingbacks.
Against Bilbao our system didn't really work because they had very good wide players and we just had a bad day at the office meaning that our Wingbacks didn't really get past their opponents to provide high % crosses which was also due to them usually defending them with two men. Similar things apply to the first leg of the Copa del Rey 4th Round losing 1-0 to Oviedo.
However, in the last game of this little run we probably delivered the best performance of the season so far. Just like Atletico Madrid and Celta Vigo before, Espanyol played a narrow style with deep Wingers who usually tended to cut inside making the whole thing very easy to defend. What they didn't defend well was the edge of the box in the wider areas. Both LWB Junca and RWB Capa were able to receive passes in space in that area on several occasions and crosses/Cutbacks from there are usually a good way of getting decent scoring chances.
If you want to know anything, I am on Slack and you can follow me on any of the Socials below.