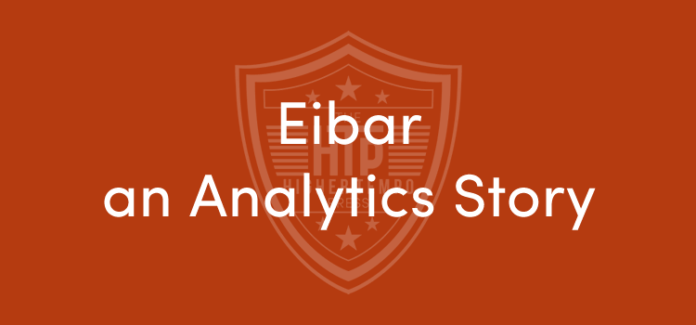 Hey Boys and Girls and everyone else, Eibar is back. Like I promised last time around, we are going to talk about the long time goals of the series including some short-term targets. Let's get straight into it.
Be a Basque Force
Imagine if you are a Basque player and there are several clubs that want you to play for them, including Bilbao, who are obviously the big Basque club who only sign Basque players, Real Sociedad and SD Eibar. Well, you would probably go to Bilbao or to Real Sociedad but probably not to small and poor Eibar. We want to change that. This means mainly bringing in talent from the area. It's going to be hard at first but if we can improve our Facilities I believe we can get there.
State of the Art Facilities
There are different ways to make it to the top in Football Manager. Sometimes you get there and you still have absolutely awful facilities. However, in our first few years, I want to prioritize spending money into Infrastructure and Backroom staff. This means getting in good Coaches and Scouts that can help us to pick up and then nurture the – young – players we are able to sign. There is no distinct wage budget for staff but if you spend a lot of money on staff wages and have the maximum amount of staff in every area this limits the amount of money you can spend on the other parts of the club – something we are going to talk about in more detail later. This especially applies to us because we only have a stadium capacity of 6,300 making the limited Spanish TV Money one of our main sources of income.
Expanding the Stadium and Fanbase
Eibar is a small town with a population of just below 30,000 people so the fact that they have a La Liga team is already quite remarkably, maybe somewhat comparable to Hoffenheim. One of our main goals is going to be to fill the Ipurúa – that is the name of our ground – every game. This shouldn't be hard considering we already have 4,000 season ticket holders. However, I want to expand the fan base and expand the stadium. In the end, we probably will have to build a new one because you can only expand a stadium that much. You might be asking yourself: How does he want to pay for all of this. The answer is:
Finance through transfers
Apart from real estate, players are the biggest asset of a club. And being a small club we have to try to get the best out of these assets. Both when they play for us and when they want to leave us. Essentially the point is that we don't mind being a development club, at least in the first years. This links very well with the analytical approach we are employing at the club because it essentially means that we can sign players because they do certain things well and expect them to do them for us. This means the players are initially cheap because they fulfill a certain mold but can be sold for more if they perform for us because performance is a big part in what the AI ends up offering for a player. There is also the option of just hoarding a ton of young players because this usually ends up bringing in a lot of money but it's not a route I want to go down.
Short-Term goals
Upon my arrival, I set two philosophies: Sign young players for the First Team and Play Possession Football. The first one goes hand in hand with the long-term plans and the second one goes hand in hand with the Tactics I was talking about earlier. When it comes to Short-Term Goals, staying in La Liga is the first one and I think we have enough players to do that easily. This allows us to look for players in the winter transfer windows with our eyes already set on the summer because in the Summer we'll have to replace players like Fran Rico and Pedro Leon isn't the youngest either. When it comes to Europe, it is something I want to reach in our first 3-5 years but I am not sure if Europe in our first season would be good for the club.
Season Start:
If there is one thing in the schedule I could have asked for it is playing both Real Madrid and Barcelona early in the season and not back to back. This way you have winnable games towards the end of the season and you can ensure that morale doesn't drop too much. And as you can see, we won all of our games that weren't against the two. With the Barcelona fixture being a midweek one, we actually played a second string against them making the 3-0 loss look pretty good. I don't believe that just sitting back is good against these sides because if you set up in a narrow and compact shape, their Wingers and World Class Players will just murder you.
One player, I want to highlight from this run is our RWB, Ander Capa. With the way our system works with Pedro Leon as an Advanced Playmaker on the right, the 24-year-old often finds himself in space on the right or ends up isolating the opposition Fullback. He did that to perfection when we spanked Leganes 4-0, a game where he got two of his four assists. Leganes went into the game with a flat back five, two DMs and two Wide Midfielders and just one Striker. Knowing that I instructed my team to play wide and put both of my Wingbacks on Attack.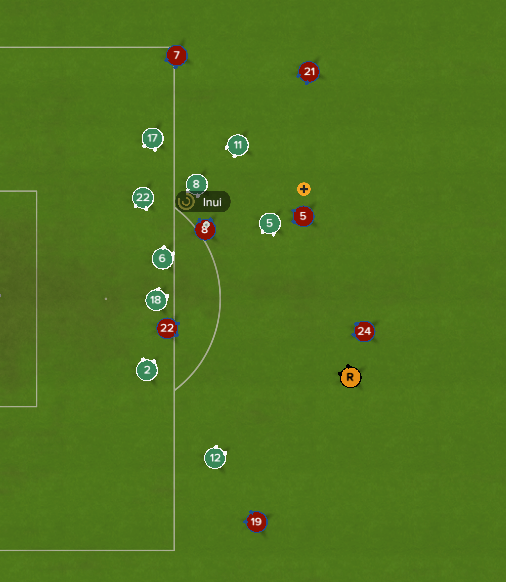 Here you can see Ander Capa – the Number 7 – lurking on the edge of the box. With all of the Leganes defenders going in the direction of the ball which means he has enough space to play a low cross into the middle. Obviously, these aren't moves that usually create Clear Cut Opportunities but against a deep and narrow block, it is a very good way to actually create chances in the box.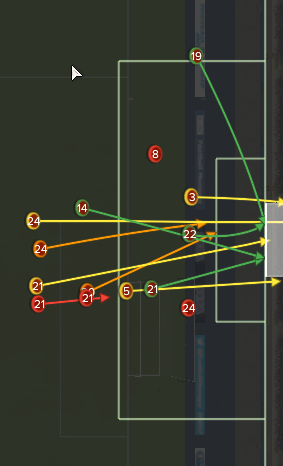 We ended the game with 14 shots and "only" seven of them came from outside the box. Considering the way Leganes were set up I would consider that to be a decent rate. We are still early in the season so the time for big player analyses isn't there yet because the sample size would still be too small.
If you want to know anything, I am on Slack and you can follow me on any of the Socials below. See you next Friday.