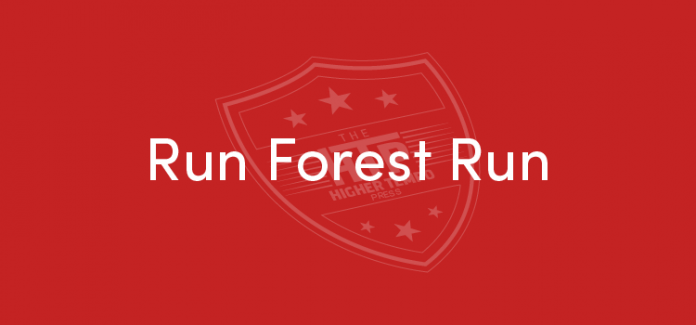 This month is going to be crucial. We're facing our arch rivals and the biggest team in the league twice. It's not going to be easy and we need everyone sharp as nails. I'm a bit disturbed by the collapse against Barnsley. We totally fell apart in a way I haven't seen this season. I decide to add a bit more determination to my back four by swapping Mancienne (determination 10) for Mills (determination 15). We are going to need his bite to get through this tough month. Newcastle United are just a place below us and with just a point in between, Rafa Benitez is literally breathing down my neck. He smells like tapas and sangria. It's making me hungry. But I can't be sidetracked by thoughts of food; today is going to be massive.
In the run in to the match, Benitez shows himself to be a right Spanish bastard by saying our perfomances are caused by other teams underestimating us. I boldly claim in response that Rafa will eat his words, preferably in small portions on very small plates. Team selection wise, Carayol returns to the first team and I switch Licá to the left side. This means Dumitru will start on the bench.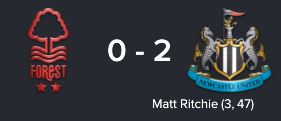 Well, to be honest: we didn't stand a chance. Matt Ritchie was in one of those moods that make him unstoppable. We had only just started when he scores his first and are left astounded when he shoots his second behind Stojkovic from afar. A beautiful goal, but also one that seals our fate. We don't put up any resistance and just sort of finish the match. This has been very disappointing. This result sees us drop out of the automatic promotion places. It seems that I will be the one eating my words, wrapped in a newspaper and covered in vinegar.
After the match, more bad news comes my way. My star player, Britt Assombalonga, wants to join the Pozzo Branch in Watford. This is the first time I'm confronted with player power. I can't afford him to become unhappy in this crucial month. So I tell him that I will let him go if an offer comes in that matches my valuation of him, but while Assombalonga thinks he's only worth £8,250,000, I'm thinking more in the range of £12,500,000. We agree to disagree and the club topscorer leaves unhappy. This is just getting better and better.
Next up are our top of the table arch rivals Derby County. The ultimate Cloughian derby awaits at the iPro Stadium. The Rams have only lost 3 times in 19 games and field a very effective Leicester Cityesque 4-4-2 formation. I change to my 4-1-2-3 in an attempt to dominate midfield with my three players against their two. Assombalonga starts, because Vellios has failed to find the net in ten matches. Besides, last time I checked the Congo born striker is still being paid £15,000 per week. In other news, Danny Fox returns to the first team after recovering from injury. I hope we can profit from his set pieces once again.
When Lansbury hits the net from a long distance, I had hope. Maybe our recent loss of form could finally be ended in the home of our arch rivals. That hope lasted a whole of two minutes, until Marcus Olsson put one past Stojkovic. We still had the best of the game, with more possession and more chances. But Lansbury had lost all his sharpness when he scored in the first half and couldn't be bothered to score another goal. And as any FM player will tell you, exactly this is the moment you get put down and it was Johnny Russell who performed the final act. That's three losses in a row now and we're 6th in the table. Still fine, but not 2nd place fine.
Our next attempt to stop the slump is Preston at home. They have enjoyed a very good November month (3 wins in a row) and are 14th on the table. Simon Grayson has his team playing in a very defensive 3-3-3-1 formation, which I decide to counter using my more direct, high tempo tactics. We'll have to especially pay attention to Jermaine Beckford, who has been scoring for fun lately and has 11 goals in 18 matches under his belt. Furthermore, Carayol is back on the bench, with Licá as right winger and Dumitru on the left and I let Mancienne come back into the fold instead of Mills. Let's do this!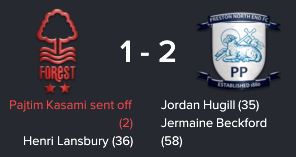 When FM turns against you, it does so with its full might. We're only 2 minutes underway when Kasami decides to re-enact the Karate Kid movie he saw last night by hacking down poor Ben Pringle. With one man less, we actually allow Preston to press us back into our half, which is a bit special considering they have 10 out of 11 players on their own half in the formation screen. Lansbury brings back hope, but it's Beckford who denies us an unlikely comeback. Our 4th loss in a row means we're not even in the playoff places anymore. I sure hope Mr. Romanov is not paying attention.
Where the rest of the world choose to use the month of December by contemplating the last year and bask in the glory of giving and family happiness, the English like to ignore all that and just put as many football matches into these 31 days as humanly possible. So, still reeling from the result against Preston we're up against Wolves just four days later. Considering the quality of their team, they are slightly disappointing with a 16th place. They have lost three away games in a row, so maybe we can finally rediscover what three points look like.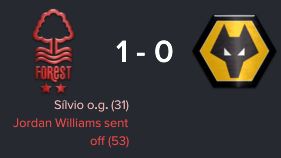 Boy, this was ugly. Don't get me wrong. I love three points after a 4 game losing streak. But let no one mention this game ever again. Ever. Again. We barely create chances, lose the ball a lot and in general seem a bit lost on our own pitch. But then, Wolves defender Sílvio knocks the ball past his own 'keeper following a harmless Licá cross. A Williams red card (that's two red cards in two games… great) forces me to reintroduce Jamie O'Hara to the team. For those that have forgotten him, he's the guy who got injured after 13 minutes in our home game against Wigan in August. After that goal, I go full defensive and park all the buses I can find in Nottinghamshire in front of Stojkovic' goal.
We have a glorious 9 days period before our next away game against a very strong Huddersfield side on Boxing Day. American manager David Wagner has some very dangerous players at his disposal, such as striker Nahki Wells and attacking midfielder Jack Payne. Meanwhile, Carayol comes in for Licá, who managed a paltry average rating of 6.54 in the last 5 games. I also decide to give Traoré a chance as left winger. He's faster than Osborn (who I consider to be more of a central midfielder) and could present a different type of threat from that flank by using his speed. With both Williams and Kasami suspended, I opt for O'Hara. Hopefully, he can stay uninjured.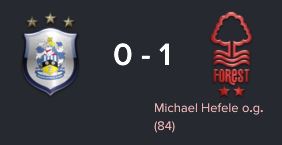 What a great result! Just when it looked like we would leave Huddersfield with a point, Michael Hefele puts a Lansbury cross behind his own keeper. When I saw that ball roll past the line, there were some tears shed. Manly tears of joy. Immediately afterwards, we go to contain and see the match out. A second own goal in two matches just put some shine on our December month. Who cares when it's not a match you put on the DVD? Who watches DVD's anyway? These three points are in the bag and are never coming out. Furthermore, this win sees us back in promotion playoff country, fast becoming my favourite holiday destination.
We end the month on New Year's Eve away to Newcastle United and Matt Ritchie, who's perfomance earlier this month is still giving me nightmares. But I'm glad we face Newcastle now. Better to have it out of the way then face them at the end of the season, when there's everything to play for. Hopefully. Kasami's still suspended, but Williams is not so the Liverpool loanee returns to the starting eleven. Traoré didn't have the best of games against Huddersfield, but he get's another chance. Oh, and we go defensive. From the start.
This was no longer a match, but a battle. Men versus men. We keep them out during the first half, and in the second half something wonderful happens. Lansbury puts a long shot past Belgian goalkeeper Matz Sels. David Byrne and I fall into each others' arms and celebrate like it's almost 2017. After that, 'parking the bus' is no longer fitting for what we're doing. It's more like digging a trench, parking a bus in it and building Hadrian's Wall on top of that. But somehow, it's not enough. A long range effort by Diamé prevents any gloating I had prepared for that Spanish tapas restaurant waiter. But still, 1-1 at St. James' Park. I'll take that any day of the week.
I ended my update of November by saying it would be a miracle if we would still be 2nd come January 1st. Unfortunately, that miracle didn't happen. Defeats against Newcastle, Derby and Preston have pushed us to the edge of the promotion playoff places. However, there's a small gap appearing between places 7 and 8 and if we can stay on the right side of that gap, we have a strong chance of qualifying for the playoffs and who knows what can happen then. The match against Birmingham City next month is going to be very important.