The Objective: To manage my Home town club, Dover Athletic, in the National League. Dover Have never played League football. I am going to try and change that.
PRE-SEASON
Having retired from work as a scaffolder due to suffering from a bad case of vertigo, I decided to embark on getting stuck into my coaching badges. Upon reaching the Level 2 coaching badge and seeing that Dover Athletic had parted company with possibly their most successful manager of all time, Chris Kinnear, I threw my hat into the ring and emailed a copy of my qualifications over to HR. Just two days passed and an email arrived into my inbox saying that as I was the only applicant for the job, it was mine for the taking.
Friday 1st July 2016, my first day as a football manager. I'm handed the keys to my office and a coat with the Dover Athletic emblem on. Thats nice of them, something to keep me warm on the training pitch or on match day. Turns out the heater doesn't work in my office. Good job its July! My assistant, Jake Leberl turns up with a folder under his arm containing a list of players and their attributes. The team is Semi-Pro which means only a couple of days training a week. Its going to be tough against the bigger, full time sides.
The staff list consists of one coach, physio and scout. The U18's have a manager and coach. Due to poor ability, all three on my staff list from the previous regime are released. I shall keep Jake for now to help with the getting to know the players. New staff members will be a priority. Loui Fazakerley, my player fitness coach is offered mutual termination which he accepts for 10k and moves on.
We set about setting up the teams training session for the pre season friendly period, which is quite difficult when you can only train twice a week! Friendly matches are as follows:
First meeting with Mr Chairman. Jim Paramenter is a local businessman who has put a lot of money into Dover. His welcoming demeanour soon disappears as he sets about his targets for the following season. A top half finish in the League, First round of the FA Cup and at least Fourth round of the FA Trophy. All this to be achieved on a wage budget of £14,000 a week and a transfer budget of around £8,000. Bargain basement shopping then. Better employ some decent scouts.
The boys come in for their first training session and while we all suggest a mid table finish is satisfactory, murmurs from the back of the room suggest a play off place is not impossible. I like their style, if we are going to get out of this division then I'm going to need everyone pulling in the right direction. And so my squad looks like this: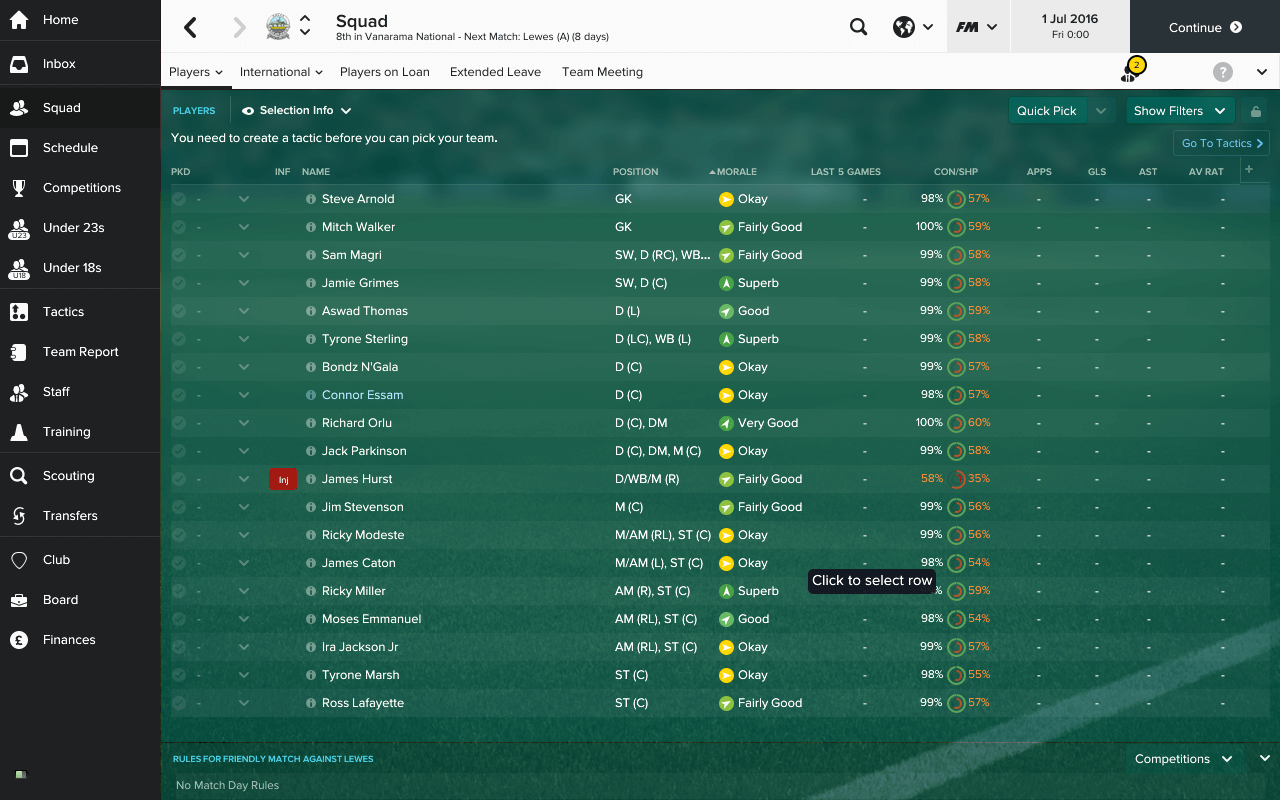 Only the one injury, Hursty is out for three months with a suspected groin strain. Too much lunging on the Ibiza dance floors post season no doubt. Unless there is an absolute world beater on the free transfer list, then I will be sticking with the squad who lost in the play off Semi Final last season.
With limited talent amongst the squad, my tactical approach at this level shall be basic. The previous manager played with three at the back and both fans and players, were not so keen. I shall be playing with a 4-4-2 formation, wingers set to attacking and only using Higher Tempo and Play Offside as my only instructions. These shall be tinkered with as the season progresses.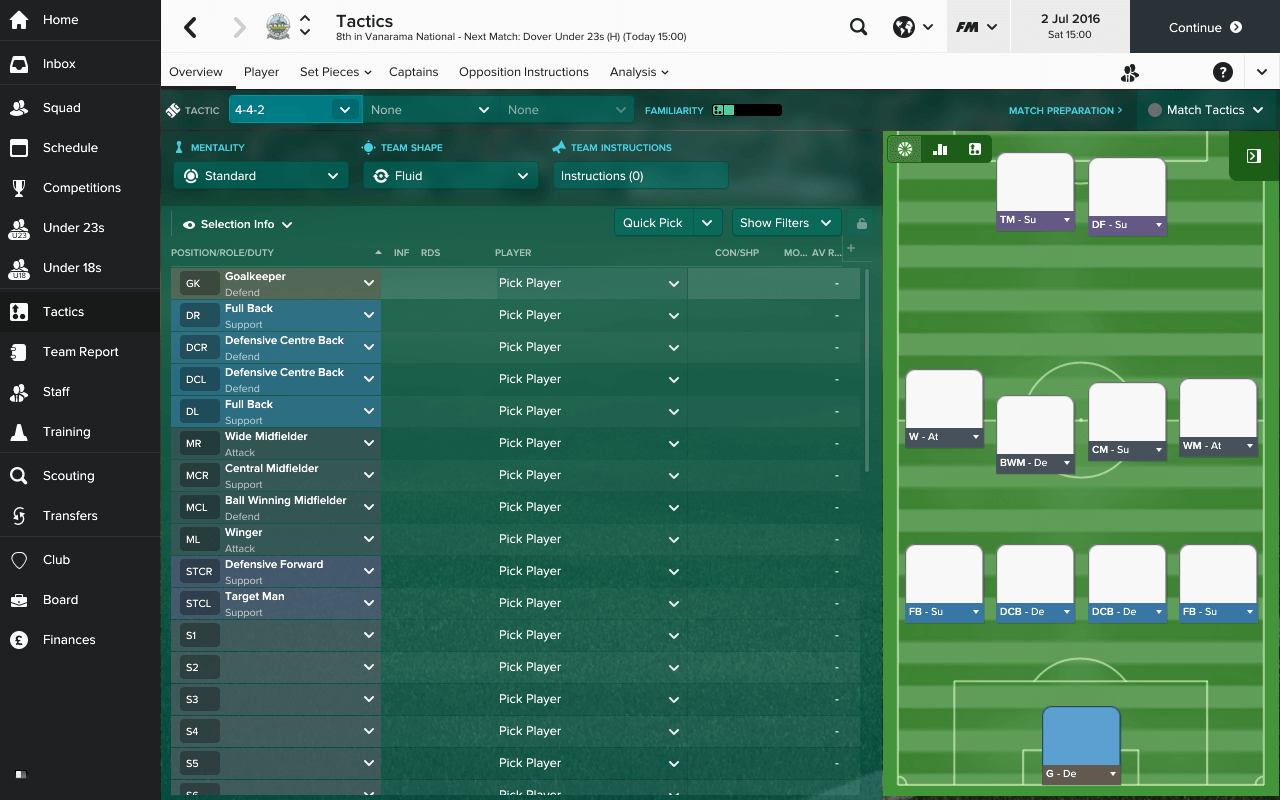 After a good first training session, I send the boys home to rest as they are playing the Under 23's tomorrow. No rest for the wicked. Theres a long season ahead. I drive home with head full of ideas, plans, tactics and what to should I have for dinner? My phone bleeps, a text from Chris Kinnear Jnr. He has left the club effective immediate. Fair play, cant expect the lad to stick around after the way his dad was sacked. Lets hope i can stick around a bit longer than him.