THE OBJECTIVE: TO MANAGE MY HOME TOWN CLUB, DOVER ATHLETIC, IN THE NATIONAL LEAGUE. DOVER HAVE NEVER PLAYED LEAGUE FOOTBALL. I AM GOING TO TRY AND CHANGE THAT.
September
A good mornings training is ruined by the fact my fax machine is the bearer of bad news. We are to be without Sam Magri and Tyrone Sterling, who have been selected for Malta and Grenada respectively. Obviously this is a great achievement for the boys, they both seem chuffed as monkey nuts, as I break the news to them inside the portacabin. What they are both not so happy with is the damp smell of the small cramped space, which reminds me, I must get some febreze! It also leaves me very short in the full back department.
Off to the North West with Southport our destination. New signing Fitz, is brought onto the bench, while summer signing, Sofiane El Bekri, is brought into central midfield for his debut. He's impressed in training so I'm going to throw the lad in.
At last, we board the coach home with fish, chips and three points. A topsy turvy game in which we took an early lead through Miller, before Mitch Walkers wrists were injured and the proverbial wheels came off again. This time though the boys dug in and came back from 2-1 down to win 3-2. Miller grabbing a double. Sofiane's debut was an absolute dream, two assists and a great pass completion ratio. Fitz also came off the bench to set up what was the winning goal. A good day all round.
The following week is the first time in the job that I have actually had a whole week to sort things out. No midweek games this week so just our normal training pattern of Tuesday and Thursday. Magri and Sterling both return from International duty unscathed, which is a bonus. Forest Green, last seasons nemesis in the Play Off Semi Final, are in town next. A tough game I'm sure.
The Non League Paper, announce that Ricky Miller makes the 'Team of the Week' for his two goal salvo, against Southport. I call him into the office and tell him to keep up the good work.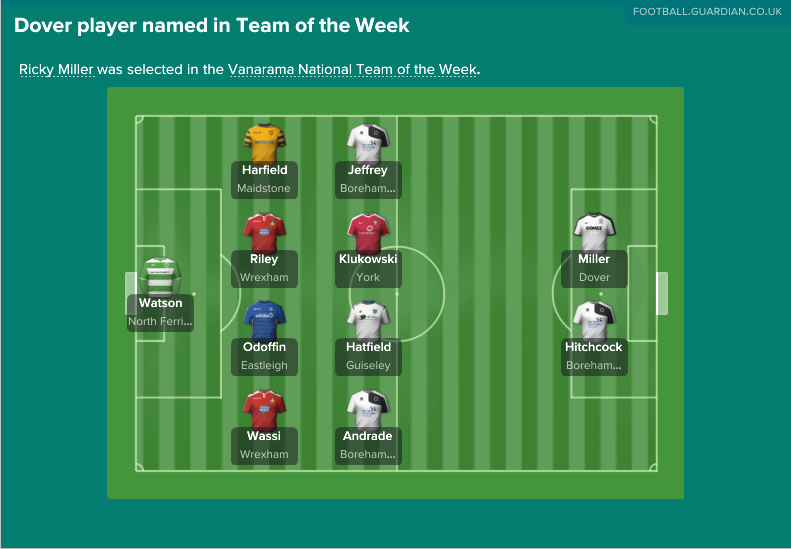 An early kick off means one thing, BT Sport are here to televise the match. Obviously last seasons Play Off drama had the producers at BT wanting more. Unfortunately for them it never really got going, a drab game was only lit up in the dying seconds when Miller rounded one defender and lashed home for ten yards. The place erupted, no doubt you could hear the cheer down on the beach. Three wins on the spin will do very nicely and since switching Parky to centre back, we have certainly looked more solid.
No time to revel in our recent success as we are back on the coach to East London. Dagenham and Redbridge, or as they shall now be known, the giants of the East End. Their team were huge. They must have had about eight players, all of which over six feet tall, and boy did they make it count. They took an early lead from a well worked goal, Lafayette losing the ball in a dangerous area, and we were duly punished. Ricky Miller fired us level just before the break, but then it began. Long throw after long throw, followed by numerous corners, in which they would score twice. Miller hitting the bar late on was little consolation. Two games in three days had certainly done a few of the players in. Sofiane was proper blowing in the second half. Like all good things, they at some point must come to an end. Its how we react from this defeat now, ill be looking to see.
Jakes taking training tonight as I'm off to watch the Under 23's. Ollie Cole, our young striker signed in the summer, has scored three goals in four games. Worth a look to see how far off First Team action he is. I would say he's pretty close after this encounter. The lads pull off a cracking 4-0 win over Welling United. Ollie scoring two and making one. He's definitely knocking on the door thats for sure.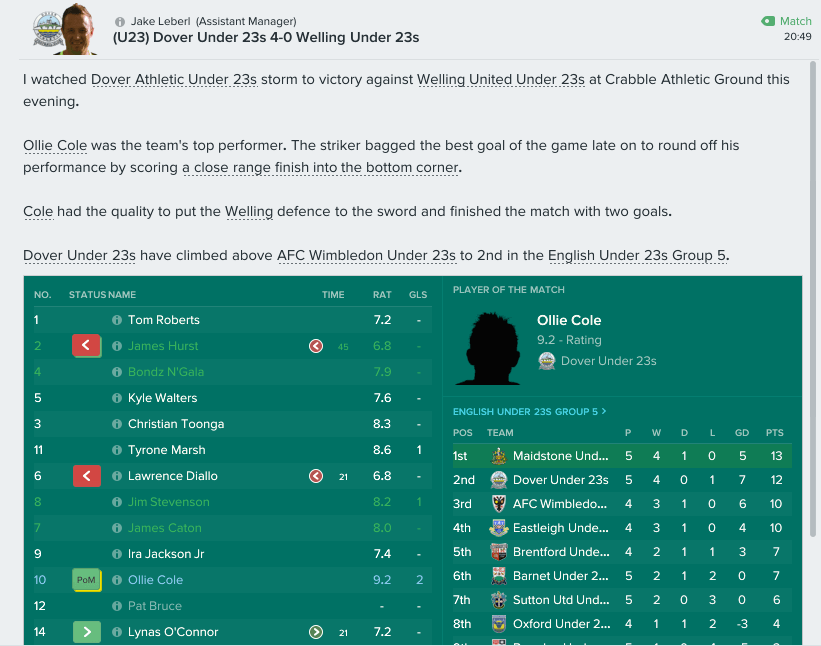 Ive decided to start reading, firstly to broaden my coaching horizons and secondly, because we seem to travel far and wide when we go away. Saturday sees us travel to the beautiful city of York. Like Dagenham and Redbridge, York tumbled through the League Two trap door last season. I hope the coach driver has a nectar card, he will be raking it in by the end of the season. A five goal thriller at Bootham Crescent, except this time we are on the receiving end. A 3-2 defeat is hard to take at the best of times, but when you are down to ten men and winning 2-1 with five minutes to, its a bitter pill to swallow. Are you F****ing kidding me, I scream at the fourth official, when he holds aloft the board with six minutes of injury time on it. The only incident in the second half was Matt Richards sending off. I was apoplectic with Matt. Booked for dissent then another foul just two minutes later, meant an early bath for my midfield ball player. York were to score the winner in the 94th minute. The long drive back to Kent would be a quiet one.
Bondz N'Gala knocks on my office door, he wants to be starting more games. He gets his wish and is recalled for the visit of league leaders, Lincoln City. If you watch our games you are sure to see goals. We race into a three goal lead, only to let Lincoln back into it. Luckily enough we manage to hold out for a 3-2 victory, much needed after our recent blip.
Signing youngsters in the summer has highlighted that my squad is lacking a little fight. A leader to help drag teams through games when the going gets tough. I invite both scouts into the office and set about looking for something in which i feel is missing in the squad. I'm not entirely sure what that is yet, but when I know, you will too.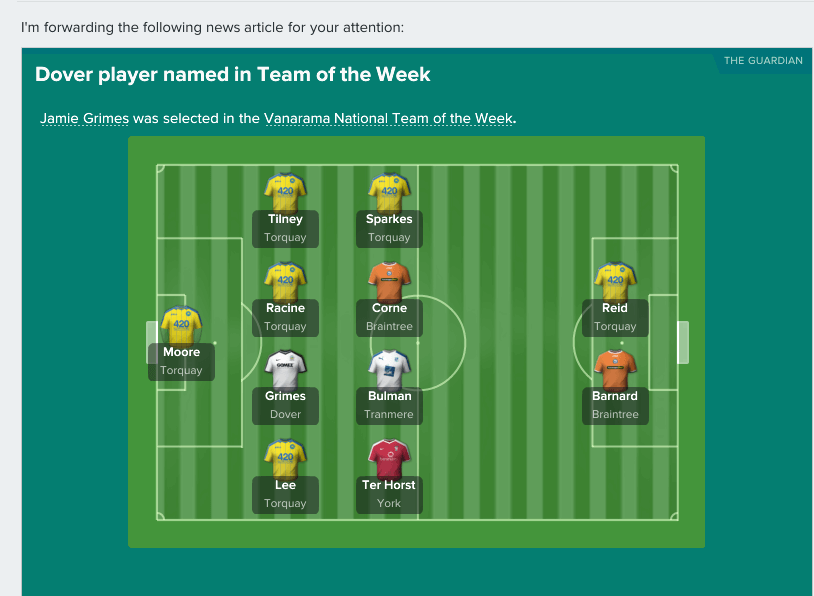 Jamie grimes is named in the Non League Paper's 'Team of the Week' and Ricky Miller finishes runners up in the 'Player of the Month' award. No prizes for runners up though, Ricky.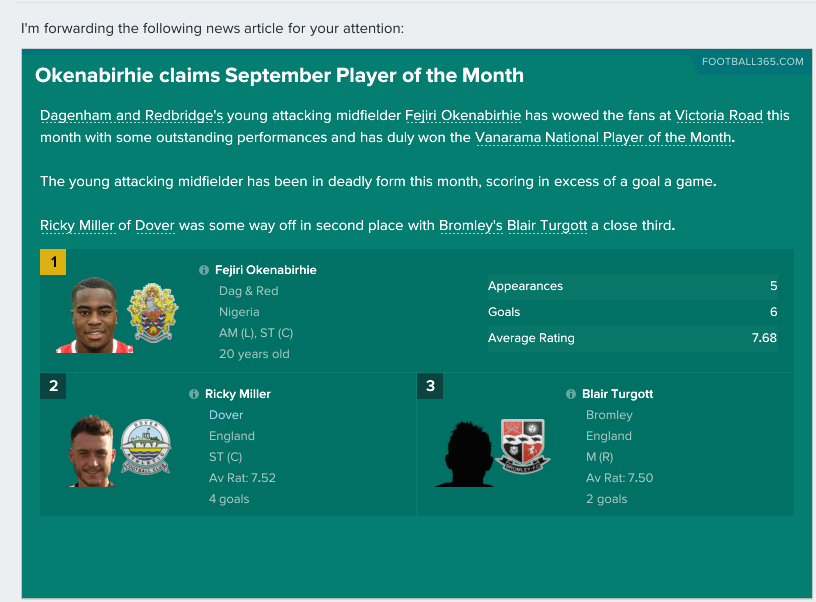 Jim calls and I'm summoned for my monthly meeting. No Jammy dodgers again, although there are some nice looking arctic rolls on the side of the desk. He's very pleased with the victory over Lincoln. We sit in tenth position, seven points behind league leaders, Tranmere. More importantly, we are only two points off the Play Off places. If the last month is anything to go by, we are in for some real excitement as we head into the Autumn.