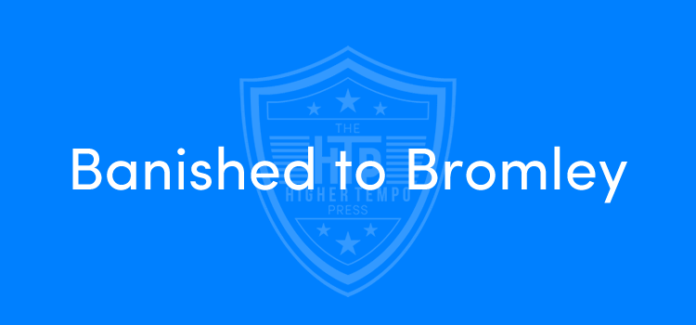 So it's now July 2nd and its already time for me to start earning that £775 a week Bromley are paying me. Today we have that friendly with the under 23's so hopefully some players on both sides can make a good first impression. Leading up to the game assistant manager and head of youth development Mark Hammond has highlighted 16 year old central ball winning midfielder George Bradford as their key man so I'll be keeping an eye on him during the game. Hammond has recommended playing the 4-1-2-3 formation again for this game but I've stuck to my guns and gone with and attacking 4-4-2 here's the starting line-up.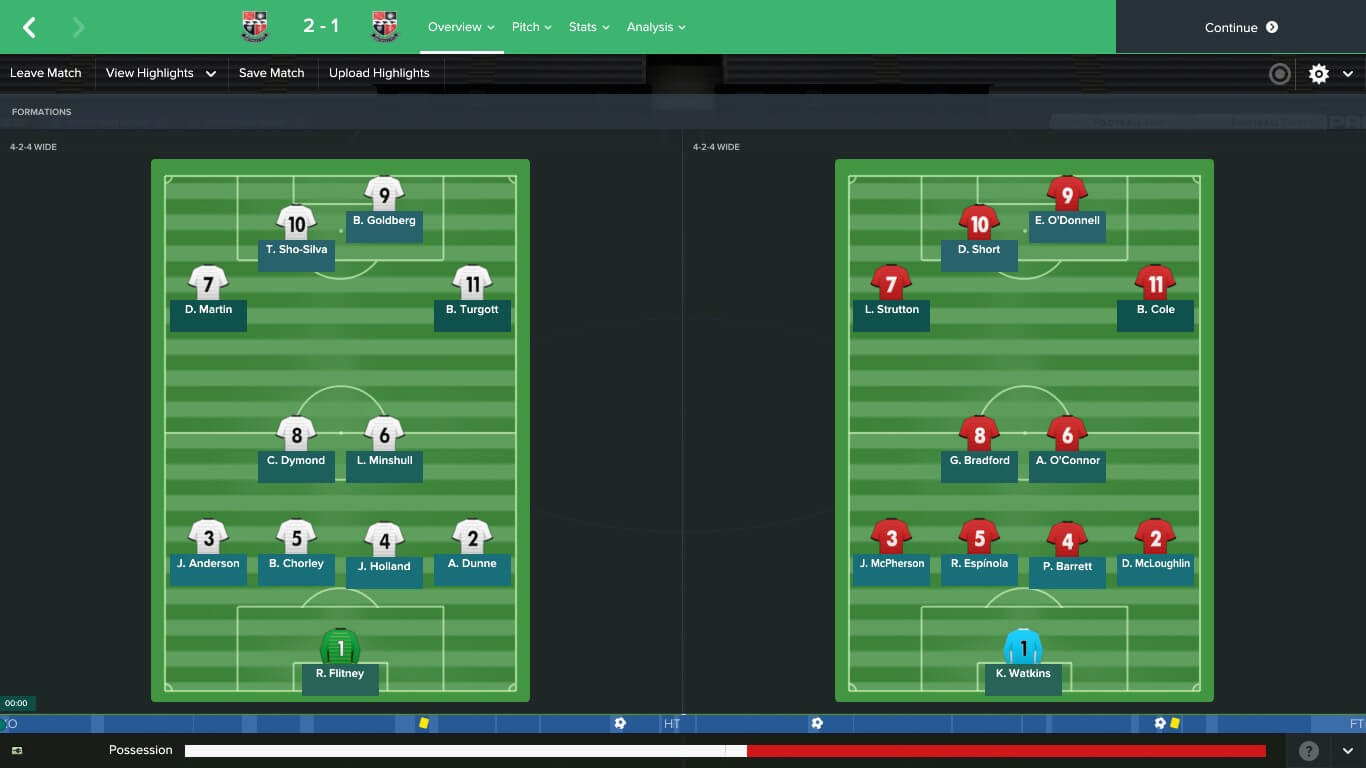 In the first half I was happy to see that the squad had taken on board the instructions to keep passes short and retain possession as we knocked the ball about quite comfortably at times. However, playing with such little defensive cover in the middle of the park did prove to be troublesome as one hoof up the pitch evaded both Connor Dymond and Lee Minshull to see the Under 23's Ethan O'Donnell and Denzel Short link up to score the opening goal of the game moments before half time.
It was time for my first half time team talk of the season and I had to assert my dominance early to rile them up for a second half turnaround. One player who definitely took the team talk on board was Tobi Sho-Silva who was playing as a defensive forward. 10 minutes into the half and Sho-Silva finally marked his name on the game by putting Bradley Goldberg through for a certain goal which made it 1-1. With 10 minutes to go Sho-Silva completed the comeback with a well taken goal to ensure he won player of the match. Despite picking up a yellow card Hammond seemed to be right about Bradford who impressed me with 3 tackles and 6 interceptions, as well as being fouled 4 times.
Before our next game I managed to add two new names to the Bromley roster, one of which helping with our squad depth issues. My first signing as Bromley boss was striker Lateef Elford-Alliyu on a free transfer. The 24 year old free agent's last club was Coventry who he failed to make an appearance for but his best spell came in the 2014/15 season when he scored 13 goals in 26 goals for Valletta in Malta. Hopefully he can have a similar or even better scoring rate for us!
Also a free transfer our next signing was brought in to help prevent goals rather than score them. Filling in as our new left back is Louis Rowley a young player who spent three seasons at Manchester United and one at Leicester City but has been without a club for a year. Unlike Elford-Alliyu, Rowley is quite versatile and could be used in a few positions this season.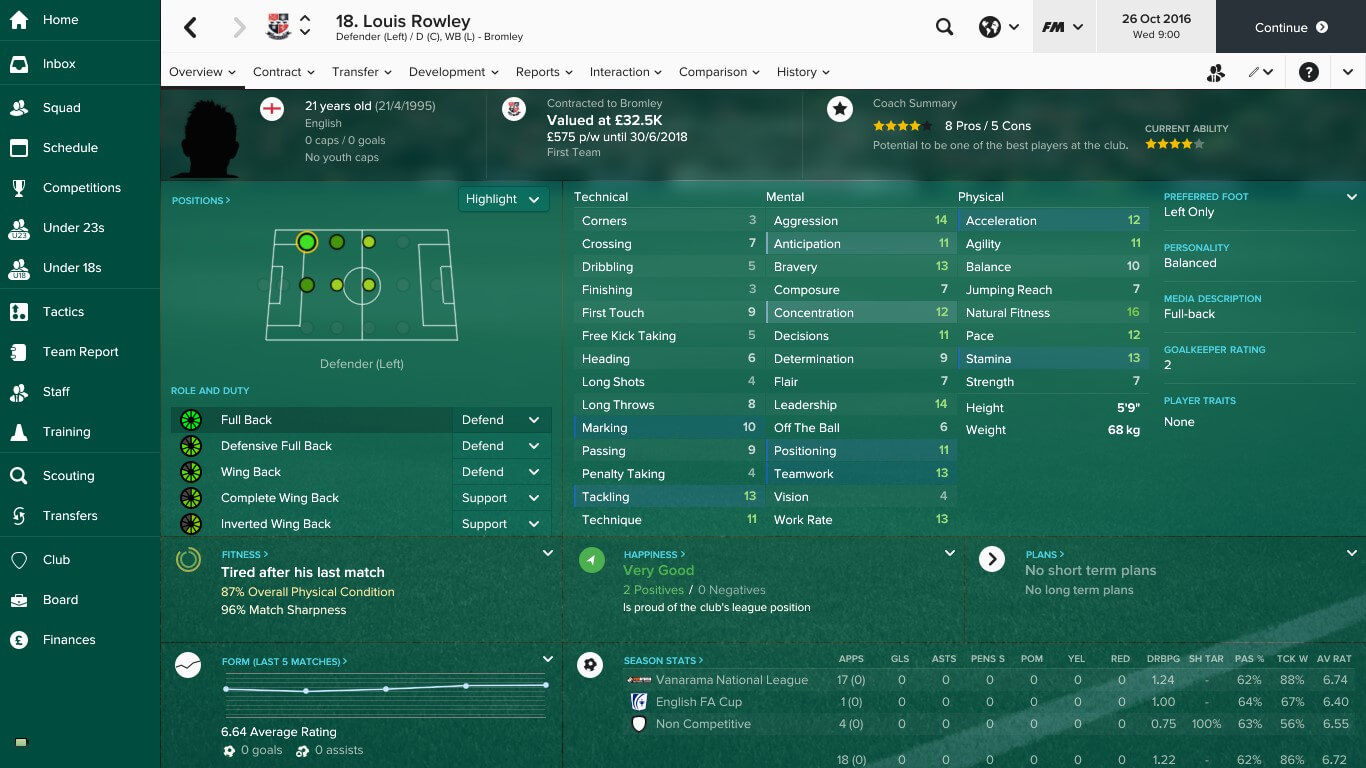 But anyway back to the football and the next friendly away to AFC Kempston, which resulted in a 3-1 victory, and playing the same formation goals from Connor Dymond, David Martin and Ben May won the game. However there was one negative that came out of the game and that was a knee injury suffered by Tobi Sho-Silva which I'd later learn will keep him out of action for 3 months… just my luck.
With another friendly on the way I decided to delve into the transfer market once again, this time for a midfielder, again coming in on a free transfer. Like Rowley this guy has also had some experience being in and around a Premier League club having a spell with Reading in the 2012/13 and 13/14 seasons but hasn't had a club since. Seeing as Dymond and Minshull have made quite promising starts the 20 year old will have to impress me when playing to get into the starting team.
Next we welcomed two League 1 sides in Chesterfield and the local Charlton Athletic to Hayes Lane. As expected, we struggled against both teams, losing 3-1 to Chesterfield and 5-1 to Charlton whose star man Tony Watt, yes the same one who scored Celtic's winner against Barca back in 2012, scored a hat trick in a 10 minute spell to kill the game off, in other news Elford-Alliyu bagged his first goal in Bromley colours.
Before I get into our last friendly of pre-season there are a couple more signings to tell you about. Both free transfers, the first is Nik Tzanev a goalkeeper who looks to be a good deputy for current number 1 Ross Flitney. The New-Zealander has had a spell at Brentford where he failed to make an appearance but has decent potential so maybe in the coming years he can shift Flitney. Seeing as Sho-Silva is out for three months, to get some more depth up front I signed another striker, Cemal Ramadan. Still only 19, Ramadan came through the ranks at Ipswich so hopefully he shows me why he was there for a while.
Now creeping into August I was hoping that form could turn around after those two straight defeats but sadly it wasn't to be. For the first time we also failed to score in a game which saw us lose against Alfreton 2-0. Despite losing the game I felt that we actually played pretty well, retaining possession well as well as hitting the crossbar through Elford-Alliyu only to lose to goals from a free kick and a penalty.
With 3 losses in a row and the Vanarama National League season starting in only 5 days we'll need to quickly put these games behind us and focus on kicking on in the League. Hopefully next time we can get some wins on the board!