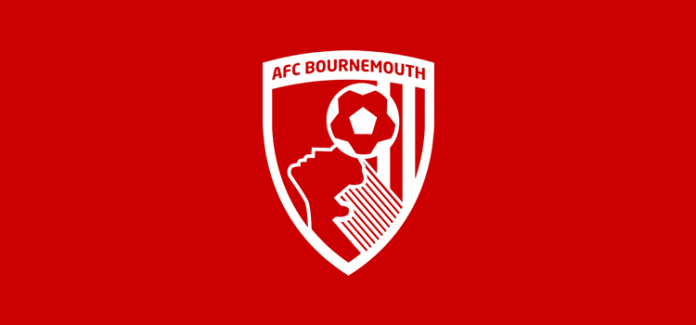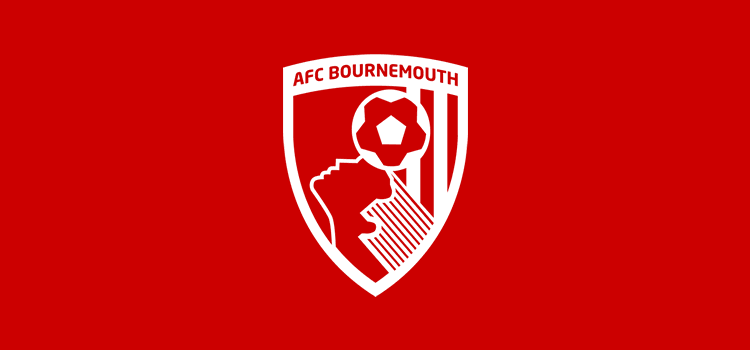 We start the new year as we mean to go on – needlessly pissing away points against bang average sides. Norwich City are the lucky recipients of our generosity. Haris Seferovic, a big Swiss oaf, a man whose first touch makes it look like he's wearing concrete boots, bullies Steve Cook and scores a header from a corner to net the only goal of the game. We muster absolutely nothing in response.
In other news, Alex Smithies approaches me and tells me that he wants to leave because he doesn't feel as though he's up to the standard to play here regularly. If there were a 'Perception' stat, Alex's would be 20. His contract is running down so I decide that I may as well cash in and redeem something for him at least. In this case, 'something' turns out to be £375k from Wolves.
But now I have to find a replacement. A £2 million bid is accepted for Tom Heaton but he wants £100k p/w and is unwilling to accept any squad status other than 'First Team' so I pull out and he ends up going to NYCFC. I spot that Joe Hart's contract is up at the end of the season, so I put him on my shortlist and instead plump for the only English GK on the loan list: Freddie Woodman, Newcastle's 3rd choice. They want no fee for him, which probably tells you how good he is.
This is a major gamble but it's one worth taking, I think. Besides, I don't really have any money to spend without adjusting my budgets so I'm willing to risk it and wait until summer. There are a few other bits of transfer window business to mention while we're here.
I have a bit of a panic when, half-way through January, Arsenal bid £25 million for the shiny, beautiful, Granny Smith of my eye James Ward-Prowse. I immediately lodge at equal bid and then follow it up with a bit of transfer scumbaggery that I didn't even know was possible. I tap up one of his international colleagues (I pick Daniel Sturridge for no reason in particular) to promote the club in the press to JWP. It goes down a treat: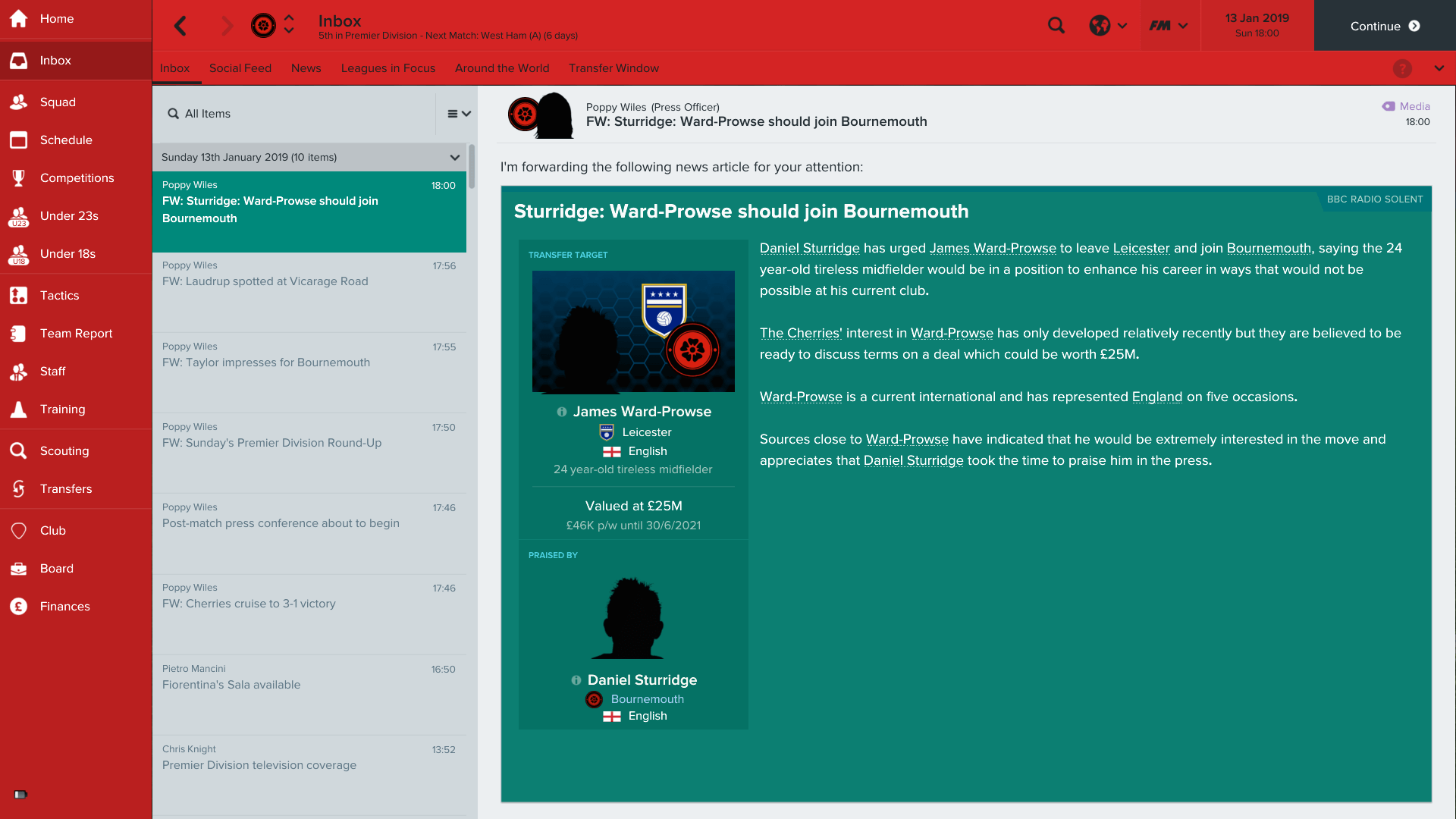 My bid is accepted and I offer him a hefty chunk of change to make sure he picks us over Arsenal. He decides he wants to be a Cherry and signs on the dotted line. Just one problem – I don't actually have money left in my transfer budget and I have no way of raising the funds. I ask the board for an increase but they're having none of it. I have no players who a) are valuable enough to make me the sufficient cash or b) are surplus to requirements/ I'd be willing to lose.
What I can do though, is delay the transfer by a week (twice) to make sure that no-one else can sign him. It's pure shithousery, but it works and JWP stays at Leicester until the summer when I can hopefully pry him away.
While this is going on, Lewis Cook tells me he wants to join Man City because of the wages they can offer. I ask him to name his price and, to my shock, he tells me he wants £65k p/w and says if I offer him that, he'll stay.
Lewis, mate, you've got yourself a deal. In fact, I'll do you one better – I'll offer you £68k p/w. In the process I manage to remove his minimum fee release clause and also his sell on fee percentage. I feel like I've played a blinder.
As soon as the window closes, Charlie Taylor pulls the exact same stunt, using City as leverage to get himself a new deal. He only wants £48 k p/w, which I push up to a nice, round £50 k p/w, while robbing him of any clauses that would stitch me up (he initially wanted a £6.75 mil release. HAHAHAHA). Two of our best players tied down to the club in long term, ironclad contracts, with only minimal increases to our overall wage expenditure. I'm chuffed.
I chuck Woodman into the deep end in our FA Cup tie with Crewe Alexandra. I genuinely don't think he touched the ball. We stroll to a 4-0 win – a powerful Wilson shot, a tame back post header/ trademark long-range scorcher double from Chalobah and a Berahino volley from a rebound – and move on to the fourth round to face Vanarama National side Dagenham & Redbridge.
Villa are then swiftly dispatched 1-0 (Welbeck arriving on a square pass from Morrison) in a game with little to worry us, barring a Nathan Baker header which hit the crossbar in the 85th min. A couple of consecutive victories have set us up nicely for a showdown with Man City, who are somehow currently in 10th place.
That means that my nemesis/ dearest frenemy Pep has been sacked. Rather than doing the honourable thing and appointing a good, English manager, the City board once again prove that they're everything wrong with modern football by naming World Cup winning gaffer Joachim Löw as their new man.
I've got to give old scratch-and-sniff some credit, though, as he plays the glitziest version of a 4-4-fucking-2 I've ever seen in my life. It doesn't do him much good. Sturridge has a goal wrongly ruled out for offside inside the first twenty seconds of the game, but we don't have to wait much longer for our actual opening goal. Rossiter makes the most of a looped throw-in by cheekily backheeling the ball across the box for Nathaniel Chalobah, who touches and swivels and bangs instanteously to nearly burst the back of the net. He launches into a bizarre pseudo-cartwheel by way of celebration, which I strongly approve of.
City get back into proceedings shortly after when Ousmane Dembélé uses a typical burst of pace to leave our defence standing and Diogo Jota gleefully plops home his cross at the near post. Undeterred, we launch forward and essentially wrap the game up before half-time: Sturridge pursues a long Francis pass down the left wing and unselfishly lays the ball off for Welbeck to score right-footed, while Charlie Taylor later discovers some latent set piece wizardry to stick a left-footed free kick from the right-hand side past the wall and Joe Hart to make it 3-1. Joshua Kimmich picks up a second yellow in the 48th minute to make our lives far, far easier and Lewis Cook and Jordan Rossiter proceed to give Isco and İlkay Gündoğan a masterclass in central midfield play for the remainder of the game.
A warm, rich feeling of joy, of vindication, washes over me and I bask in it. Then, of course, it is totally ruined by the FM Gods. The utter, soul-crushing inevitability of what happens next is laughable. I can't even muster the strength to be angry about this. The game has robbed me of my fire and broken my will:
Obviously. Obviously my first choice (and only senior GK) would get injured a week after I sold his back up. Of course.
Our good run of form continues at the London Stadium against a West Ham side who were no match for an attacking unit that seem to have really clicked by this point. Admittedly, I do wince every time Freddie Woodman has the ball at his feet, but his passing is perfectly adequate and on the few occasions he is called into action he stands up the test well. Callum Wilson came off the bench to provide an assist for Lewis Cook (who was practically on the goal line when he made contact with the pass) before scoring himself from a neatly worked free kick routine.
It's nice to be stringing some wins together and morale skyrockets as a result. The first leg of our EFL Cup semi-final against Blackburn Rovers comes at an opportune time, then. I play a pretty much full-strength XI to get the job done early – although I give Wilson a start after his contributions as a sub in the previous game – and my boys don't disappoint me.
The Championship side are predictably no match for our superior quality. The opening goal was a beaut from Jordan Rossiter that bounced off the bar in a peculiar, oddly hypnotic fashion:
The second goal was equally satisfying to watch . Keane clips a ball out to the right wing and Adam Smith crosses the ball on the volley for Callum Wilson to smash in on the full; a proper "the floor is made of lava" goal. The tie is settled by Danny Welbeck practically stealing a goal on the line when Chalobah's stinging effort from a half-cleared corner makes its way through a sea of bodies. There's time for Wilson to ruin his day a bit by missing a penalty, but 3-0 is a solid win and that should be a banana skin well and truly side-stepped.
A tricky away trip to Goodison Park in between these EFL Cup games is navigated confidently thanks to some extremely rash defending. Ramiro Funes Mori hauls Keane to the ground from a Wilshere free kick so Chalobah does what Wilson couldn't and actually scores a penalty. Midway through the second half, Coleman decides he wants to let his team down as well, chopping Cook in half at a corner. Saido Berahino takes the pen this time and lifts it high in the opposite corner to Stekelenburg's despairing dive.
The second leg against Blackburn comes around fast and I tentatively decide to ring the changes: Jack Stephens, Reece Oxford, Andrew Surman and Charlie Daniels are all granted starts.
In great news for my squad depth, they do just as well as the regulars did, waltzing to a 3-0 win. Ravel ghosts in at the front post to apply the finishing touches to Wilson's cross in a bit of role reversal. Charlie Daniels then rockets in a shot from the left corner of the box and the rout is completed when Zeki Fryers leaves a header back to his 'keeper painfully short and Wilson makes him regret it from twenty yards out. And, with that, we're through to the final: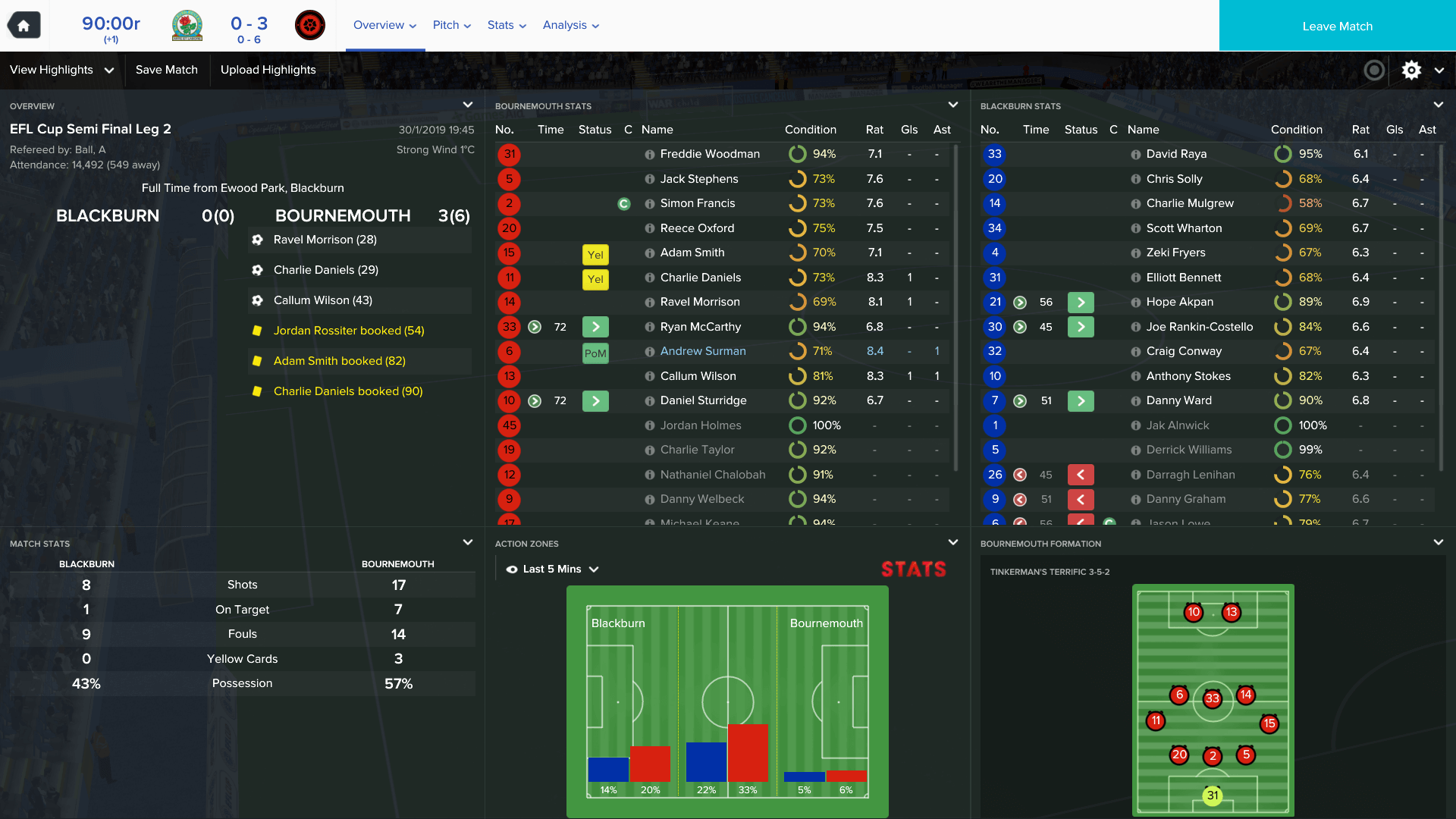 I decide to keep faith with the same lineup for our next game, the FA Cup tie with non-league Dagenham & Redbridge. They just about take care of things, squeaking through 1-0. Ravel Morrison reverted back to his more conventional creative role by chipping the ball to the far stick so Wilson could nod home after 7 minutes. The multi-front cup assault continues.
Back in the world of domestic league football, we're off to West London to play a Chelsea side who've just appointed Phil Cocu (who for some reason takes it upon himself to be extremely complimentary about yours truly – naturally I tell him where to stick his kindness) as their new manager. Unfortunately there's no New Manager Bounce™ for the Blues.
Jack Wilshere put in a gargantuan performance, first by threading a pass through for Sturridge to score against his old club, and then beating omnipresent tackle-goblin N'Golo Kanté at his own game, dispossessing him in the centre circle, dancing past Matić and Azpilicueta and then feeding Saido so he could earn his goal bonus for the week.
That's now nine wins on the spin and, whisper it quietly, Freddie Woodman has yet to concede a goal in his six games between the sticks. It's a mightily impressive set of performances that have seen us emerge from the pack to move into the thick of the top four. How long can it last?
The answer is… a bit longer, perhaps? Although it was really in doubt there for a minute against Stoke. Berahino bagged a ridiculous scissor kick goal when Michael Keane headed an overhit corner back across goal. From there Woodman's great clean sheet run collapsed in spectacular fashion: Shawcross scored a header from a free kick and then Bojan and Ramadan Sobhi take it in turns to assist one another, either side of a blasted finish by Simon Francis from another corner. With Stoke leading 3-2 and with twenty minutes left, I desperately chuck on all of my attacking substitutes and we somehow emerge victorious; Morrison taps in a rebound and Berahino digs out a beautiful one touch finish from Sturridge's lofted pass. Saido was miles offside, and in no way did we deserve a result, but we'll ignore that for now.
Our lot follow that up with a far more mundane, far less exhilarating 0-0 draw at home against Newcastle who are not so much flirting with, but giving full on bedroom eyes to, relegation down in 18th place. The good news is that Butland's back, which is handy as Woodman was ineligible to face his parent club.
It's also good timing because the first leg of the first round of the Europe League knock out stages is right around the corner. We travel over to San Sebastián to face Real Sociedad, who are currently 8th in La Liga.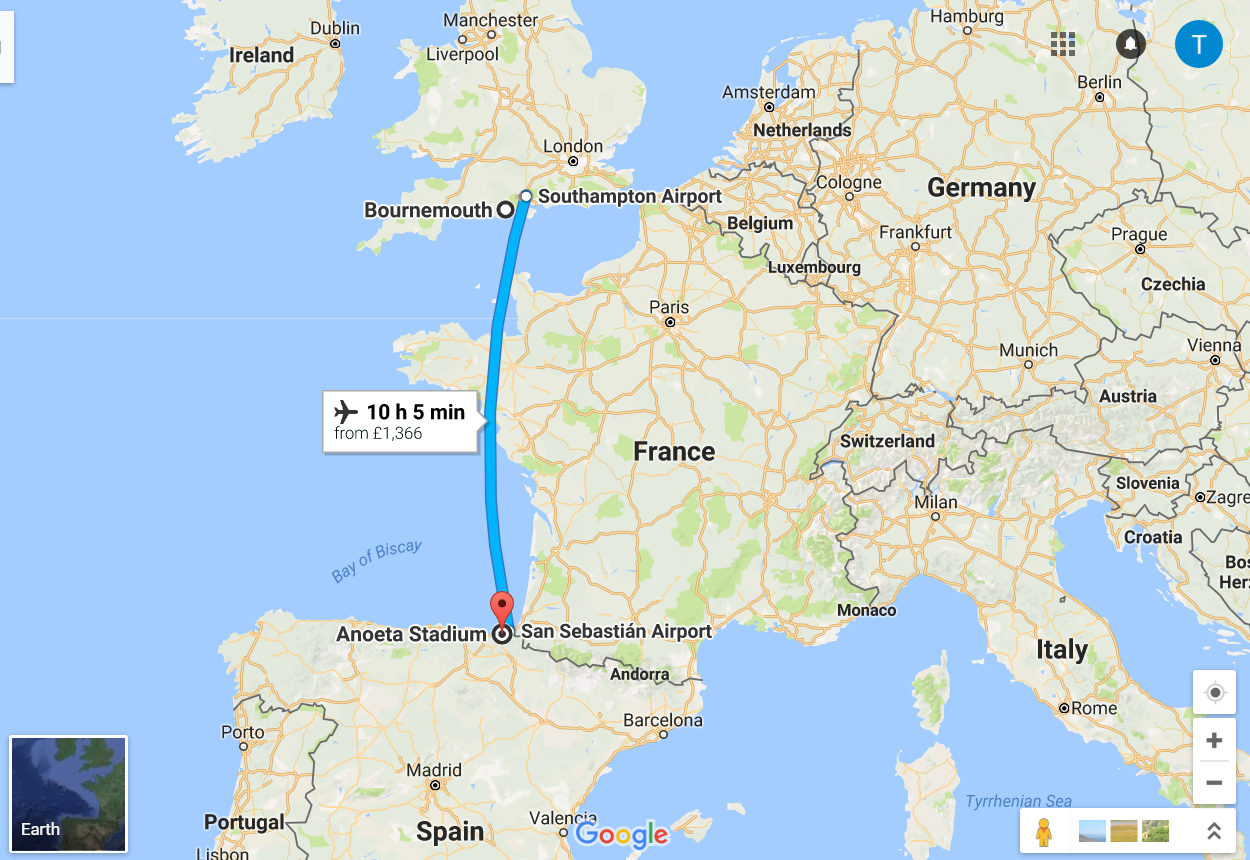 Even my first choice goalkeeper can't save my Bournemouth side from surrendering meekly to what is obviously a superior side. An alliteratively satisfying combination – Varda to Vlasic – puts the home side up but then we go and score a mirror image goal – Taylor cut back to Sturridge – which gives us a wonderful, precious away goal to cling onto. A draw would have been a great result, but Juanpi pops up unmarked in the penalty area to give the Basque side a narrow lead going into the return game.
A home game with Fulham is the filling in a cup tie sandwich, as the fifth round of the FA Cup rolls around. An abject first half performances reaches its nadir when Tahith Chong, who you may remember from such goals as: That Equaliser Against Me Earlier In The Season, does a bit of a dribble, bamboozles Steve Cook and then crosses for Floyd Ayité.
I'm in a foul mood and give the lads a right bollocking. Agressive team talk. Three substitutions there and then. The works. Clearly it resonates though, as we score four unanswered goals to win 4-1. Keane bludgeons in a corner two minutes after the restart, then Sturridge sticks us ahead thanks to an astute bit of movement to stay onside. A Wilson penalty extends the lead and Morrison ices the cake to put us in the quarter finals.
With that taken care of, it's down to the task of Real Sociedad at home and that one goal deficit to surmount.
Five minutes gone: Bang. Wilshere's rasping shot hits Lewis Cook in the face and deflects in. Twenty minutes gone: Bang. Taylor picks out the top corner from a left wing free kick. Thirty seven minutes gone: Bang. Lewis Cook slots home a well-worked team move from the right side of the box. 3-0 at half-time and coasting. What was I saying about them being an obviously superior side?!
It gets even better when Welbeck scores a header from a Charlie Taylor cross shortly after the hour mark. Sturridge, never one to be upstaged by his partners, batters one in from thirty yards. Finally, Lewis Cook doubles his tally with an identical goal to the one Welbz scored, although this time it's Daniels who provides the cross. 6-0 on the night, 7-2 on aggregate and we're through to the next round.
What a result to have going into the next game, and our most important of the season thus far: the EFL Cup final against Palace. The ease of our victory against La Real meant I could give some of my key players a rest, so everyone is fit and raring to go for our second day out at Wembley in the space of a year.
A frantic first half speeds by until we win a free kick on the edge of the box with five minutes remaining. Rather than shooting, Taylor rolls it wide to Smith, who slips in Cook, who cuts it back to Wilshere, who prods it home first time and we take a 1-0 lead into the break. Focus is the key word of an assertive team talk but the need to ward off complacency is diminished when Sturridge scores a banger from range for the second game in a row. This was a goal that game from nowhere and was so unexpected that it totally caught me off guard, granting me a moment of pure, unfiltered surprise and elation. That elation is tempered when DS hobbles off with an injury minutes after getting his goal. Typical.
Palace getting themselves back in the game was also typical; Rony Lopes squirming free of Simon Francis to bag himself a cup final goal. That had the potential to instigate a nervy finish, but within five minutes, all nerves were assuaged. There was little chance that Saido was going to let a big game bypass him without him grabbing some attention and, sure enough, he got his moment when he scored an ugly left-footed shot that Mandanda really should have done better with.
Not that I'm about to complain. The final whistle blew and there we have it! Our first trophy of the season secured. Another victorious day at Wembley under our belt. European football guaranteed. Marvellous stuff.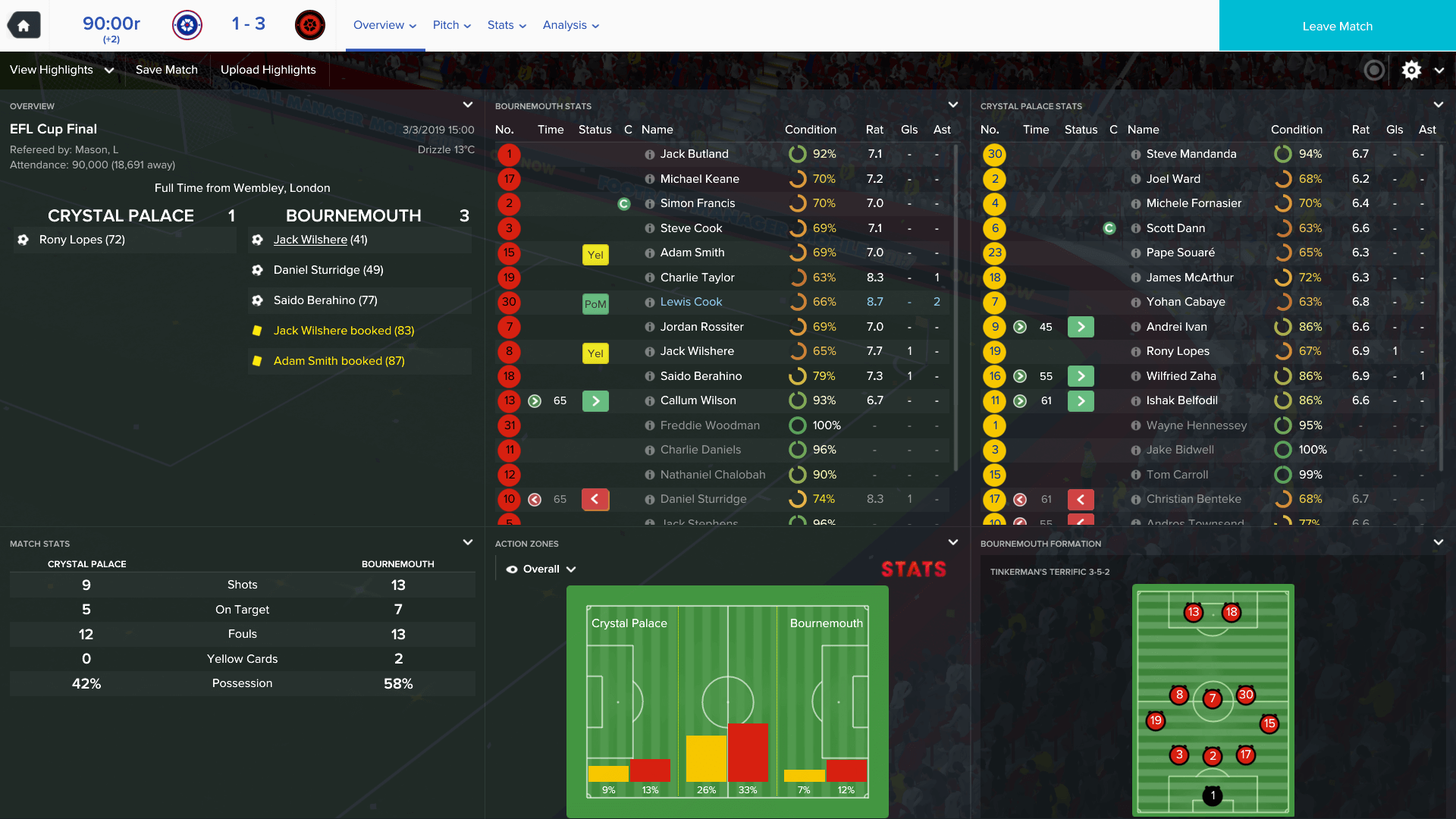 The board and the fans are pleased with me and I'm feel as though I've earned it.
What's more – we're still competing on three other fronts. We're 4th in the league at the start of March. We're through to the FA Cup quarter finals, where we'll face Newcastle and we've progressed to the second knock out round of the Europa League. The squad has gelled wonderfully, we've overcome a potentially disastrous injury to our 'keeper and the confidence is flowing.
There's every chance that this isn't the last trophy we win this season, you know.