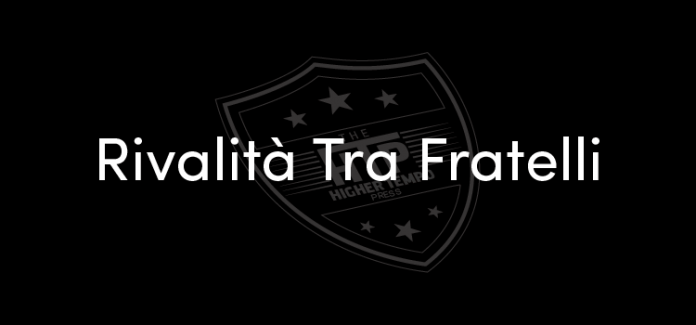 This is the story of two brothers, a modern-day Cain versus Abel if you will, based in the northern powerhouse Italian city of Milan. If you'd like to replicate this challenge, we're using the updated medium database with the following leagues: England (Premier League, Championship, League One & League Two), Italy (Serie A & Serie B), Spain (La Liga & Segunda División), France (Ligue 1 & Ligue 2) and Germany (Bundesliga & 2. Bundesliga).
Rivalità Tra Fratelli – #WeAreTheRivals, Episode 4
CHARLIE: I've taken the editorial decision not to focus too heavily on the Europa League group stage, mostly because it feels somewhat crass to rub it in that Inter have European fixtures to enjoy, while AC Milan can only watch from the sidelines. I actually do have a theory about the group stage of both premier European competitions. In order to qualify you just let the top seeded team go, make sure you get six points against the weakest opposition and match the results of the other decent side. It's a little different this time because I consider both Hertha and Feyenoord good sides. Having already beaten Hertha, I'll slot them in as the other decent side and consider Feyenoord the top seeds.
I've also decided to use these early games in Europe to test out different formations. I read an article this morning about Pep Guardiola's inverted wing-back formation on The Higher Tempo Press by @DistanceCovered, which is not a million miles away from my own 'Classic José' 4-3-3 so I'm experimenting with that for BATE.
The outcome was one of practically total domination. Fair play to @DistanceCovered, he's hit upon something pretty special here. I put out a second-string side and even better, Hertha got a win over Feyenoord to leave us three points clear after two played.
Just before we head into the next round of games, we've both agreed to take a step back over the bank holiday. This was prompted mostly by the Juventus result, they had their weekend game on Saturday evening away at Lazio and suffered a 2 -1 defeat. That means a win for either Milan clubs this weekend would see us move three points ahead and both of us desperately want to take that advantage.
Personally I want to work on corners. Icardi has done wonderfully for us with ten goals, clearly top scorer in the league and he also has the highest average rating with 0.68 in hand over Alex Sandro of Juventus but he can't do this alone. We need to be a threat from our set pieces because having skilful players like Banega and Candreva should mean fouls around the edge of the box.
MIKE: It might seem like I just turn up, set up a formation and win but secretly there's a lot going on. This bank holiday Monday break was, I'm sure, designed to let Charlie and Inter Milan get their affairs in order specifically on corners. I say 'I'm sure' in complete certainly because I've seen him noting templates down on a notepad.
I'm also working on my corners, but in a much simpler sense. I happened to read an article by Stuart Reid (@From_The_Wing) on The Higher Tempo Press about West Brom's corners so I'm lifting his recreation (with a credit on twitter) and implementing into my tactics. I said right at the start of this journey, it needn't be so difficult and that's what I'm looking to prove. There's so much information out there on the internet, you've got to read it and take from it what you can. The beauty of this is that Charlie can't actually argue because he's been looking at adapting one of his tactics to match something he saw online.
After our little hiatus (which lasted all of a morning in the end), we hit the games with AC Milan first up as we welcome Sampdoria. I take no pleasure from playing against David Platt's old team, as young boys we were fans of the Blucerchiati more than any other team in Italy. However, this is serious business. Juventus dropped points but I won't. As a matter of fact, I've not only been working on corners. I've added a new attacking formation, which is effectively a 4-1-4-1 but is a lot more attacking than it sounds with one full-back pushing up along with two out-and-out wingers. Gumbau serves as a central midfielder alongside Pasalic with Deulofeu getting a start on the wide right. I've really set this formation up just to get the best out of him.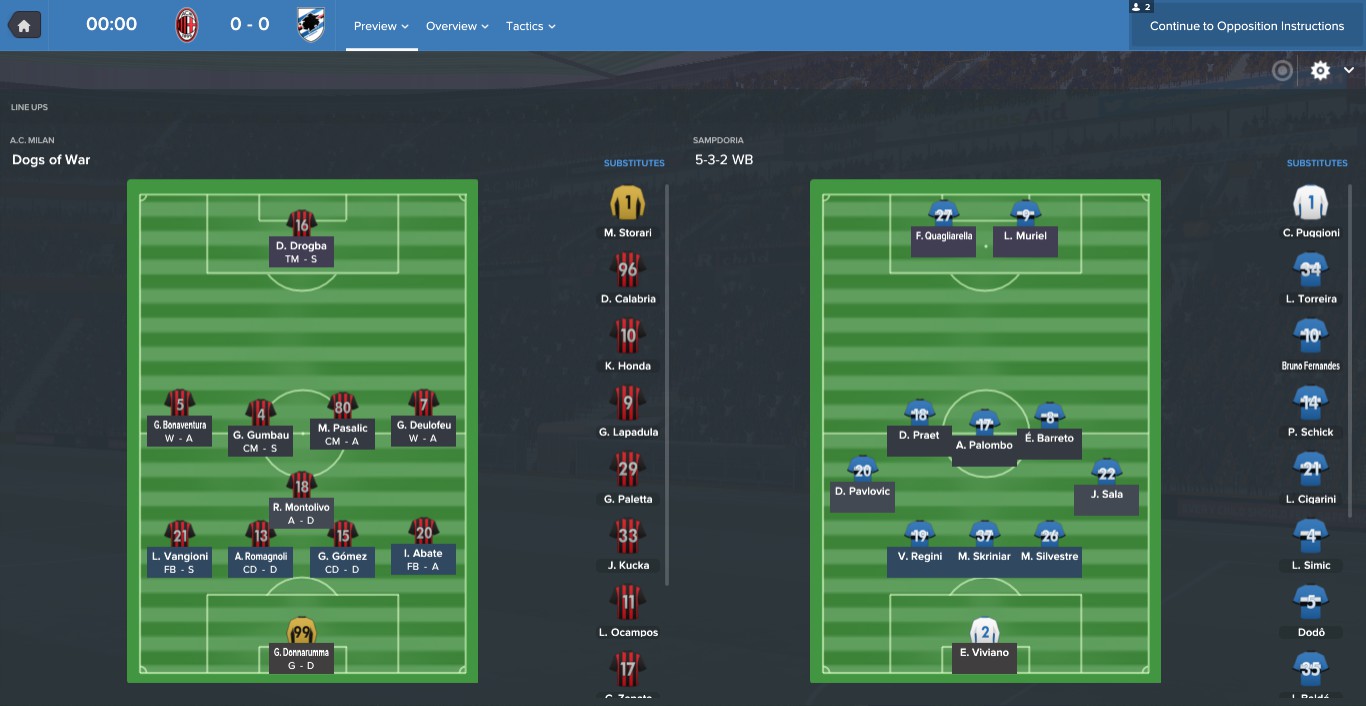 I may have said I take no pleasure from playing against Sampdoria but you can't argue with a 3 – 0 victory achieved in some style. Former Barcelona B man Gumbau gets us motoring with a sweet strike from the outside of the box, the pass inside to him from my man Deulofeu. The new corners pay off as Paletta (on a substitute) nuts one in and then a second Deulofeu assist allows Vangioni to flick a header beyond the Sampdoria 'keeper.
We saw in the FA Cup semi-final the potential of a marauding full/wing-back with Monreal's goal and this was much the same, except substitute a shot with the laces for a stooping header.
Possession may have been conceded but not a goal and that's what counts.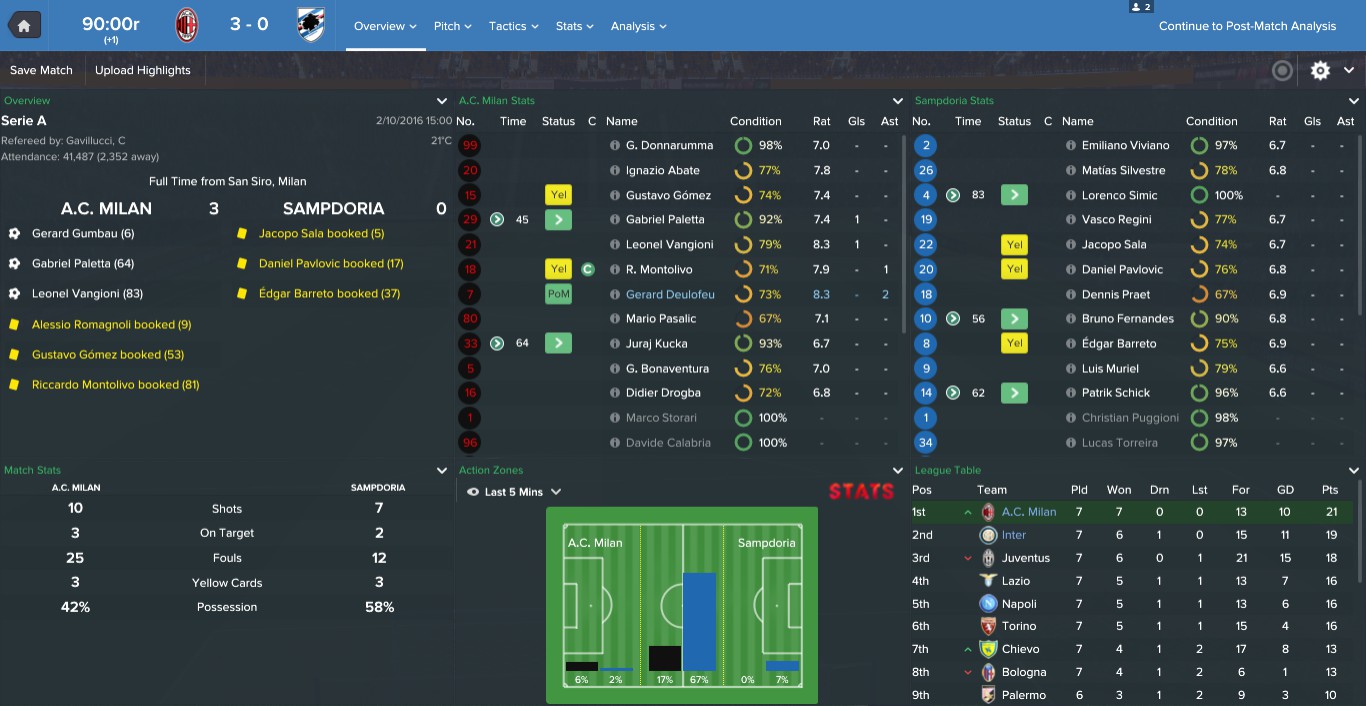 CHARLIE: So… Juventus lost. AC Milan won. What do we do? Draw?
In terms of formation for Cagliari, I'm sticking with Pep G's Inverted Wing-Backs that served us so well in Europe. I've given some thwho knew to switching one of the advanced playmakers to a box-to-box midfielder simply because the game engine seems to like them but I resist.
The one player in the Cagliari lineup of note is Boriello, a former AC Milan striker and you can imagine how determined he will be to score against his old rivals. I remember him from FM 07, he was often surplus to requirements at Milan but would end up somewhere decent like Real Madrid on the cheap and score a bag full. When I make my opposition instructions, he's the only player to get big treatment. Closing down, tight marking, hard tackling and shown onto his weaker foot. The full works.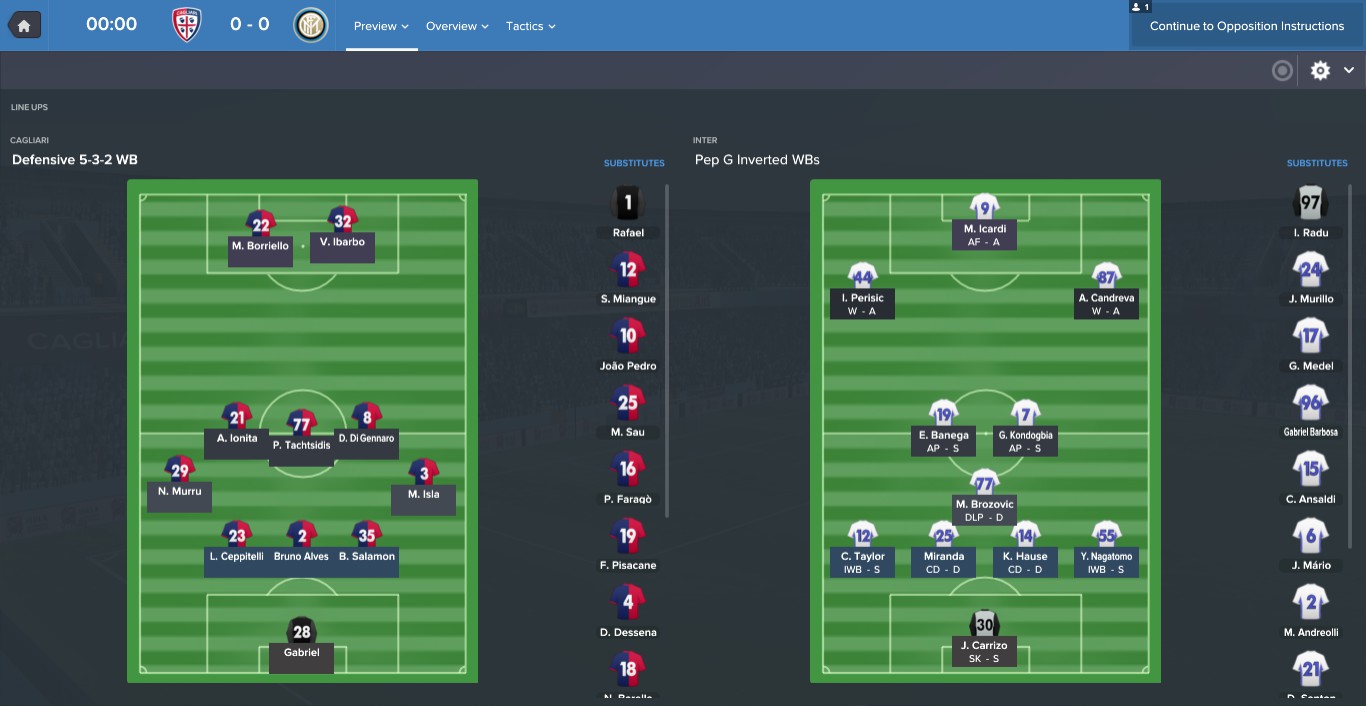 I know something about tempting fate and if there was ever a game which personified that concept, this was it.
We do indeed draw, 1 – 1. Who scores for Cagliari? Boriello. After we get on the scoresheet just before the end of the first half via another Perisic free-kick, on 65 minutes Boriello escapes the attention of Miranda to squeeze the ball in at such a tight angle.
I throw everything at Cagliari. Everything in the following half hour. 10 minutes of Pep's formation before we switch our most familiar 4-3-3, I even load up the Skewer for the last 10 and 5 of those are on overload. As we all know, nobody scores on overload.
We don't.
One point gained, two lost.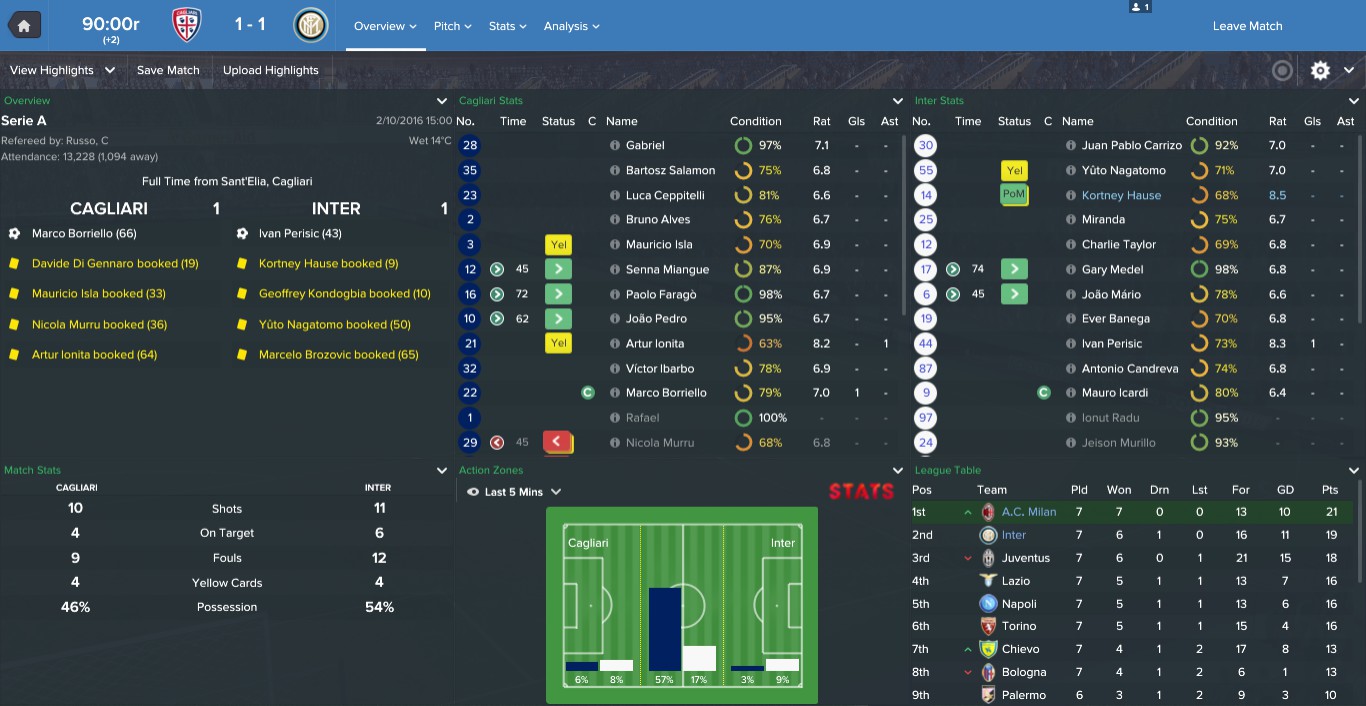 MIKE: Never before have I seen somebody so crestfallen. It feels good. It feels proper. It feels right. It feels… inevitable.
Now that Inter look to be toiling, we must turn the screw. The turning is slightly interrupted by the chat I need to have with Gabriel Paletta, who is whinging about game time. We've not conceded in three, which coincidentally is the number of games this defender played for Liverpool. I send him away with a flea in his ear with a request for a spanner. He looks confused but I need my spanner. Turning the screw, remember? He ruined my good metaphor. Another mark against his name.
CHARLIE: With an international break taking up a week or so, let's have a look around at some of the other leagues in Europe. The familiar threesome of Barcelona, Atletico Madrid and Real Madrid occupy the top three places in La Liga with Espanyol (managed now by the stylish Quique Sánchez Flores) in close company. Arsenal have a three point advantage over Manchester United in the Premier League and in Germany it's Dortmund who have made the early running. Bayern are down in fifth, despite scoring six in their last fixture.
In 'manager watch', Steve Bruce at Villa and Phil Parkinson at Bolton are insecure, while Havre Athletic Club are in need of a new boss. Gary Brazil is at Nottingham Forest and is under review although by the time this is posted, Ryan Giggs has taken over.
Since I had 36 players at one point away with national sides but notably not Icardi, I elected to observe Italy's game against Macedonia. The Italians prevail 3 – 0, afterwards the press are "at a loss to explain Tango's reason for attending the game"… Candreva? Éder? Two of my players were in the side!
You're always worried about sending the players away for internationals in case they come back injured but I think both sides have been lucky. The only injury suffered was by Kortney Hause, which was a training injury at our place. Despite that setback, I'm sticking with Pep's tried and trusted strategy.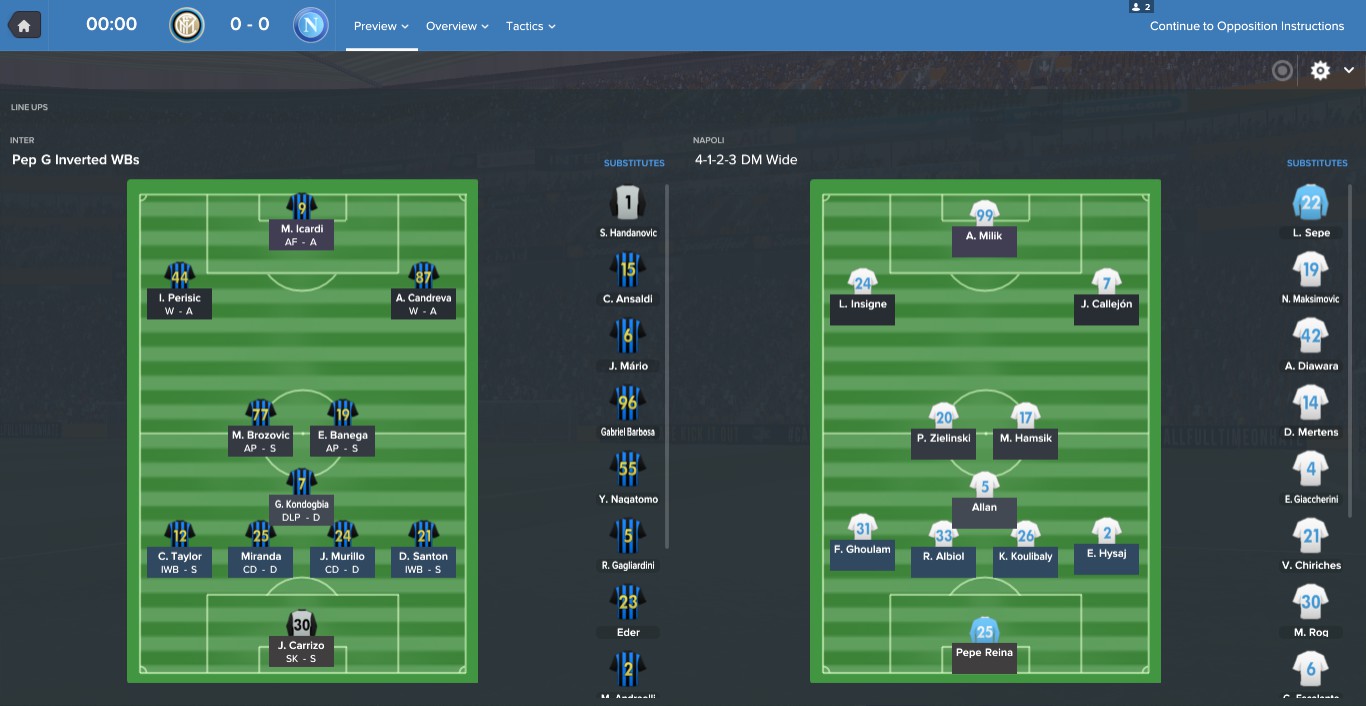 I won't lie to you, that was satisfying. Mike has been getting in my ear about not sticking with the inverted wing-back formation so to beat Napoli was the best way of silencing him for now.
Icardi, who has pretty much carried the attacking intent of the team in every game, went missing against Cagliari to the point I'm now assuming that he thought it was just a training session. If he had been laid back any further, he'd have been lying down. He gets our second at the near post after a cut-back from Candreva, who himself blasted a long-range effort past Pepe Reina. There's the small matter of Mertens putting one on a plate for Milik but I set us to 'Padlock' and it's game over.
A very valuable win and with Juventus also gaining the full three points from their game, the pressure moves to the red and blacks.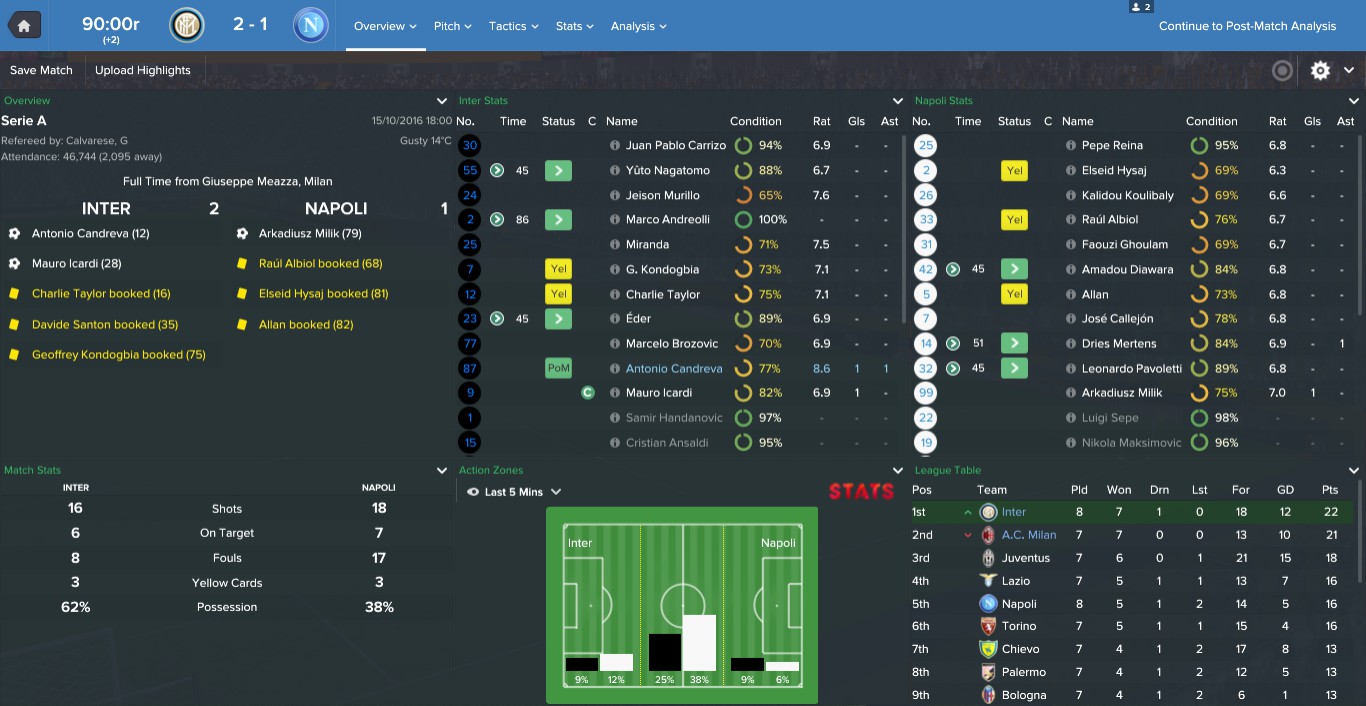 MIKE: If I was considering maintaining our 4-1-4-1 against Udinese, that has been shattered by what happened with Inter Milan or more to the point, to Inter Milan against Cagliari. He might have clawed it back against Napoli but I won't repeat the mistakes of my rival and drop points needlessly. How will he feel when he loses the title by a point? While I like Deulofeu, there is little sentiment or loyalty in football. If there were, I'd be sponging Carlos Bacca down like Don Revie used to his Leeds United players. Instead, Bacca is dead to me.
I have never seen owt like that in my life. I don't know who the referee was but I bet his arm hurts tonight from all the cards he brandished. Gerard Gumbau barely had to breathe on one of their lads and the ref was falling over himself, he couldn't get the yellow card out quick enough.
After a thunderb*stard from Bonaventura, the result hinged on a penalty conceded by Gabriel Paletta. That's Gabriel Paletta WHO IS NEVER GETTING IN THE FIRST ELEVEN AGAIN. He can join Lapadula as two sorry individuals who will be perennial substitutes for the rest of their AC Milan careers. I'm not selling you, I'm not even sending you down to the reserves. Watching your mates win game after game while you get splinters in your arses will be punishment enough for me. No wonder you didn't cut it at Anfield, you feckless moron.
Luckily for me and more importantly for the maximum fine I was about to level Paletta with, Donnarumma proves exactly why he will be Buffon's long-term replacement in the Italy side by getting fingertips to the subsequent penalty and nudging it onto the post.
Give me a minute and I'll calm down.
CHARLIE: There's the small matter of Feyenoord away to contend with before the next round of Italian league fixtures. Dirk Kuyt operates in central midfield for them and in the spirit of Boriello, I identify him as somebody to pay close attention to. In the spirit of Boriello, he scores the opener.
It would seem I need to take back my earlier statement about nobody scoring on overload because we only go and turn it around in the dying moments. First Nagamoto unleashes a powerful and unstoppable effort from distance, prompting me to utter the immortal words "Nags, who knew?" before Perisic clinched the winner on 91 minutes.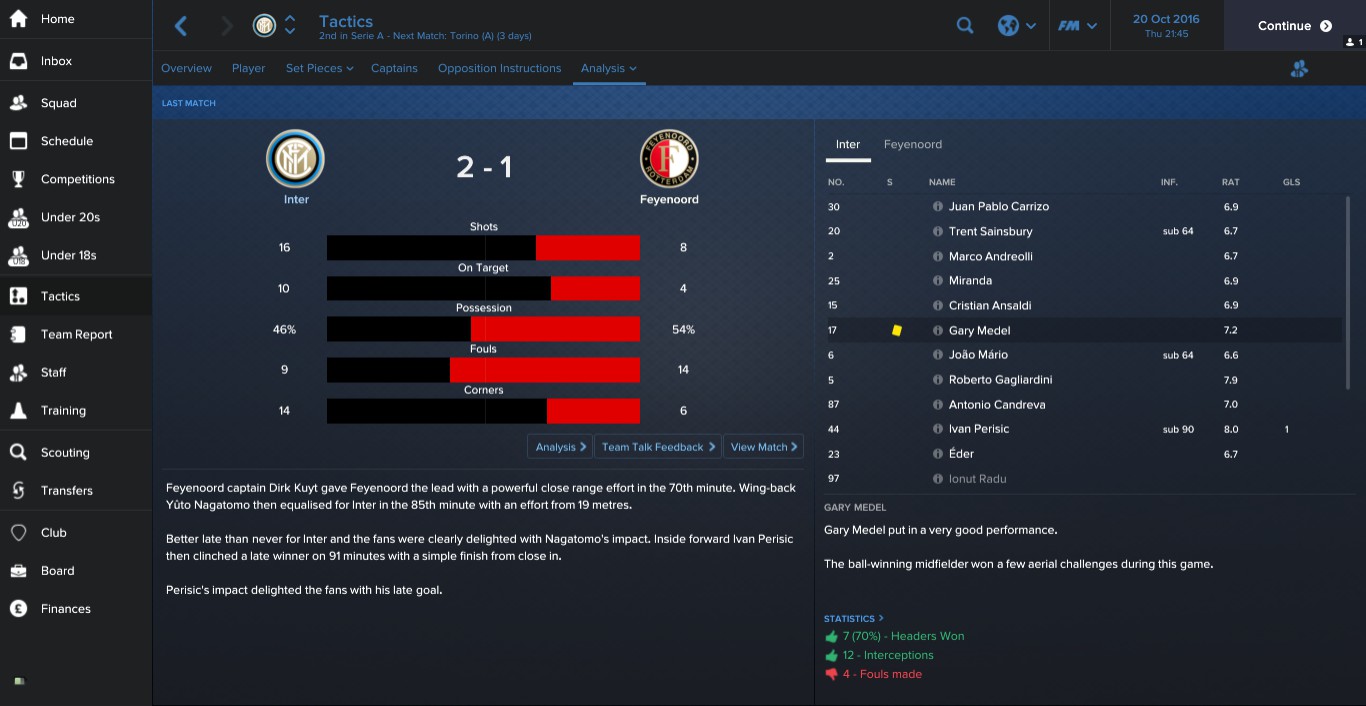 With a 2 – 1 win in the bag and a twitter response from actual Inter fan @niczcarroll, we turn our attention to Torino away. Joe Hart welcomes our team and they're actually doing really well, they start the day in fourth. We play first, at 12:30 for BT Sport audiences surely and we're back with Classic José to counter.
I've tweaked Éder's role to an inside forward, more of an experiment, the three central midfielders look as solid as you like with Brozovic, Kondogbia and Gary Medel. I'm keeping Ever Banega in reserve just in case things don't go well as it didn't against Genoa.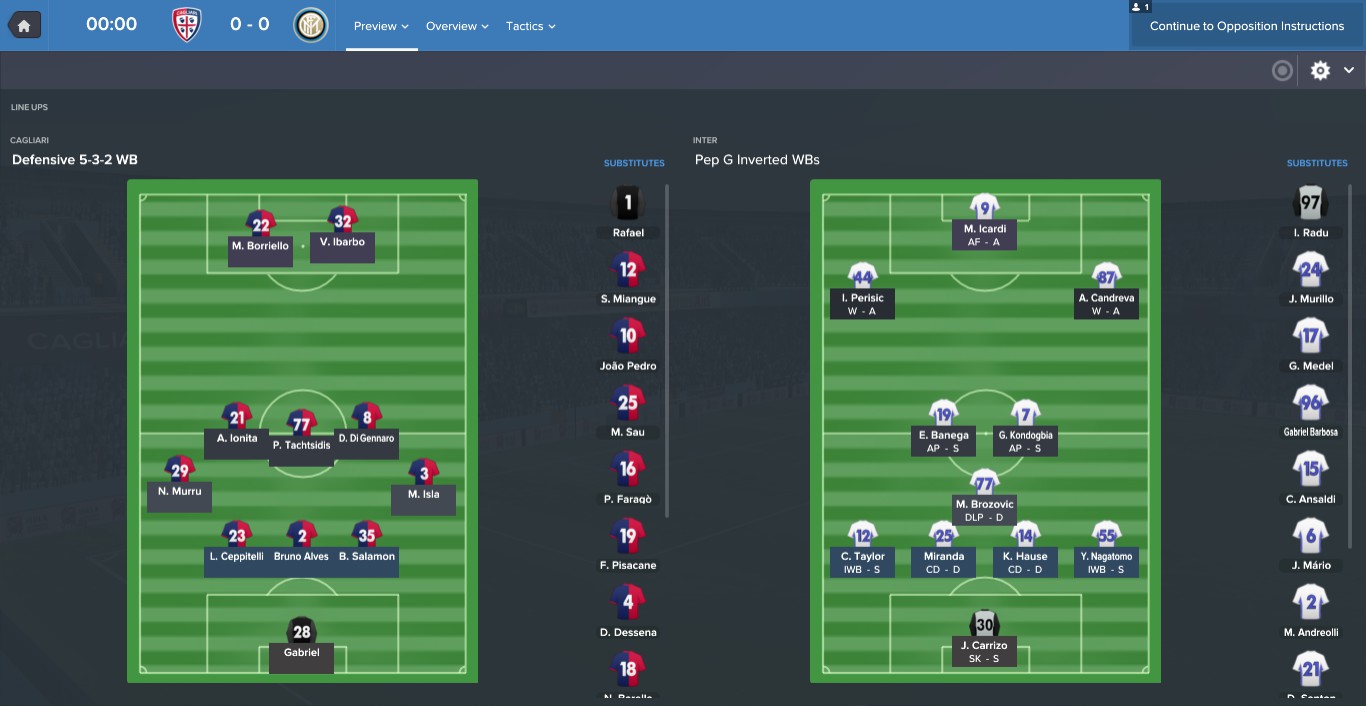 Hmm.
1 – 1.
Penalty scored by Icardi. Juan Iturbe equalises for Torino. Handanovic keeps us in the game with a series of stops before, and most vitally, after Gary Medel gets sent off with 15 minutes to go for two bookings within 10 minutes.
Some things are better left unsaid.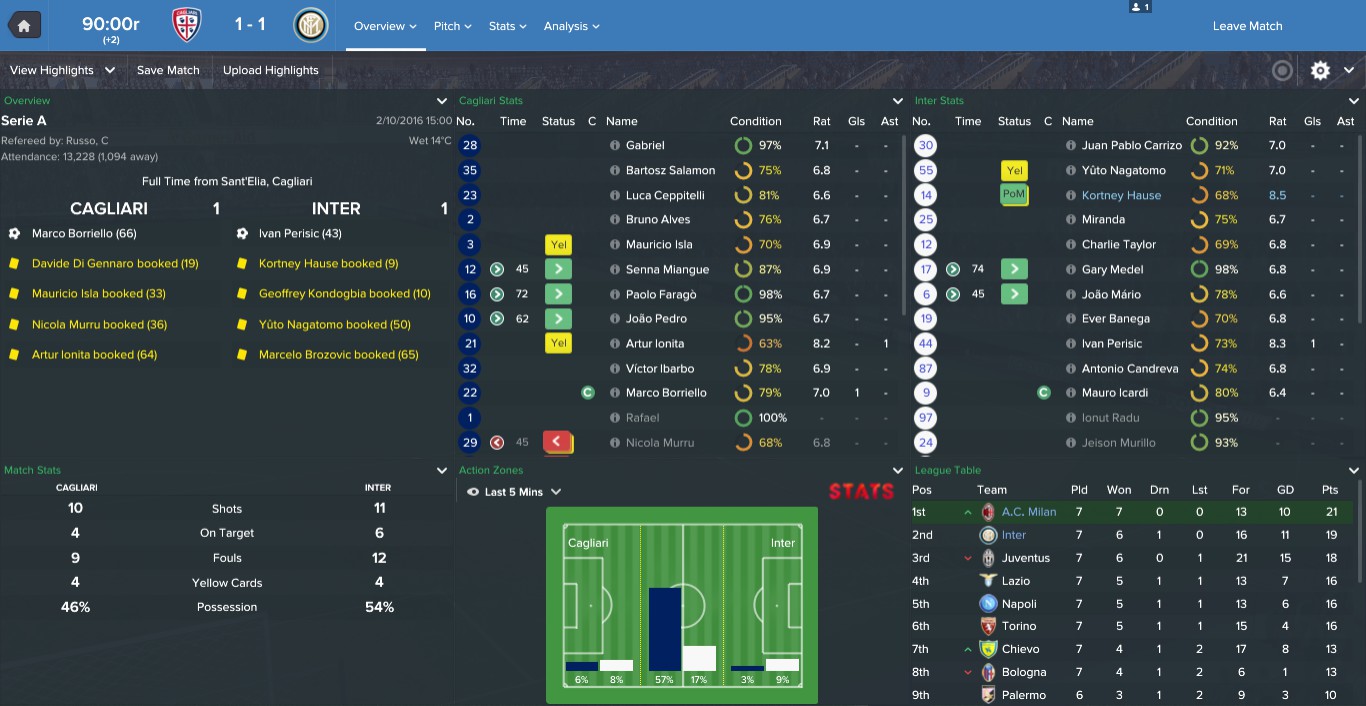 MIKE: It's time for the smug face. He knew it was coming, he even talked about Jay Spearing in the last episode. Why play Gary Medel as a ball winning midfielder? It's professional suicide and it means dropped points. Two more. Again.
I on the other hand am doing my absolute level best to consider Crotone – no wins in six – as 'competition'. I shall be crying havoc and letting slip the Dogs of War. Deulofeu and Bonaventura on the wings, Gumbau is protection behind Sosa and Montolivo. As promised Paletta and Lapadula take up places on the bench so far away from the field they may have to buy a ticket to be able to warm up anywhere near the pitch.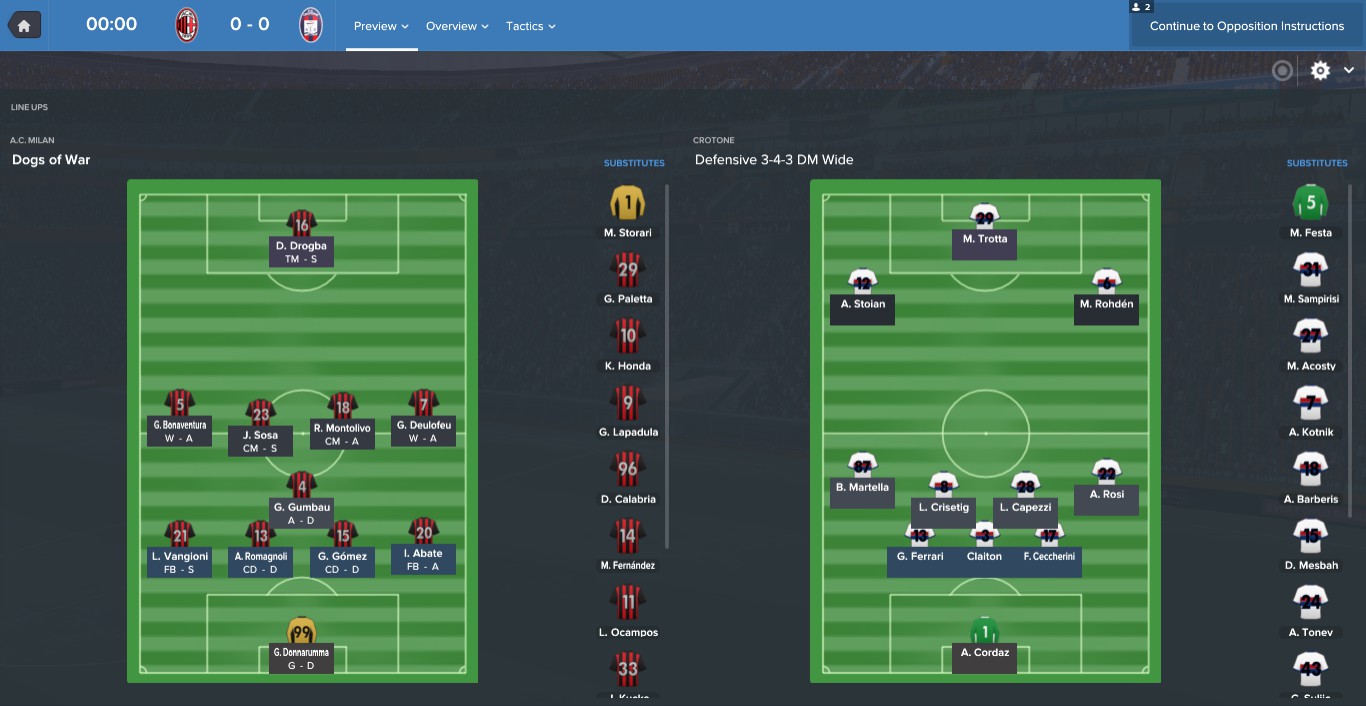 When Inter get a red card, somebody's bottom lip wobbles and I can sense the onset of tears before bedtime. When AC Milan get a red card, it has no bearing on the end result because we are already two goals ahead. Abate may be the guilty party but Bonaventura and Gerard Deulofeu have already seen us home and hosed. Nine games, nine wins. Who said this management lark was hard?
Donnarumma may as well have had a deck chair and a gardening magazine out there as he records his fifth clean sheet in succession, his sixth of the campaign overall. It was another harsh refereeing performance, but little we could do about it.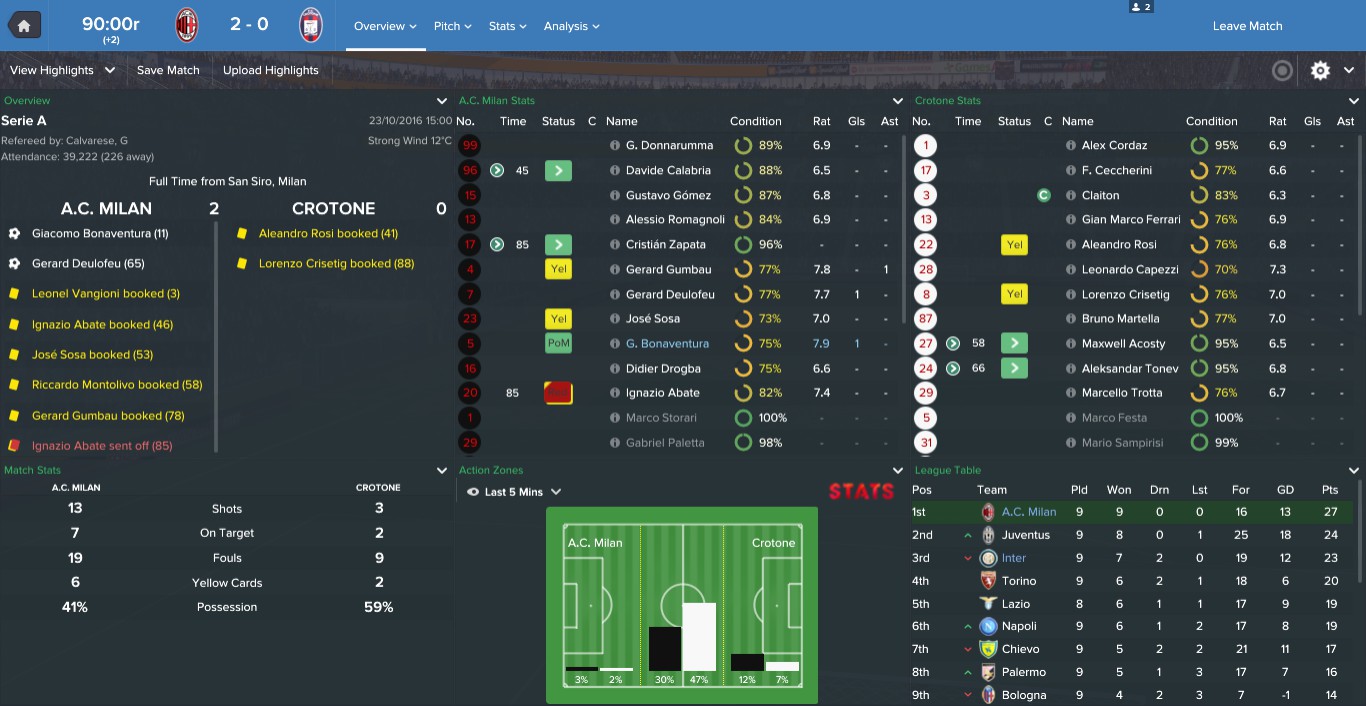 We now sit four points clear of Inter, three points ahead of the Old Lady. That three point cushion is handy, because up next we travel to Turin…
Thank you for reading, join us on twitter at @FM17Challenge, @CharlieTangoFM & @MikeTangoFM for excusive comments, developments prior to episodes and reaction afterwards. Continued thanks to Chris and everyone at Tempo for the opportunity to share this with the readers.